Last Updated on May 20, 2020 by Chef Mireille
These gluten free Manipuri Fish Pakora are delicious Indian style Fish Fritters, made with any white flesh fish like flounder, haddock, cod or basa. They make a great appetizer or finger food to serve at parties!

This post may include affiliate links.
Have you heard of Manipuri?
Manipuri is a state in northeastern India. Manipuri is one of the 7 states known as the 7 sisters. This is some of the lesser known cuisines, outside of India. Part of the reason is that much of this region is still very tribal and therefore the globalization of their cuisine is virtually non existent. Much of the produce consists of wild greens, not available in other parts of the world.
There are many differences between their cuisine and the rest of India. One of the main reasons is that vegetarianism is not prevalent here, as it is in the rest of India.
Fish is especially prevalent, especially the use of fermented fish called Ngri. It's also the only part of India, outside of Goa, where pork is commonly eaten. Due to its geographic location, vegetables commonly associated with Central Asian cuisines are utilized here – like taro, bamboo shoots and lotus root.
The two exceptions are Sikkim and Tripuri. Sikkim consists of mainly Tibetan cuisine and Tripuri cuisine is largely Bengali.
All of the states of this region are big rice eaters in all its forms, but beaten rice is very common. Additionally, since this is where the tea plantations are, it is consumed in abundance here.
Caribbean Fish Cakes is a very traditional Caribbean appetizer, required for any party or occasion. While in the Caribbean, fish cakes are made with dried salted cod. This version of fish fritters is much more user friendly, utilizing fresh fish, which is easier to source.
All Pakora (Indian Fritters) are gluten free because chickpea flour (besan) is used instead of all purpose flour as is traditional in American/Western cuisines.
If you would like to check out some more Indian gluten free pakoras, check these out!
Gluten Free Indian Pakoras
How to make Manipuri Fish Pakora – Indian Fish Fritters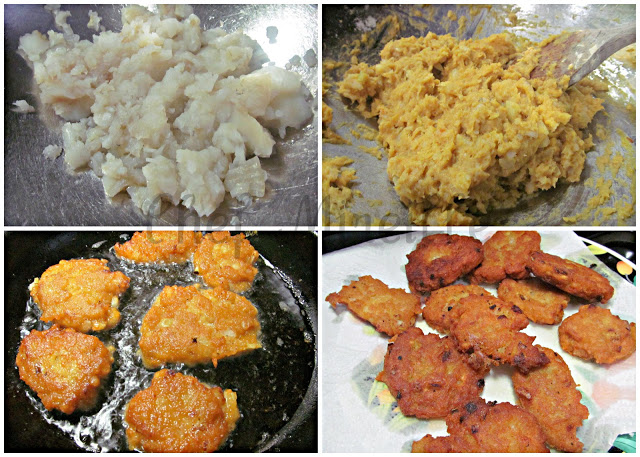 I share a lot of the food I cook with my Mom. My Mom is not a foodie by any sense of the word. She only eats because she has to in order to keep on living. She does not get excited over trying new dishes or recipes, so I rarely get a call regarding any of the food I give her. I don't take it personally; food is just not something that interests her.
These fish pakora were a different story. I immediately received a phone call and she asked, "What did you put in these fish cakes to make them taste so good?" I politely informed her that they were not fish cakes, but Manipuri Fish Pakora and after going over the ingredient list, we realized it was the addition of the besan that gave these a wonderful texture inside that she loved so much.
These came out so delicious. Nice and crispy on the outside and light and airy on the inside. This is definitely a recipe that I would repeat!
Manipuri Fish Pakora
Gluten Free Fish Pakora are Indian style Fish Fritters that make a delicious party appetizer or savory snack.
Ingredients
1

lb.

flounder fillets

1/2

cup

chickpea flour

1/2

teaspoon

red chile powder

cayenne

1

teaspoon

ground cumin

1

teaspoon

ground coriander

1/2

teaspoon

ground turmeric

1/8

teaspoon

baking soda

1/2

onion

finely chopped

1/2

teaspoon

salt

oil

for frying
Instructions
Cook fish in boiling water, until cooked thoroughly, about 10 minutes. Drain well.

Transfer to a large bowl. Add chickpea flour, chile powder, cumin, coriander, turmeric, baking soda, onion and salt.

Add enough water to make a thick batter, approximately 1/2 cup.

Form into 9 evenly sized patties.

Heat enough oil for shallow frying.

Place patties in the hot oil and cook until golden brown on both sides.

Drain on paper towels.

Serve with your favorite chutney.
Notes
Any white flesh fish like haddock, cod, or basa can be used.
Nutrition
Calories:
66
kcal
|
Carbohydrates:
5
g
|
Protein:
8
g
|
Fat:
2
g
|
Saturated Fat:
1
g
|
Cholesterol:
23
mg
|
Sodium:
169
mg
|
Potassium:
150
mg
|
Fiber:
1
g
|
Sugar:
1
g
|
Vitamin A:
63
IU
|
Vitamin C:
1
mg
|
Calcium:
19
mg
|
Iron:
1
mg
Did you try this recipe? Leave a comment below.
Please follow me on Instagram @chefmireille or tag me #chefmireille with your pics! I'd love to share them!
You might also like
DO YOU YUM? SAVE IT BELOW!
Yum
Don't forget to visit the RECIPE INDEX with over 1000 recipes from around the world including lots of Vegetarian Recipes and Gluten Free Recipes!