Last Updated on April 10, 2018 by Chef Mireille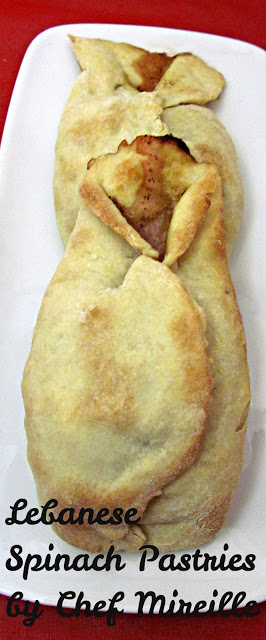 Blogging Marathon #25
Theme: Cookbook Recipes – Mediterranean Street Food by Anissa Helou
I have had this cookbook for many years and FINALLY, I am trying a recipe from this book. This recipe is a popular bakery and street food item in Lebanon, called Fateyer Bil-Sabanegh.
What I found really interesting when reading the recipe, was the different methodologies different cultures may use to achieve the same result. When wilting spinach, I generally do it in a saute pan with a little olive oil. With this recipe, I discovered a no cook method of wilting spinach.
Lebanese Spinach Pastries
Serves 4
Ingredients:
1 cup all purpose flour
1/4 teaspoon salt
2 tablespoons oil
1/4 cup warm water
6 ounces spinach, cleaned well and sliced (approximately 4 cups)
1 small onion, finely chopped
1 tablespoon sumac
1 tablespoon pine nuts
juice of 1/2 lemon
1 tablespoon olive oil
salt and black pepper, to taste
Preheat oven to 450 F. Cover a cookie sheet with parchment paper or spray with non stick spray.
To make the dough, sift the flour and the salt into a bowl. Add the olive oil and work the oil into the flour with your hands until it resembles grated cheese. Add the water and knead for a few minutes, until the dough comes together.

Place in a bowl and cover with a damp cloth to let it rest. Meanwhile, let's make the filling.
Place the cleaned spinach in a bowl. Sprinkle two generous pinches of salt and pepper and rub with your fingers, until the spinach wilts.
In a small bowl, sprinkle a generous pinch of salt and pepper over the onions and rub with your fingers, until the onions soften. This will take about 2 minutes.
Add the onions to the spinach. Add the sumac, lemon juice, olive oil and lemon juice. Mix well. Strain to squeeze out the liquid.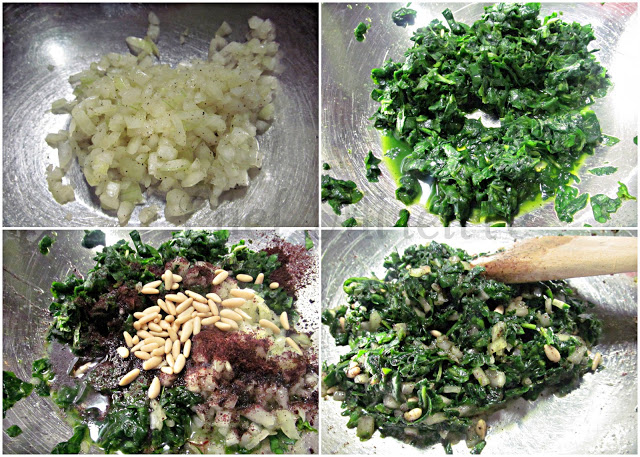 Divide the dough into 4 balls.
Press a ball of dough in between your hands to flatten it slightly. Turn onto a floured surface and dust all sides well with the flour. Dust off the excess and roll into a 6 inch circle. Place 1/4 of the spinach filling in the middle.
The book does not have photos, so I tried to follow the description as best as I could to achieve the triangle shape she described. It didn't happen. However, I think most important is to get the right texture of the dough. Does it really matter the shape of the pastry? It certainly doesn't affect the delicious taste of these pastries. Regardless, I am re-typing her instructions here so you can see if you can achieve the triangle shape by her description:
Think of the disk as having 3 sides, each 1/2 of the circumference. Lift 2 sides and pinch together, halfway down, to make a thin raised joint. Lift the third, open side and pinch it equally to both loose edges in order to form a triangle with a thin raised inverted y in the middle – be sure to pinch the pastry tightly together so that it does not open during baking.

Place on the cookie sheet and repeat with the 3 other balls of dough.
Bake 10 – 15 minutes, until golden brown.
Sumac is a strong spice and this is so flavorful even with limited seasonings. Flavorful spinach filling inside a flaky pastry!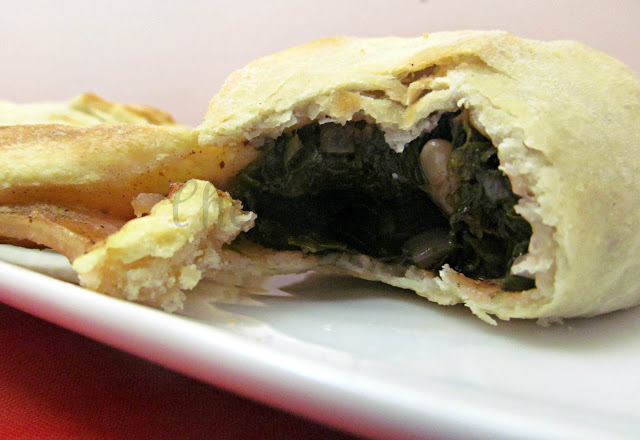 Serve one as an appetizer or I enjoyed 2 as part of a light dinner, with Beet-Fennel Salad.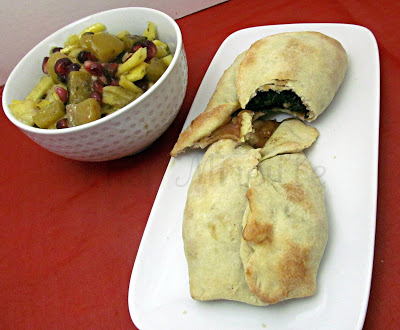 …linking to Favorite Recipes: non-Indian food hosted by Ghar Ka Khana
LIKE THIS RECIPE? LEAVE A COMMENT..I LIVE FOR THEM!
Chef Mireille
Like me on FACEBOOK!
Follow me on TWITTER!