Last Updated on December 14, 2020 by Chef Mireille
Spinach Dhokla
Low fat savory cake perfect for breakfast or tea time. With it's colorful hue, Spinach Dhokla is also great for celebrating Holi – the Festival of Colors!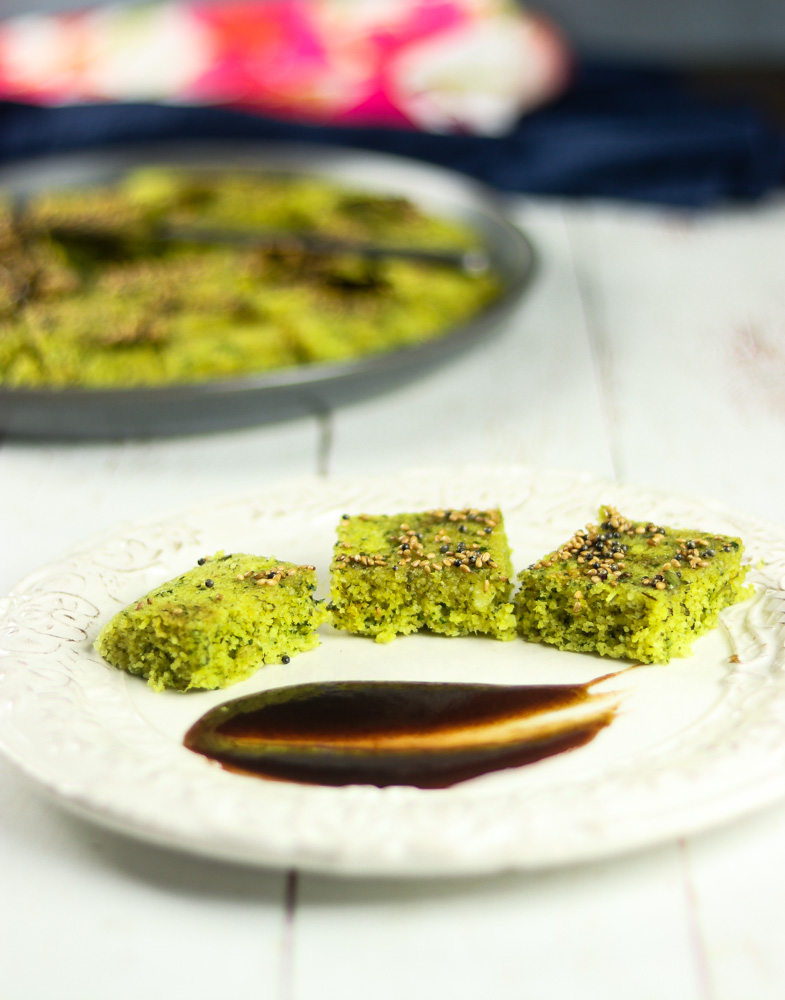 I encounter people all the time who struggle when they have to suddenly adhere to a gluten free diet when diagnosed with a gluten intolerant condition. They're trying all the brands of gluten free pasta and gluten free pizza. I always tell them don't restrict yourself. If you research Asian, Middle Eastern, Latin and African cuisine, you will find so many delicious traditional gluten free treats without having to purchase expensive gluten free flour, xantham gum and other hard to find ingredients.
Go to an Asian, Indian of other international supermarket and you will find so many options at a fraction of the cost of places like Whole Foods. Go to Chinatown for your tapioca starch and it is so much cheaper!
Today I am here to introduce you to an Indian gluten free tea time snack. There is a whole process to make dhokla from scratch that involves soaking rice and lentils and waiting for them to ferment. Who has the time or patience for that in a NY winter. Imagine trying to ferment when it is 30 degrees F outside! Instead, go to any Indian supermarket and purchase a bag of dhokla flour and you can put together this snack so quickly!
What is Dhokla Flour?
It is a combination of rice flour and gram (chickpeas) flour, so gluten free!
The first time I tasted dhokla was at the Renaissance Hotel brunch when I was in Mumbai. I loved the soft and fluffy texture of these savory cakes. If you are ever in Mumbai, I highly recommend a visit to the Lakeview Cafe at the hotel for their buffet brunch – So many options and you will be able to taste such a variety of Indian foods there, plus they also have International options. Read all about my visit here!
I came back wanting to make them myself about the recipes that involved fermentation put me off. I was so happy to find dhokla flour at Patel Brothers, my local Indian supermarket and dhokla became something so easy to try. I will now be making different types of dhokla on a regular basis.
I have kept the flavors in this version very mild, but you can add some chopped green chillies if you would like it with some more spice!
Would you like to try some other savory Indian snacks for tea time? Except for the Kordoi, these are all gluten free! Check these out!
Indian Tea Time Snacks
With just a few simple ingredients, these come together so quickly!
HOW TO MAKE SPINACH DHOKLA
Enjoy with your favorite chutney!
So delicious with a soft and fluffy texture! – The sesame seeds add an awesome nutty texture!
A fabulous gluten free treat to serve at your next party!
Spinach Dhokla – Indian Gluten Free Savory Cake
Spinach Dhokla – Indian Gluten Free Savory Cake is low fat and a healthy breakfast or
tea
time snack!
Ingredients
Dhokla Ingredients:

1

cup

spinach leaves

1

teaspoon

ginger paste

1

teaspoon

garlic paste

½

cup

plain yogurt

1

cup

dhokla flour

1

teaspoon

salt

½

teaspoon

red chile powder

cayenne pepper

¼

teaspoon

ground turmeric

1

tablespoon

finely chopped cilantro

1

tablespoon

frozen grated coconut

defrosted or freshly grated coconut

1/2

teaspoon

baking soda

Tempering Ingredients:

1

tablespoon

ghee

1

teaspoon

mustard seed

1

strand curry leaves

2

teaspoons

sesame seeds
Instructions
In a food processor, chop spinach with ginger paste and garlic paste.

Add yogurt and blend well.

In a bowl, add the contents from the food processor to the dhokla flour.

Add salt, red chile, turmeric, cilantro and coconut.

Mix until thoroughly combined.

Add 2-3 tablespoons of water as needed to form a thick batter.

Cover and leave to rest for 30 minutes.

Add baking soda and mix to combine.

Bring a large pot of water to a boil with your steamer set up inside.

Grease a small steamer safe tray.

Place spinach dhokla batter on tray and spread in an even layer.

Place inside steamer and steam fro 7-8 minutes, until set.

Transfer to a plate.

In a small skillet, heat ghee.

Add mustard seed. Once they stop sputtering, add curry leaves.

Add sesame seeds and toast for 30 seconds.

Pour this on top of dhokla.

Slice and serve with your favorite chutney.
Did you try this recipe? Leave a comment below.
Please follow me on Instagram @chefmireille or tag me #chefmireille with your pics! I'd love to share them!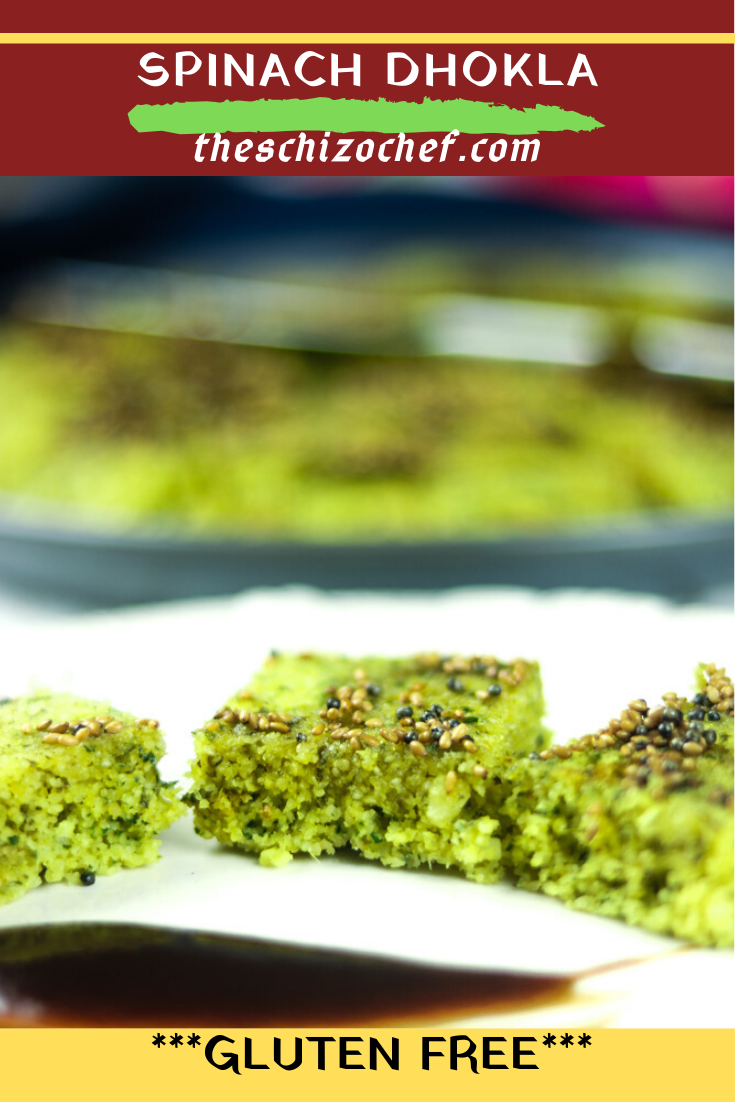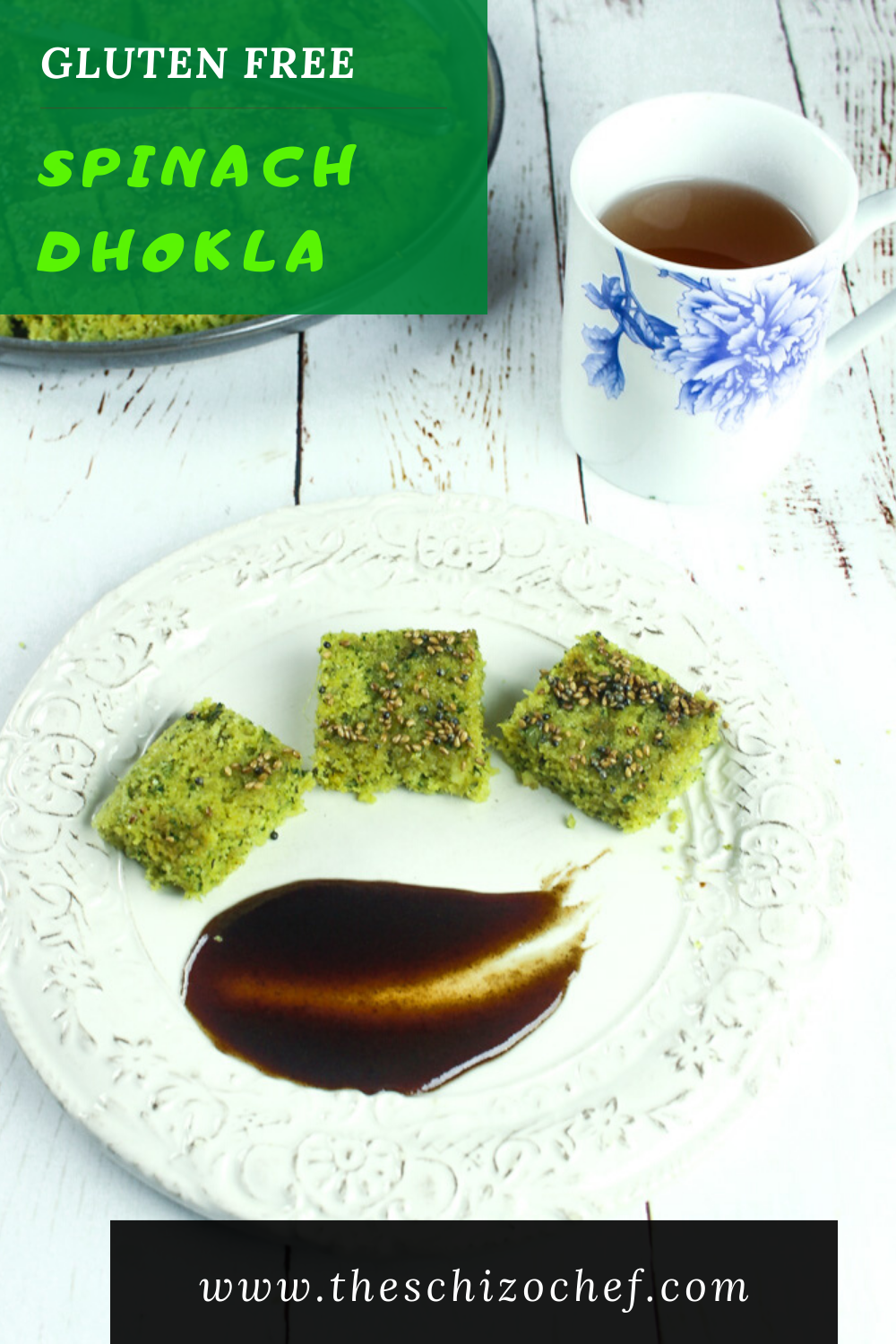 DO YOU YUM? SAVE IT BELOW!
Yum
Don't forget to visit the RECIPE INDEX with over 1000 recipes from around the world including lots of Vegetarian Recipes and Gluten Free Recipes!
This post may include affiliate links.