Last Updated on December 14, 2020 by Chef Mireille
Jeera Aloo Salan & Thandai – Two delicious recipes to represent the North Indian state of Uttar Pradesh – A fabulous lamb curry and a sweetened milk drink enriched with nuts and spices.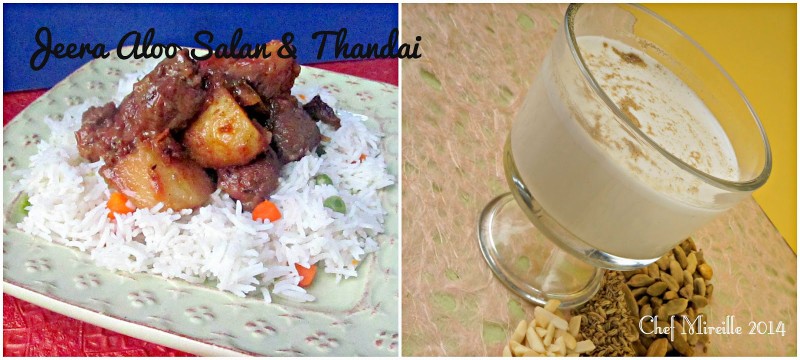 All of us who regularly participate in the Blogging Marathon all willingly admit that we need some kind of intervention because we are all addicted to the Blogging Marathon and check our emails constantly for messages from the other participants. Despite all of our other professional and family commitments, we live, breathe and think BM.
After our last month long mega marathon in September, it was barely a day before Srivalli announced the theme for the next mega marathon that would focus on each state of India with everyone having to produce one dish from each state. I immediately went on a search for recipes and by the next day, one recipe had already been done. This was it. Shhh….don't tell anyone but we've already decided the themes for the next two mega marathons 🙂
Uttar Pradesh
Salan is the term used by the Indian Muslim community to describe a curry where meat and vegetables are cooked together. This recipe comes from the capital city of Uttar Pradesh, Lucknow.
Before we get to the delicious recipes, let's learn a little about this North Indian state. Uttar Pradesh is a landlocked state located in Northern India, bordered in the Northeast by Nepal. It is the 4th largest state in India and the most populous state in the country. Lucknow is the capital. Varanasi, located in this state, is one of the holiest places for Hindus, Jains and Buddhists. It is the spiritual center of India, with the holy Ganges River running through it. From the Rigveda, one of Hinduism's holy texts, we know that it was a favorite place of Lord Shiva. The city is also known for its production of ivory, sculpture and fabrics. Banares (the former name of Varanasi) silks are world famous.
Varanasi is one of the oldest inhabited places in the world and dates back to the 11th or 12th century BC. Several ancient empires of both Hindu and Islamic tradition are based in this region, including the Mughlai's. Unfortunately, many ancient temples were destroyed in the 12th century under the rule of Mohammad Ghauri. Most of the temples there now only date back to the 18th century. Varanasi is known as the City of Temples, as there is one located at practically every step in the city.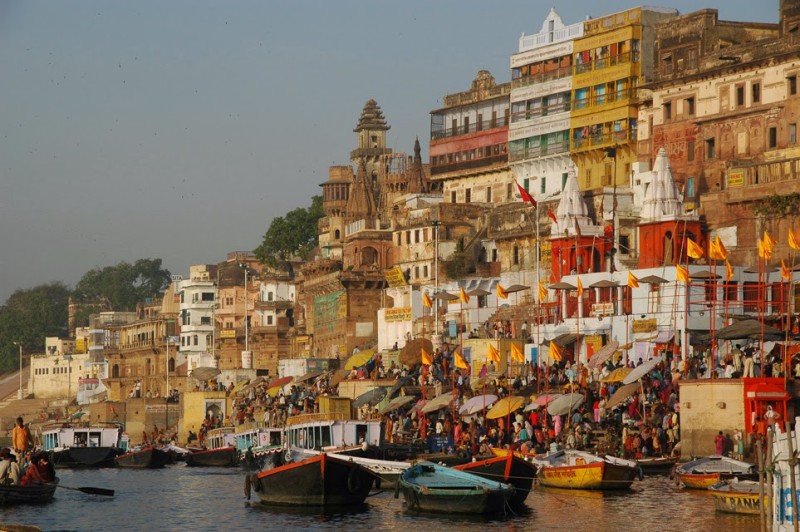 The Holy Ganges in Varanasi
Kathak, a popular classical form of Indian dance that consists of feet stomping in rhythm to music with heavy anklets which add to the music originated here in Uttar Pradesh.

Although in Varanasi Vegetarian cuisine is what is mostly eaten, in other parts of the state and especially Lucknow, non-Vegetarian cuisine is more popular, heavily influenced by the Mughlai's. Known as Awadi cuisine, Lucknow culinary traditions are a fusion of Persian and neighboring Indian states with heavily spiced and flavorful Vegetarian and non-Vegetarian foods. The Awadhi's are especially known for their flavorful kebabs, kormas and biryani's. Lamb and Paneer are used often with Persian flavors like saffron and cardamom.


Jeera Aloo Salan
(adapted from Camellia Panjabi's The Great Curries of India)
Serves 4
Ingredients:
3 medium potatoes, peeled and chopped
1/4 teaspoon garam masala
1/4 teaspoon ground coriander
1/2 teaspoon ground cumin
1/2 teaspoon red chile pepper (cayenne pepper)
1/4 cup oil
1/2 teaspoon cumin seeds
1 onion, thinly sliced
2 bay leaves
1 black cardamom
2 green cardamom
1/4″ blace of mace
2 teaspoons ginger, peeled and finely chopped
2 cloves garlic, peeled and finely chopped
1 pound boneless leg of lamb cut into stewing pieces
1 cinnamon stick
2 cloves
1 small tomato, chopped
salt, to taste

Rub potatoes with a little salt and set aside for 15 minutes. Rinse and dry.
In a large pot, heat oil and cumin seeds. Add potatoes and saute until golden and crispy. Remove potatoes and set aside.
Add onions with the bay leaf, cardamom pods, cinnamon, cloves and mace. Fry until medium brown on low heat, about 20 minutes.
Mix ground coriander, ground cumin, cayenne and garam masala with 2 teaspoons water to form a paste.
Add spice paste with the ginger and garlic and cook for 1 minute. Add lamb pieces and saute for 5 minutes, tossing frequently. Add tomato and cook until they evaporate. Add 3 cups water and salt. Bring to a boil. Reduce to a simmer and cook for about 40 minutes. Add potatoes and simmer for another 10 minutes, until potatoes are cooked.

Taste and adjust salt, if necessary.

This was such a flavorful curry with the variety of spices used, very similar to Kashmiri Rogan Josh.

Thandai

Thandai is a popular drink throughout North India, but especially in Uttar Pradesh.

It is often enjoyed during festivals like Holi – the Festival of Colors. If you are lucky enough to be in India to play holi, make sure to enjoy lots of glasses of Thandai.

There are two ways to make Thandai. You can make the easier version like this one of basically just creating a spice powder. Then you just add the spice powder and sugar to a glass of milk and stir.

However, I prefer this methodology although it is a little more work as I feel the sugar dissolves better.

No matter which version you prefer, Thandai is a delicious drink that can be enjoyed at any time!

Ready to make Jeera Aloo Salan & Thandai –  I would love to see your photos! Tag me on Instagram @chefmireille #theschizochef with your pics!

Do you know anyone else who likes learning about international recipes, culture, history and travel? Bring them over here to join the party! Don't forget to use those share buttons!
Start Here to find out how the Schizo Chef can help you with your cooking, travel and other needs!
If you like this recipe, PLEASE LEAVE A COMMENT & SUBSCRIBE!