Last Updated on October 26, 2020 by Chef Mireille
Jan Hagel Cookies
These Dutch Shortbread Cookies topped with almonds and rock sugar are definitely festive and delicious cookies perfect for the holiday season.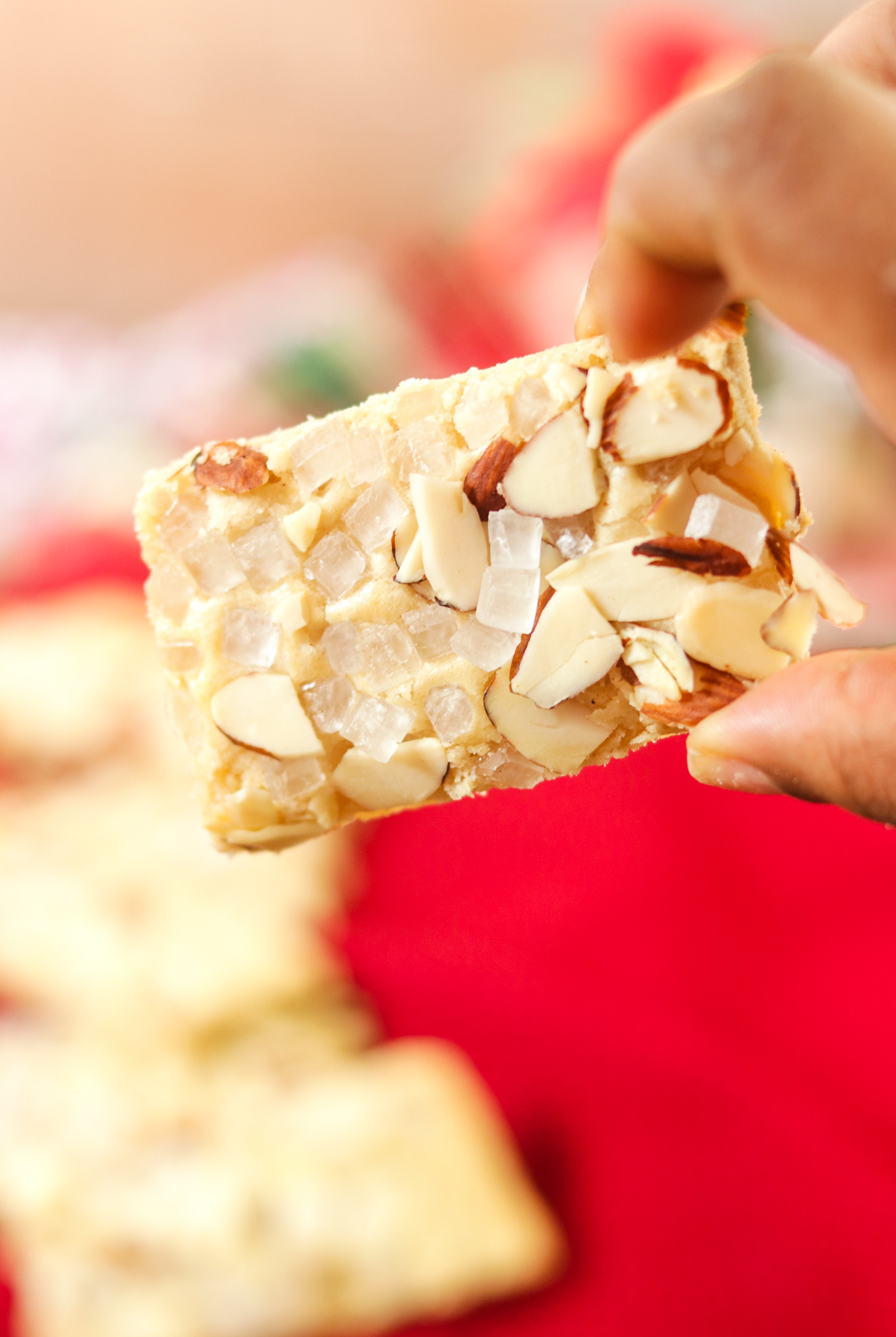 This post may include affiliate links.
Earlier this week I posted Kerstkransjes. Today I have the other Dutch cookie that you will find everywhere during the holiday season in the Netherlands.
Why so many cookies from the Netherlands this week? Well, first of all they are just delicious. Secondly, because of my family connection.
My mother is from the Dutch Caribbean (Aruba). Many people from former Dutch colonies like Aruba, Curacao, Suriname and Indonesia now call the Netherlands home. As such, much of my extended family lives in the Netherlands and I have been visiting there since I was a child.
I actually eat very little Dutch food when I visit. Since I am always staying with my family, I am eating at home where it is either Antillean or Surinamese cooking I am eating. When we go out to eat, we usually go to Indonesian restaurants as the part of my Surinamese family that lives In the Netherlands is mostly of Indonesian decent.
There is one exception – baked goods. We love Dutch sweet treats and especially when I am in Beets. Beets is a small farming village where one part of my family lives. I don't know if they still do this as I mostly stay in Amsterdam or Rotterdam now when I go, but when I visited Beets as a child, the local baker every morning would deliver fresh baked goods. This would include fresh baked bread as well as things like Ontbijkoek (Dutch Spice Cake).
I was in the Netherlands once during the holiday season from Christmas to New Years. At this time, I got to sample some of the traditional Dutch holiday foods like Oliebollen (Dutch New Year Doughnuts) and these cookies. These Jan Hagel Cookies are one of the Dutch cookies that they associate with Christmas.
The cookie has an interesting history though…
Jan Hagel History
Jan Hagel means unruly mob. As the cookies are topped with a hodgepodge of nut and pearl sugar, the name does seem appropriate. Also, in the 17th century, jan hagel often referred to sailors and disreputables and this group of people seems to have been responsible for popularizing these cookies.
There are several folkloric stories of how these cookies originated. Some say they were brought by French soldiers, but they definitely date back to the 17th century, when the first recipe was found.
Legend also says that St. Peter serves them to orphans and children as they enter heaven. That's a lovely thought, especially during this holiday season.
Regardless of the history, these delicious Jan Hagel Cookies – Dutch Shortbread Cookies are perfect to have around for the holiday season – or at any time really!
Out of all the holiday cookie recipes I gave you this week, these are definitely my favorite. If you are going to try just one of them, these are the ones you should try!
They make a great addition to a cookie platter or holiday potluck party!
Except for the rock sugar, all of the ingredients are basic ingredients, so no need to hunt for exotic ingredients for these delicious cookies!
Ingredients for Dutch Shortbread Cookies
all purpose flour
baking powder
butter
egg
sliced almonds
rock sugar or pearl sugar
Due to my family history, I have quite a selection of Dutch recipes posted. So how about trying some other Dutch Foods while you're at it!
Dutch Recipes
Jan Hagel Cookies – Dutch Shortbread Cookies
Jan Hagel Cookies are traditional Dutch cookies that date back to the 17th century. These are especially popular in the Netherlands during the holiday season.
Ingredients
2 ¾

all purpose flour

1

teaspoon

ground cinnamon

1

teaspoon

baking powder

¼

teaspoon

salt

1

cup

softened butter

2/3

cups

sugar

1

whisked egg
Topping Ingredients:
1/3

cup

sliced almonds

1/3

cup

rock sugar

or pearl sugar
Instructions
Preheat oven to 350 F.

Cut out 2 pieces of parchment paper about 12"x14".

In a bowl, combine flour, cinnamon, baking powder and salt.

In the bowl of an electric mixer, cream butter and sugar until creamy.

Add half of the egg and mix until incorporated.

Add the dry ingredients and mix until just combined.

Place one piece of the cut parchment paper on a work surface.

Transfer the cookie dough to the parchment.

Sprinkle a little flour on top and roll out the cookie dough to 10"x12".

Use your hands to help shape the dough.

Brush the top of the dough with the remaining half of the egg.

Sprinkle almonds and rock sugar on top.

Place the other piece of parchment on top and with a rolling pin roll over the dough, to press the almonds and sugar inside the dough. Remove top parchment paper.

Lift parchment paper with dough and transfer to cookie sheet.

Bake for 15 minutes.

Using a sharp knife, cut into 18 pieces.

Bake for 5-8 minutes until cookies are slightly firm.

Leave to cool completely on tray.

Separate cookies and store in an air tight container.
Nutrition
Calories:
152
kcal
|
Carbohydrates:
13
g
|
Protein:
1
g
|
Fat:
11
g
|
Saturated Fat:
7
g
|
Cholesterol:
36
mg
|
Sodium:
126
mg
|
Potassium:
43
mg
|
Fiber:
1
g
|
Sugar:
12
g
|
Vitamin A:
328
IU
|
Calcium:
20
mg
|
Iron:
1
mg
Did you try this recipe? Leave a comment below.
Please follow me on Instagram @chefmireille or tag me #chefmireille with your pics! I'd love to share them!
DO YOU YUM? SAVE IT BELOW!
Yum
Don't forget to visit the RECIPE INDEX with over 1000 recipes from around the world including lots of Vegetarian Recipes and Gluten Free Recipes!