Last Updated on July 9, 2022 by Chef Mireille
This post may include affiliate links.
When you need more ideas for recipes with leftover holiday ham, this is the perfect one pot meal that fits the bill. Quinoa Pilaf with Leftover Ham and Asparagus is a great way to use up that last bit of extra meat around.
Maybe you have leftover pernil from a holiday meal – that would work great too!
Salty ham and fresh asparagus infused with herbs and spice create the most balanced bowl of deliciousness with both smoky flavor and herbaceousness.
This great recipe to use leftover ham is healthy, easy to make and delicious! In addition to the asparagus, you can even add some more veggies to make it even healthier!
This is a protein packed one pot dish that's a great way to start the day, but it's filling enough that it works just as well for lunch and dinner also. Just add a green salad and your meal is complete.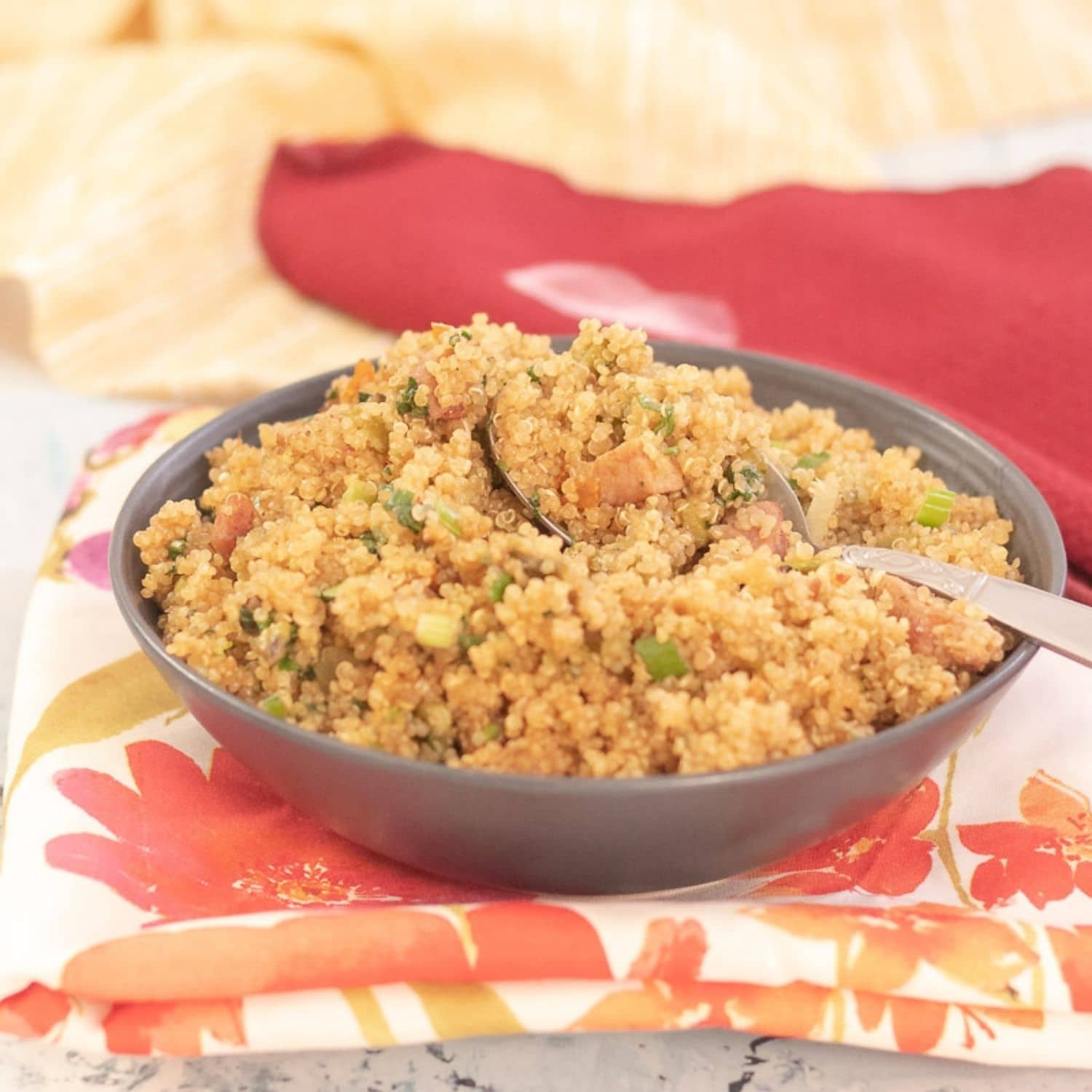 Here in America, breakfast is a sweet affair. Sweetened oatmeal or cream of wheat, pancakes or waffles served with syrup, muffins, scones, sweetened yogurt, etc. We have an obsession with sugar. We are the sweetest country in the world, with the average person consuming about 1/4 lb. of sugar a day (updated 2019).
I'm guilty of contributing to the sugar obsession and many mornings after breakfast I feel like I've just had dessert instead of breakfast and feel guilty for starting the day with so much sugar.
Almost every other country in the world starts the day with nutrient filled savory foods, except maybe the Phillipines where starting the day with puto or champorado isn't unusual.
If you are trying to stay away from sweets until later in the day and making an effort to start the day with energy producing healthy food to get you through the day, this flavorful and protein packed bowl is a step in the right direction.
If you feel your energy level crashing mid morning after your sugar high is gone, try this savory breakfast instead to start your day. If you don't have time in the mornings, make it the night before and you can nuke it in the morning.
You can also make a huge pot of this Quinoa Pilau and serve it as an afternoon snack when the kids come home from school or as a hearty breakfast for overnight guests.
Health Benefits of Quinoa
About a decade ago, half of the world had not even heard of quinoa, but now it's a totally different story. You have to practically be living under a rock somewhere to have not heard of quinoa or tried quinoa.
Quinoa has achieved superfood status, with it's high health content.
Quinoa is low in fact, but high in fiber, protein, iron, potassium and several other vitamins and minerals.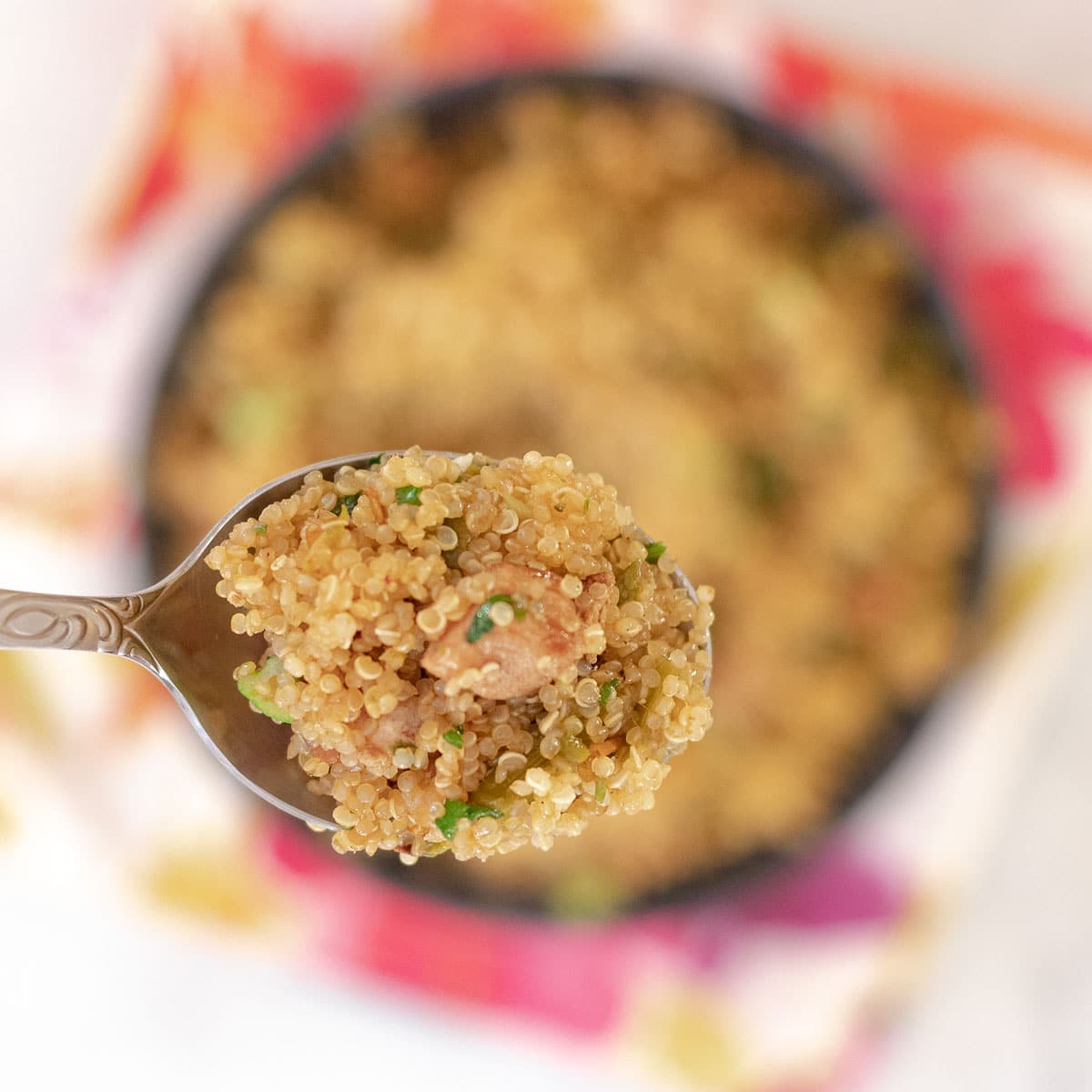 Frequently Asked Questions
What is a pilaf rice? 
Pilaf, also known as Pilau, comes from a sanskrit word meaning to stand on end. Pilaf/ Pilau is essentially a grain dish (most often made with rice). Pilaf is cooked in broth with spices and/or meat and vegetables so that the grains cook up separated. 
Do you serve quinoa hot or cold? 
Quinoa is most often served warm, however it can also be enjoyed as a chilled salad. 
Is quinoa healthier than rice? 
Yes. Quinoa is loaded with more fiber, protein, vitamins and minerals than rice. Especially when compared to white rice, quinoa is much healthier than rice. 
Can I substitute red quinoa? 
Absolutely. Either white quinoa or red quinoa can be used in this recipe. 
Recipe Notes
Ham – Smoked Ham or any leftover roast ham can be used. If you have s small leftover ham bone, that will definitely add even more flavor.
Vegetables – Any fresh vegetables or even leftover vegetables can be substituted, if you don't have any fresh asparagus.
Hard Boiled Eggs can be added for more protein and to make the meal even more filling.
Variations
You can omit the ham for a Vegetarian version and replace with fresh mushrooms to keep the protein level high. 
For more flavor, you can use chicken broth instead of water. 
For variation, you can also use wild rice or millet instead of the quinoa. 
You can replace the ham with leftover chicken if you prefer. 
This quinoa recipe can be easily adapted to be made in the Instant Pot or slow cooker. 
Now let's check the pantry for the ingredients you need to make this simple recipe the entire family will love! 
Ingredients for Quinoa Breakfast Bowl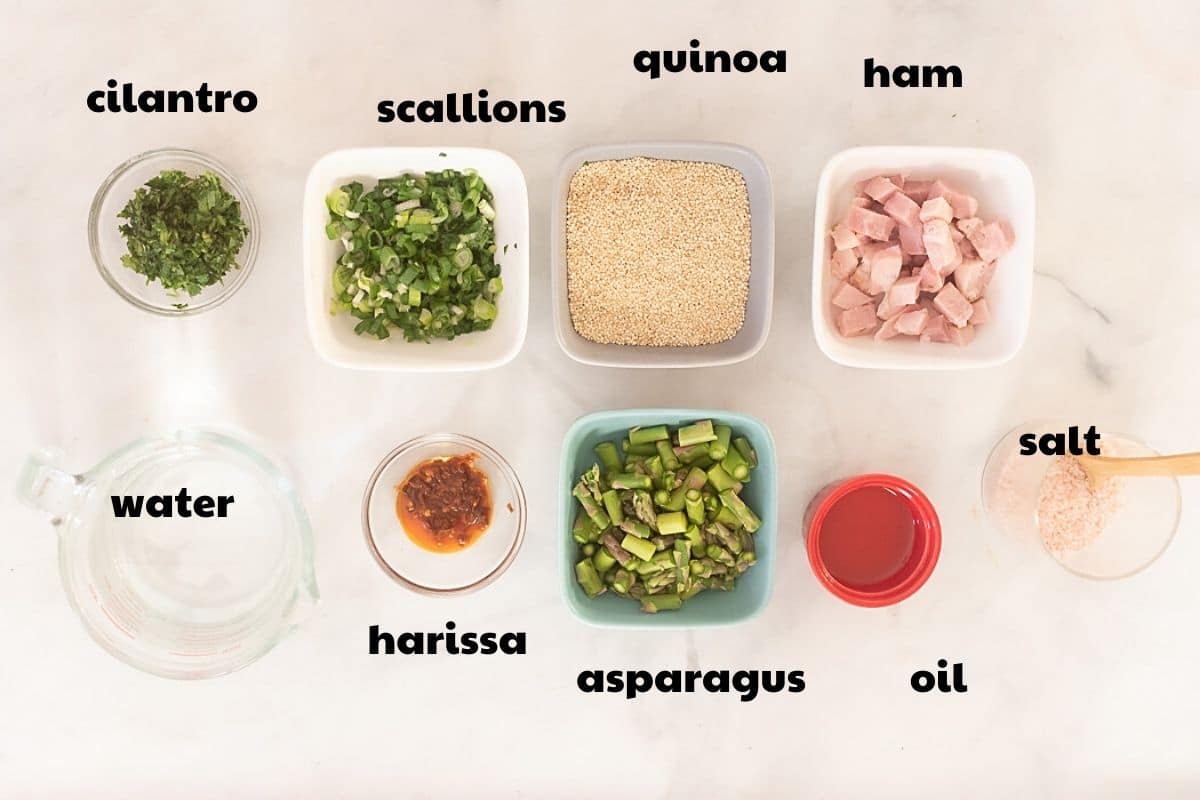 olive oil
ham
asparagus
harissa (or your favorite hot sauce)
quinoa
cilantro (or parsley)
scallions
How to Make Quinoa Breakfast Bowl
Saute diced ham and asparagus in a little oil.
Add water and harissa and bring to a boil.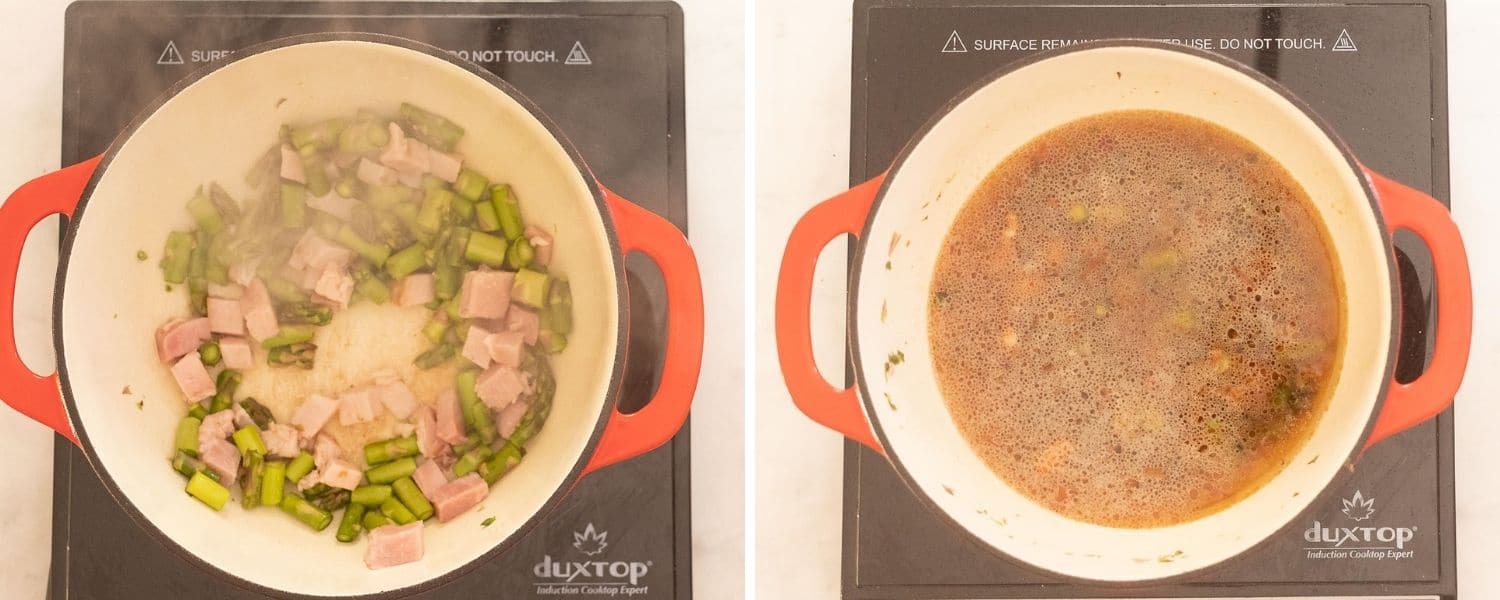 Add quinoa and simmer, covered, for about 15 minutes.
Fluff with a fork and add green onions.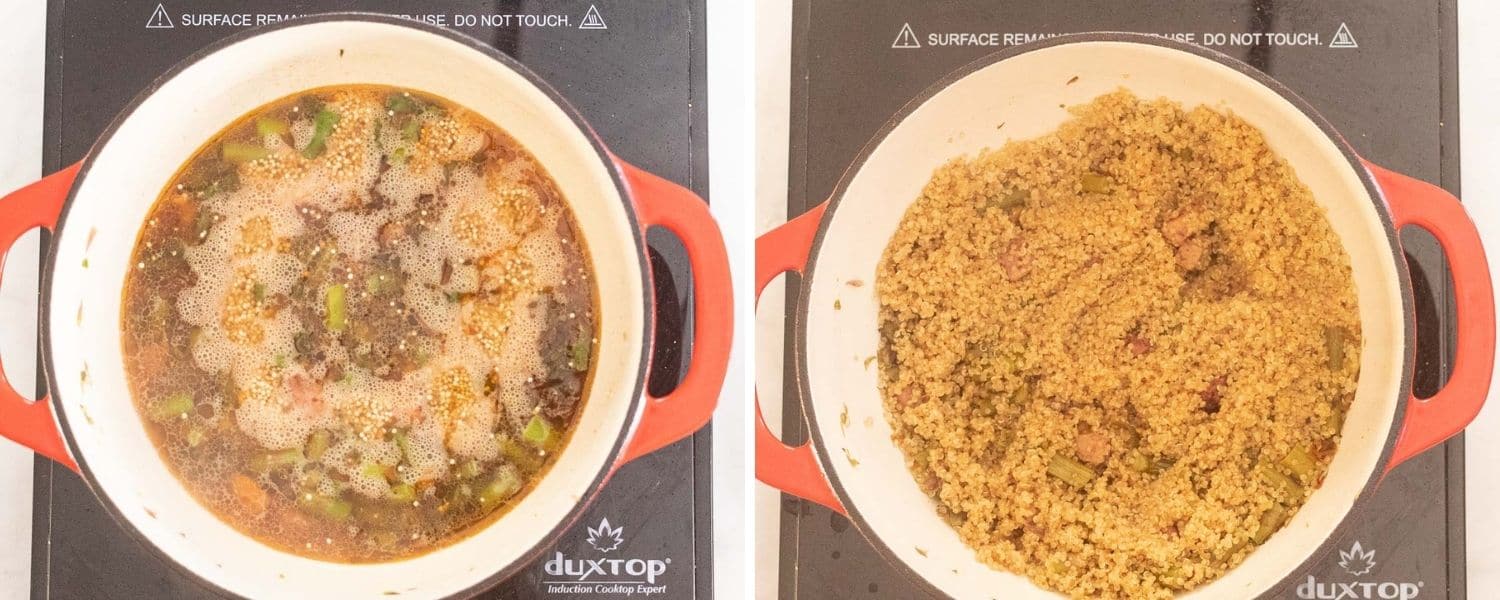 This protein packed bowl is a delicious way to start the day that won't overload you on sugar so that you are crashing mid morning!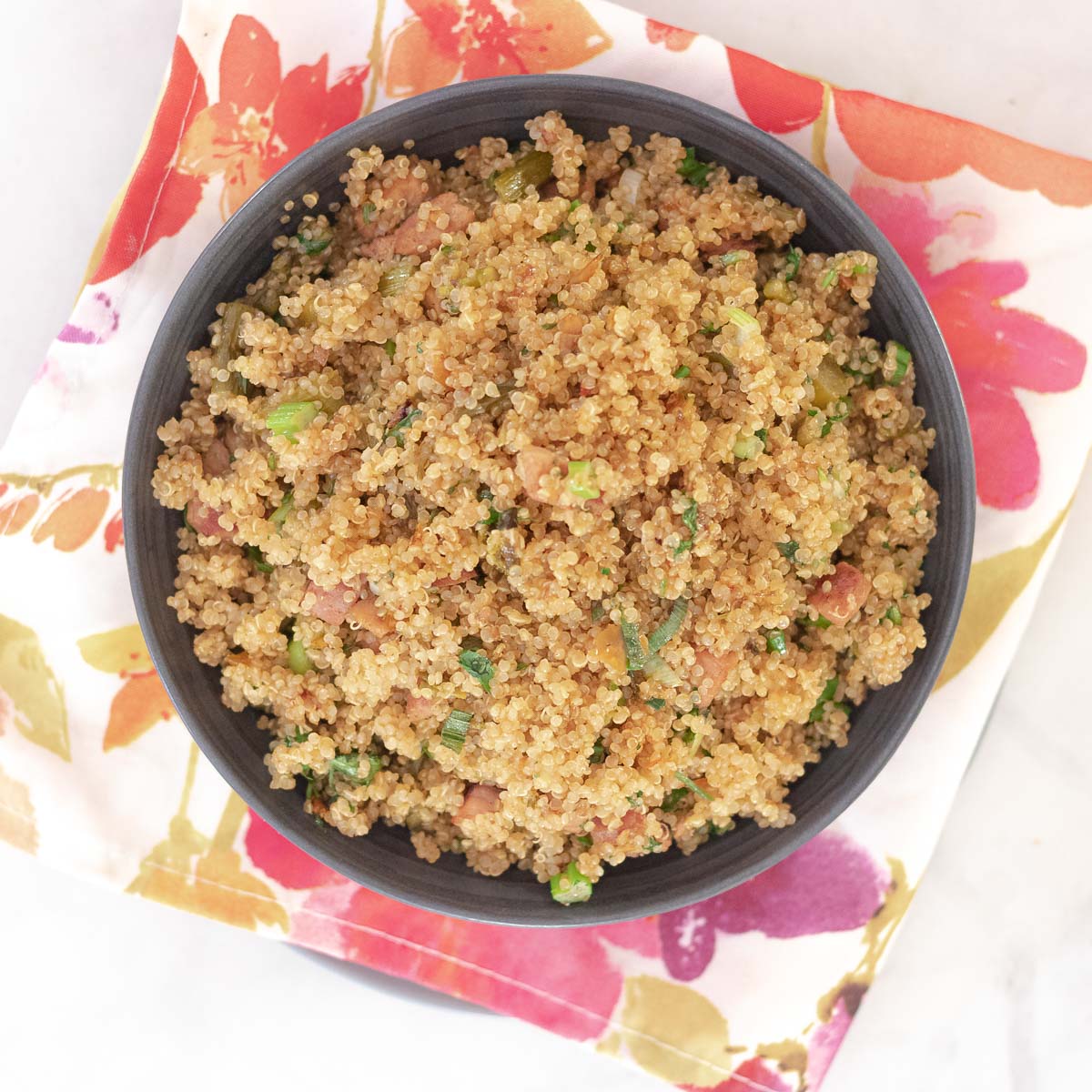 This satisfying dish is a delicious way to start the day that won't overload you on sugar so that you are crashing mid morning, but still provides a filling meal!
Not just for breakfast, this also makes an easy and delicious gluten free weeknight dinner.
What to Serve with Savory Quinoa Breakfast Bowl
Fresh Fruit
Hard Boiled eggs or Fried Eggs
Instead of breakfast, serve it as a healthy dinner with a hearty soup like split pea soup, escarole bean soup or lentil soup and dinner rolls like these Oat Rolls.
If you are looking for an easy recipe to use up leftover holiday ham, this is it! With fresh fruit, it's the complete meal you need to start the day with all the health benefits of quinoa and so much flavor coming from the smoky ham. It's absolutely delicious!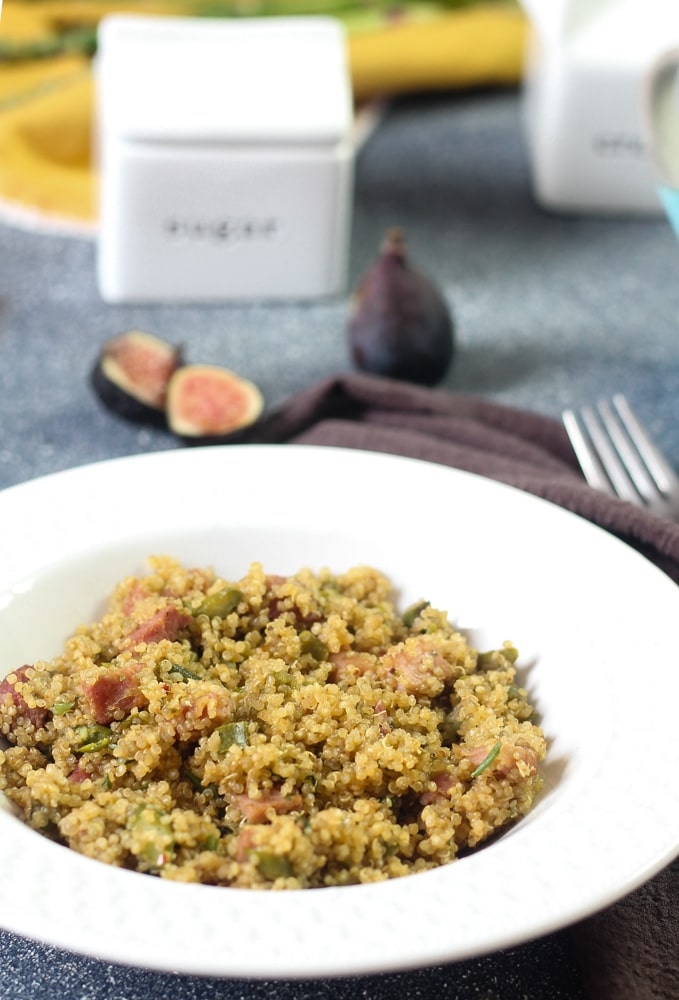 Now when you need to use up leftover ham from a holiday meal, you have a delicious healthy quinoa recipe in your go to arsenal!
Ham Asparagus Quinoa Pilaf
Ham & Asparagus Quinoa Pilaf is a healthy and protein packed breakfast to start the day. It works just as well for a one pot meal for lunch or dinner.
Ingredients
2

tablespoons

olive oil

2/3

cup

smoked ham

diced

3/4

cup

asparagus

chopped

1

cup

quinoa

1

teaspoon

harissa

1/4

teaspoon

salt or more according to taste

2

scallions

finely chopped

2

tablespoons

cilantro

finely chopped
Instructions
In a saucepan, heat oil.

Add cubed ham and saute until it starts to turn golden brown.

Add asparagus and saute for 3 minutes.

Add 1 1/2 cups water, quinoa, harissa and salt. Bring to a boil.

Reduce heat to a simmer, cover and cook for about 10-15 minutes, all of the cooking liquid is absorbed and the quinoa is fluffy.

Add cilantro and and scallions.

Stir to combine.
Notes
You can omit the ham for a delicious Vegetarian version and replace with fresh mushrooms to keep the protein level high.
You can use leftover chicken instead of leftover ham if you prefer.
Nutrition
Calories:
240.92
kcal
|
Carbohydrates:
31.61
g
|
Protein:
13.43
g
|
Fat:
7.02
g
|
Saturated Fat:
0.9
g
|
Sodium:
340.84
mg
|
Fiber:
3.75
g
|
Sugar:
0.69
g
Did you try this recipe? Leave a comment below.
Please follow me on Instagram @chefmireille or tag me #chefmireille with your pics! I'd love to share them!
DO YOU YUM? SAVE IT BELOW!
Yum
Don't forget to visit the RECIPE INDEX with over 1000 recipes from around the world including lots of Vegetarian Recipes and Gluten Free Recipes!