Last Updated on December 16, 2020 by Chef Mireille
Coconut Puto are Filipino steamed muffins popular for breakfast, they are available in many different flavor varieties.

A few years ago a I did a restaurant review on this blog on Rice to Riches, a restaurant in NYC that sells only one thing – Rice Pudding!  I received a few comments from Filipinos mentioning Puto, Filipino steamed rice cakes.  Of course, I knew this was definitely something I wanted to try.  After an extensive online search, I combined elements from different recipes that I liked and came up with this one.
Although in the Phillipines they have Puto molds to make this, these are not available here in the United States. I couldn't even find any resources online that would sell them.  As soon as I saw the shape of them, I thought silicone muffin cups would be a good alternative.  Traditionally, the rice flour and water would be left overnight to ferment. This is a modern instant version, that uses baking powder, omitting the need for fermentation. This instant version of puto is ready in less than an hour.
In much of Southeast Asia, the most popular flavoring for desserts is pandan, similar to the way we use vanilla extract/vanilla beans.  It took me many years to finally find this product in the NY area.  It can be labeled as different names – Pandan, Screwpine (the name of the tree it comes from), or Bai Toey.  As more and more Southeast Asians have come to NY, finding pandan isn't as difficult as it once was. Any decent sized Asian market in any of our Chinatowns carry it from the smaller Chinatowns like Avenue U/Sheepshead Bay and 8th Avenue/Dyker Heights in Brooklyn to Manhattan's larger Chinatown. If you can't find the actual leaves in your local Asian market, the pandan paste or extract can be substituted. These are available on Amazon, if not locally available in your area..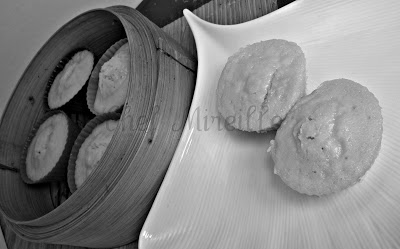 IN THE MAKING
These are soft and fluffy and are a delicious way to start the day or as an after dinner treat!
This is a popular item for breakfast in the Phillipines and now that I've had them, they are absolutely yummy with a cup of coffee.  Being that I've never had them before, I can't really compare them to the traditional fermented kind.  All I can say is these are delicious with a soft and fluffy texture.
Delicious coconut & pandan flavor comes through.  Whether enjoyed for breakfast or dessert, you'll be an instant fan once you try these!