Last Updated on January 30, 2023 by Chef Mireille
This post may include affiliate links.
Fufu is a West African finger food made with boiled cassava and green plantain. Our ancestors brought this accompaniment to soups and stews to the Caribbean and South America. Today, I'm teaching you how to make Tom Tom ak Sos Kalalou from Haiti and encourage you to follow the story of West African Fufu and Okra Soup from Africa to Haitian Tom Tom ak Kalalou Gombo.
In 2023, the theme of Black History Month is Black Resistance and Eat the Culture is recognizing the remarkable and, frankly, underrated resistance of our ancestors in bringing culinary traditions across the Atlantic to shape the vibrance of Black cuisine that we know and love today. They physically and mentally carried African foodways across the deadly Middle Passage to pass down through generations. This year's Black History Month Virtual Potluck traces popular dishes of the Diaspora from their West African roots to North America and beyond.  You can grab the full list of recipes from this year's collaboration on the Eat the Culture website.
Share these recipes with your friends and loved ones and follow each participant by using the hashtag #BHMVP2023 on Instagram

Table of Contents
This traditional Haitian dish of Okra Sauce with Tom Tom is a dish rooted in the traditional African Fufu and Okra Soup combination. Tom Tom Ak Kalalou Gombo aka Tom Tom ak Sos Kalalou is a very regional Haitian dish most popular in the southern town of Jeremie.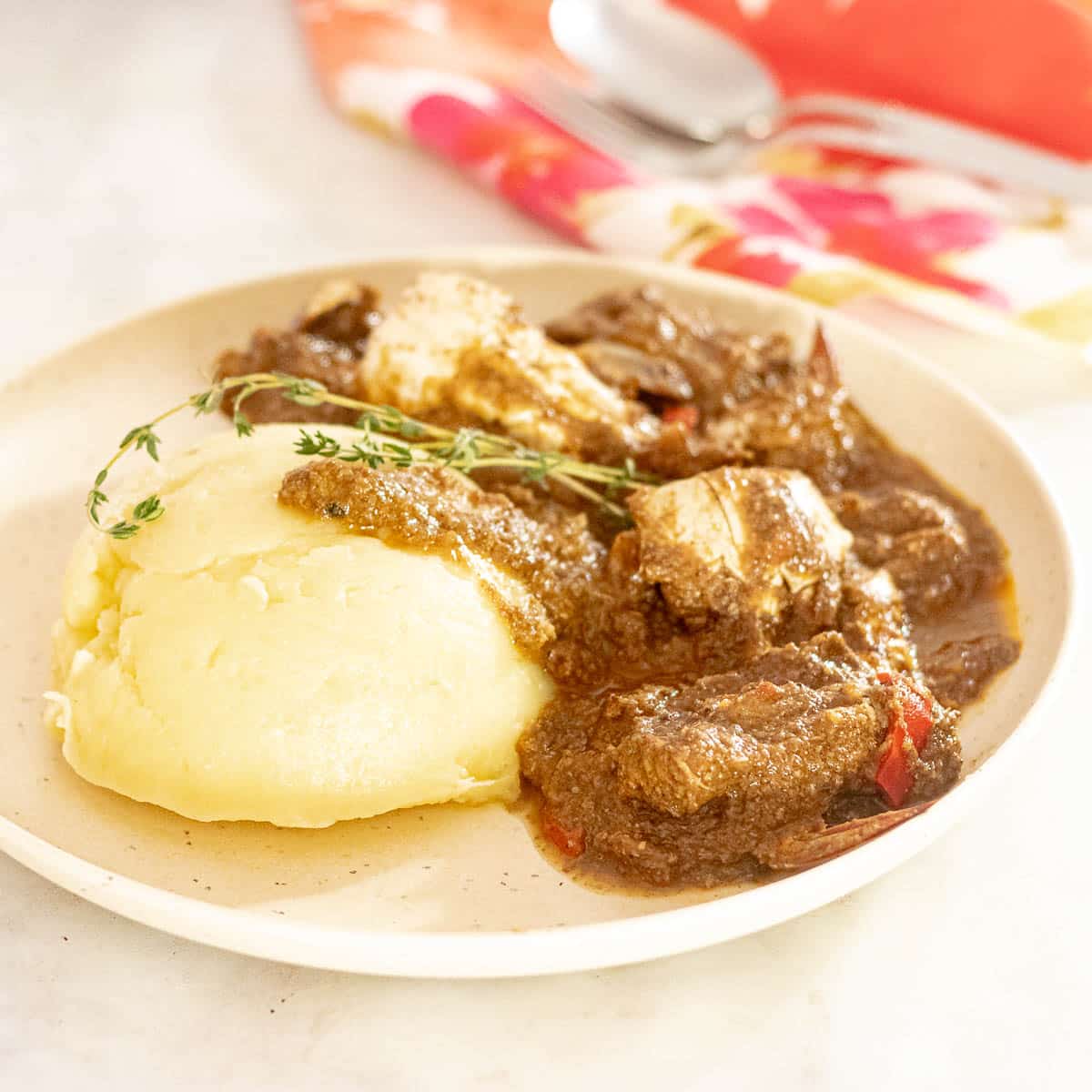 Although when translated Sos Kalalo becomes Okra Sauce, this Haitian version of African Okra Soup definitely has more of a stew consistency than a sauce.
However, in colonial times, it was a very common everyday dish to most Haitians. Over time, tom tom has become less popular and rice is the most common accompaniment to Haitian meals like this Haitian Style Rice and Beans.
This recipe may seem a bit complicated with the long list of ingredients. There are several parts to this recipe, however, most of the cooking happens simultaneously, so it actually is a lot easier to put together than it seems.
Many West African countries have versions of this Okra Stew. Fufu and Okra Soup is a popular combination in West African cuisines. Since Black History Month is here, let's travel the routes of this delicious combo rooted in the African motherland.
Before I get to the list of ingredients, here is some background information about the unique ingredients you may be unfamiliar with.
Specialty Ingredients
Sour Orange Juice – sour oranges are a particular type of orange used in the Caribbean to clean meat and to marinate with. If you cannot source the fresh oranges, it is also sold bottled labelled as Naranja Agria, which is sour orange in Spanish. The most commonly found brands are Badia or La Fe.
Epis Seasoning – this is an all purpose seasoning paste used in pretty much all savory dishes from Haiti. If you've heard of sofrito or green seasoning, this is basically the Haitian version of those. Click here to get the epis recipe.
Creole Seasoning – I use my own blend of spices for this Bold Creole Seasoning. Click here to get the recipe. However, you can use any all purpose seasoning blend you prefer – but it should have some spicy kick to it so cayenne pepper should definitely be one of the ingredients if you buy a bottled version. Cajun Seasoning is a good substitute.
Okra – Okra has many names in different countries like okro or lady fingers. So what type of okra is best to use? You can purchase fresh okra or frozen okra, however I highly caution you against using frozen okra and don't even think about using canned okra. The best flavor and consistency will be achieved by using fresh okra only. Okra is easily found at Asian, Indian, African or Caribbean markets as it is a staple of all of these cuisines.
Breadfruit is a fruit most often eaten as a vegetable although when ripened it can be utilized in sweet recipes like ice cream, smoothies or desserts like this Ripe Breadfruit Tea Cake. It is very versatile like a potato and can be fried, boiled, baked and incorporated into many different recipes. Breadfruit is very common in states with tropical climates like Hawaii, where it is known as ulu. In other states, look for breadfruit in African or Caribbean markets.
Crab – You can use fresh or frozen crab. I used frozen crab, which was already cleaned and broken. If using fresh crab, you will need to blanche the crab first and clean it very well.
Bouquet Garni – A few stalks of thyme and parsley tied together with kitchen twine.
Recipe Notes
Boil breadfruit in well salted water. Just like when making pasta, the water should taste like the ocean.
After boiling the breadfruit, SAVE the cooking liquid. You may need some of it to add to the breadfruit when you are pounding to get a smooth consistency.
In the Caribbean, we marinate our meat. Optimal flavor will be achieved if yo marinate the beef overnight in the refrigerator.
There are different ways to pound the breadfruit. The best ways utilize some combination of a pestle (from a mortar and pestle), potato masher and wooden spoon until you have a smooth consistency.
Goat meat can also be used instead of the beef, but it will require a longer cooking time for the meat to be soft.
Before you start the recipe, it is very important to clean your meat. We clean our meat with some kind of acid like lime juice, lemon juice, vinegar or the sour orange juice referenced above. Not only does it kill bacteria, but it also flavors the meat. See here for detailed cleaning instructions.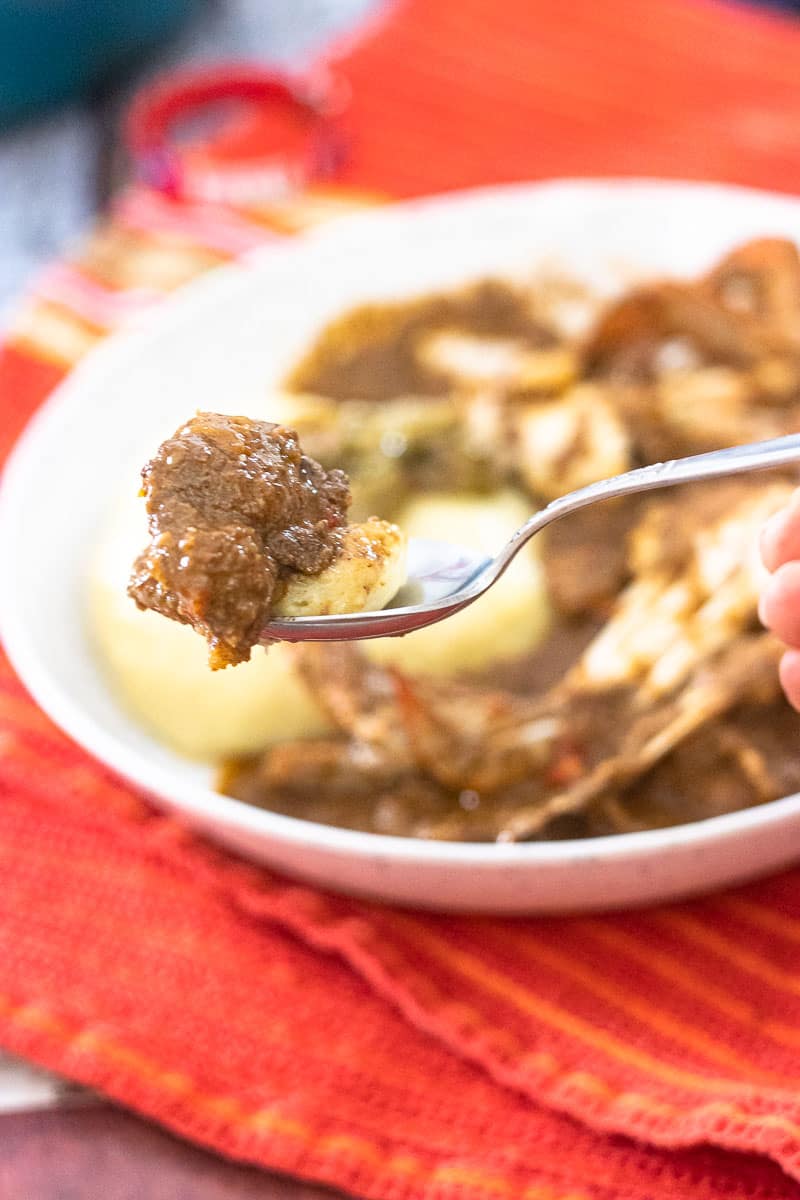 Ingredients
fresh or frozen crab
beef chuck steak
Creole seasoning (or any all purpose seasoning)
pasta sauce (or tomato sauce)
onion
bell pepper
Scotch Bonnet pepper
whole cloves
paprika
garlic powder
onion powder
ground ginger
garlic
fresh okra pods
coconut milk
breadfruit
How to Make Sos Kalalou
Marinate the beef with the seasoning and sour orange juice. It is best to marinate overnight.
Marinate the crab with the seasoning and sour orange juice.
In a large pot, fry the pasta sauce in a little oil.
Add the beef.
Cook on high for 5 minutes.
Simmer the meat on medium heat for 30 minutes, until tender.
In a separate pot, saute the epis for a few minutes.
Add the onion, bell pepper and garlic.
Once the vegetables are softened, add the okra.
Saute until they start to brown.
Add coconut milk, water and seasoning.
Cook until the okra is very soft.
Once the okra is cooked, puree the cooked okra in a blender or food processor.
Add the crab to the pot with the beef.
Insert the cloves throughout the Scotch Bonnet pepper.
Add onion, bell pepper, Scotch Bonnet pepper and bouquet garni.
Cook for about 20 minutes and then remove the crab to a bowl.
Add the pureed okra to the pot with about 1 cup of water.
Add spices, salt and simmer for 10 minutes.
Return the crab to the pot and adjust seasoning, as needed.
How to Make Tom Tom (Breadfruit Fufu)
Peel the breadfruit and remove the center core.
Cut into smaller pieces and boil in well salted water until breadfruit is very soft.
Remove the breadfruit from the water, but reserve the cooking liquid.
Using a potato masher and a wooden spoon, pound until the breadfruit is very smooth, adding a little of the cooking liquid as needed, to achieve a smooth breadfruit fufu.
To serve, spoon some of the tom tom (breadfruit fufu) into a buttered bowl and invert onto a plate.
Add the Sos Kalalou to the plate, making sure to add some pieces of crab to each portion.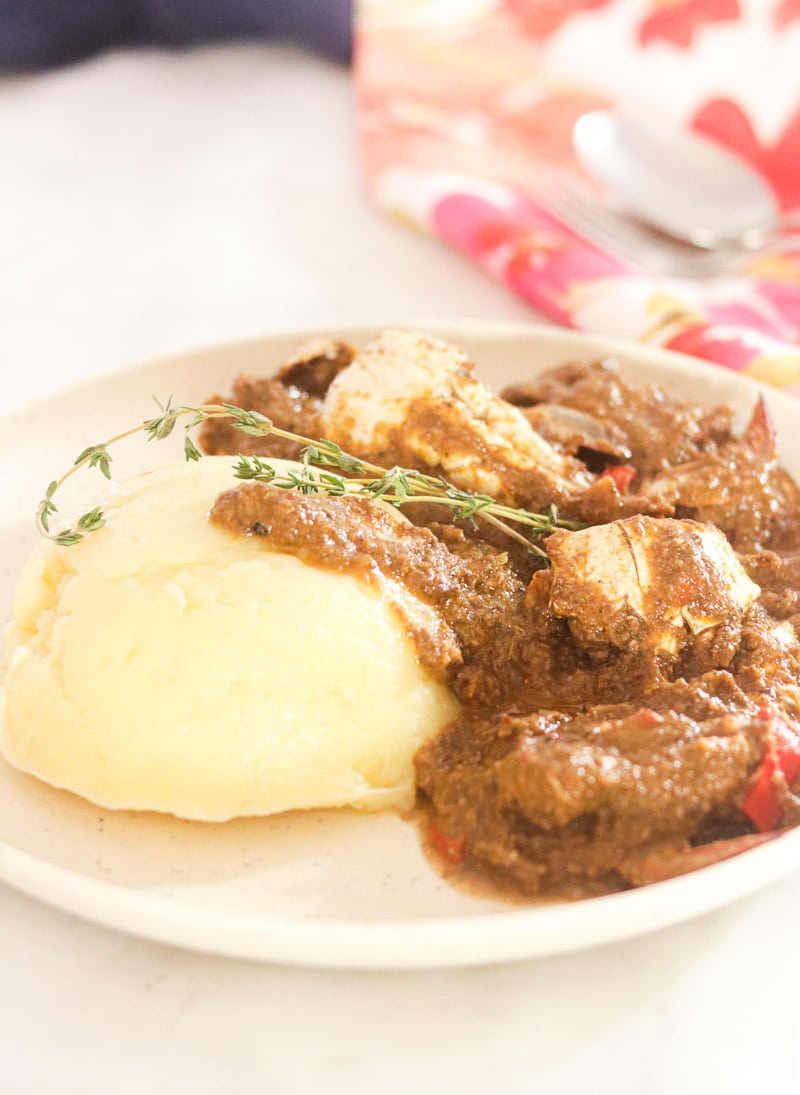 Tom Tom ak Kalalo (Breadfruit Fufu with Okra Sauce)
Tom Tom ak Kalalou is Haiti's version of Fufu and Okra Sauce. A delicious combination meal!
Ingredients
Crab Marinade Ingredients:
2

tablespoons

sour orange juice

2

lbs.

frozen crab

3

tablespoons

Epis
Beef Marinade Ingredients:
1

lb.

beef chuck steak

1

tablespoon

Creole seasoning

2

tablespoons

sour orange juice

2

tablespoons

Epis
Okra Ingredients
oil

1

tablespoon

Epis

1

chopped onion

3

cloves

garlic

1

" ginger

1

lb.

Okra

1

can

coconut milk

1

cup

water

1

lime
Instructions
In a large bowl, toss crab with epis and sour orange juice.

Set aside to marinate.

Toss beef with Creole seasoning, sour orange juice and epis.

Set aside to marinate. It is best to marinate the meat overnight.

In a large pot, heat the oil.

Add the pasta sauce and fry for a few minutes.

Add the meat and stir well to coat the meat.

Cover the pot and cook on high heat for 5 minutes.

Open the pot and give it a good stir.

Reduce heat to medium and cook, covered, for about 30 minutes.

While the meat is cooking, let's start on the okra.

In a pot, heat oil.

Add epis and saute for a few minutes.

Add onion, ginger and garlic. Saute until the onion starts to brown.

Add okra and saute for a few minutes until they start to brown.

Add juice of 1 lime and stir to combine.

Add coconut milk and 1 cup of water. Stir to combine.

Cook, covered, on medium heat for about 30 minutes, until the okra is very soft.

Reserve 1 or 2 tablespoons of okra pieces and puree the rest in a blender or food processor.

Now back to the pot with the meat.

Add the marinated crab to the pot.

Add the onion, bell pepper, Scotch Bonnet pepper and bouquet garni on top.

Cover and cook for about 20 minutes.

Remove the crab to a bowl.

Add the pureed okra to the pot and stir well.

Add 1 cup of water and salt, as needed.

Add paprika, onion powder, garlic powder and ginger powder.

Simmer on medium high heat for about 10 minutes.

Return the crab to the pot.

Tom Tom Instructions:

Peel and core the breadfruit.

Chop it into about 12 pieces.

Boil breadfruit in well salted water.

Cook until very soft, about 30 minutes.

Mash with a potato masher and wooden spoon until it is as smooth as you can get it.

Serve with the sos kalalou.
Nutrition
Calories:
621
kcal
|
Carbohydrates:
19
g
|
Protein:
45
g
|
Fat:
42
g
|
Saturated Fat:
21
g
|
Polyunsaturated Fat:
4
g
|
Monounsaturated Fat:
13
g
|
Trans Fat:
1
g
|
Cholesterol:
117
mg
|
Sodium:
1402
mg
|
Potassium:
1139
mg
|
Fiber:
6
g
|
Sugar:
7
g
|
Vitamin A:
2202
IU
|
Vitamin C:
66
mg
|
Calcium:
184
mg
|
Iron:
5
mg
Did you try this recipe? Leave a comment below.
Please follow me on Instagram @chefmireille or tag me #chefmireille with your pics! I'd love to share them!
I guarantee that once you taste this Haitian Okro Stew with Tom Tom (Breadfruit Fufu), you can definitely taste the homage to the African motherland.
Now I'm sure you will want to go into a deep dive into the good food that makes up Haitian cuisine. Check out my other Haitian Recipes here.
Don't forget to visit the RECIPE INDEX with over 1000 recipes from around the world including lots of Vegetarian Recipes and Gluten Free Recipes!