Last Updated on June 2, 2015 by Chef Mireille
These make ahead Zucchini Muffins are a staple recipe to have in the repertoire to utilize all that summer zucchini. Light, airy, moist and healthy – these delicious muffins are kid friendly and an easy make ahead and freeze recipe.
Zucchini, courgette or marrow – this versatile vegetable has a few different names depending on what part of the world you are in.
Zucchini is one of the most versatile vegetables that can be cooked in a variety of ways and utilized in both sweet and savory recipes.
It has a very mild flavor so that you won't even notice it in the muffins, yet by using healthy zucchini for moisture instead of additional dairy products that would add more fat these are no guilt muffins that you can enjoy at any time.
With more road trips this year (2021) than ever before, this is a delicious and healthy zucchini muffin to pack along on the long car trips.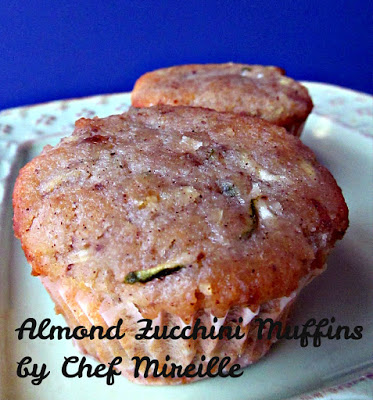 This post may include affiliate links.
Do you garden? Plant zucchini?
Before you blink, zucchini season will be upon us. If you plant zucchini, you know that once they start, coming up with delicious ways to utilize all that zucchini before it gets wasted is a constant challenge. Just one plant will keep you swimming in zucchini for the whole summer season.
Sure you can just saute zucchini as a vegetable side or use them in delicious recipes like Ecuadorian Spring Soup, Grissini Breadsticks and Italian Chicken Farro Salad, but when you are on the lookout for more recipes to utilize your excess zucchini then its time to make these Healthy Zucchini Muffins.
Now not all zucchini muffins are healthy. If they are loaded with sugar and refined flour, the health benefits of the zucchini in the muffins are minimal, if at all.
So I've added a few things to improve the protein levels and health benefits of these Zucchini Muffins.
How to make Zucchini Muffins Healthy?
Yogurt – full of healthy probiotics that help digestion and boost your immune system. It is also very high in protein, calcium and potassium.
Almond Flour – By replacing some of the flour with almond flour/almond meal, again you are adding more protein to these Zucchini Muffins with Almond Flour. By utilizing almond flour, it also makes it low in gluten. Just replace the whole wheat pastry flour with your favorite gluten free alternative flour to make the muffins 100% gluten free.
Zucchini – and of course, by adding zucchini to the muffins, you are getting all the healthy vitamins and minerals from the vegetable.
Whole Wheat Pastry Flour – by using whole wheat flour instead of all purpose flour, you get additional dietary fiber. Pastry flour will yield the same result as all purpose flour, due to the reduced protein levels in pastry flour.
Frequently Asked Questions
So what do you need to make Healthy Zucchini Muffins with Almond Flour?
Ingredients
Have you tried instacart yet? It's how I get all of my fresh grocery items delivered within 2 hours!
How to make Easy Healthy Zucchini Muffins
First grate the zucchini. 
Wrap the zucchini in a kitchen towel or cheesecloth and squeeze out as much liquid as you can. 
Mix all of the dry ingredients together in a bowl. 
Beat the butter and sugar. 
Add dairy and flavorings. 
Add the flour combination. 
Fold in zucchini and walnuts. 
Bake.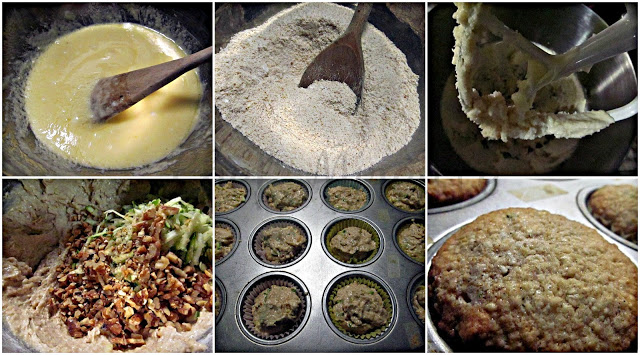 Bake for 30 minutes, until toothpick inserted comes out clean. Let cool and remove from muffin tin.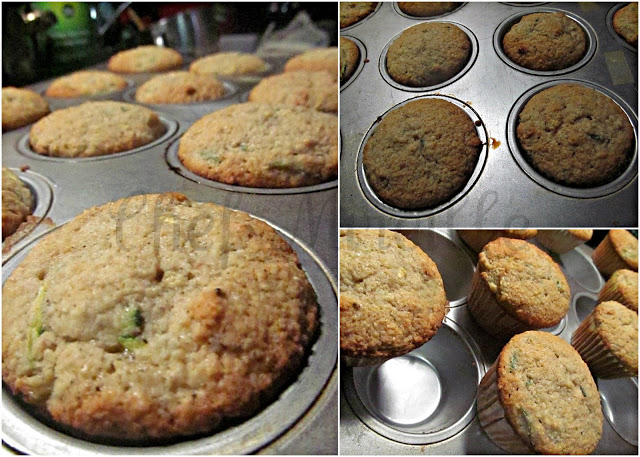 Soft, tender, moist, light and airy – The Ultimate Best Zucchini Muffins with Almond Flour and Yogurt!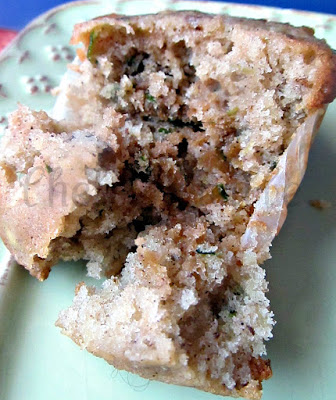 I used to see Zucchini Bread and Zucchini Muffins at the Farmer's Market and thought it was kind of weird so never tried it. Then when I was in culinary school, we made Zucchini Nut Muffins and I was so amazed how good it was with the grated vegetable in it.
Zucchini has a very neutral flavor so is a perfect way to sneak some vegetables into a sweet treat for your kids with them being none the wiser. If you have one of those kids that wont eat it if they know vegetables are inside, just tell them its green apple if they ask what the green things are inside the muffins. After they finish falling in love with the muffins, then you can tell them the truth 🙂
Healthy Zucchini Muffins
Healthy Zucchini Muffins with almond flour and yogurt are a staple recipe to have in the repertoire to utilize all that summer zucchini. Light, airy, moist and healthy – these delicious muffins are kid friendly and an easy make ahead and freeze recipe. 
Ingredients
1 1/4

cups

almond flour/ almond meal

3/4

+ 1/3 cup whole wheat pastry flour

2

teaspoons

baking powder

1/2

teaspoon

baking soda

1/4

teaspoon

salt

1

teaspoon

ground cinnamon

1/2

teaspoon

ground cardamom

1

stick unsalted butter

softened

3/4

cup

sugar

1

teaspoon

almond extract

2

eggs

1

cup

zucchini

grated

1/2

cup

plain yogurt

1/3

cup

walnuts

coarsely chopped
Instructions
Preheat oven to 350 F. Line a muffin tin with paper liners or grease muffin cups. Alternately, use silicone muffin molds.

Wrap grated zucchini in a clean kitchen towel or cheesecloth. Squeeze to extract all of the liquid from the grated zucchini.

Combine almond flour, all purpose flour, baking powder, baking soda, salt, cinnamon and cardamom in a large bowl.

In a mixing bowl, beat butter and sugar until light and fluffy.

In a small bowl, beat eggs, yogurt and almond extract. Add to butter and mix well.

Add flour mixture a little at a time, beating well after each addition.

Using a rubber spatula, fold in zucchini and nuts.

Divide batter evenly among 12 muffin cups.

Bake for 30 minutes, until toothpick inserted comes out clean. Let cool and remove from muffin tin.
Notes
Remember to squeeze out all the liquid from the grated zucchini. Otherwise the batter will be too wet and your muffins will be too loose.
Nutrition
Calories:
157
kcal
|
Carbohydrates:
17
g
|
Protein:
4
g
|
Fat:
9
g
|
Saturated Fat:
1
g
|
Trans Fat:
1
g
|
Cholesterol:
29
mg
|
Sodium:
112
mg
|
Potassium:
137
mg
|
Fiber:
2
g
|
Sugar:
14
g
|
Vitamin A:
75
IU
|
Vitamin C:
2
mg
|
Calcium:
77
mg
|
Iron:
1
mg
Did you try this recipe? Leave a comment below.
Please follow me on Instagram @chefmireille or tag me #chefmireille with your pics! I'd love to share them!
Don't forget to visit the RECIPE INDEX with over 1000 recipes from around the world including lots of Vegetarian Recipes and Gluten Free Recipes!