Last Updated on November 13, 2019 by Chef Mireille
Zucchini Proscuitto Grissini are the perfect breadsticks to compliment any meal or as a mid-afternoon snack!

I baked up this post many months ago to participate in Cookbook Cooking Challenge, but alas never got around to editing so wasn't posted. It was waiting in my drafts and when Bake-a-thon rolled around – it said "Hey Schizo Chef, don't forget about us" so photos finally got edited for this recipe from the 1998 Issue of The Best of the Best, a cookbook that comes out every year with the best recipes from the best cookbooks of the year.There are several recipes created from a basic Sponge Dough and a basic Straight Dough. This is one of the varietal recipes based on the Straight Dough.  Check out the other bread recipe here I also did based on the Sponge Dough recipe. Both were baked up the same weekend and yet I am posting them almost a year apart. Wish I had better photos as my photography has improved in the last year – but it's all about the taste right!
I am sure you will love these breadsticks with all of your winter soups and soups, but they are so flavorful can be eaten even on their own with just a cup of tea.
Before we get to the Grissini recipe, let's check out some other great recipes to compliment your winter soups
Bread Recipes
IN THE MAKING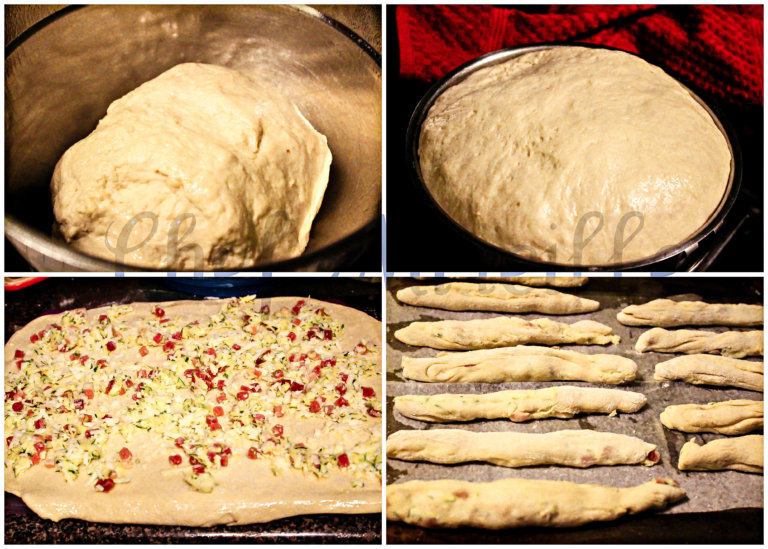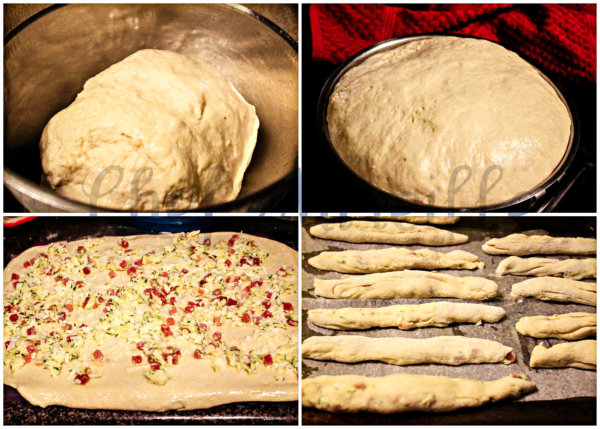 Perfect with a cup of soup!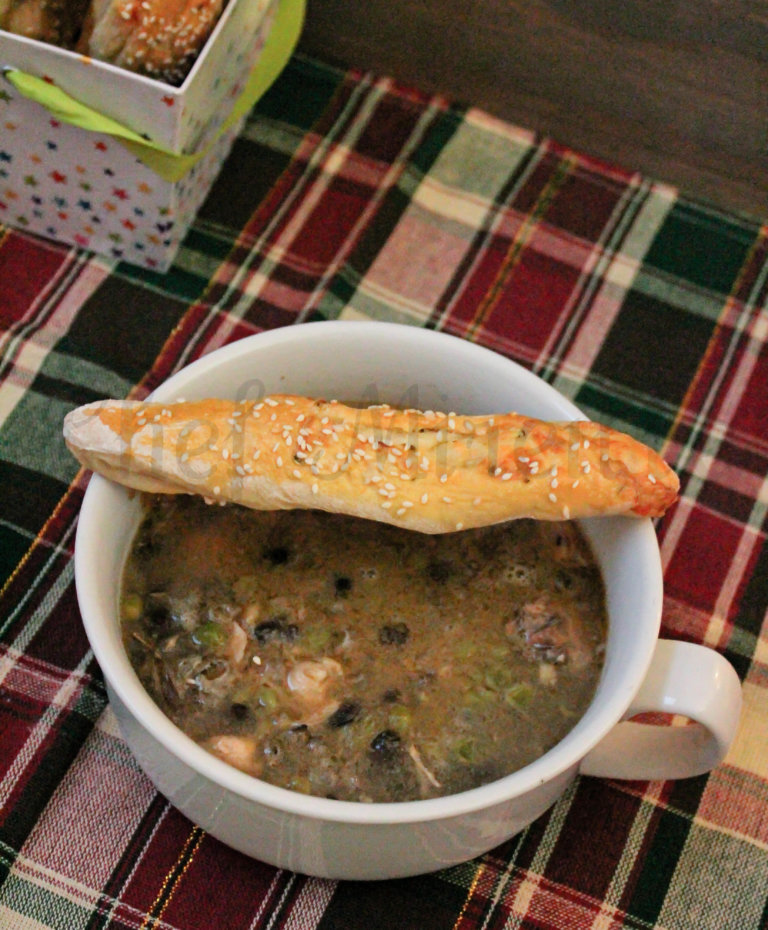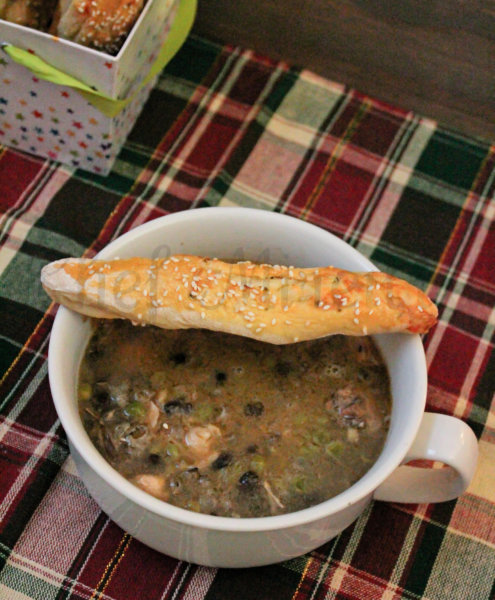 This bread is worth all the work! These soft and crusty rolls are blooming with so much flavor and will be so addictive!

Zucchini Proscuitto Grissini
Ingredients
Straight Dough Ingredients:

1 ¾

cups

warm water

115 – 120 F

½

teaspoon

sugar

2 ¼

teaspoons

instant yeast

4 ½ - 5

cups

bread flour

2

teaspoons

salt

1

tablespoon

olive oil

Grissini Ingredients:

1

cup

grated aged provolone

1

small zucchini

grated

4

oz.

finely diced proscuitto

1/2

teaspoon

sea salt

2

teaspoons

olive oil

1

beaten egg
Instructions
In a shallow bowl, dissolve sugar in the warm water. Sprinkle yeast on top and wait 5 minutes, until it is foamy.

In the bowl of an electric mixer, combine 4 cups of the flour, salt and olive oil.

Using the dough hook, knead for about 5 minutes until the dough is smooth and elastic.

Place in a bowl lightly greased with olive oil, flipping over the dough so that it is coated on all sides with the oil. Cover tightly with plastic wrap and a

tea

towel. Leave to rise until doubled in size, about 1 hour. Now your straight dough is ready to make the Grissini.

Preheat oven to 375 F. Spray 4 cookie sheets with non stick spray.

In a small bowl, combine provolone, zucchini, proscuitto and salt.

Divide the dough in half, leaving the other half covered as you work.

On a lightly floured surface, roll the half of the dough into a 14x12" rectangle. Brush the dough with 1 teaspoon of the olive oil. Sprinkle half the filling ingredients on top. Tightly roll into a log, pinching the seams closed.

The dough will stretch as you roll into an 18" log. Cut in half. Roll one half into a 10" log. Cut into 8 equal sized pieces. Roll each piece into a 7" log. You can do this by rolling each piece on a floured work surface or in between floured hands. Place on prepared cookie sheets 2" apart. Repeat with the other half of the 18" log. Place on prepared cookie sheets.

Repeat with the other half of the dough. Alternately, you can place the stuffed dough in a loaf pan.

Brush the tops with the beaten egg. Leave to rest for 15 minutes. Bake for 25-30 minutes, until sticks are golden brown and shiny. If you have used the other half of the dough to make a loaf, bake for 1 hour.

Straight dough can be used to make everything from baguettes to loaf breads.
Did you try this recipe? Leave a comment below.
Please follow me on Instagram @chefmireille or tag me #chefmireille with your pics! I'd love to share them!