Last Updated on June 2, 2015 by Chef Mireille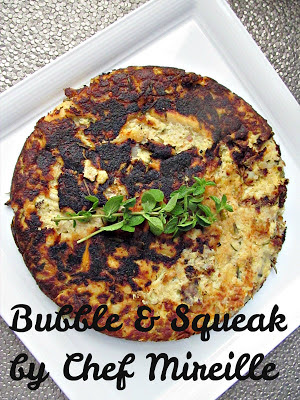 Blogging Marathon #32
Theme: International/Fusion
Although I celebrate global flavors with this blog, rarely do I explore Western Europe. My palate leans heavily towards the spicy flavors of Asia, Africa and the Caribbean or the spice/herb focused cuisine of the Middle East.
When I think of the UK, their cuisine is not the first thing that comes to mind. However, growing up in NY with its large Irish population, a few Irish classics I am partial to like Shephard's Pie and Colcannon. When I think of Scotland, scones and haggis come to mind. While I love scones, I've never tried haggis and really don't have a great desire to. Although I'm not Vegetarian, eating something made of sheep's organs encased in an animal's stomach is not something that's high on my list of things to try. My mind is blank when I think of traditional English food until Bubble and Squeak was mentioned on one of my favorite TV shows, As Time Goes By.
I am partial to British comedies and even though this program no longer airs, I still love watching the reruns on PBS or BBC America. After the characters referenced Bubble & Squeak on a few different episodes, I was intrigued to know what this breakfast item was all about.
With a little research, I discovered that it's basically made by using dinner leftovers. A typical Sunday dinner in England is a roast dinner of meat and vegetables, of which potatoes are always included. Bubble & Squeak takes the leftover veggies, adds a little egg to bind it and then pan fries the combination. This is usually eaten with eggs and breakfast meat like bacon or sausage for a typical English breakfast. Traditionally it is fried in animal fat which at high temperatures, makes a bubble and squeak noise, which is how this dish got it's name.
Bubble and Squeak originated in the 18th century with the use of leftover beef and usually cabbage, but with meat rationing during World War II, the beef was replaced with potatoes and that's the way the recipe has remained to this day.
You can use any combination of vegetables you like, but most of them should be root vegetables. Mine were roasted with garlic, crushed red pepper, oregano and rosemary, but you can use any herbs you like. I roast them in an oven bag to lock in all the flavor of the herbs, for 30 minutes at 400 F.

Bubble & Squeak
Serves 8
Ingredients:
1 lb. potatoes, roasted
3 parsnips (10 oz.), roasted
1 turnip (6 oz.), roasted
5 oz. brussel sprouts, roasted
2 eggs
salt and pepper, to taste
Finely chop the brussel sprouts. Mash all the root vegetables and combine with the brussel sprouts and onion.
Add egg, onion,salt and pepper, if necessary. (if vegetables were well seasoned with salt/pepper when roasted, you won't need to add any additional salt and pepper).
Heat 3 tablespoon of oil in a large oven safe skillet. Place mashed vegetable mixture into the skillet, pressing down to form an even layer. Fry on medium heat for about 7 minutes.
Transfer to the broiler and cook for about 5 minutes, to brown the top.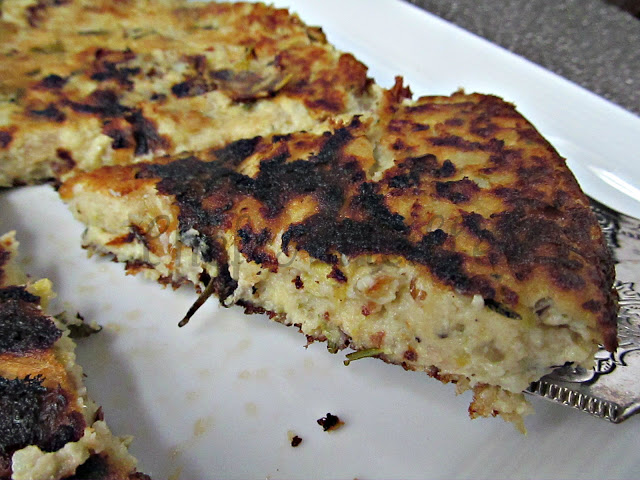 What a delicious way to transform leftover cooked veggies!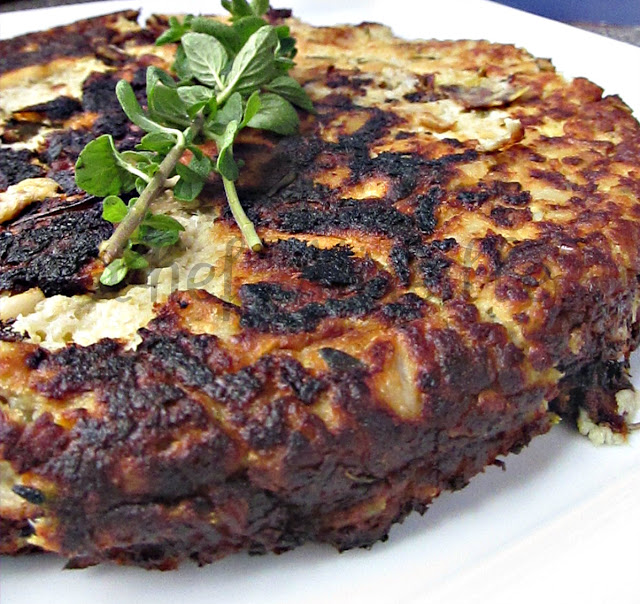 Logo courtesy : Preeti
Check out the Blogging Marathon page for the other Blogging Marathoners doing BM# 32
LIKE THIS RECIPE? LEAVE A COMMENT..I LIVE FOR THEM!
Chef Mireille

document.write('