Last Updated on December 8, 2021 by Chef Mireille
Stuffed Doughnuts with Orange Yogurt Sauce makes such a delicious dessert or sweet treat for any time. These pan seared doughnuts are perfect for any special occasion or a weekend brunch.
These delicious doughnuts stuffed with nuts and spices were inspired by a Yotam Otollenghi recipe, but I adapted the filling and made some other minor changes to my own palate.
If you love Middle Eastern food, you are going to love these spice stuffed dughnuts!
HOW TO MAKE STUFFED DOUGHNUTS WITH ORANGE YOGURT SAUCE
Prepare the dough.
Cover the dough and leave it to rise for 1 1/2 hours.
While it is is rising, prepare the filling.
Divide dough into 12 pieces.
Stuff each one with about 1 1/2 tablespoons of the filling.
Pull the dough around the filling.
Roll into a 3″ doughnut.
Balanced with the tartness of the yogurt, these were so good…my favorite Yotam recipe so far!
These were so delicious and due to their mild sweetness, just as good for breakfast as dessert. These made the perfect breakfast with a slice of fresh mozzarella and some sliced fruit.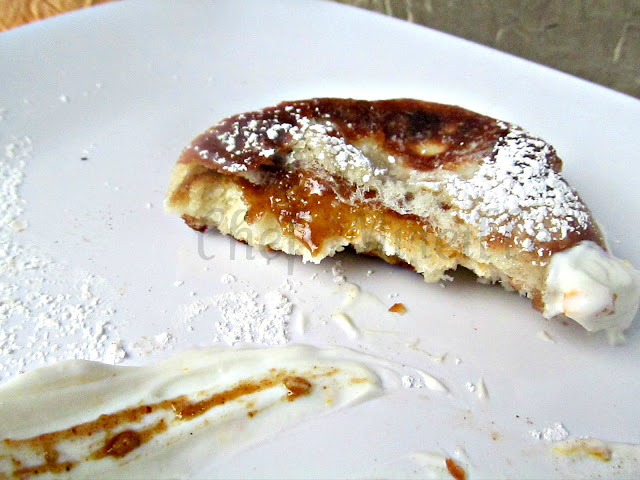 They are also great for a weekend brunch or a great indulgence for Fat Tuesday before Lenten fasting begins!
Here are some other Doughnut Recipes you might also like to try!
Doughnut Recipes
Don't forget to visit the RECIPE INDEX with over 1000 recipes from around the world including lots of Vegetarian Recipes and Gluten Free Recipes!