Last Updated on July 18, 2015 by Chef Mireille


Blogging Marathon #29
Theme: Cookbook Recipes
I went to the library last week to do some research on a project and of course, I found myself in the cookbook section. The unusual title caught my attention – Purple Citrus and Sweet Perfume. I fell in love with this cookbook featuring the cuisine of the Eastern Mediterranean. The author, Silvena Rowe, is a UK based chef born in Bulgaria with a Turkish father. The book includes many recipes of Turkish or Syrian origin, utilizing edible flowers like rose, nasurtium, lavender, chamomile and hibiscus. With unique recipes like Beet Falafel, Pumpkin Hummus and Lemon Balm & Chamomile Creme Brulee, you can be sure the book came home with me.
For today's recipe, the two required ingredients from Srivalli's Cookbook Recipe ingredient list are strawberries and milk. In the middle of summer, who doesn't like a cooling bowl of strawberry ice cream?
Strawberry Hibiscus Ice Cream
from Silvena Rowe's Purple Citrus and Sweet Perfume
Serves 6
Ingredients:
1 3/4 cups heavy cream
1 cup milk
1 tablespoon dried hibiscus
2 eggs
2/3 cup sugar
11 oz. strawberries, hulled and chopped
In a saucepan, combine the cream, milk and hibiscus. Bring to a boil over medium heat. Turn off heat and leave for 15 minutes for the hibiscus flavor to infuse the milk. Strain and discard the flowers.

Whisk the eggs until light and fluffy, about 3 minutes. Slowly add the sugar, while beating constantly for another minute. Add the strained cream-milk combo and mix well. Add strawberries and mix until just combined.
Transfer to an ice cream maker and churn, according to your ice cream maker instructions. Alternatively, transfer to a plastic container, cover and place in the freezer.

Mix every 1/2 hour for 4 hours. Freeze for at least another 2 hours, but preferably overnight.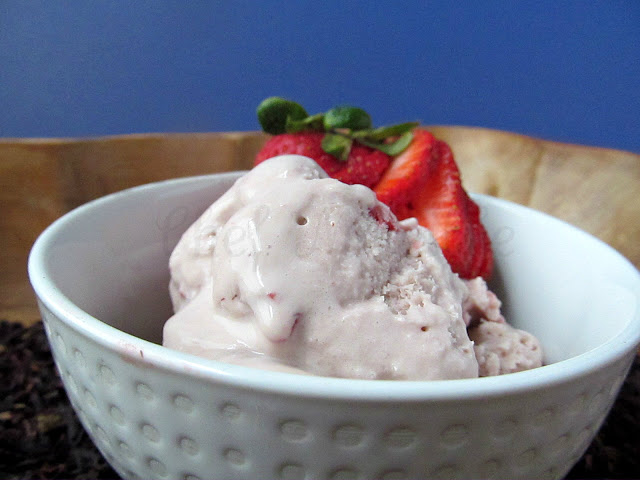 Strawberry ice cream that's the perfect amount of sweetness with floral undertones. Now don't you just want to grab a spoon?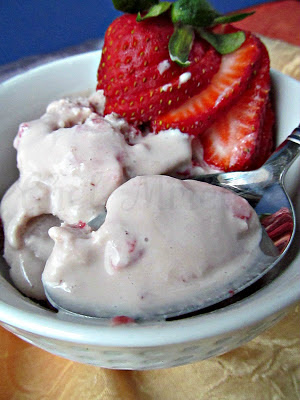 Check out the Blogging Marathon page for the other Blogging Marathoners doing BM#29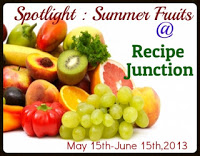 …linking to Recipe Junction's Summer Fruits
LIKE THIS RECIPE? LEAVE A COMMENT..I LIVE FOR THEM!
Chef Mireille