Last Updated on December 14, 2020 by Chef Mireille


Blogging Marathon #29
Theme: One State (Kerala), One Course (Lunch)
Prior to my meeting a Jewish person from Cochin here in New York several years ago, I was unaware that India had any Jewish communities. I was so intrigued to learn about this rich history. India actually has three Jewish communities.
The Baghdadi Jews, also known as Iraqi Jews, settled in Calcutta, Bombay and Surat (in Gujarat). Most of them came as traders and have since left, since the formation of Israel. The Bene (Bnai)-Israel Jewish community in Bombay are said to be descended from 7 families. Reportedly, 7 men and women from Palestine got shipwrecked and then formed their own community near Bombay, on the Konkan coast. This Marathi speaking group are said to be descendants from King Solomon.
The Cochin Jews, also known as Black Jews or Malabar Jews (from the Malabar coast of Kerala), are of Sephardic Spanish origin and is the oldest Jewish community in India, since B.C. Like the Baghdadi Jews, most of them have emigrated to Israel, however, a small community still exists in Kochi.
The Malayalam speaking Kerala Jews have adapted many Indian recipes to accommodate Jewish Kosher laws. For example, mixing meat and dairy is not allowed if you keep Kosher. By using coconut milk (instead of dairy milk) in Kadathala, these dosas can be stuffed with meat, as is how they consume them.
The following recipe are commonly eaten by the Jewish community of Kerala with meat based curries as part of their weekly Shabbat (Friday sunset religious observance of their weekly holy day) meal.
Yield: 12 gharis
Ingredients:
1 1/2 cups rice flour
1 1/2 cups semolina
3/4 cup jaggery, powdered
1 3/4 cups water
oil, for frying (vegetable or coconut oil)
Bring water to a boil. Add jaggery and cook until it melts. Turn off heat
Add rice flour and semolina. Mix well. The mixture will be quite dry and crumbly, however don't add any more liquid. As soon as the dough is cool enough to handle, you will be able to knead it into a stiff dough.
Heat oil for deep frying.
Using plastic wrap or parchment paper, take a lemon sized ball of dough and press into a circle around 3 inches in diameter.
Place in the hot oil and fry until golden brown on both sides.
After I removed the first one from the oil, it felt quite heavy, so I tried frying them like puri, pressing down on the ghari, so that they will puff up and be light and airy. However when I tasted the puffy puri-like ghari and the flat ghari, I preferred the texture of the flat ones. The puffy ones, surprisingly had a denser texture. I then fried the rest, without puffing them up.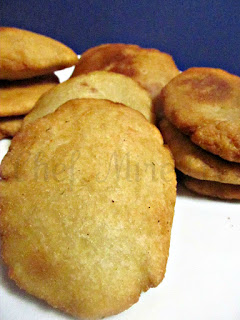 Remove to a paper towel lined plate to absorb excess oil.
I am not a purist, so I have no qualms about mixing foods from different Indian cuisines, so I enjoyed these gharis with spicy Daalcha Gosht, a Hyderabad specialty. The sweet gharis complemented the spicy curry well.
…and even with these three recipes this week, I still didn't include all of the diversity of Kerala as I left out the Malabar Coast Muslim community which have lots of delicious recipes which are on the agenda to try soon.
Check out the Blogging Marathon page for the other Blogging Marathoners doing BM#29
LIKE THIS RECIPE? LEAVE A COMMENT..I LIVE FOR THEM!
Chef Mireille