Last Updated on December 14, 2020 by Chef Mireille


Blogging Marathon #29
Theme: One State (Kerala) One Course (Lunch)
When deciding which Indian state to focus on this week, I decided on Kerala for one main reason – they love plantain as much as I do. Most of the plantain/ raw banana Indian recipes I come across are usually from Kerala. In fact, for many years I thought this vegetable was not utilized in Indian cuisine until I visited a restaurant that featured many Kerala entrees – Chola. It's my all time fave Indian restaurant in NYC – the only restaurant deserving of two reviews by me here and here.
I was all set with my three recipes – one kootu curry, an eriserry and then an okra curry. Well, the Kootu and the Eriserry really had me stumped for quite a while. I really can't even remember how many blogs I checked trying to figure out what the difference between the two of them was. They both consist of vegetables and usually legume cooked with a coconut paste masala and then finished with roasted coconut. As if this was not similar enough, the same two types seemed to be popular in Kerala – pumpkin or plantain & elephant yam. Finally, I came across a comment that said the main difference is that Eriserry is made with channa dal (yellow split peas) while Kootu can be made with any type of legume/pulse, yet I found Eriserry recipes made with red beans also or sometimes without legume at all and only vegetable. Are you as confused as I am? Finally, after wasting way too much time on this research, I gave up because I didn't think even the Keralites would be able to give me a clear description of the difference.
Srivalli, our ever gracious BM host, took pity on me in my confusion and wrote to Kerala native cookbook author, Ammini Ramachandran, who kindly confirmed the differences between these two dishes are very subtle. Basically, the type of dal used is the main difference with Eriserry usually made with mung bean or tuvar (split pigeon peas), where Kootu Curry is made with chana dal (yellow split peas) or kala chana (black chickpeas). However, when Eriserry is made with plantain, then no dal is used…and you wonder why I'm confused? These variations are usually based on what region of Kerala the people are from.
When I got this response, I had already made this Kootu Curry so I was not aware there are strict rules for making Kootu Curry in the North and that vegetables must be cut into 1 centimeter cubes. However, with the use of jaggery and kala chana in this recipe, this is the North Kerala Kootu Curry, where it is a specialty and included in all sadhya (festival) menus. Erriserry is the required sadhya curry in South/Central Kerala.
Kootu's are popular throughout South India and are more popular in Tamil Nadu, a neighboring Indian state. Tamil Nadu kootu's have a more stew like consistency, where this North Kerala Kootu Curry is drier. The most popular version in Kerala is usually made with plantain and elephant foot yam. It is one of the foods associated with Onam, an Indian 10 day festival celebrated in Kerala. See here if you'd like to learn more about this festival. This yam is not available here in New York (at least I haven't found it yet) and since I am allergic to white yam, I substituted pumpkin in this traditional Kerala recipe.
Serves 6
Ingredients:
1/2 cup kala chana (black chickpeas), soaked overnight
1 1/2 cups green plantain, chopped (1 plantain)
1 cup pumpkin, chopped
1 teaspoon ground turmeric
2 teaspoons red chile powder (cayenne pepper)
3 tablespoons jaggery, grated
salt, to taste
1 1/2 cups grated coconut, seperated
1 teaspoon cumin seed
1/2 teaspoon brown mustard seed
3 dried red chiles
1 sprig curry leaves
1 tablespoon + 1 teaspoon coconut oil
Bring 3 cups of water to a boil. Add chickpeas and cook until tender. Drain.
Grind 3/4 cup of the coconut with the cumin seed and 6 tablespoons of water to form a paste.
Cook plantain and pumpkin in 1 cup of water, until most of the water has evaporated, about 6 minutes.
Add turmeric, cayenne, jaggery and salt. Mix well and cook until the jaggery has melted.
Add coconut paste and cook for another 3 minutes.
Add cooked chickpeas and cook another 2 minutes. Remove from heat.
In a skillet, heat 1 tablespoon of the oil. Add mustard seeds. As soon as they start to pop, add chiles, remaining coconut and curry leaves. Fry until coconut gets golden. (since I used frozen coconut, it does not really get golden) Add this to kootu and mix well.
Add the remaining coconut oil on top and let rest for 10 minutes, before serving.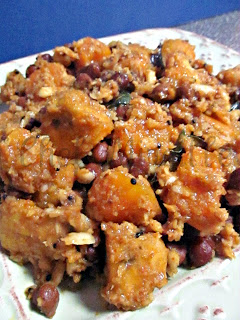 Spicy, sweet and smoky all at the same time, using tropical coconut flavor I am used to from my Caribbean heritage, I fell in love with this curry on the first bite. I used to think Goan was my favorite Indian cuisine….I'll have to rethink that position now!
Here was my complete Kerala lunch, although you would probably not see this all on the same plate in Kerala as the Okra Curry is a Syrian Christian Kerala recipe, while this North Kerala Kootu Curry is Hindu, served with Rosematta rice, popular in Palakkad (Central Kerala). However, the mild creamy okra was balanced deliciously with the hot and sweet Kootu Curry.
Check out the Blogging Marathon page for the other Blogging Marathoners doing BM#29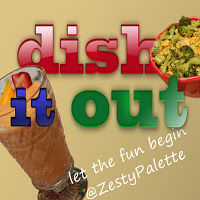 …linking to Dish It Out – Legumes & Vegetables
LIKE THIS RECIPE? LEAVE A COMMENT..I LIVE FOR THEM!
Chef Mireille