Last Updated on February 15, 2021 by Chef Mireille
Spicy Cabbage & Potatoes – Bolivian Style
Guisado de Repollo con Papas – Cabbage with Potatoes is a quick and easy side dish. You can add some extra protein and make it a complete meal by adding some chorizo or eggs.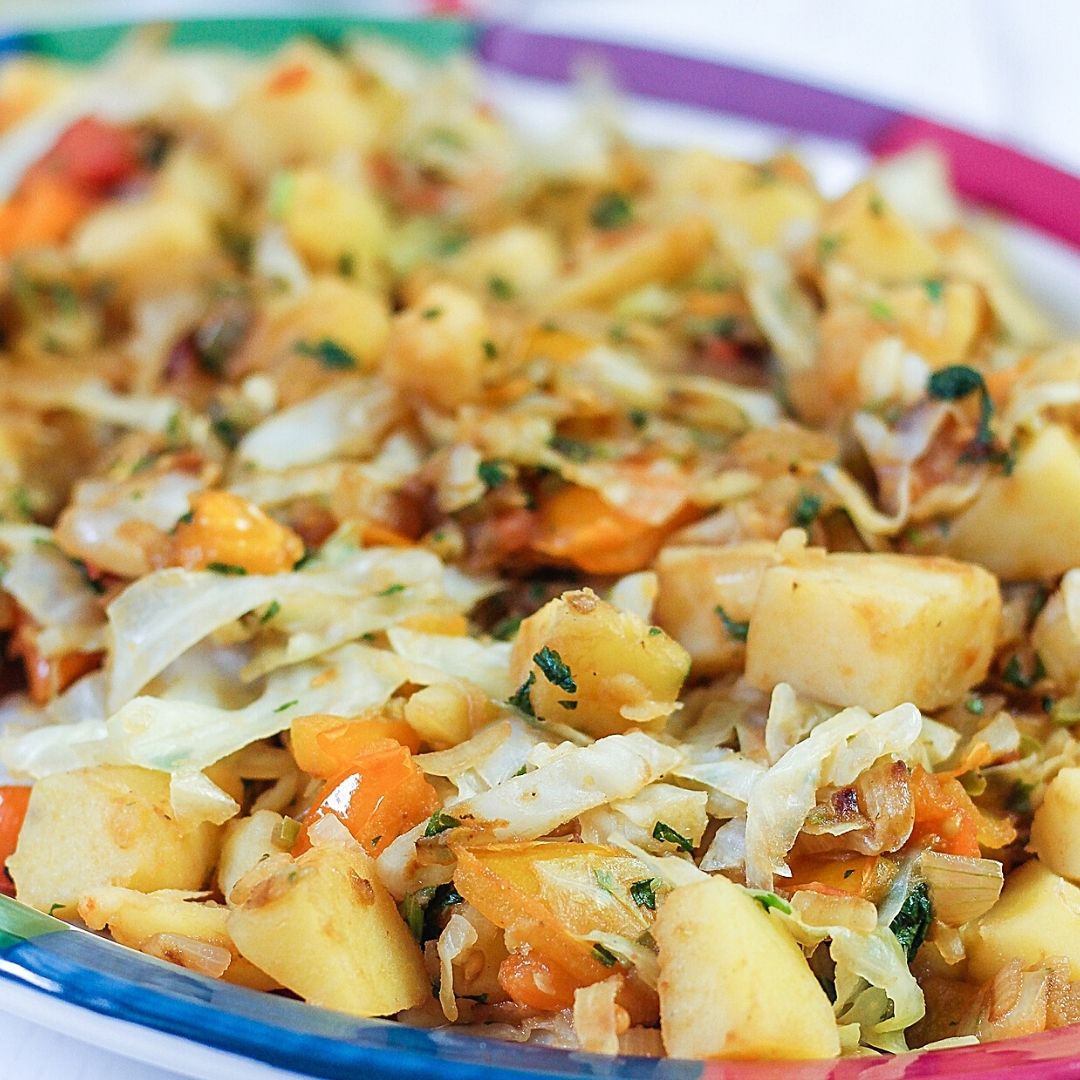 This post may include affiliate links.
Many years ago before having a scanner and taking photos with your phone was commonplace, I used to take out cookbooks from the library and photocopy recipes that I wanted to try. I was working in an office and would wait until after hours and most of the staff was gone and copy to my heart's content.
Now, many years later I have 3 huge binders of recipes. When I decided to do the theme of South American cuisine this week, I decided to pull out the binders and see what interesting recipes I could try. I can't quote the source since that isn't noted, but these are my adapted recipes from this great resource I have on my bookshelf.
This simple peasant dish from Bolivia is a delicious way to spice up boring cabbage. Although cabbage is one of my favorite vegetables and I don't understand why it has such a bad rep, this is a way to make it interesting for those who detest it. Get your family to eat more cabbage today!
Cabbage is such an easy vegetable that cooks very quickly. Many cultures have versions of quick cabbage dishes. The only thing that changes are the spices used to flavor the cabbage. Here are a few others you might like to try!
CABBAGE RECIPES
Guisado is the word for stew in Spanish. While guisado is most often made with chicken or beef, this vegetarian version is just as delicious.
You can reduce the quantity of serrano peppers if you prefer it less spicy.
Spicy Cabbage & Potatoes – Bolivian Style
Spicy Cabbage & Potatoes – Bolivian Style makes a quick and easy side dish!
Ingredients
3

cups

thinly sliced cabbage

1

finely chopped onion

3

tablespoons

oil

4

chopped tomatoes

4

finely chopped serrano chillies

or less as desired

Salt and pepper

to taste

2

tablespoons

finely chopped cilantro

2

peeled and diced potatoes
Instructions
Cook potatoes in boiling water until fork tender. Drain.

Bring a large pot of water to the boil.

Add cabbage and blanch it for 5 minutes.

Drain and immediately run with cold water. Drain and set aside.

In a large skillet, heat oil. Add onion and saute until softened.

Add tomatoes and chillies. Cook for 5 minutes, until the tomatoes have softened a bit.

Add cabbage, salt, pepper, cilantro and potatoes.

Stir to combine and cook for a few minutes until potatoes are heated through.
Did you try this recipe? Leave a comment below.
Please follow me on Instagram @chefmireille or tag me #chefmireille with your pics! I'd love to share them!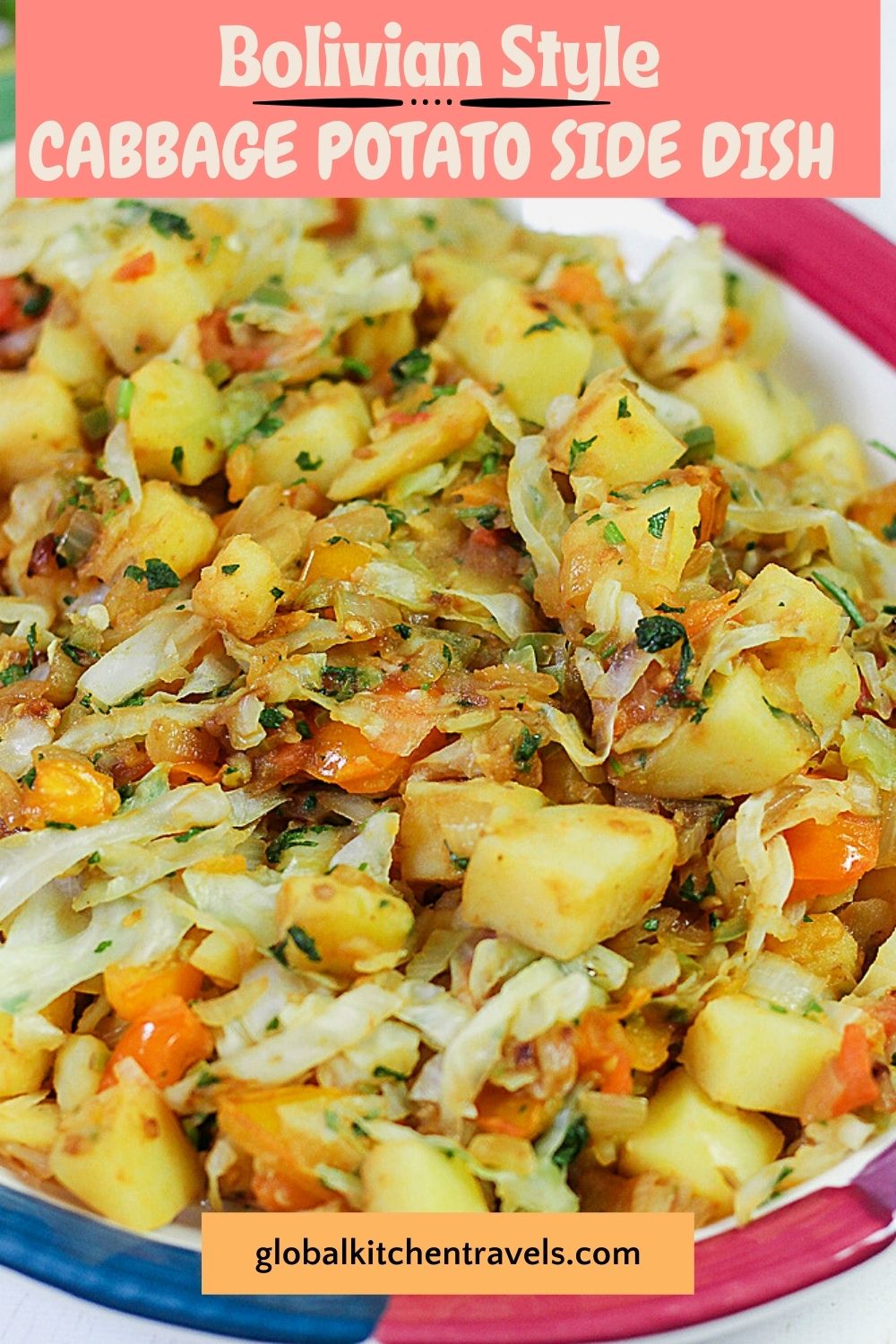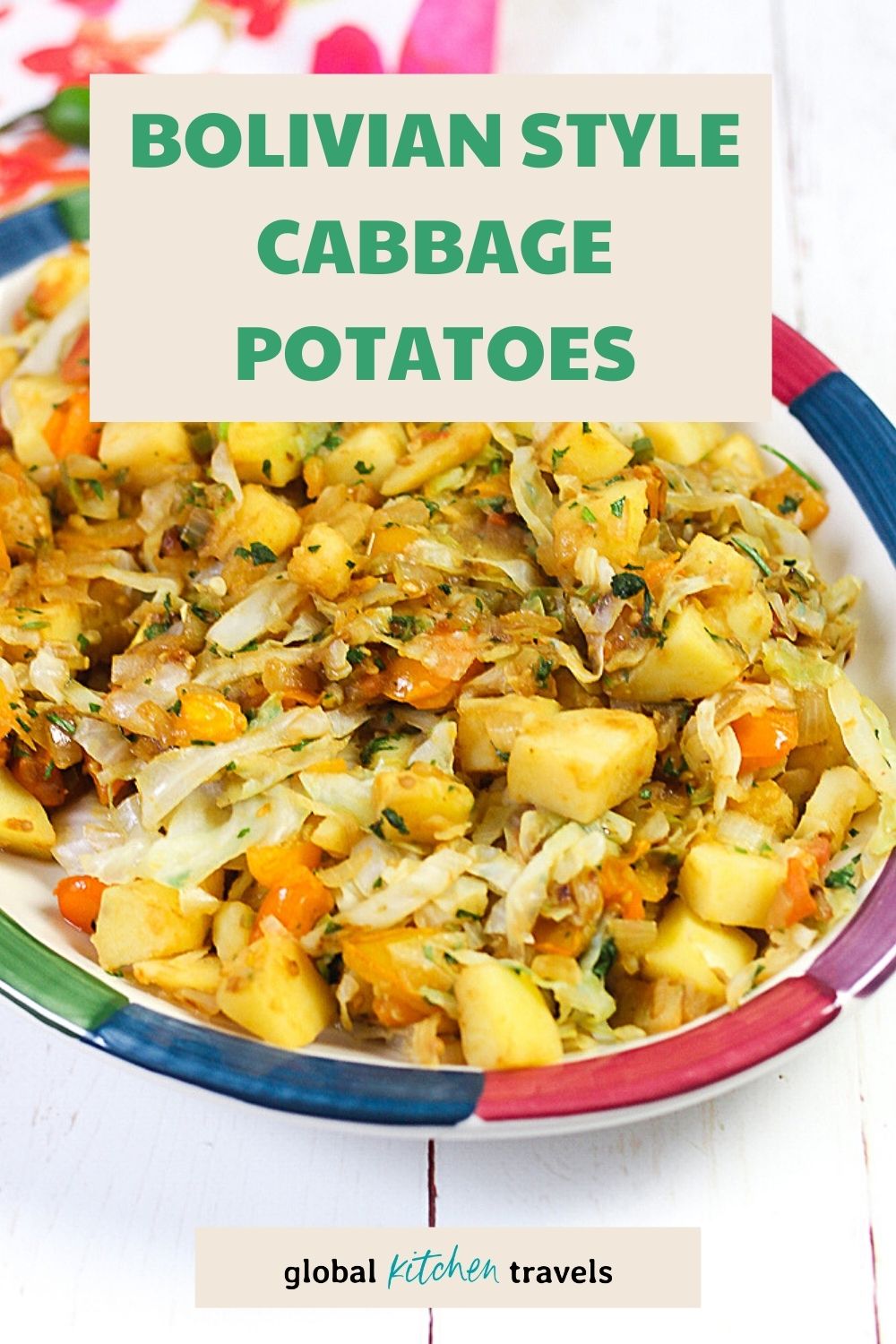 Need more culinary inspiration? Check out the Recipe Index with over 1500 Recipes from Around the World with lots of Vegetarian 🥕🍆🍅and Gluten Free Recipes!