Last Updated on December 14, 2021 by Chef Mireille
This Bolivian Style Stewed Cabbage and Potato Recipe is a quick and easy delicious South American side dish to add to any meal. You can keep it mild to make it extra spicy by customizing the quantity of peppers you use. Since the main ingredients are all budget-friendly ingredients, this is an easy and budget friendly recipe you can whip up in in jiffy.
This simple peasant dish from Bolivia is a delicious way to spice up boring cabbage. Since cabbage is one of my favorite vegetables and I have to say this is definitely one of my all time fave cabbage recipes, I don't understand why it has such a bad rep. This is a way to make it interesting for those who detest it. Get your family to eat more cabbage today with one of the most delicious vegan recipes ever!
Cabbage cooks very quickly and since it is is so cost efficient, it really is a good ingredients to include in the weekly repertoire of recipes.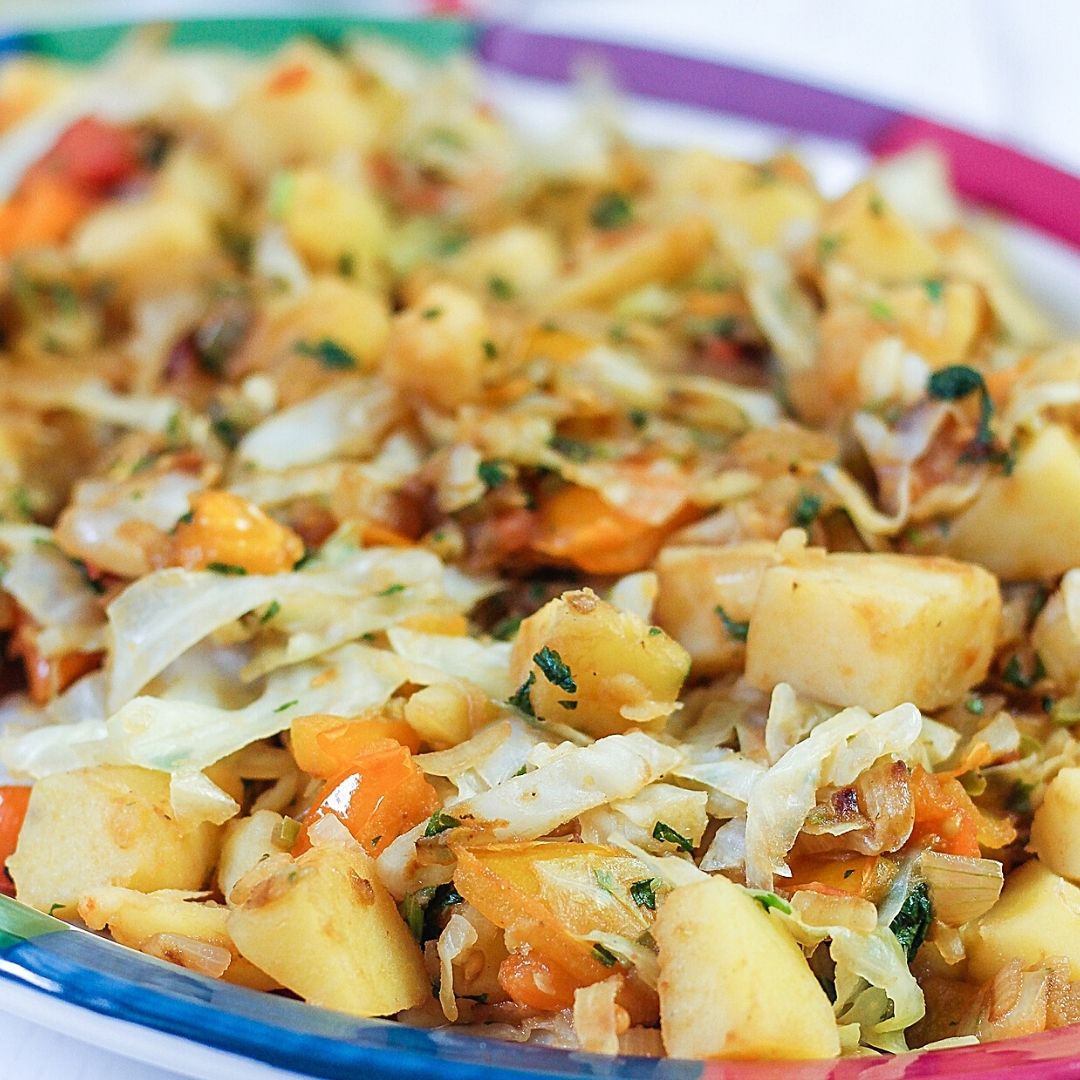 This post may include affiliate links.
Repollo is the word for cabbage and the Guisado is the word for stew in Spanish.
WHAT IS A GUISADO?
Guisado is the word for stew in Spanish. Anything that is first sauteed or seared than further cooked, often with a little sauce or a lot, is referred to as a guisado.
Repollo Guisado, or Stewed Cabbage is also common in other Latin Cuisines. You may have previously encountered a Colombian Style Stewed Cabbage Recipe or the Dominican version, which is usually made in a flavorful tomato sauce.
This version does not include tomato, but has the extra spice which I like. If you are also a spicy food aficionado, you will also prefer this version.
In it's simplest translation, this is basically a cabbage stew with potatoes. However, you can easily turn it into a complete meal. It will be great with your choice of grilled meats or mushrooms for protein.
You can easily turn this into a vegetarian main course. Add mushrooms, seitan or vegan sausage and it will be a filling and easy vegetable recipe that the vegans can eat also.
Bolivian Cuisine
Bolivian Cuisine isn't super popular in the United States, so this might be your first time trying it. Bolivian Cuisine is a rustic cuisine, utilizing simple ingredients that the land provides.
Traditional Bolivian food includes potatoes, corn, quinoa, and beans. In Bolivia, people usually combine these ingredients with staples brought by the Spanish like rice, meat and wheat.
In lower economic households, the simplest vegetables such as cabbage can become special when combined with just a few simple ingredients. Bolivian dishes become special as they're spiced up with umami rich vegetables like chillies, onions and garlic.
Bolivian Cabbage and Potatoes Recipe is a simple vegan-friendly recipe that finds its place in many Bolivian households. It's a quick and easy dish but it turns out to be so appetizing, given the perfect combination of starchiness from the potatoes and the earthy tones of the cabbage.
If you're fond of hot and spicy dishes, you will love this twist on cabbages. If you're not that into chillies, you can reduce the number of serrano peppers to make it less spicy.
Health Benefits of Cabbage and Potatoes
Both cabbage and potatoes are great sources of dietary fiber. They are also full of antioxidants.
Potatoes, in particular, are very filling. They contain Vitamin C and B6, plus manganese and iron. The starch in potatoes can promote good digestion. Potatoes are also celiac-safe as they are naturally gluten free. However, if you are diabetic, you should watch the quantity of potatoes you eat as potatoes are naturally high in sugar.
Cabbages, on the other hand, are considered good for weight loss. It's low in fat and high in fiber, plus it even has properties that promote skin health. Cabbage is rich in antioxidants, so it can help boost your immune system.
Variations
Turn this delicious side dish into a complete meal by adding your choice of grilled meat or even some pork slices from leftover pernil.
Although Bolivian cuisine usually uses minimal spices, you can add a few aromatic spices like ground cumin and bay leaves for extra flavor.
If you don't have any serrano pepper, you can use jalapenos a little cayenne pepper or even just add a little hot sauce.
Add a few cups of broth and turn it into a warming comfort food soup.
I hope you are intrigued now to try some more Bolivian Foods.
Bolivian Recipes
Cunape – basically the Bolivian version of Brazilian pao de queijo
Api Morada – Purple Corn Drink
INGREDIENTS
cabbage
onion
oil
tomatoes
Serrano chilies
salt and pepper
cilantro
potatoes
How to Cook Bolivian Cabbage Stew
Boil potatoes.
Cook cabbage by blanching it in the same cooking water as the potatoes.
Saute onion and bell pepper.
Reduce heat to medium and add the chillies and tomatoes.
Add cabbage, potatoes and seasonings.
Stir and cook until everything is heated.
Serve with warm white rice.
Now are you ready to try a new delicious cabbage dish that's also a super easy recipe?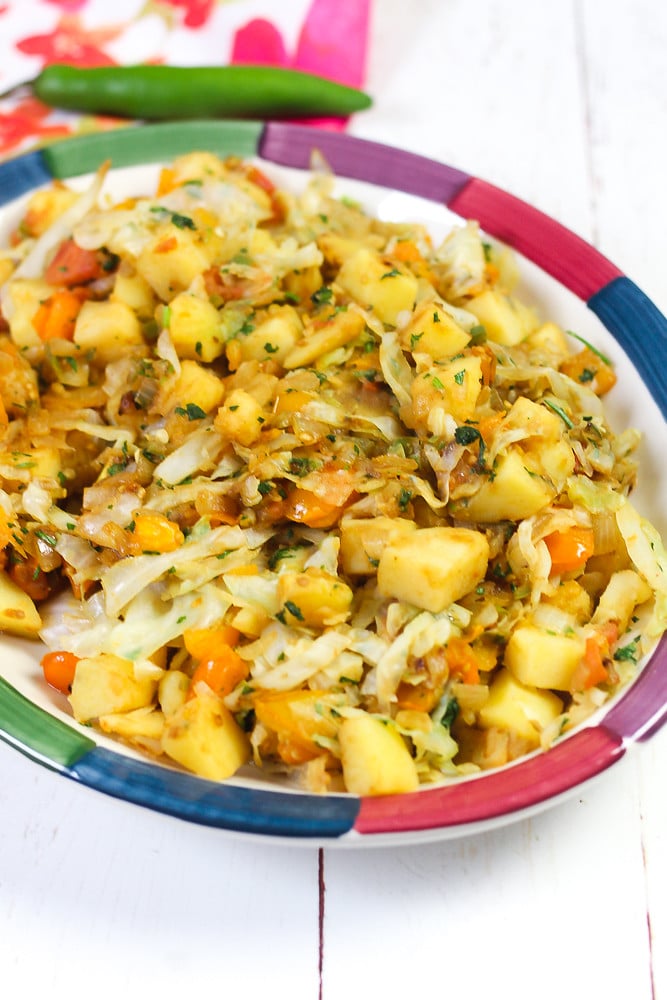 What a great side dish or main course for Vegetarians! I am sure all the veggie people at your tables would be so happy to se served a big bowl of Bolivian Style Cabbage and Potatoes.
Vegan Cabbage and Potatoes
This Vegan Cabbage and Potatoes — Bolivian-Style Guisado de Repollo con Papas — is a healthy, quick & easy side dish with a hint of spice.
Ingredients
3

cups

thinly sliced cabbage

1

finely chopped onion

1

chopped bell pepper

3

tablespoons

oil

4

chopped tomatoes

4

finely chopped serrano chillies or less as desired

Salt and pepper to taste

2

tablespoons

finely chopped cilantro

2

peeled and diced potatoes
Instructions
Cook potatoes in boiling water until fork tender. Drain.

Bring a large pot of water to the boil.

Add cabbage and blanch it for 5 minutes.

Drain and immediately run with cold water. Drain and set aside.

In a large skillet, heat oil. Add onion and bell pepper.

Saute until softened.

Add tomatoes and chillies. Cook on medium heat for 5 minutes, until the tomatoes have softened a bit.

Add cabbage, salt, pepper, cilantro and potatoes.

Stir to combine and cook for a few minutes until potatoes are heated through.
Notes
Don't overcook the cabbage. You don't want it to have a mushy texture.
Nutrition
Calories:
172
kcal
|
Carbohydrates:
25
g
|
Protein:
4
g
|
Fat:
7
g
|
Saturated Fat:
1
g
|
Polyunsaturated Fat:
2
g
|
Monounsaturated Fat:
4
g
|
Trans Fat:
1
g
|
Sodium:
397
mg
|
Potassium:
854
mg
|
Fiber:
5
g
|
Sugar:
8
g
|
Vitamin A:
369
IU
|
Vitamin C:
43
mg
|
Calcium:
98
mg
|
Iron:
3
mg
Did you try this recipe? Leave a comment below.
Please follow me on Instagram @chefmireille or tag me #chefmireille with your pics! I'd love to share them!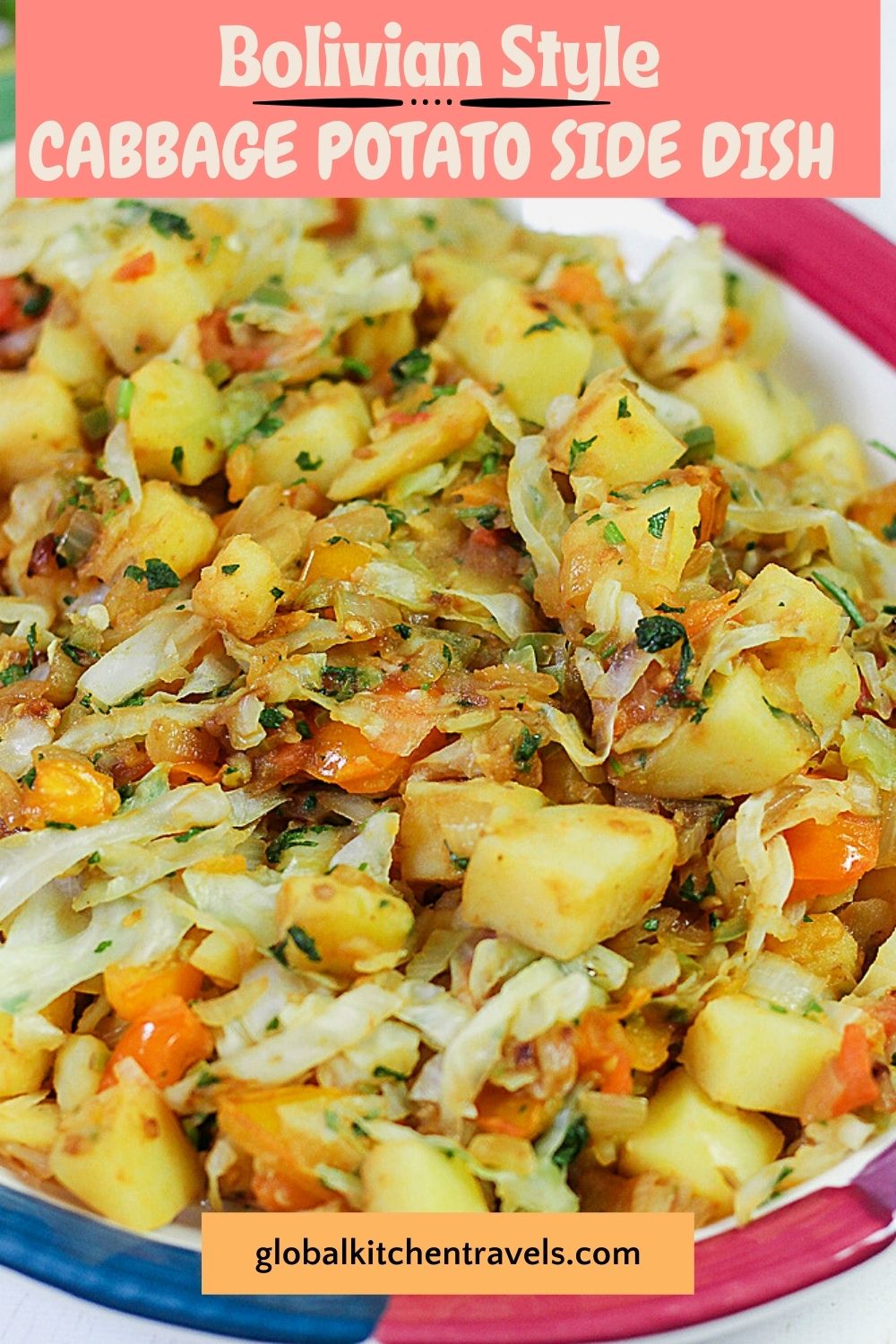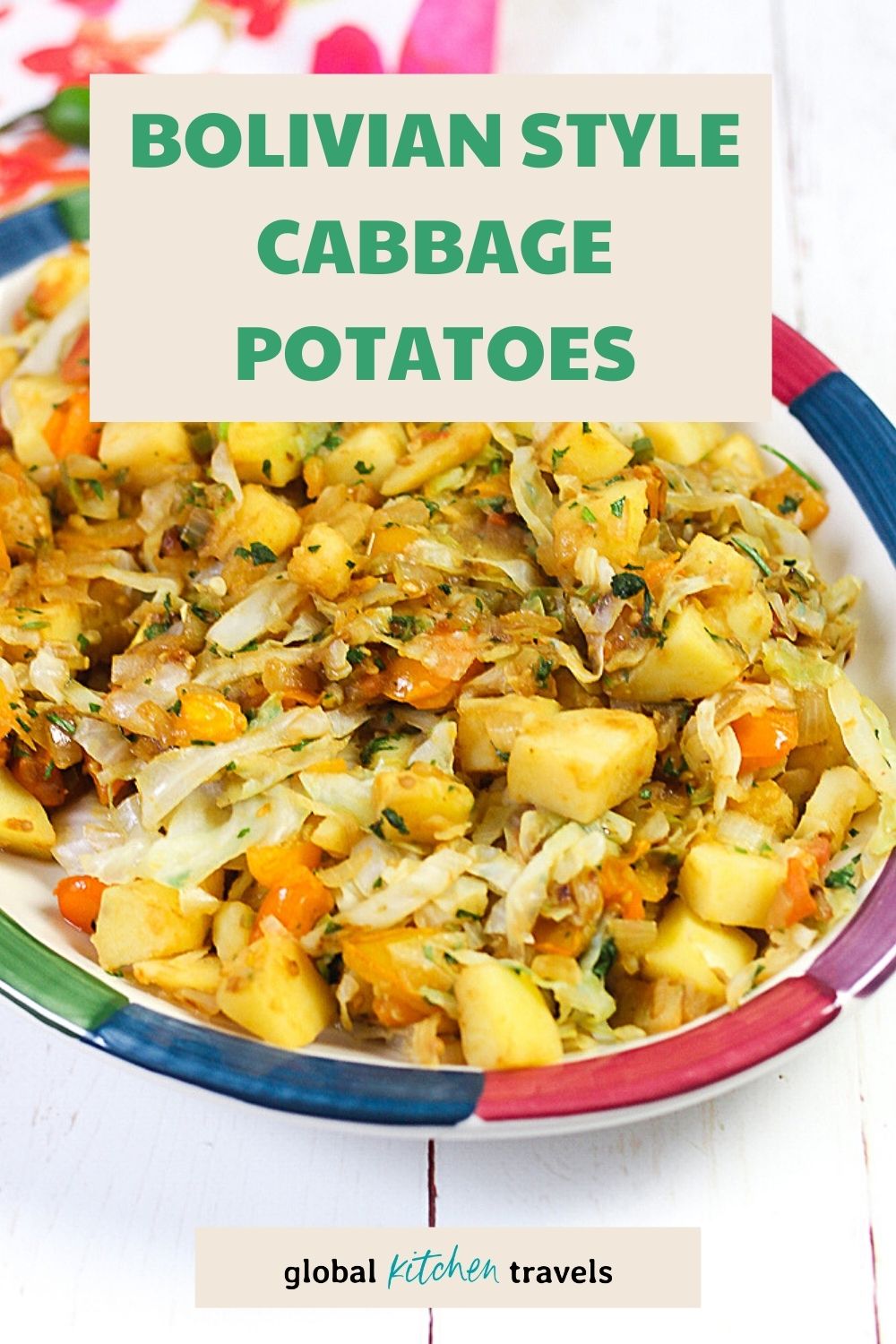 Don't forget to visit the RECIPE INDEX with over 1000 recipes from around the world including lots of Vegetarian Recipes and Gluten Free Recipes!