Last Updated on May 20, 2020 by Chef Mireille
Api Morada – Bolivian Purple Cornmeal Smoothie is a traditional drink of the indigenous people of Bolivia that can be enjoyed either warm or cold.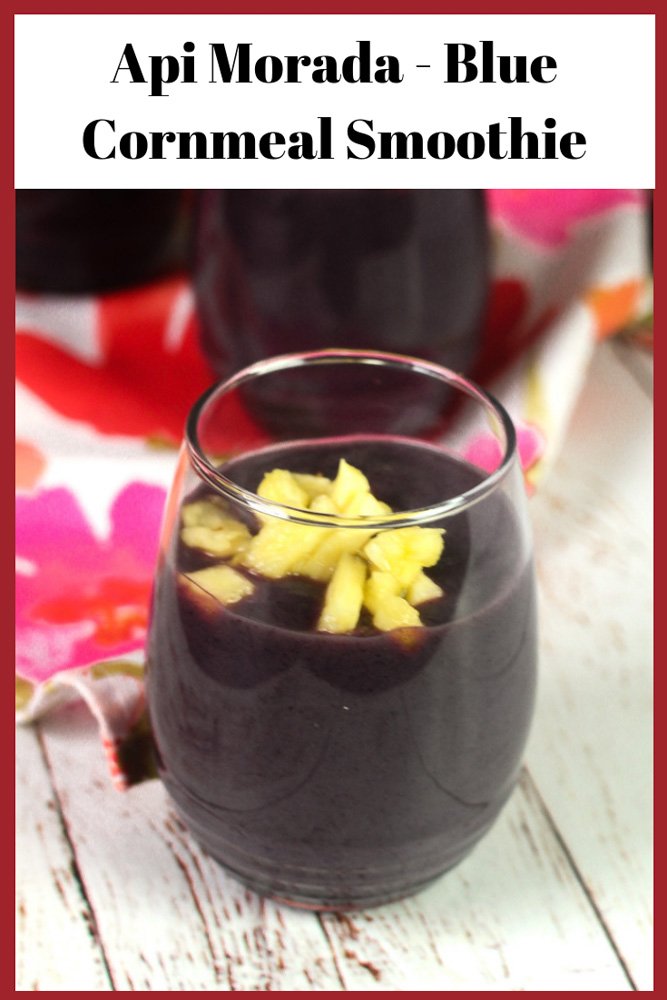 Yes – it's yet another cornmeal drink from me – There has already been Akasan (Haiti), Champurrad0 (Mexico) and Pinolillo (Nicaragua). Both Caribbean and Latin cultures use cornmeal frequently in a variety of ways. With my Caribbean heritage, I am a sucker for anything made with any variety of corn or cornmeal.
In southern hemisphere countries like Bolivia where Api Morada is enjoyed, it is the middle of summer right now. Here where I live in New York City, we are in the middle of winter and this month we have had quite a few freezing and windy days. These cornmeal based drinks are thick and rich and perfect on cold winter mornings. What is great about this drink, is that it can be enjoyed either warm or chilled. If it is summer where you live, have it chilled and if it's winter, enjoy a warm cup!

If you like learning about history and culture of the recipes around the world like I do, read on…If not, just skip down to the recipe using the Jump to Recipe button above!
Quechua Language and Culture
Quechua is the language of the native people of Bolivia, Chile, Colombia and Ecuador and to a lesser degree in Argentina. There are slight dialect differences from country to country, but still today there are over 6 million people that maintain the Quechua language and culture and food is a big part of any culture. I don't have any research to back me up but I am fluent enough in Spanish to know by the sounds of the word whether it is Spanish or quechua and Api is definitely a quechua word. I would stake money that this recipe comes from the indigenous community of Bolivia.
I remember when I was in high school, my best friend's Mom had married an Argentinian. Although Spanish was her first language, my friend was constantly asking her Mom to translate whenever her stepfather was talking. At the time, I wasn't informed enough or fluent enough in Spanish to understand these dialect differences. Teenagers with new step parents also aren't very receptive and all she would tell me was that "He was weird" when I asked her why she couldn't understand his Spanish.
Now I know that many Quechua words have been absorbed into the vernacular Spanish in these countries. Although you might be fluent in Spanish, don't be surprised if you visit these countries & encounter a lot of words you may not know the meaning of and find yourself struggling to understand their Spanish a bit.
Alright enough about history and culture…back to the delicious recipe…
This can either be made with dried blue corn or blue cornmeal, however it is a lot more work if you use the blue corn itself. If you cannot source blue cornmeal where you are, you can substitute white cornmeal or masa harina. There is also a version of api using this white corn called Api Blanco.
Blue Corn & Blue Cornmeal
Blue Corn/ Blue Cornmeal aka Purple Corn/ Purple Cornmeal is used a lot in central South American countries like Peru, Bolivia and Chile. Like all deep hued foods such as beets and blackberries, blue cornmeal is packed with anti oxidant power so has more health benefits than white or yellow cornmeal.
I have already published a few recipes using blue/purple corn and cornmeal. Be adventurous and here a few more recipes made with Blue Cornmeal or Dried Blue Corn you might like to try!

Blue Corn Recipes – Purple Corn Recipes
Although in Bolivia, this can be enjoyed either warm or chilled, I prefer the chilled version. However, try it both ways and see which version you prefer. I would love to know which you like better, so please leave a comment and let me know.
Maybe you'd like a cornmeal based treat to go along with your Api Morada. Try one of these!
Cornmeal Recipes
IN THE MAKING – HOW TO MAKE API MORADA – BLUE CORNMEAL SMOOTHIE
This is definitely a unique twist on a smoothie!

Do you know anyone else who likes learning about international food, culture, history and travel? Bring them over here to join the party! Don't forget to use those share buttons!
Start Here to find out how the Schizo Chef can help you with your cooking, travel and other needs!
If you like this recipe, PLEASE LEAVE A COMMENT & SUBSCRIBE!