Last Updated on March 8, 2020 by Chef Mireille
Chilean Strawberry Kuchen is a luscious cream tart perfect for any holiday or special occasion. Easily adaptable with mango, apple, raspberries or other fruit. It starts with a cookie base and then a custard cream filling and a fresh fruit filling is added on top! These three layers combine into one amazing dessert recipe!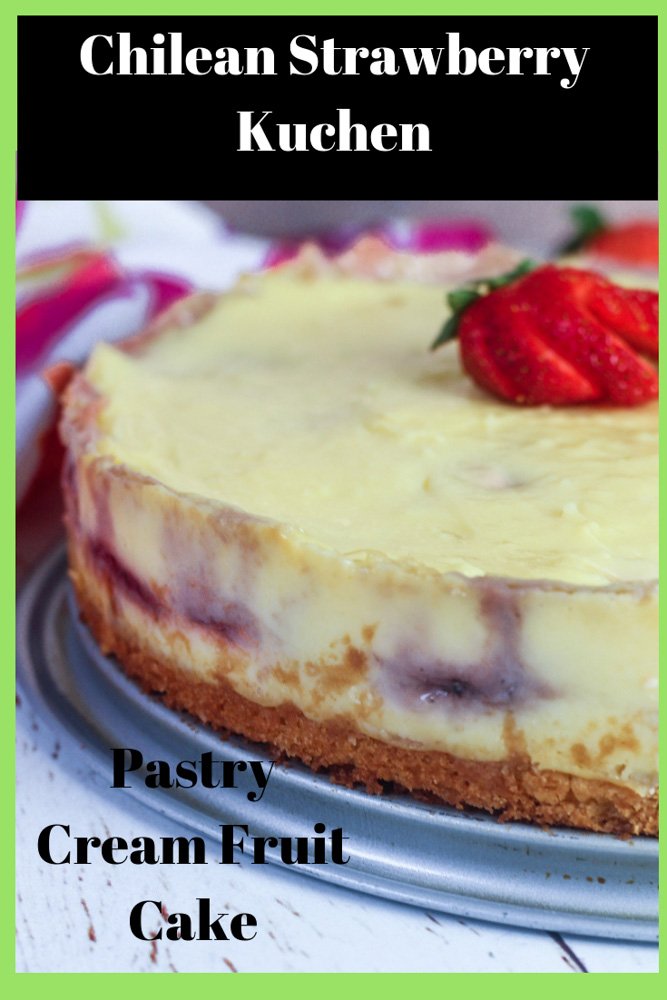 This post may include affiliate links.
Most people when they think of Valentine's Day treats, chocolate is the first flavor that comes to their mind. However, not everyone in the world is a chocolate fanatic. Yes, that's me raising my hand!
Of all the cake recipes on this blog, you will only find a handful of chocolate. So when I think of Valentine's Day treats, rich, creamy, luscious and fruity desserts definitely fit the bill. This Chilean Strawberry Kuchen is perfect to serve on Valentine's Day for someone else in your life who doesn't go completely ga-ga just because it's made with chocolate!
Chilean Kuchen
Many South American countries have large German descended populations. The bulk of the German migration to South America occurred in the 19th century, however many Nazi's fled to Argentina after World War II. Argentina, Brazil and Chile have the largest German populations in South America, with Bolivia, Paraguay and Peru having yet smaller German populations.
Germans brought with them their food and culture, although sometimes adapted with local fruits and produce. The German word for cake is kuchen. In these South American countries, the kuchen came to be applied to a variety of cakes, pies and tarts. In Brazil, it is known as cuca and you can check out my Cuca de Banana recipe here. In each South American country, kuchen is something different.
Mostly in southern Chile is where the kuchen is popular, as that is where much of the German settlers are concentrated. Although most people think of German Kuchen, the dessert is as popular in Chile.
Kuchen can be made with any variety of fruit with berries, apple, mango and peach being some of the most popular varieties.
This is the first Chilean recipe I am presenting here. I am so happy to discover the cuisine of yet another country. Although Chilean cuisine is quite familiar to me as growing up one of my Mom's good friends was Chilean and we would often eat at her house, this is the first time I am making something from the country myself.

Although Maria Christina now lives in California, she is always just a phone call away!
It might look a little complicated, but I promise you it comes together so quickly. Although it has different components, they are all fast and simple.
This decadent and fab looking dessert took me just a bit over an hour to complete and half of that was it baking in the oven, so only about 40 minutes of actual work. So little time and you can wow anybody with this gorgeous dessert!
Now are you ready to make Chilean Strawberry Kuchen ~ Cream Tart?

HOW TO MAKE CHILEAN STRAWBERRY KUCHEN ~ CREAM TART
First you make the cookie base with butter, sugar, eggs and flour.
Now press that cookie crust into a springform pan.
Then you bake the cookie crust.
Now it's to make the pastry cream and assemble the tart.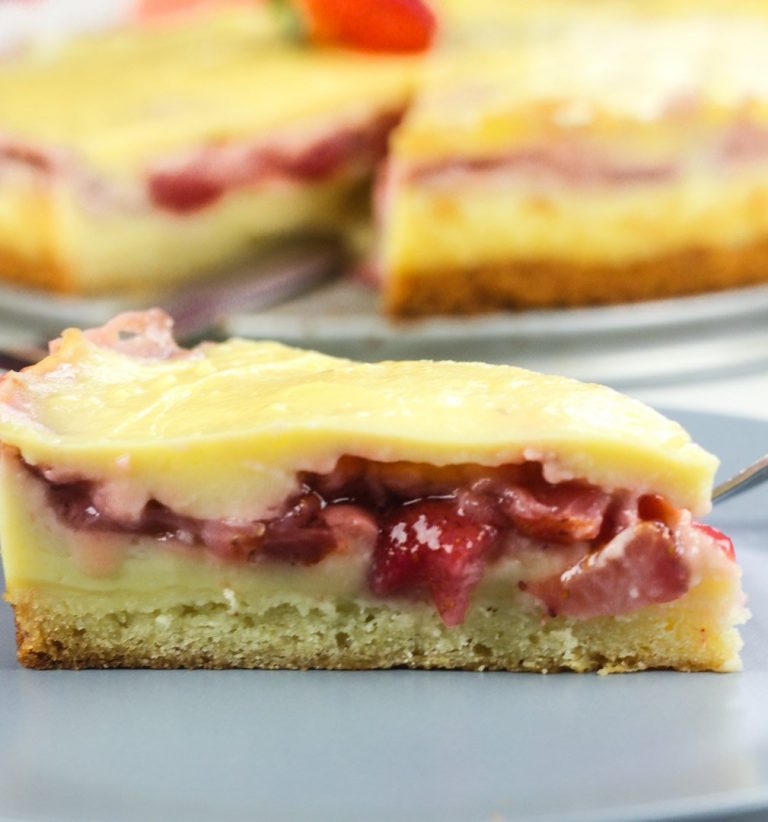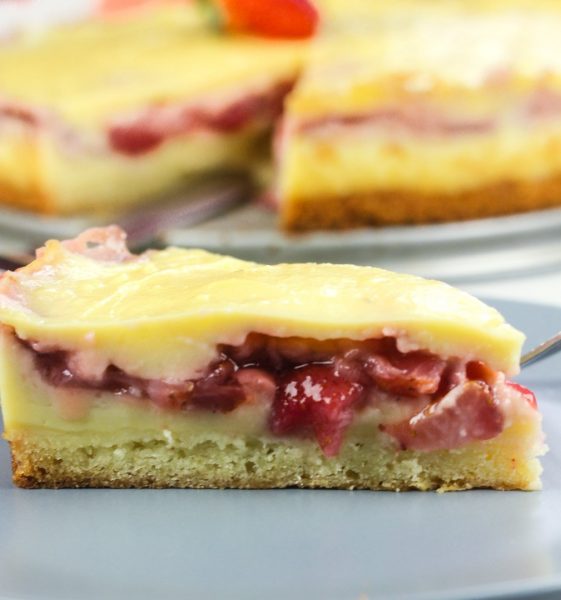 Chilean Strawberry Kuchen ~ Cream Tart
Chilean Strawberry Kuchen ~ Cream Tart is a rich and luscious dessert perfect for any holiday.
Ingredients
Crust Ingredients
Filling Ingredients
3

cups

milk

¾

cup

+ 2 tablespoons sugar

3

eggs + 2 egg yolks

½

cup

+ 1 tablespoon cornstarch

1

teaspoon

vanilla extract

8

oz.

stemmed and sliced strawberries
Instructions
Preheat oven to 375 F.

Spray a 9" springform pan with non stick spray.

In a bowl, beat butter and sugar until crumbly with an electric mixer.

Add egg and mix well.

In a small bowl, combine flour, salt and baking powder. Whisk to aerate and combine.

Add flour to other bowl and mix with the electric mixer for 1 minute.

Use a rubber spatula to fully incorporate the flour.

Transfer to prepared pan.

With wet hands, press the dough into the bottom of the pan.

Using the edge of the rubber spatula, smooth the batter on top.

Transfer to oven and bake for 15 minutes, until batter is set and slightly golden.

Meanwhile, let's make the pastry cream.

In a saucepan, combine half of the milk and half of the sugar.

Heat, but do not boil.

In a bowl, combine remaining milk and sugar. Add eggs and egg yolks. Whisk well until thoroughly combined.

Add vanilla and mix to combine.

Add cornstarch and mix well, until very smooth. Pass through a sieve to make sure there are no cornstarch lumps.

Remove simmering milk off of the stove and add cornstarch egg mixture.

Whisk well to thoroughly combine.

Return pan to stove and simmer on medium low heat for 3 minutes, stirring occasionally.

Whisk continuously for another 2 minutes until thickened. Consistency should be like Greek yogurt.

Add half of the pastry cream to baked shell.

Add the berries on top.

Add remaining cream.

Return pan to oven and bake for 30 minutes.

Cover and chill overnight in the refrigerator or for at least 8 hours.

Unmold, slice and serve.
Nutrition
Calories:
316.21
kcal
|
Carbohydrates:
46.53
g
|
Protein:
5.66
g
|
Fat:
12.24
g
|
Saturated Fat:
7.03
g
|
Sodium:
134.65
mg
|
Fiber:
0.76
g
|
Sugar:
32.42
g
Did you try this recipe? Leave a comment below.
Please follow me on Instagram @chefmireille or tag me #chefmireille with your pics! I'd love to share them!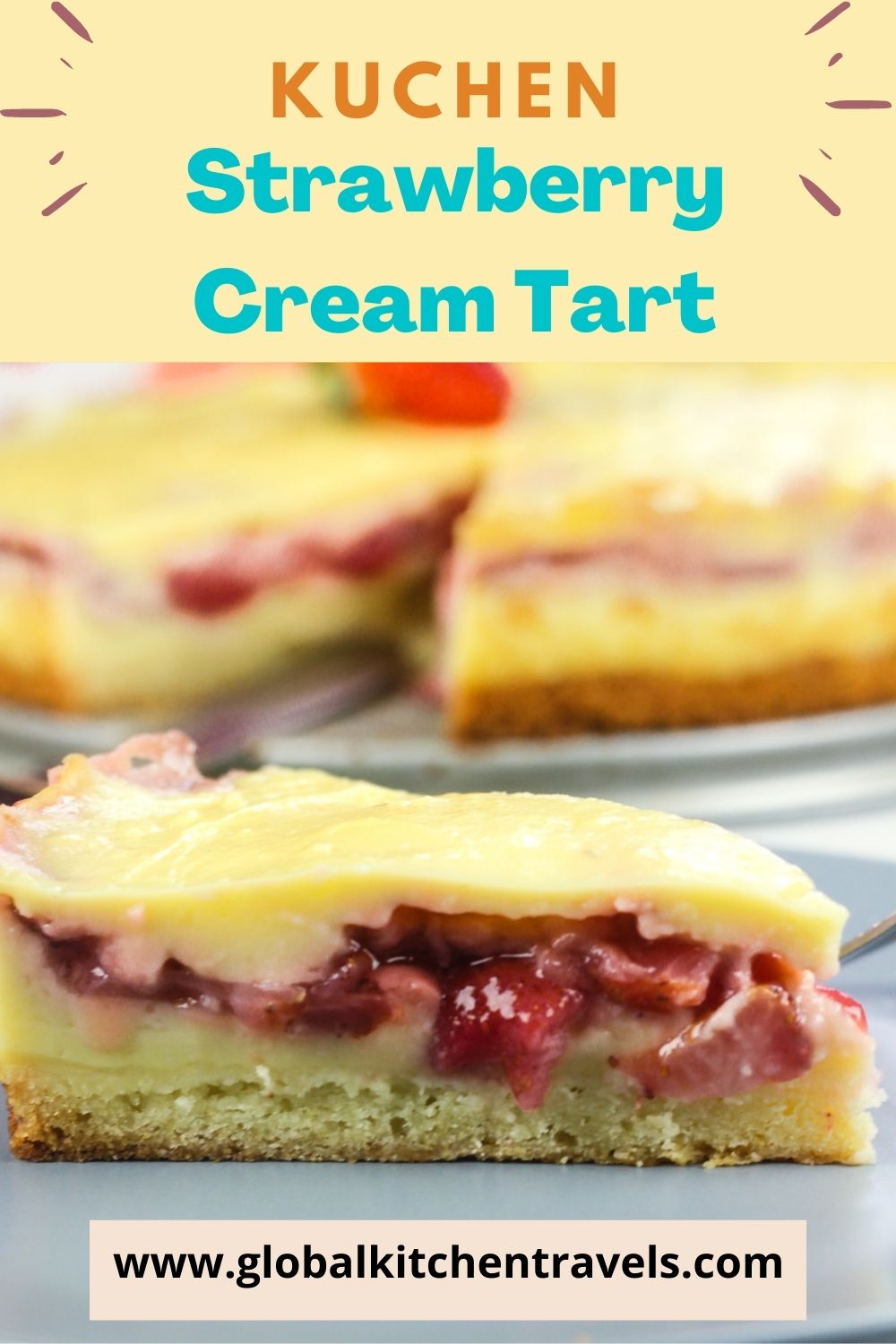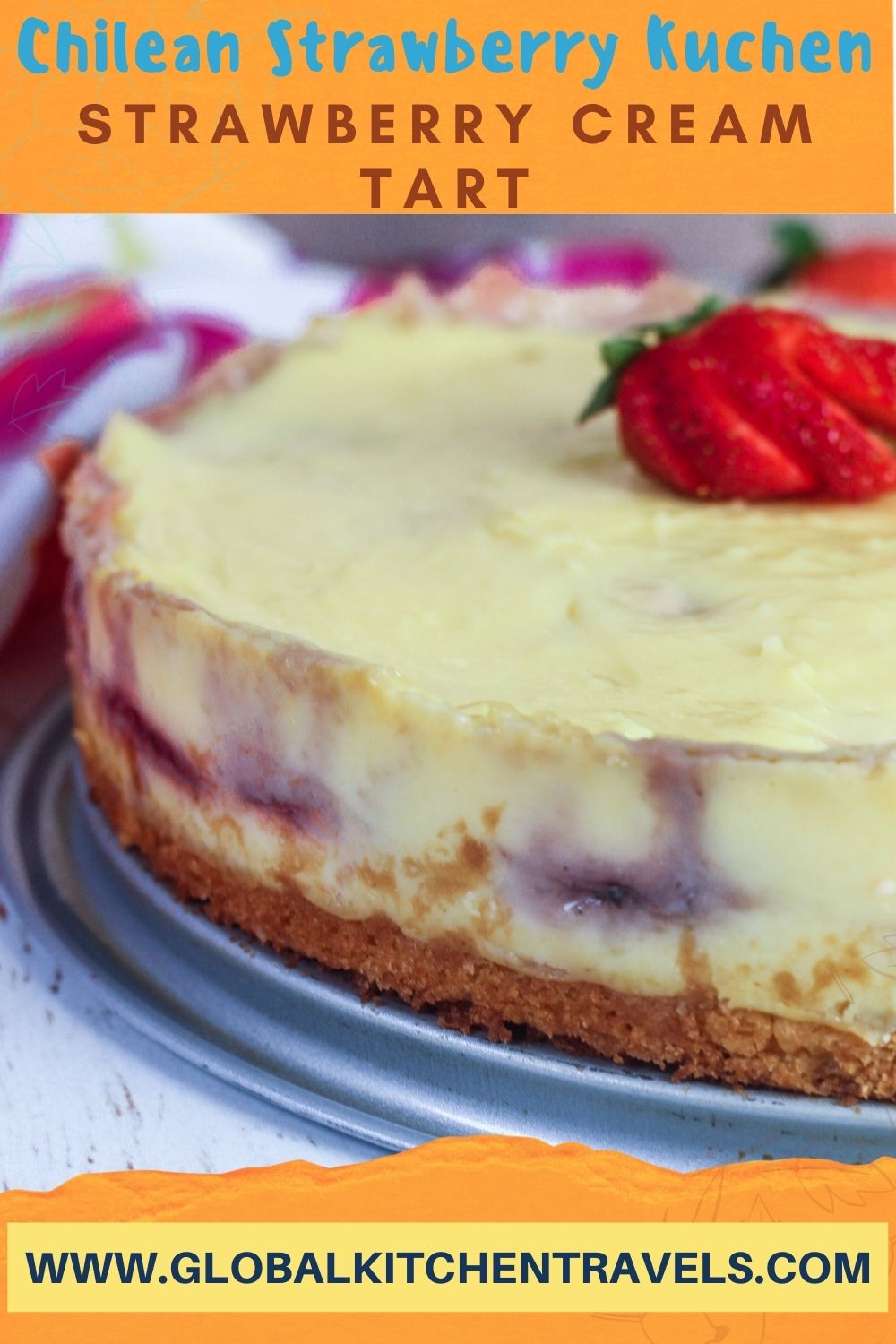 Don't forget to visit the RECIPE INDEX with over 1000 recipes from around the world including lots of Vegetarian Recipes and Gluten Free Recipes!