Last Updated on November 10, 2021 by Chef Mireille
Githeri – Kenyan Vegetable Bean Stew is a hearty one pot meal that is perfect for Meatless Monday.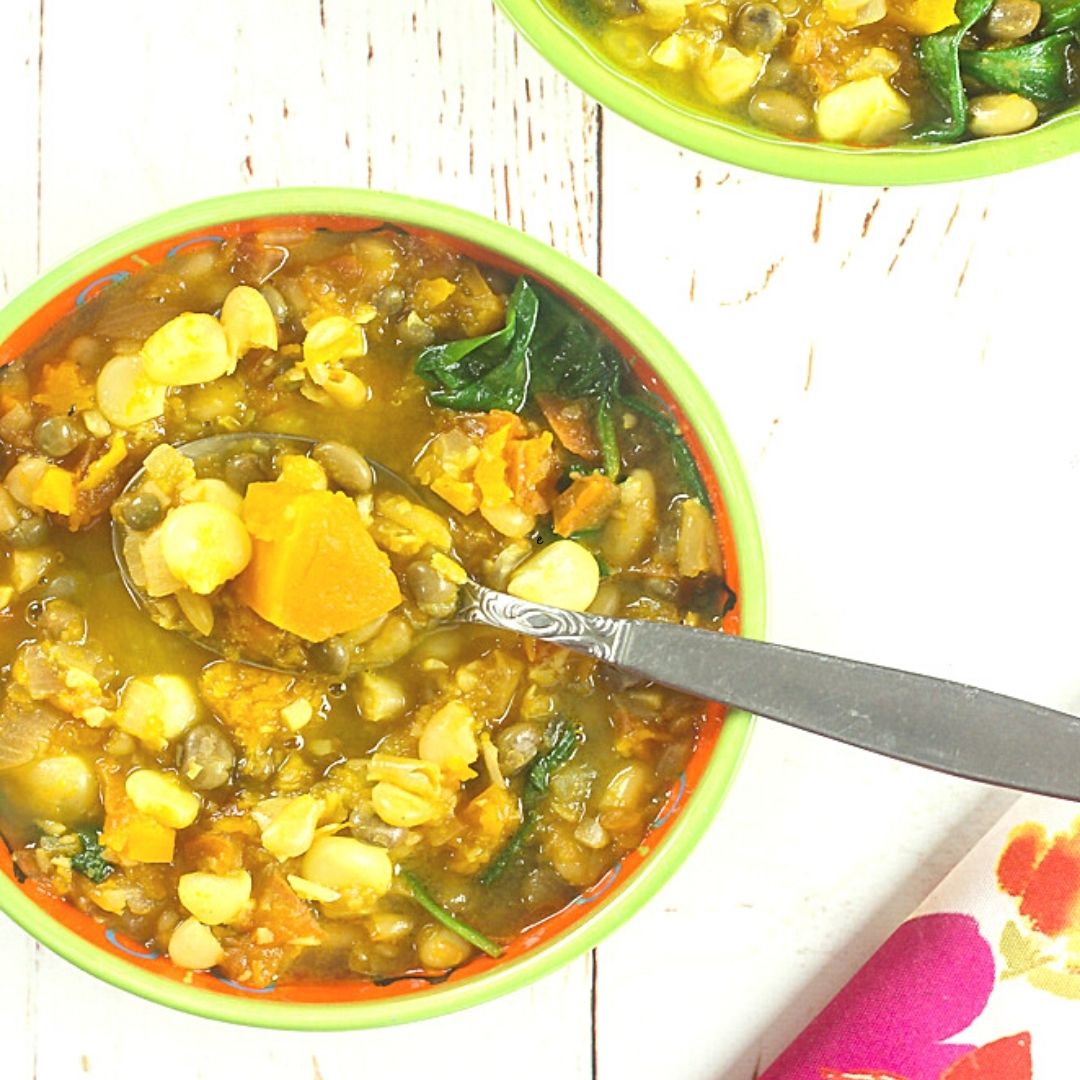 I have taken over managing a Food Blogger Recipe Swap monthly event. It is a great way to encourage the food blogging community and make some new friends in the process. Not to mention, discovering some new recipes in the process.
I hope you enjoy my take on these recipes I will be presenting from other bloggers.
This month I am cooking from Mayuri's Jikoni. I am very familiar with Mayuri due to our membership in another group and was excited to cook from her blog. Mayuri lives in Kenya and so you will find a diverse mix of Indian, African and international recipes on her blog.
Since we are coming up on Black History Month in February, I decided I wanted to cook up my version of one of her African recipes.
I quickly decided upon Githeri – a healthy vegetable stew of beans and vegetables. Although meat is sometimes added to the stew, with all the beans, I felt it had enough protein in it and additional meat was not necessary. This is a great option for Meatless Monday.
Githeri is a Kenyan recipe and by the way, if you would like to learn a little more about Kenyan food, you should check out one of my favorite You Tube channels – migrationology. He travels all over the world and eats – now isn't that a great job! Anyway, he did a series on Kenya and Kenyan street food – I think you will enjoy the video as much as I did!
This is not the first time I have explored Kenyan cuisine. Do check out my other Kenyan recipes for Potato Bhajia (Potato Fritters) & Chicken Mung Bean Stew.
White Corn
In Africa, white corn is more popular than the sweet yellow corn we have here in America. Since fresh white corn is not available here, I had to decide what were the best substitutes I could come up with. There are two options we have here:
Hominy Corn – Hominy corn is basically what grits are made from and is also used in the popular Mexican soup, pozole. You can usually find cans of hominy corn in the canned bean section of the supermarket.
Choclo Corn – Choclo is a type of white corn from South America. It has very large kernels. You can usually find choclo either dried or frozen in Latin American markets like Mi Tierra, here in the NYC area. I used this chocle corn in my Githeri – Kenyan Vegetable Bean Stew.

Other than the corn, most of the other ingredients are readily available.
Variations
What's great is that this recipe is so customizable to what you have on hand. I used white kidney beans but any beans can be used like black beans, navy beans, black eyed peas, cranberry beans or any other firm bean. I used pumpkin, but other starchy vegetables like plantain, breadfruit or cassava (yuca) can also be used.
You can even make this come together faster by using all canned beans if you like!
HOW TO MAKE GITHERI – KENYAN VEGETABLE BEAN STEW
Saute onions and garlic.
Add tomatoes and cook until mushy.
Add pumpkin, cooked beans, corn, water and at the last stage, you add spinach.
What a delicious, hearty and filling stew!
With very basic simple ingredients and just a few spices, they create a marriage of delicious flavors.

Simple and quick and yet oh so delicious!

Have you tried instacart yet? It's how I get all of my fresh grocery items delivered within 2 hours!
Githeri – Kenyan Vegetable Bean Stew
Githeri – Kenyan Vegetable Bean Stew is a one pot meal packed with protein. A healthy and delicious meal.
Ingredients
Bean Ingredients
1/2

cup

canneloni/ white kidney beans

soaked overnight

1/2

cup

frozen white corn

choclo or hominy

2

garlic cloves
Stew Ingredients
2

tablespoons

oil

1

chopped onion

5

finely chopped garlic cloves

2

finely chopped tomatoes

1

teaspoon

ground coriander

1/2

teaspoon

ground cumin

1/4

teaspoon

ground turmeric

1

teaspoon

salt

1/2

cup

canned pigeon peas

frozen can also be used

1

cup

chopped pumpkin

1

cup

baby spinach
Instructions
To make the beans, combine beans and garlic in a large pot of water.

Bring to a boil.

Reduce to a simmer and cook until beans are tender, approximately 1 hour.

Add corn and simmer another 5 minutes, until heated through.

Drain and set aside.

In a large pot, heat oil.

Add onion and garlic and saute until softened.

Add tomatoes, coriander, cumin, turmeric and salt.

Cover and cook on medium low heat for 5-10 minutes, until tomatoes are very soft and mushy.

Add cooked beans/corn, pigeon peas, pumpkin and 2 cups water. Bring to a boil.

Reduce heat and simmer for 10 minutes, until pumpkin is fork tender.

Add spinach and cook for 1-2 minutes until spinach is wilted.

Serve warm.
Notes
Any kind or beans besides canneloni beans can be used like black beans, navy beans, cranberry beans, etc.
Prep time can be eliminated if you use canned beans.
Instead of pumpkin, cassava (yuca), plantain or breadfruit can also be used.
Meat can also be added to the stew if desired.
Nutrition
Calories:
218.67
kcal
|
Carbohydrates:
30.7
g
|
Protein:
8.88
g
|
Fat:
8.04
g
|
Saturated Fat:
0.66
g
|
Sodium:
462.25
mg
|
Fiber:
9.27
g
|
Sugar:
5.42
g
Did you try this recipe? Leave a comment below.
Please follow me on Instagram @chefmireille or tag me #chefmireille with your pics! I'd love to share them!
Do check out the other delicious recipes from this month's Recipe Swap!
Recipe Swap Recipes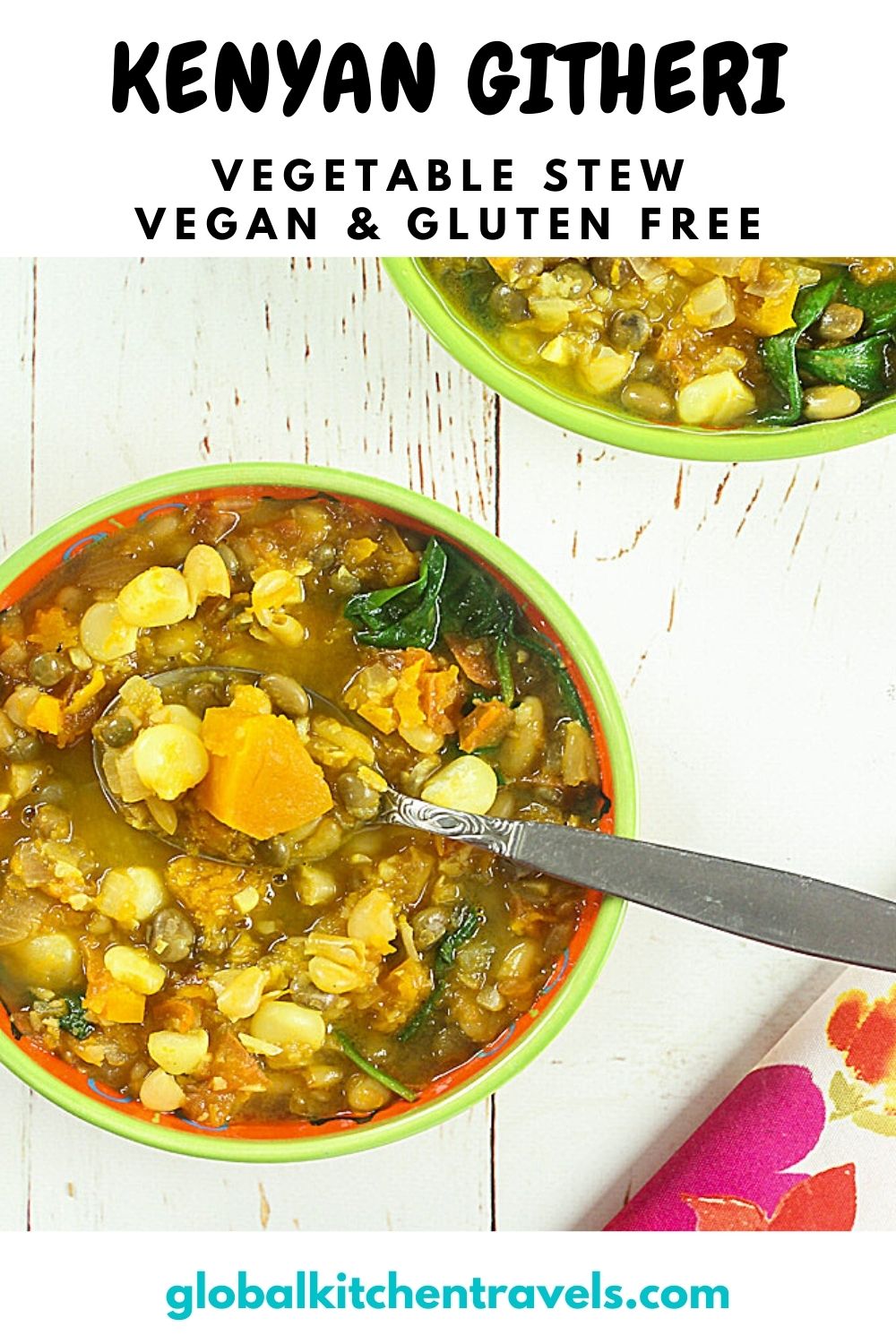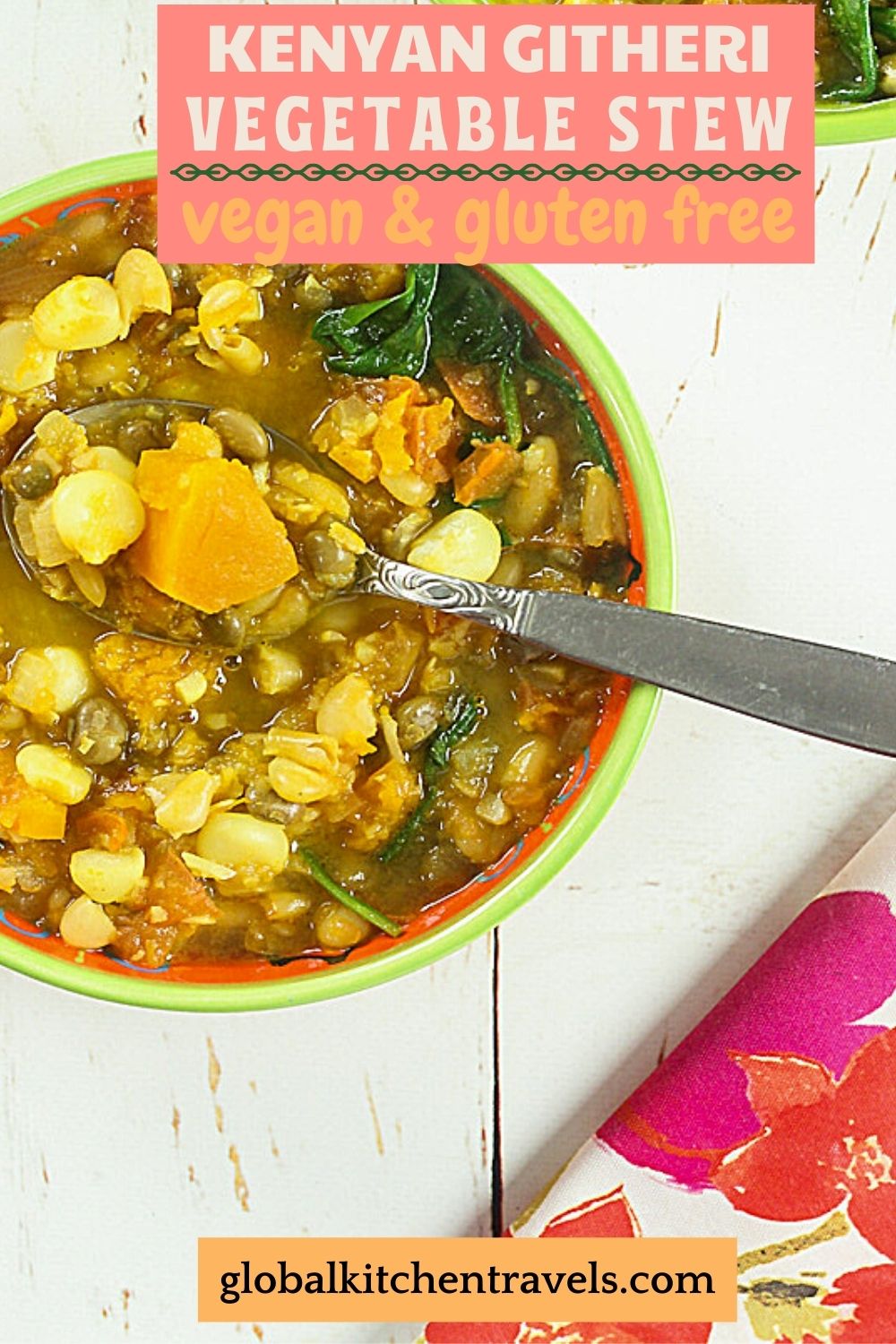 Don't forget to visit the RECIPE INDEX with over 1000 recipes from around the world including lots of Vegetarian Recipes and Gluten Free Recipes!