Last Updated on April 1, 2019 by Chef Mireille
This Sausage, Cauliflower and Red Bean Couscous Pilaf is the perfect #onepotdish, utilizing nutrient rich orange cauliflower.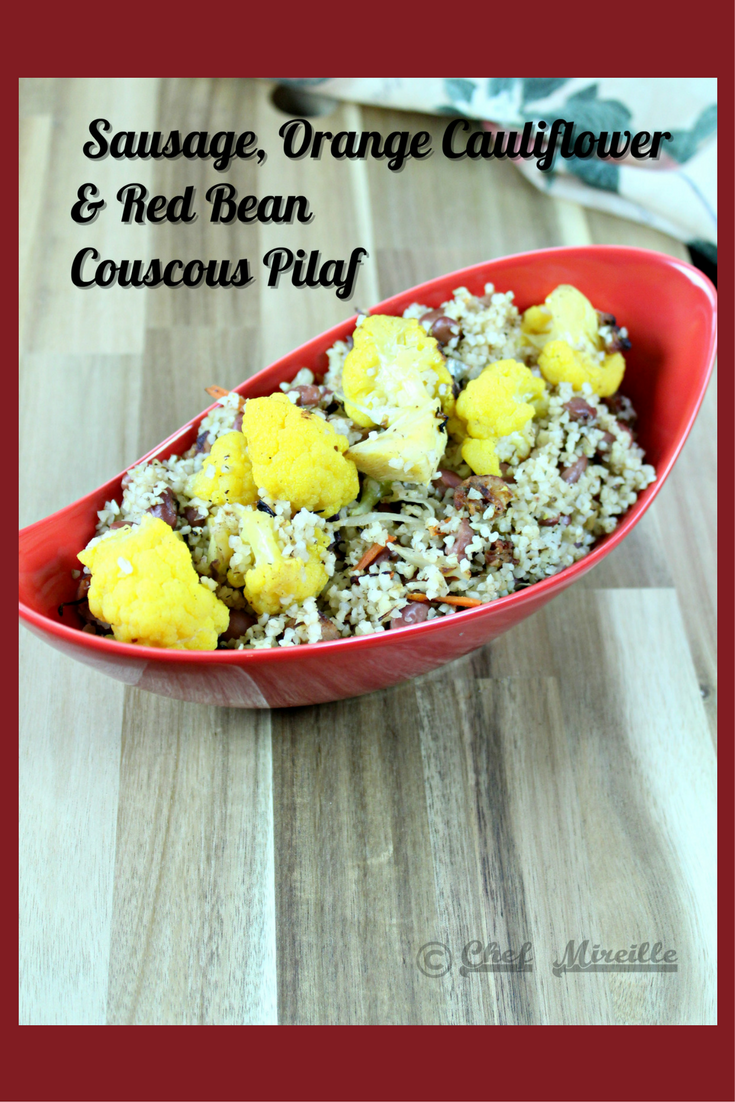 Do you ever have those lazy days when you come home and you just want to throw some things into a pot and cook, without having to do all that chopping? I wish I had a live in prep cook! Well, that is how this recipe was born – out of pure laziness.
Sometimes I look at the pre chopped vegetables at the supermarket and I marvel at people buying it when it is much more budget friendly to buy the whole vegetable and cut it yourself. However, I have those days when I realize why they are so popular. Sometimes the thought of standing there chopping stuff after working is just more energy than I can muster up. I usually indulge in this guilty pleasure of buying pre cut vegetables when I'm really tired after working 8-10 hours on my feet. It's really a bad time to go to the supermarket! The heart rather than the wallet rules my choices! Anyway, I had some pre sliced cole slaw mix (red cabbage, green cabbage, carrots) along with some other odds and ends that went into creating this easy one pot dish.
This is a very customizable recipe. Use whatever veggies you have lying about. Use your favorite spice blend mix! Use your favorite bean/lentil and create your own version of this easy schmeezy pilaf!
It's cauliflower season here in the northeastern United States. Cauliflowers are everywhere and especially at the farmer's markets. Not just the ordinary white cauliflower, but green Romaneso as well as orange and purple cauliflower. I've used these colorful cauliflowers before in recipes such as:
Not only pretty to look at, but they are also higher in nutritional value as most foods with color are. The orange cauliflower has 25% more Vitamin A and loaded with beta carotene, more than the white variety.
This started off as a lentil side dish, but as I started adding little pieces of bits and bobs I had in the refrigerator, it turned into the perfect #onepotmeal
How to Make Couscous Pilaf
I recently had a mini vacation in Savannah. If you are a foodie, this town should definitely be on your Bucket List. Not only are there so many great restaurants to enjoy for every budget, but it's a cook's paradise. For such a small city, they have 3 spice markets full of spice blends, infused sugars and salts as well as your basic herbs and spices. I will soon be doing a blog post about my trip. Until then, if you do make it to Savannah make sure to visit The Spice & Tea Exchange. In this recipe, I used their Island Sweet Spice Blend (brown and yellow mustard, coconut powder, sumac, turbinado sugar, vanilla sugar, dill, rose petals, orange zest)
Since the summer temperatures don't seem to want to leave us, this is the perfect dish to keep your time in the kitchen short!
Sausage & Cauliflower Couscous Pilaf
Ingredients
2

cups

medium coarse couscous

2

tablespoons

oil

2

chicken sausage links

3

cups

chopped orange cauliflower

2

cups

cole slaw blend

15.5

oz.

can small red beans

drained

1

tablespoon

spice blend

salt

to taste

hot sauce

optional
Instructions
Place couscous in a bowl and cover with boiling water. Leave for 10-15 minutes, until tender. Drain.

In a deep skillet, heat oil.

Add sausage and saute until browned.

Add cauliflower and cole slaw. Add 3 tablespoons of water. Cover and cook for 5-6 minutes until cauliflower is cooked but still crisp tender.

Add beans, couscous and spice blend. Mix to combine and cook until beans are heated through.

Add salt and optional hot sauce. Mix to combine.
Nutrition
Calories:
433
kcal
|
Carbohydrates:
68
g
|
Protein:
20
g
|
Fat:
10
g
|
Saturated Fat:
1
g
|
Polyunsaturated Fat:
2
g
|
Monounsaturated Fat:
3
g
|
Trans Fat:
1
g
|
Cholesterol:
20
mg
|
Sodium:
317
mg
|
Potassium:
611
mg
|
Fiber:
11
g
|
Sugar:
2
g
|
Vitamin A:
165
IU
|
Vitamin C:
34
mg
|
Calcium:
94
mg
|
Iron:
4
mg
Did you try this recipe? Leave a comment below.
Please follow me on Instagram @chefmireille or tag me #chefmireille with your pics! I'd love to share them!
Don't forget to visit the RECIPE INDEX with over 1000 recipes from around the world including lots of Vegetarian Recipes and Gluten Free Recipes!