Last Updated on April 1, 2019 by Chef Mireille
This Middle Eastern popular meze entree makes a great Vegetarian meal or a first course for any meal.

Although I adapted this recipe from Ana Sortum's Spice, I have actually seen a version of this recipe in a few different cookbooks that focus on Middle Eastern food. It must be a very common addition to a meze table throughout the Arabic world. At this time of year in the northeast United States, the weather doesn;t know what it wants to do. One day we are bringing our sweaters out of the closets and the next day it's back to shorts and tee shirts. However, due to all the havoc this season's hurricane's have done to other parts of the US, I am not complaining about our weather one bit! So for those hot days that are still lingering about and you just one a light dinner, this is a great summer meal! It's also great as a first course for any meal!
This is my contribution for this week's CCC. I have so many CCC posts done, but editing sometimes causes quite a delay in getting them out to you. This was actually made several months ago, but better late than never right!
Other Middle Eastern Foods to add to your Meze
IN THE MAKING
You can either just serve the kofte with the salad stuffed inside or serve it on a bed of lettuce.
In America, Vegetarians often get a raw deal. Often when I work as on call culinary staff for high end events, I wonder why they give no thought to the Vegetarians. Often all the Vegetarians get is a thick slice of roasted cauliflower as their main course. Really??? This is a great option for the Vegetarians at your table!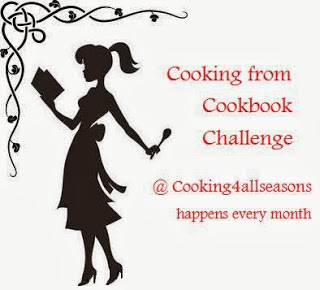 This is my contribution to Cooking from Cookbook Challenge Group
Red Lentil Kofte with Cucumber Salad
Rating: 51
Prep Time: 40 minutes
Cook Time: 20 minutes
Per Serving 402 calories
Fat 21 g
Carbs 47 g
Protein 11 g
Ingredients
Kofte Ingredients:
2 tablespoons butter
1 finely chopped onion
1 peeled and finely chopped carrot
1 teaspoon ground cumin
2 teaspoons Aleppo pepper
1 cup red lentils
4 cups water
½ cup tomato sauce
1 1/2 cups extra fine bulgur
¼ cup olive oil
Salt and pepper, to taste
Salad Ingredients:
1/2 finely chopped red onion
3 Persian cucumbers, peeled, seeded and finely chopped
1 diced bell pepper
9 oz. tomatoes, chopped
6 tablespoons olive oil
1 ½ tablespoons lemon juice
1 tablespoon pomegranate molasses
¼ cup pomegranate seeds
Salt and pepper, to taste
¼ cup finely chopped parsley
8 lettuce leaves, chopped
Instructions
To make the kofte, melt butter in a saucepan. Add onion and carrot and cook until softened, about 5 minutes.
Add cumin and Aleppo pepper. Add lentils, tomato sauce and water. Bring to a boil. Reduce to a simmer and cook until lentils are tender, about 10 minutes.
Add bulgur and olive oil. Stir to combine. Remove from heat. Let it sit until the bulgur has absorbed the liquid and is soft, about 20 minutes.
Add salt and pepper. Transfer to a shallow plate or bowl and spread in an even layer to cool.
To make the salad, combine onion, cucumber, bell pepper and tomatoes.
In a small bowl, combine lemon juice and pomegranate molasses. Slowly add olive oil while whisking constantly. Add pomegranate seeds, parsley, salt and pepper. Whisk to combine.
Reserve 2 tablespoons of the dressing and pour the rest over the cucumber salad. Toss to combine.
Once the kofte is cool, form into small patties, making an indent in the center to catch the salad.
Toss the remaining salad dressing with the lettuce.
To serve, place kofte on the lettuce and pour cucumber salad on top.
Notes
If using fine or medium bulgur, you may need to let it sit for 10 minutes for the bulgur to absorb the liquid. Do not use coarse bulgur.