Last Updated on February 5, 2019 by Chef Mireille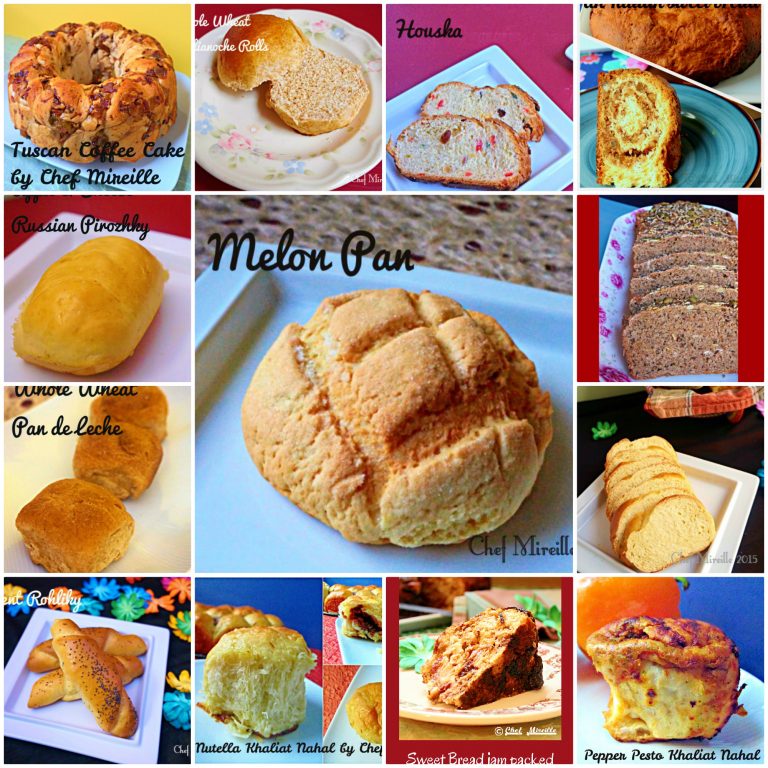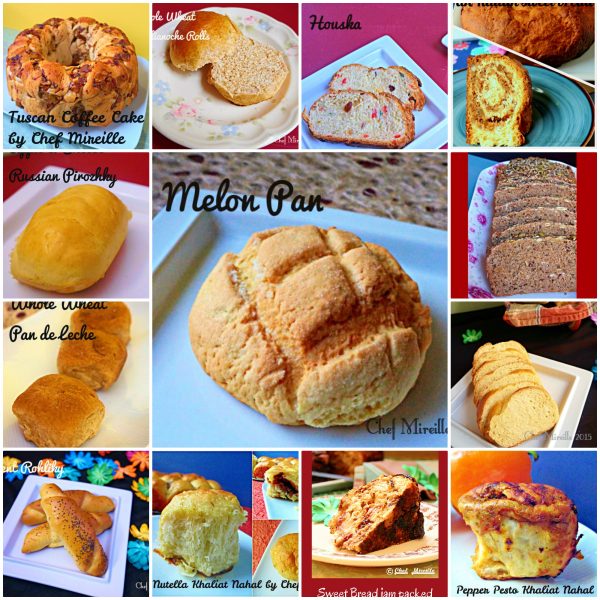 Yesterday would normally be the day I posted a new bread recipe for #BreadBakers. Unfortunately, a pulled muscle in my back has slowed me down for quite a bit, so my recipe for Dallaspulla will have to wait. The theme was International Breads, which is right up my alley and I was so bummed I had to miss the event. As holiday season is approaching with breakneck speed, how about trying some of the other International Breads I've posted in the past for something new on your Thanksgiving, Christmas or whatever holiday you are celebrating at this time of year!
You don't have to wait for a holiday to make these great breads. Your family will love you to bits if you make these festive breads just for Sunday dinner!
From Italy to Ireland and Japan and from Cuba to Guam and Finland, there is a bread for every palate. Both sweet and savory, healthy whole grain breads and rich decadent egg rich breads, there is a bread for every occasion on this roundup!
There is nothing like the smell of fresh baked bread to perfume the house. Now that the temperatures are starting to cool, it's the perfect time to dig in and find your inner Bread Baker!
With me dealing with my pulled muscle, I let my 10 year anniversary of blogging slip by on September 1.  Can you believe it? Such a monumental anniversary and the day just slipped by. I think I was drugged up on muscle relaxers and pain relievers! To celebrate, I am hosting a giveaway. Scroll to the bottom to enter the #Giveaway!!!!
12 Holiday Breads from Around the World
Apple & Cheese Russian Pirozhky – Soft rolls stuffed with apples, cheese, bacon, onion and spices
Choereg – An egg rich Armenian Easter Bread
Czech Rohliky – Breakfast rolls popular in the Czech Republic and other Slovak countries
Fjelbrod – Norwegian 100% Whole Grain bread
Houska – Another bread from the Czech Republic, usually made at Christmas
Gubana – An Italian sweet bread stuffed with walnuts and dried fruit
Barmbrack – An Irish sweet bread stuffed with tea soaked fruit and spices
Melon Pan – Soft bread rolls from Japan topped with a cookie crust.  #kidfriendly it is a cookie and bread in one!
Tuscan Coffee Cake – An Italian sweet bread studded with dried fruits and nuts
Whole Wheat Pan Medianoche – Cuban sweet bread rolls for tea time sandwiches
Whole Wheat Pan de Leche – Milk Rolls from Guam flavored with pineapple juice
Khaliat Nahal – Soft stuffed bread rolls eaten during Iftar, the meal eaten to break fast during the holy month of Ramadan in Arabic countries. The varieties of stuffings are endless. Try the two I made!
Sweet version stuffed with nutella and marscapone and topped with a saffron syrup
Savory version with vegetables and cheese and topped with a roasted bell pepper pesto
I hope I have inspired you to try a new bread this holiday season!
…and please leave a comment with the bread you tried!
ANNIVERSARY GIVEAWAY
3 lucky winners will receive a Kugelhopf baking pan. See the Kugelhopf recipe here! This baking pan can also be used to bake other breads and cakes.
US RESIDENTS ONLY