Last Updated on January 12, 2020 by Chef Mireille
These Turmeric Apricot Nutmeg Granola Bars are wholesome and healthy granola bars is full of ingredients that have natural healing capabilities including turmeric and nutmeg…oh and they're delicious too!!!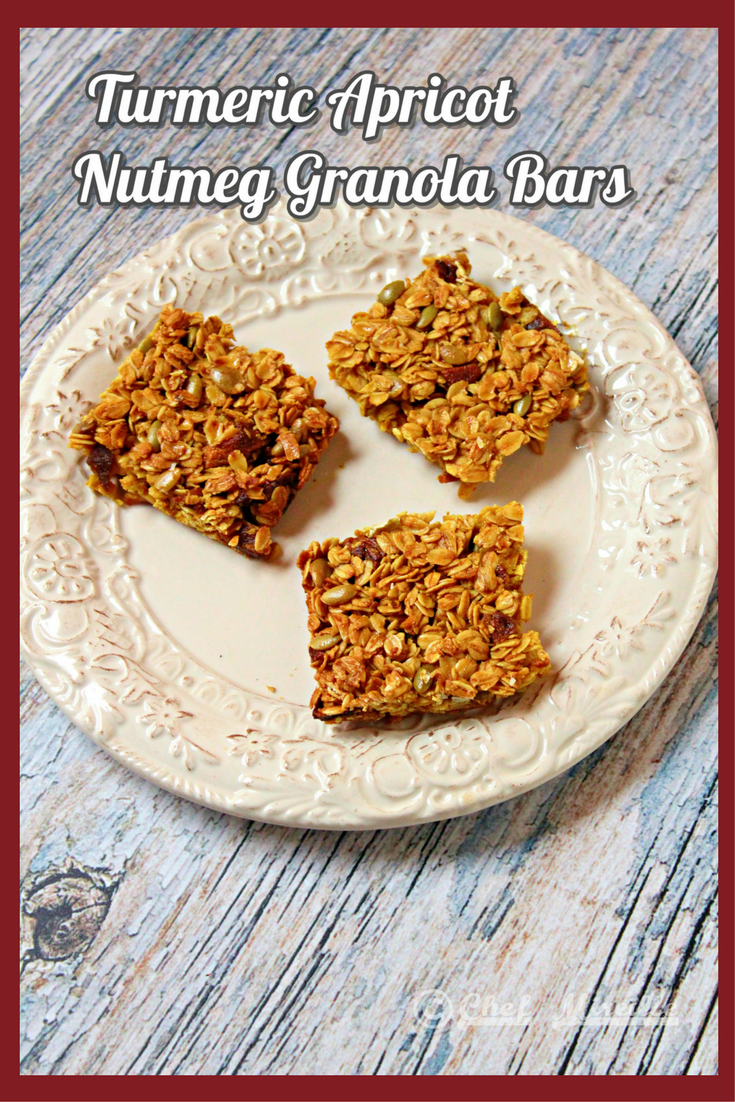 When I think of turmeric, I usually think of savory foods. However as the west has discovered all of the health benefits of this spice, turmeric is finding its way into all sorts of over the counter food products including smoothies, ice cream, jam and donuts. Living in a city with such a global foodie culture as New York City, this is usually one of the first places in America that trends take root. Turmeric is finding its way into the most unique places.

Healthy Turmeric
Turmeric Ice Cream, Golden Milk, Turmeric Doughnuts…and the list goes on. You can't go far anymore without finding something made with turmeric. With all the health benefits of turmeric, there are also turmeric supplements as an alternative to getting it in your food. Learn more about these and all the amazing health benefits of turmeric!
---
A few weeks ago when I explored Lebanese cuisine, I posted a classic Sfoof recipe, which is a cake flavored with a good bunch of turmeric, as well as anise and flower waters. Surprised as I was, this sweet cake was delicious despite the large amount of turmeric in it. Inspired by the flavors of this cake, I created these granola bars with a similar flavor profile.
The nutmeg syrup I used in this recipe I had purchased on my trip to Malaysia last year, where nutmeg is prevalent and finds its way into everything from drinks and curries to candy. Nutmeg has many great health benefits too and can help with basic ailments from headaches to nausea.
One day when I was in Penang with my friends waiting for a bus to go to Kek Lok Si Temple, I was struck with a severe case of nausea I think from the heat as I had only had a light breakfast that morning and nothing out of the ordinary to cause nausea. I was having severe stomach cramps that I could barely stand up straight. Even here in NYC which is not nearly as hot, I have been known to get heat strokes when the temps go over 100 F. We stopped at a roadside kiosk to get some water and when the owner saw me struggling to stand up, she asked what was wrong. She then suggested the nutmeg candy and within minutes, my nausea was gone and I was able to enjoy the beautiful visit to the temple. I now keep a supply of nutmeg candy which I get from a local Asian supermarket and whenever I get headaches, nausea or heartburn, I first try this natural cure instead of medicine and it works most of the time.
Nutmeg syrup is made from the nutmeg fruit and not the pit, which is the spice we are all used to. The fresh fruit is not available in the US, however you can order the preserved fruit here on Amazon and it would be the best substitute. You can then use this guide to make the syrup. But if you still don't want to bother, the best substitute would be maple syrup with a teaspoon of freshly grated nutmeg.
This granola bar is fusion Lebanese and Malaysian inspired granola bar. I hope you like it as much as I did!
IN THE MAKING
A great snack for any time!

Turmeric Apricot Nutmeg Granola Bars
These Turmeric Apricot Nutmeg bars are so healthy with all the benefits of turmeric. Perfect to take with you on hikes or train rides.
Ingredients
6

cups

oats

½

teaspoon

salt

½

cup

melted butter

½

cup

nutmeg syrup

½

cup

apricot nectar

2

teaspoons

ground turmeric

2

teaspoons

orange blossom water

½

cup

chopped dried apricots

½

cup

pumpkin seeds

3

tablespoons

egg white
Instructions
Preheat oven to 350 .

Prepare a cookie sheet with parchment paper and non stick spray.

In a large bowl, combine oats, salt and butter. Toss well.

Lay in a cookie sheet on a single layer. Toast for 15 minutes, tossing the oats halfway through.

In a large bowl, combine sugar, nutmeg and apricot nutmeg. Mix well until thoroughly combined.

Add turmeric, orange blossom water, dried apricots and pumpkin seeds.

In a small bowl, whisk egg white.

Add toasted oats and egg white. Mix until thoroughly combined and well moistened.

Transfer to prepared cookie sheet. Spread into a 10x10 square.

Bake for 25 minutes. Leave to cool.

Slice into bars.
Nutrition
Calories:
351.68
kcal
|
Carbohydrates:
56.21
g
|
Protein:
10.39
g
|
Fat:
10.51
g
|
Saturated Fat:
4.19
g
|
Sodium:
75.94
mg
|
Fiber:
6.11
g
|
Sugar:
20.08
g
Did you try this recipe? Leave a comment below.
Please follow me on Instagram @chefmireille or tag me #chefmireille with your pics! I'd love to share them!
Do you know anyone else who likes learning about international food, culture, history and travel? Bring them over here to join the party! Don't forget to use those share buttons!
Start Here to find out how the Schizo Chef can help you with your cooking, travel and other needs!
If you like this recipe, PLEASE LEAVE A COMMENT & SUBSCRIBE!
Check out the Blogging Marathon page for the other Blogging Marathoners doing this BM#78