Last Updated on May 31, 2015 by Chef Mireille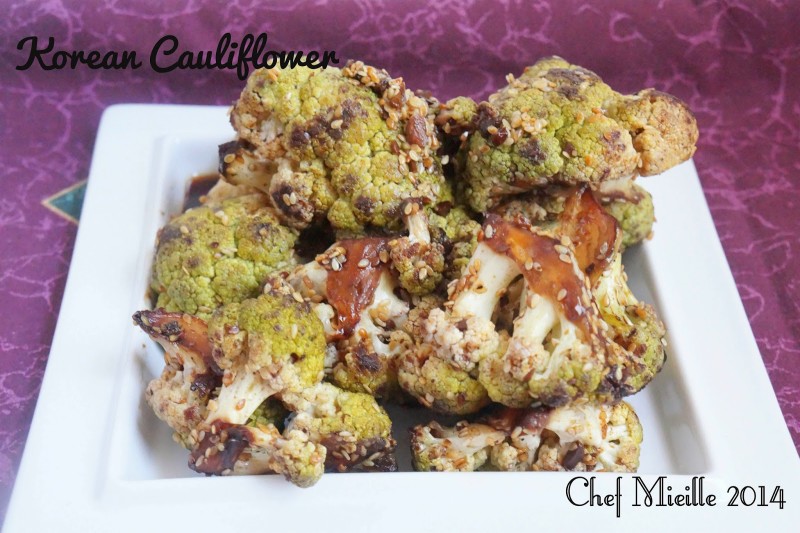 I love the different colored cauliflower's that are now available in supermarkets. There is no difference in flavor but I find it more aesthetically appealing, especially if you are using all three in a dish or a crudite platter. They used to be quite a bit more expensive than regular white cauliflower, but since their popularity has grown the prices are now comparable.
This recipe from The Kimchi Chronicles was a cold broccoli salad. I used green cauliflower instead and adapted the recipe to a warm side dish instead. For those of you who don't know, the Kimchi Chronicles is a PBS food TV show by Marja Vongerichten…yes she is the wife of world famous restauranteur Jean Georges Vongrichten. She has a very interesting story. She was born of a Korean mother and black father, who was in the military in Korea. However, her mother was left alone and it was very difficult at that time to be a single mother and especially with a black child in Korea. Her mother gave her up for adoption and she was raised here in America. As an adult, she met her birth mother and learned a lot about her Korean heritage and culture, which led to the Kimchi Chronicles. She has now written a book by the same name which includes many recipes from the television show.
Korean Cauliflower Stir Fry
Serves 4
Ingredients:
1 head green cauliflower, cut into florets
2 tablespoons canola oil (or vegetable oil)
2 cloves garlic, finely chopped
1 teaspoon sesame oil
1 tablespoon water
1 tablespoon rice vinegar
1 teaspoon soy sauce
a pinch of sugar
a pinch of salt
1 tablespoon toasted sesame seeds
Heat canola oil. Add garlic and fry for 1/2 minute. Add cauliflower and cook for 2 minutes.
In a small bowl, whisk together the sesame oil, rice vinegar, water, salt, soy sauce and sugar. Add to skillet and stir to combine.
Cook on medium high heat for 5-8 minutes.
Add sesame seeds and stir to combine.
I've been on a bit of a Korean kick lately…so don't forget to check out my Bibimbap recipe also!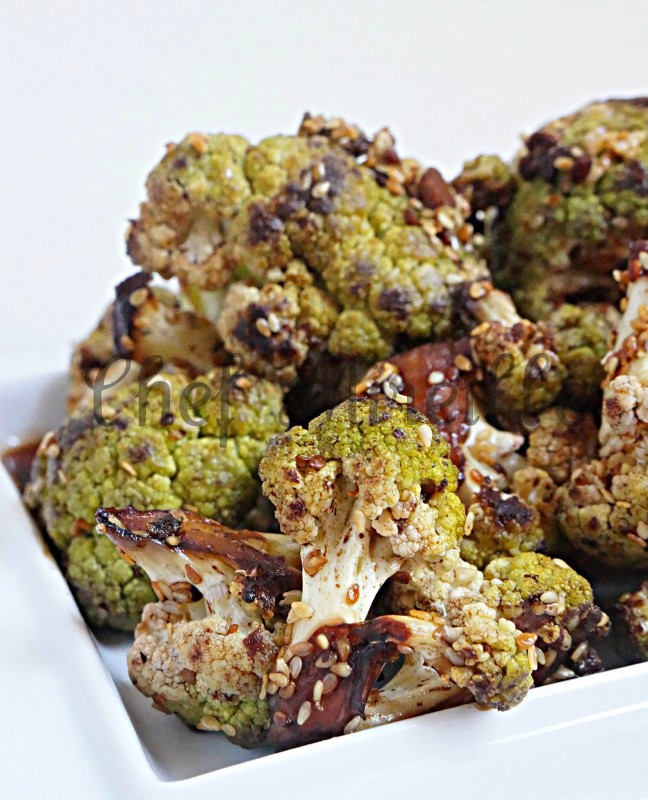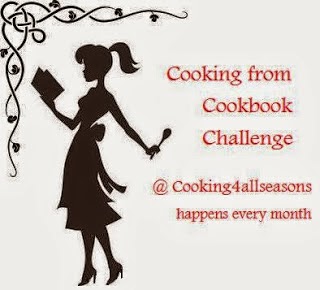 This post is for the CC Challenge of the month
LIKE THIS RECIPE? LEAVE A COMMENT..I LIVE FOR THEM!
Chef Mireille