Last Updated on June 14, 2023 by Chef Mireille
This post may include affiliate links.
Pastechi Tuna is Aruba's versions of a Fried Empanada. However, with Aruba's Dutch colonization, tuna and cheese are actually the most popular fillings. The fillings reflect Aruba's fusion cuisine with African, Dutch and Indonesian influences. This is basically a Tuna Pie – Aruba style!
I've also included a healthy Air Fryer Tuna Pie version. You can use this recipe, whether you are frying them the traditional way or using an Air Fryer.
Sweet, Spicy, Savory, Smoky, Briny – all at the same time. These AMAZING mini tuna pies are an explosion of flavors in your mouth. You are going to love this flavor combination!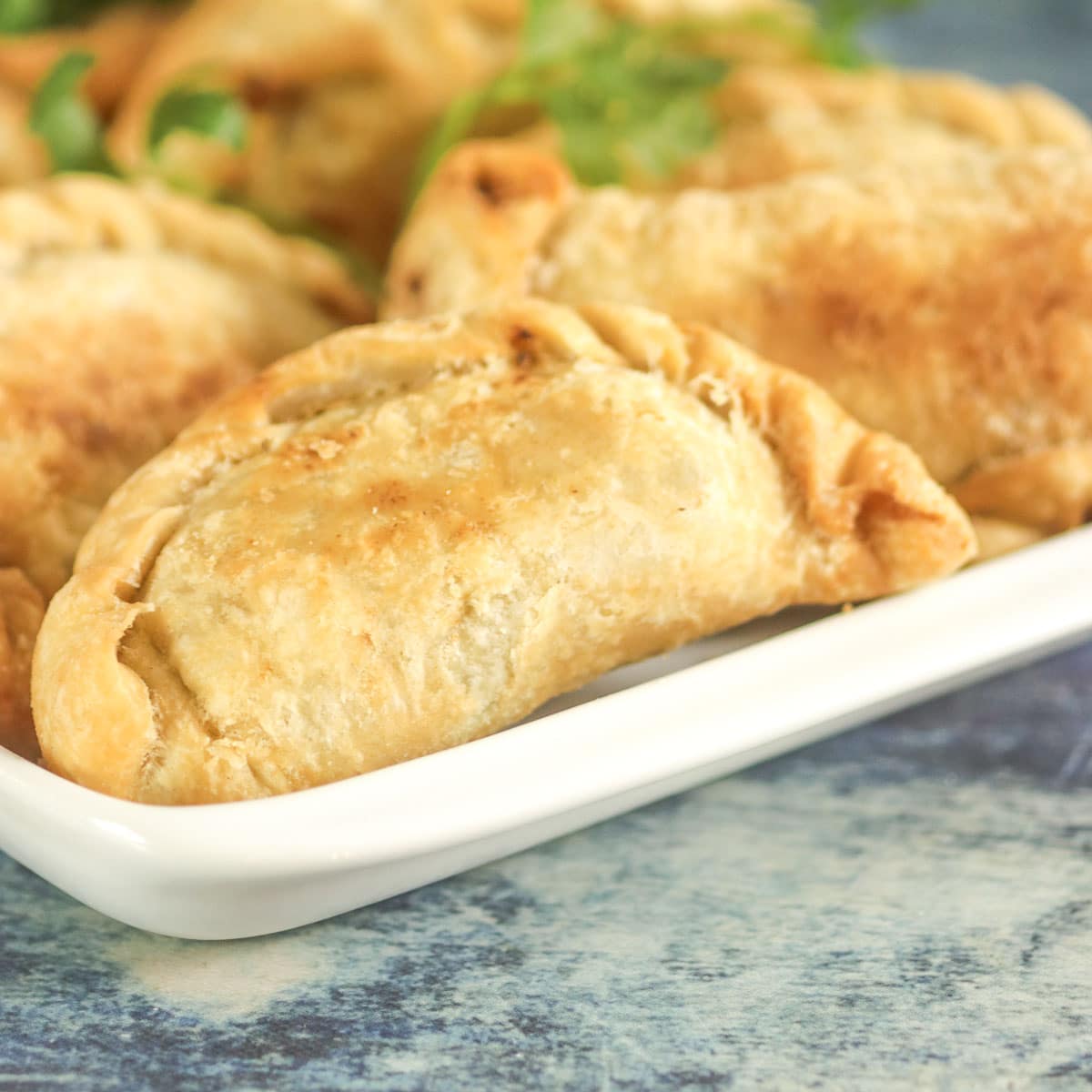 SUBSCRIBE TO CARIBBEAN RECIPES
Ready to spice up your kitchen with the vibrant flavors of the Caribbean? Sign up for our 10-week email series packed with authentic recipes and handy shopping lists!
I am so happy to be participating with some other bloggers of Caribbean heritage to celebrate Caribbean American heritage month.
The decision now was which island to choose. Since I come from mixed Caribbean heritage, I had a few cuisines to pick from including Haitian, Dominica, Suriname and Aruba.
I finally decided on Aruba. When I see Americans talk about food from Aruba, they often mention foods that the hotels make for tourists like Coconut Shrimp, which bear little resemblance to what we make at home.
Our local cuisine is a fusion of flavors with African, Dutch and Indonesian influences like Keshi Yena and Bakabana.
A little different than most other Caribbean cuisines, cheese and tuna are heavily featured in our cuisine due to our Dutch colonization.
What is pastechi?
Every Caribbean island has their versions of meat patties or empanadas (on Spanish speaking islands). In Aruba, Curacao and Suriname, we call them pastechi. I have already showed you how to make Aruban Pastechi Karni (with meat).
The two other most popular pastechi are Pastechi Keshi (cheese) aka Pastechi Kaas (Dutch language) and Pastechi Tuna. In fact, pastechi with tuna or cheese is most popular in Aruba, Curacao and Suriname – more than any other filling!
Pastechi (pas- tay-chee) is not to be confused with Pastei (pas- tay). Pastei is basically a meat pattie or pastechi in casserole form. The fillings are placed in a casserole dish. It is then covered with a pastry crust and baked – almost like a pot pie without the bottom crust.
If you prefer to avoid frying, you can easily transform this recipe into a Baked Tuna Pie instead and make Pastei.
In short, pastei is a baked casserole and pastechi are fried hand pies. They can both be made with a variety of fillings that include cheese, tuna or any leftover meat or fresh cooked meat.
Now you are probably thinking – WOW – I have never heard these words before in my life. This is because, except for the Dutch Caribbean, no one else in the world speaks our language of Papiamento. Papiamento, translated literally means "talk of the people". It started as a dialect which was a mix of Spanish, Dutch, English, French and Portuguese.
It is now a full fledged language with books and newspapers written in Papiamento. This is why our foods may have names completely unrecognizable to you, but they are the most delicious fusion cuisine you will ever try… although since this is my family home country, I may be a little partial :).
There are three parts to this recipe:
Shortcut Pastry
Tuna Filling
Stuffing and Frying
The Shortcrust Pastry
Sure you can take a shortcut and buy pastry or pie dough. However, these homemade Tuna Hand Pies will taste so much better with this homemade pastry crust.
This pastry crust is going to be a little different than most because this is a shortcrust pastry with egg. So why in Aruba do we make pastry crust for meat patties and other pastries with egg? Well it comes from the history of Jewish traditions in the Dutch Caribbean.
Jewish pastries like knish are made with rich egg dough's. Did you know that the first synagogue in the western hemisphere was on the Dutch Caribbean island of Curacao? So this is why Jewish culinary traditions influence our multi cultural cuisine.
Using eggs provide richness. This makes the dough very forgivable and less difficult to prevent cracks in the dough.
Tips to make the Best Shortcut Pastry
Use frozen butter to ensure the butter is evenly distributed and also for flaky crust. The colder the butter, the more flaky crust you will get.
For even flakier crust, you can replace half of the butter with vegetable shortening or lard.
Use ice cold water. This again is so that the flour does not incorporate too quickly. You want a dough – not cake batter.
Refrigerate the dough for at least 30 minutes before rolling out the dough. This will ensure the dough is not too sticky when rolling out the dough.
Now before we get to the recipe, let's go over the ingredients you will need.
Pastry Crust Ingredients
all purpose flour or pastry flour
salt
unsalted butter
eggs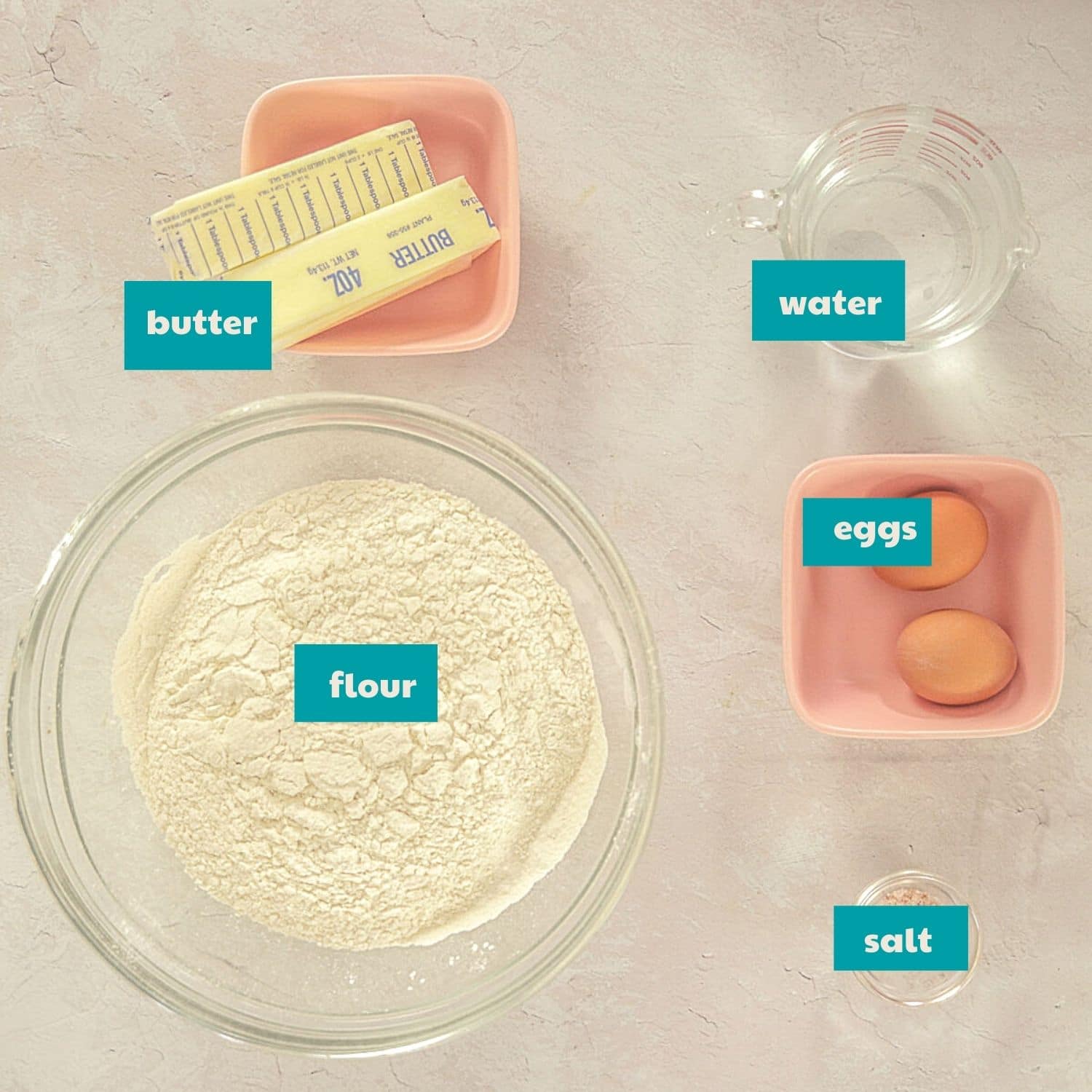 Filling Ingredients
oil
onion
garlic
bell pepper
celery
tomatoes
canned tuna fish – use chunk wild caught tuna in water
capers – gherkins or olives can also be used
raisins
ketchup
mustard
Worcestershire Sauce
Sambal Olek – Indonesian chili paste
parsley
salt and pepper
Have you tried instacart yet? It's how I get all of my fresh grocery items delivered within 2 hours!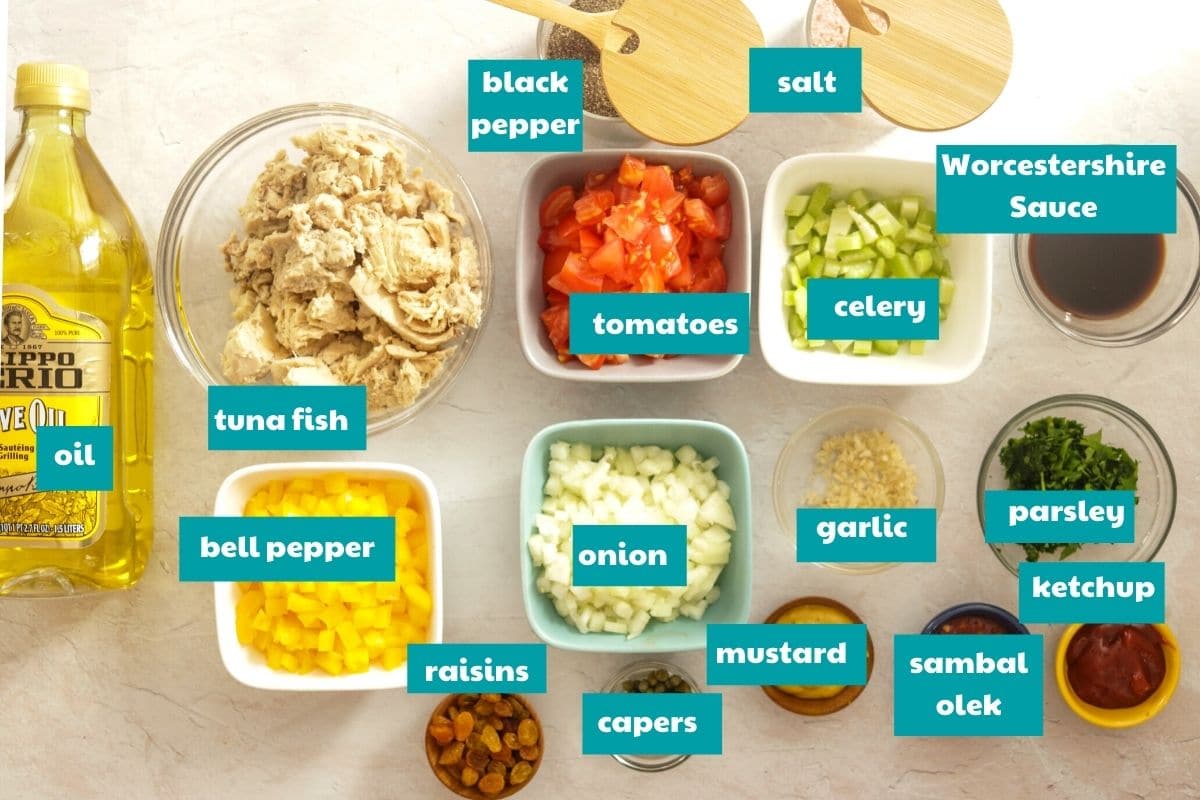 Tools for making Pastechi
Frequently Asked Questions
How to make Shortcut Pastry
Grate frozen butter into the flour and salt. Use gloves so that the heat of your hands won't melt the butter too quickly.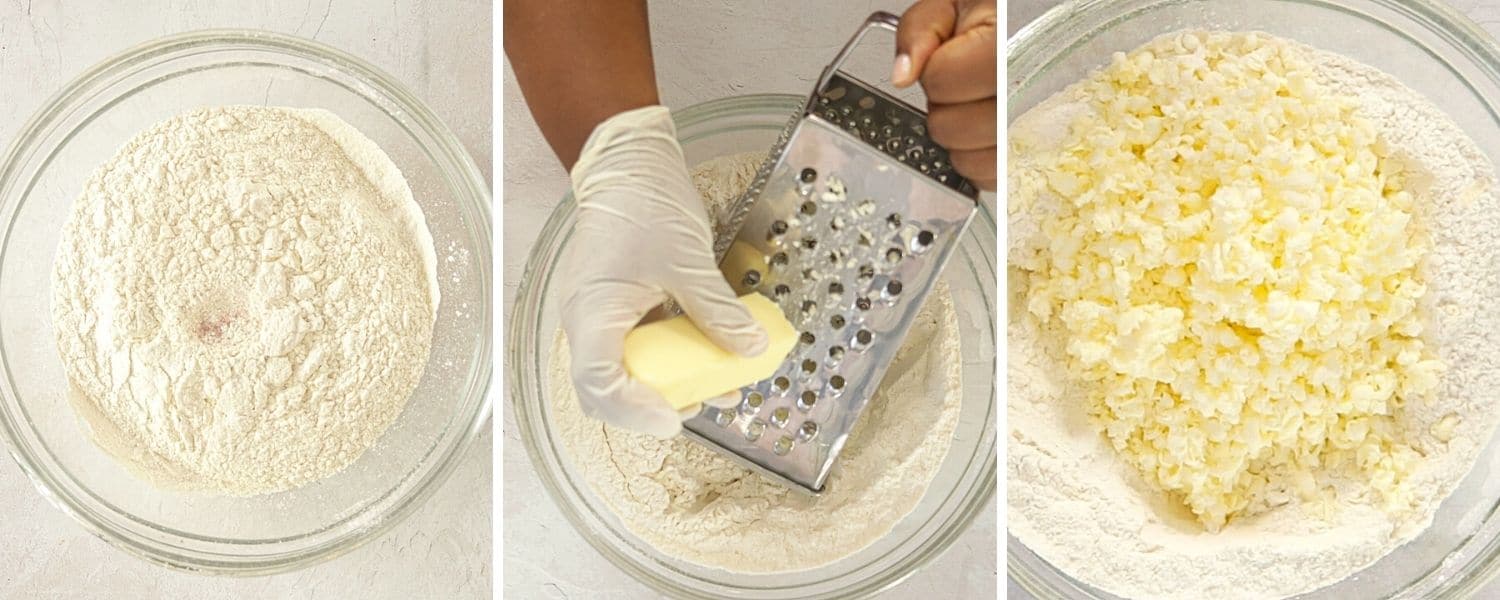 Using a pastry blender, cut the frozen butter into the flour.
Add beaten eggs to a well in the middle.
Fold the flour into the egg mixture, slowly incorporating the egg into the flour.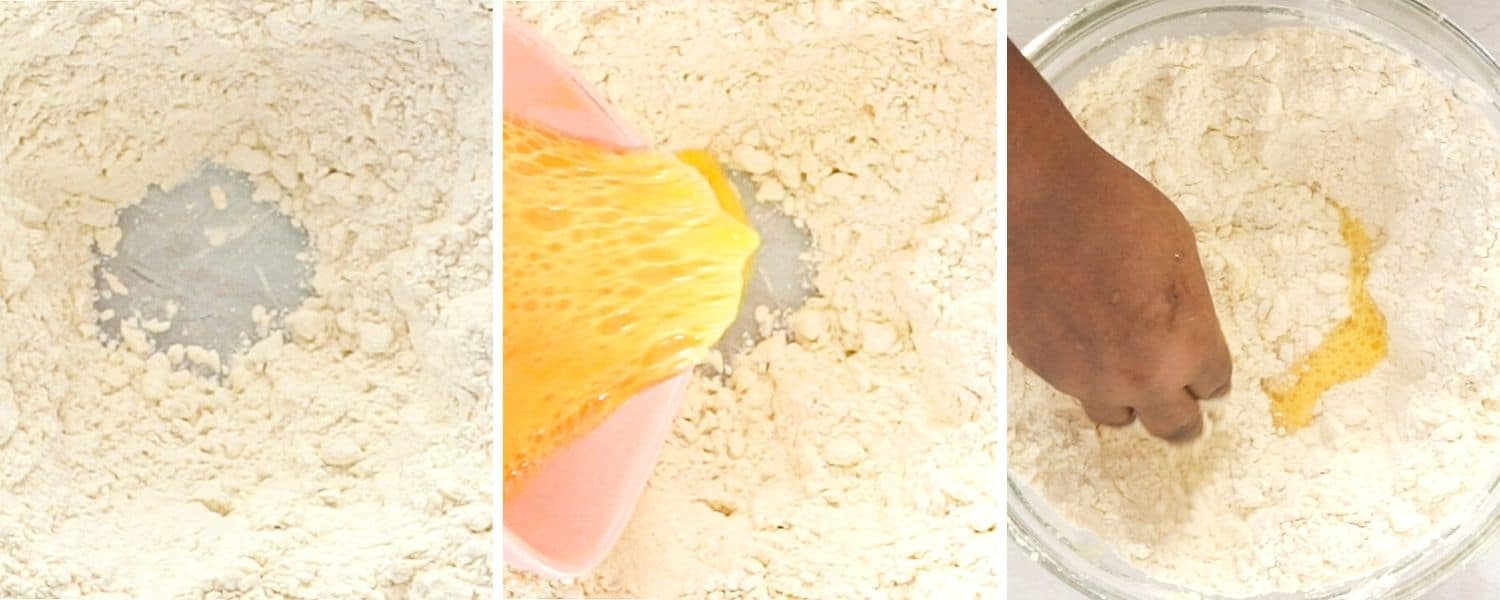 Add the ice cold water a little at a time, adding just enough water for the dough to come together.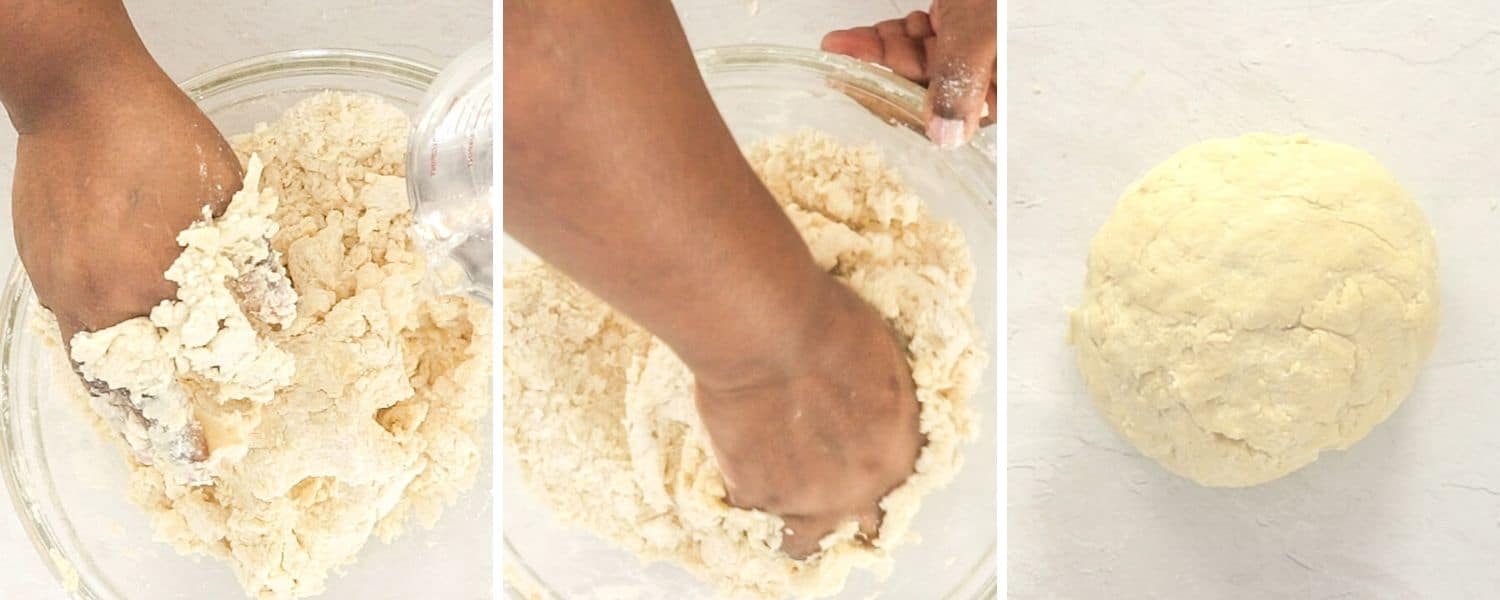 Wrap in plastic wrap or a ziploc bag and refrigerate for at least 30 minutes.
How to make Pastechi Filling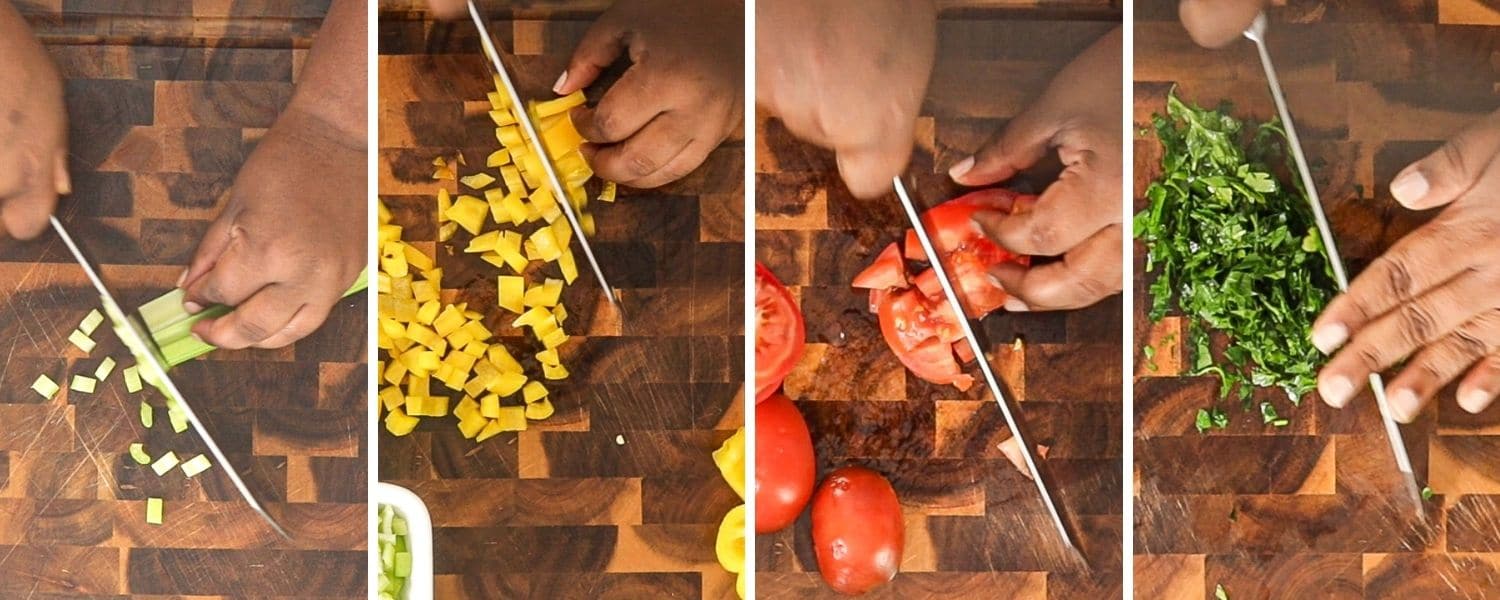 Saute vegetables until softened.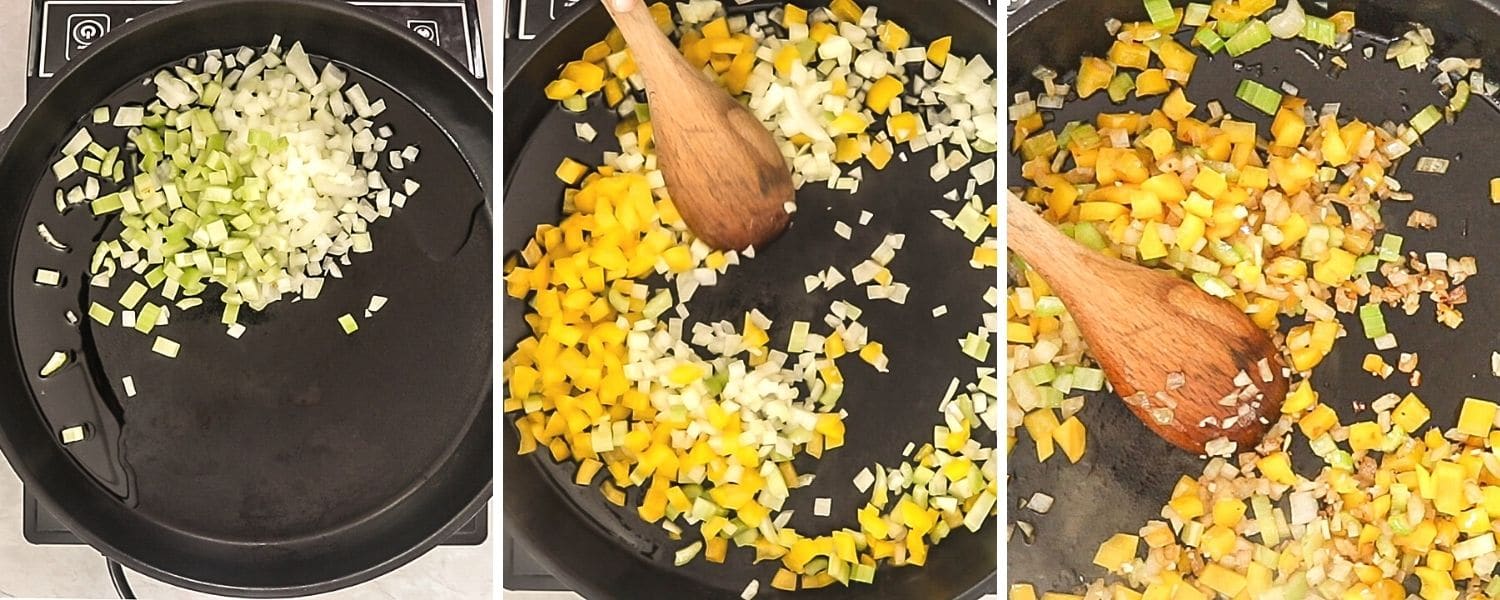 Add all the condiments and flavorings. Cook for 5 minutes.
Add the tuna and break it up.
Add parsley and cook until well combined.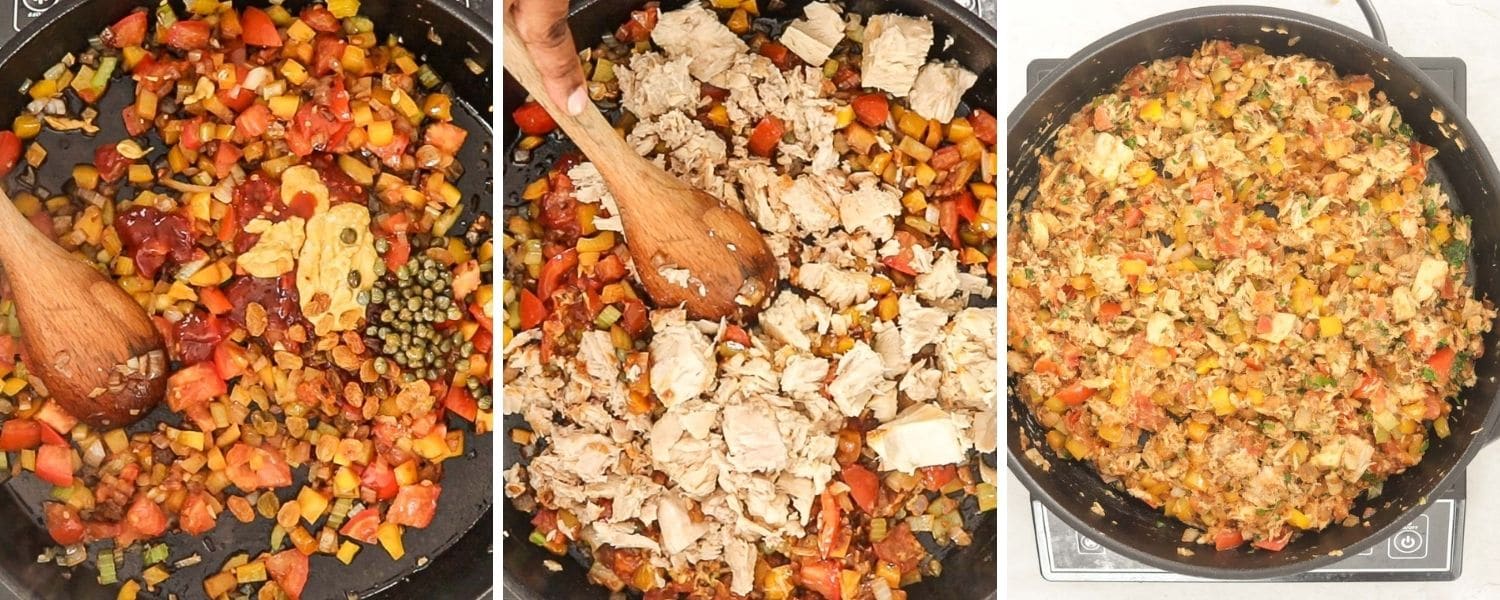 How to make Pastechi Tuna
Roll out the pastry into a large circle.
Using a large biscuit cutter, cut out circles.
Place about 2 tablespoons of filling on each circle.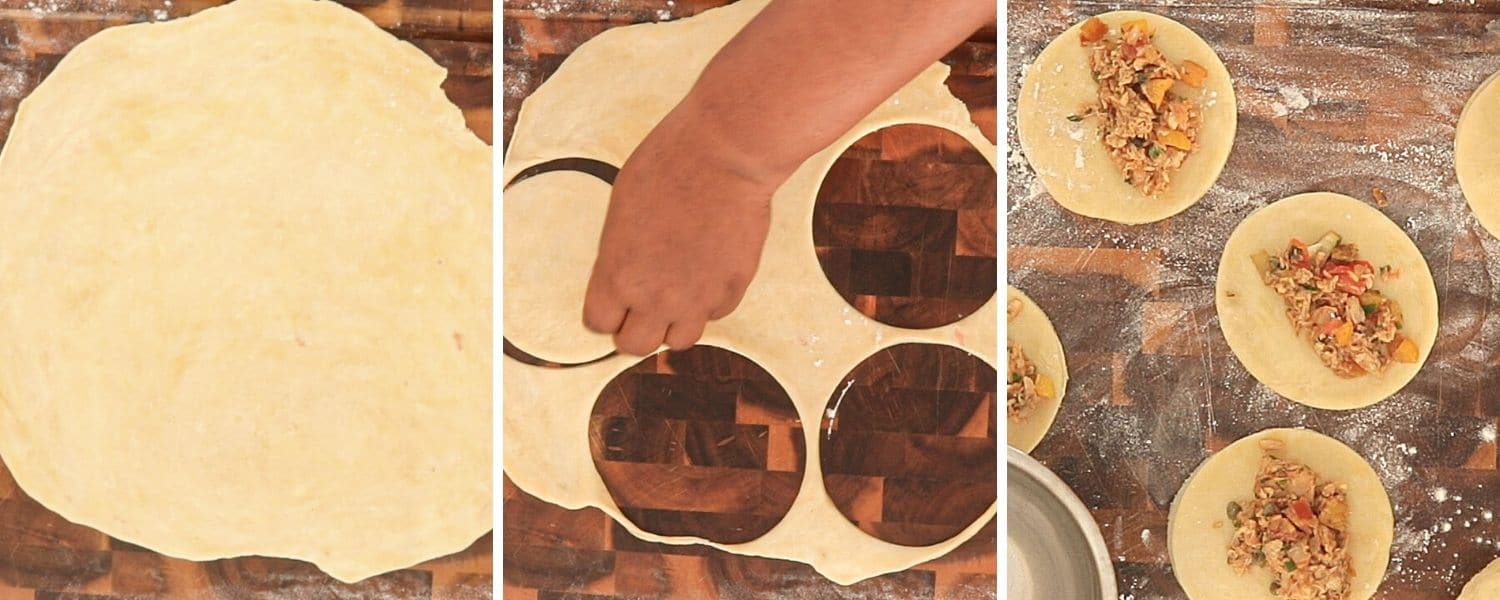 Brush the perimeter of water and seal the edges.
Crimp the edges with a fork or twist the dough to seal the filling inside.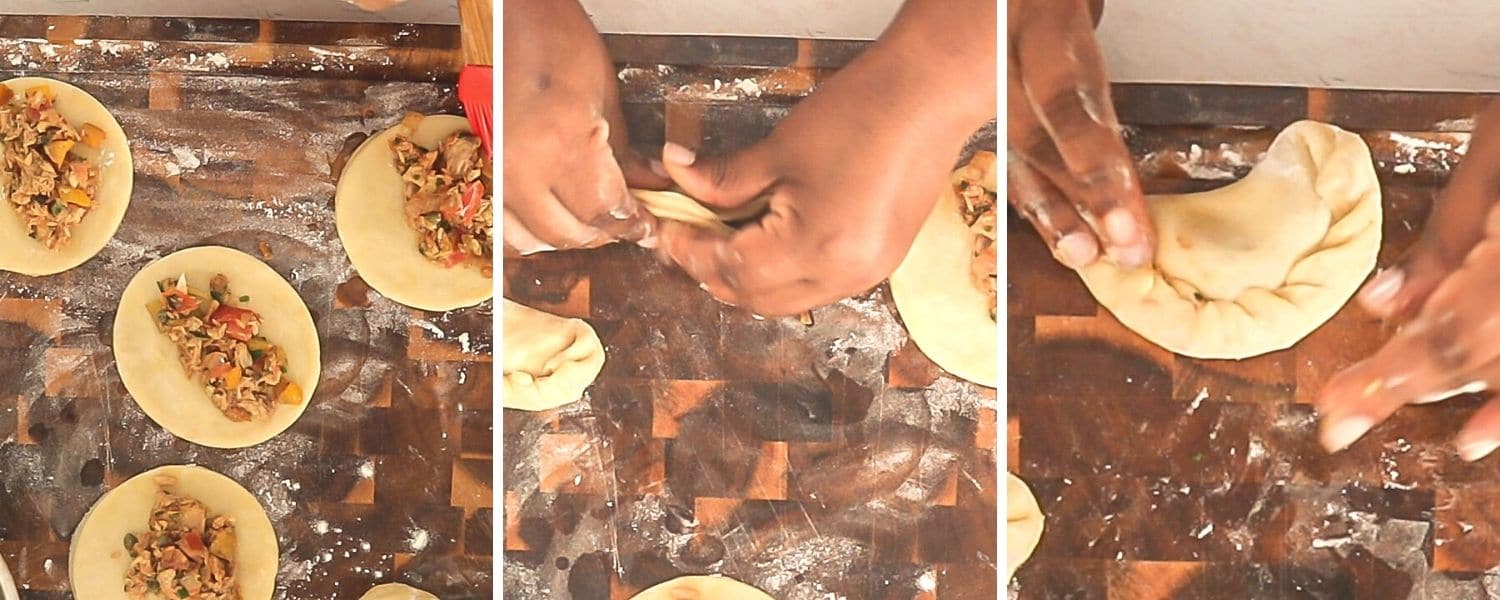 Deep fry the pastechi in hot oil.
Alternatively, fry them in the Air Fryer for 10 minutes.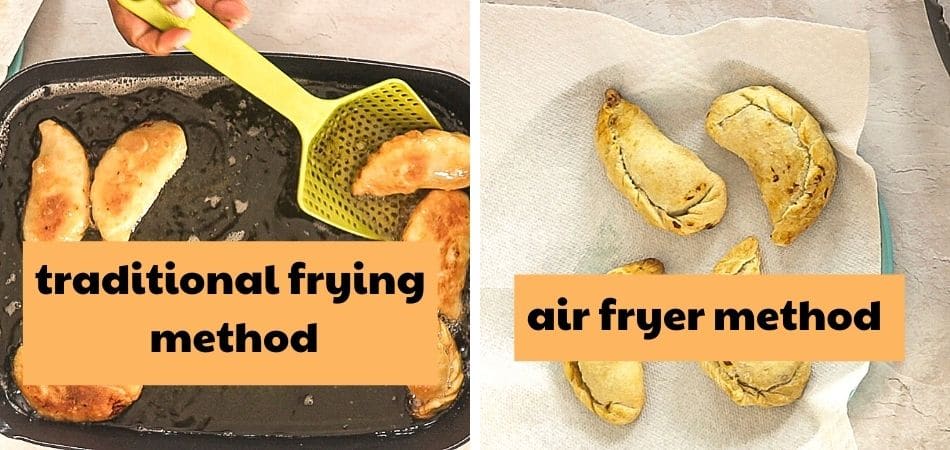 Serve with ketchup, mustard and sambal (chili paste).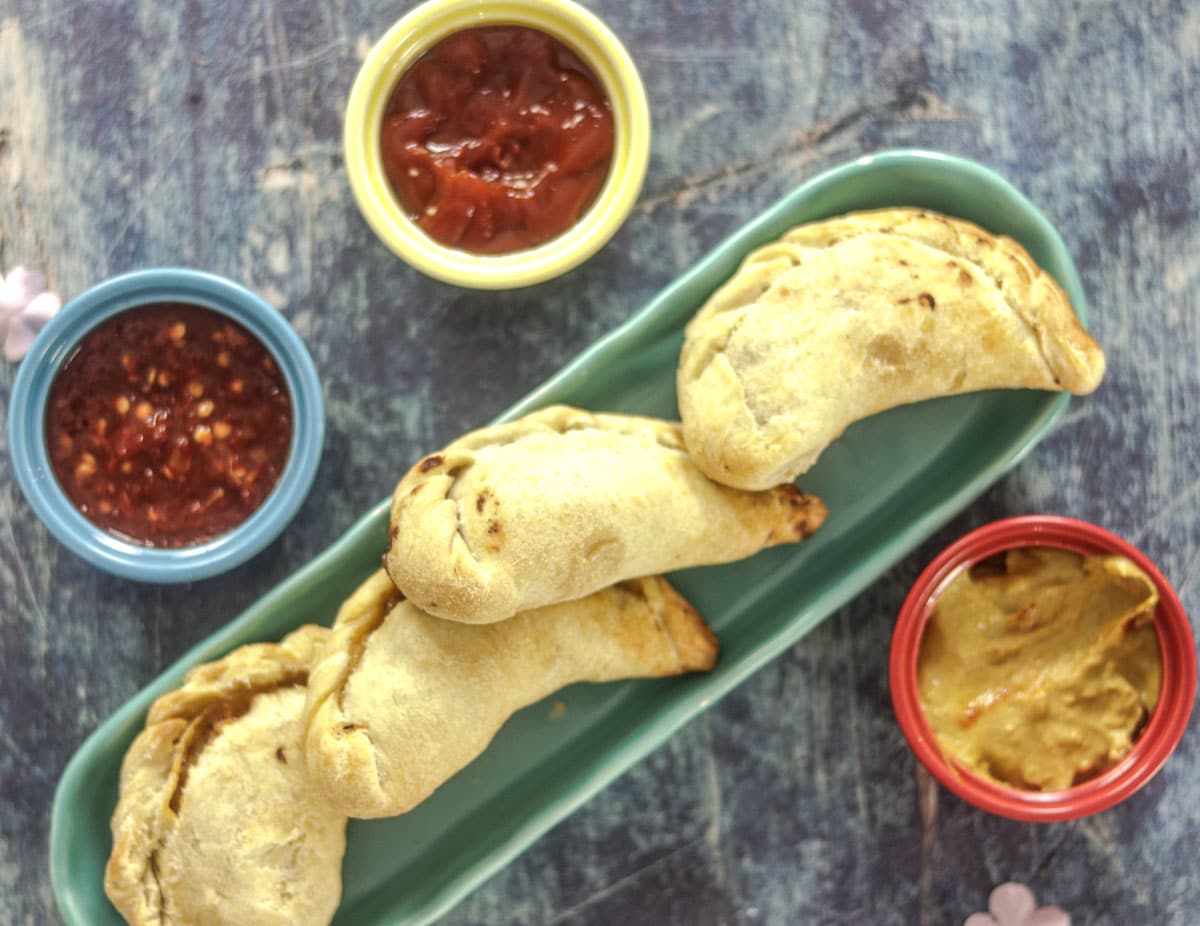 What a scrumptious filling!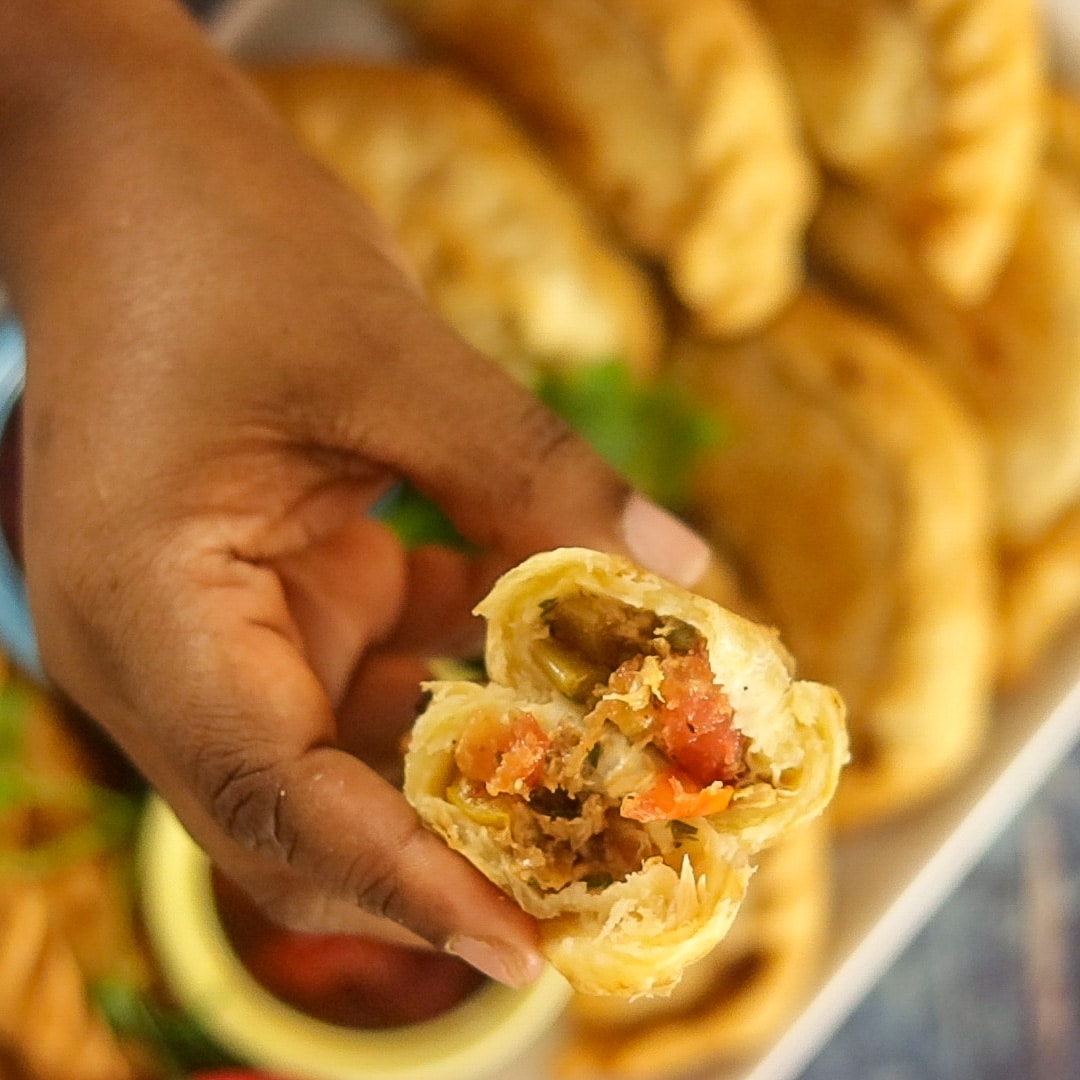 These handheld Tuna Pie – Aruba Style make the best party appetizer or you can even turn it into a light summer meal by pairing two of them with a green salad. Make it Caribbean and serve it with Rum Punch.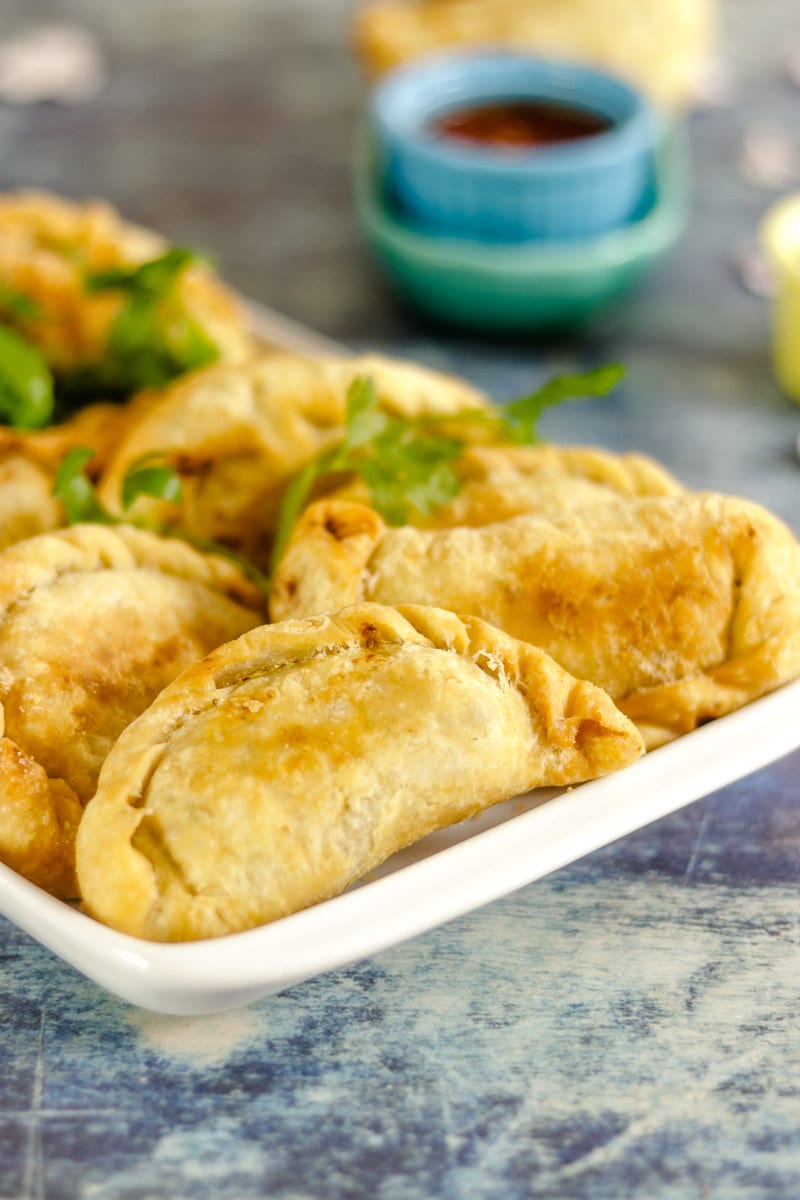 Tuna Pie – Aruba Pastechi
Delicious Aruba Recipe for Pastechi – Fried Hand Pies with Tuna, also included healthy Air Fryer method.
Ingredients
Pastry Crust Ingredients:
5

cups

all purpose flour

1

teaspoon

salt

1

cup

unsalted butter

frozen

2

eggs

beaten

½

cup

– ¾ cup ice cold water
Pastechi Filling Ingredients:
2

tablespoons

oil

1

onion

chopped

1

bell pepper

chopped

2

stalks celery

chopped

2

garlic cloves

finely chopped

2 to

matoes

chopped

1

tablespoon

capers

2

tablespoons

raisins

2

tablespoons

ketchup

2

tablespoons

mustard

3

tablespoons

Worcestershire

1

tablespoon

Sambal Olek

3 7

oz.

cans tuna fish

well drained

2

tablespoons

finely chopped parsley

salt and pepper

to taste

oil

for frying
Instructions
To make the pastry, combine the flour and salt in a large bowl.

With gloves on, grate the butter into the flour.

Using a pastry blender, cut the butter into the flour until evenly distributed.

Make a well in the center of the flour.

Add beaten eggs in the middle.

Slowly add the flour into the center and mix until you have a shaggy dough.

Add water, a little at a time. Add just enough water so that the dough comes together.

Wrap in plastic wrap or a ziploc bag and place in the refrigerator for at least ½ hour.

Meanwhile, make the filling.

In a large cast iron skillet, heat oil.

Add onion, bell peppers and celery.

Saute until it starts to change color.

Add garlic and tomatoes and cook for 5 minutes.

Add capers, raisins, ketchup, mustard, Worcestershire and sambal.

Stir to combine and cook for 1 minute.

Add tuna fish. Break up the tuna and cook for another 2 minutes.

Add parsley and stir to combine.

Add salt and pepper. Stir to combine.

Let it cook for a few minutes.

Using a rolling pin, roll out the dough to a circle as thin as possible. Work with half of the dough at a time.

Using a 5" biscuit cutter, cut out circles from the dough.

Place about 2 tablespoons of the tuna filling on each circle.

Brush the edges with water.

Seal the pies by pressing the edges together.

Crimp the edges with a fork or twist the edges to seal.

Repeat until all the pastry dough has been filled.

Heat a deep pot with oil.

Place the tuna pies in the hot oil and fry until golden brown on both sides.
Air Fryer Method
Preheat the Air Fryer to 375 F.

Spray the Air Fryer basket with non stick spray.

Seal and cook for 10 minutes.

Serve pastechi with ketchup, mustard and sambal.
Notes
You will have some extra pastechi filling (about 1 cup). Take a look at the FAQ for ideas on how to use the leftover pastechi filling.
Chopped hard boiled eggs are sometimes also included in the filling.
Nutrition
Calories:
242
kcal
|
Carbohydrates:
28
g
|
Protein:
7
g
|
Fat:
12
g
|
Saturated Fat:
6
g
|
Polyunsaturated Fat:
1
g
|
Monounsaturated Fat:
4
g
|
Trans Fat:
1
g
|
Cholesterol:
46
mg
|
Sodium:
228
mg
|
Potassium:
162
mg
|
Fiber:
1
g
|
Sugar:
2
g
|
Vitamin A:
651
IU
|
Vitamin C:
11
mg
|
Calcium:
21
mg
|
Iron:
2
mg
Did you try this recipe? Leave a comment below.
Please follow me on Instagram @chefmireille or tag me #chefmireille with your pics! I'd love to share them!
Now I know you want to try some more Caribbean food! Check out my collection with over 100 Caribbean Recipes from the Caribbean diaspora!