Last Updated on February 22, 2020 by Chef Mireille
Fried Okra Salad
Turn fried okra into a healthy meal by combining it with a healthy salad. This is a lighter meal you can prepare for Fat Tuesday or a delicious summertime meal!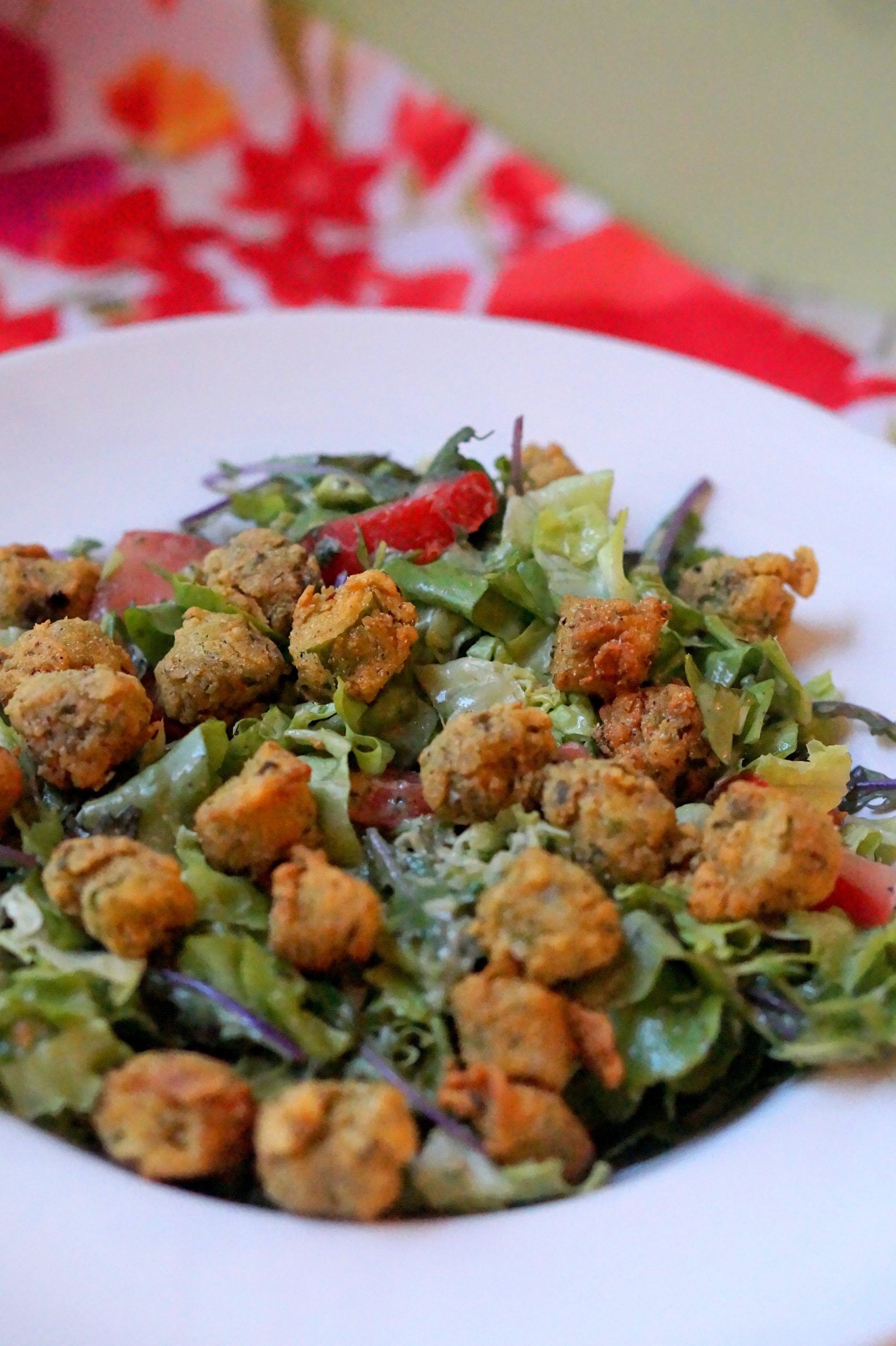 This post may include affiliate links.
Fried okra is a classic dish from southern American cuisine. While they are delicious, they are high in calories due to the deep fried batter that surrounds the okra. Add some balance to fried okra but combining it with a fresh salad.
I came back from the farmer's market yesterday with a variety of locally grown salad greens like mizuna and oak tree. Mizuna is one of my favorite greens with a slight peppery taste to them. If these are not available in your area, replace with any lettuce of your choice.
Okra
Okra is not common in most of the United States. In fact, I have met many people who have never tasted okra. However, it is very popular in southern regional cuisine and is most often deep fried, except when used in Louisiana gumbo!
I have met many southerners even who still only used canned or frozen gumbo. I think that is why so many of the southern okra recipes are fried to try to get some flavor into it!
I grew up eating fresh okra a lot. My parents are from the Caribbean and okra is used often in Caribbean cuisine in everything from curries to soup to rice!
Okra Health Benefits
Okra has many health benefits. In fact, my Mom drinks an okra smoothie every morning to control her blood sugar. It is very good for diabetics and controlling sugar levels.
It's also low in calories and rich in vitamins, especially Vitamin C, Vitamin K, Vitamin A & Vitamin B6.
Would you like to learn how to incorporate more okra into your diet? Check out these okra recipes!
Okra Recipes
Crispy crunchy fried okra is balanced with a healthy green salad.
Fried Okra Salad
Fried Okra Salad balances the deep fried food in a healthy salad.
Ingredients
Okra Ingredients
1

cup

buttermilk

1

egg

large pinch of salt

3/4

cup

all purpose flour

3/4

cup

cornmeal

1

tablespoon

dried chives

1

teaspoon

paprika

1

teaspoon

parsley

1/2

teaspoon

dried thyme

1/2

teaspoon

ground black pepper

1

teaspoon

salt

8

oz.

okra

cut into 1/2″ pieces
Salad Ingredients
1

cup

purple mizuna

firmly packed

1/2

a head oak tree lettuce

1/2

cup

chopped sweet pea shoots

1

chopped tomato
Dressing Ingredients
3

tablespoons

lemon basil pesto

1/3

cup

black pepper mayonnaise
Instructions
In a bowl, combine buttermilk and egg. Add the pinch of salt and beat well until thoroughly combined.

In a large bowl combine flour, cornmeal, herbs and spices. Mix well until thoroughly combined.

Heat a deep pot with enough oil for deep frying.

Put okra pieces in the buttermilk combination. Remove a few at a time and toss in the flour mix. Add to the hot oil and fry until golden brown on all sides. Drain on paper towels.

To make dressing, combine pesto and mayonnaise. Whisk until thoroughly combined.

To make salad, toss all greens and tomato in a large bowl. Toss well. Add a few tablespoons of the dressing. Toss well. Add more, if desired. Add the fried okra on top.
Notes
Salad ingredients listed above are for 2 portions.
Did you try this recipe? Leave a comment below.
Please follow me on Instagram @chefmireille or tag me #chefmireille with your pics! I'd love to share them!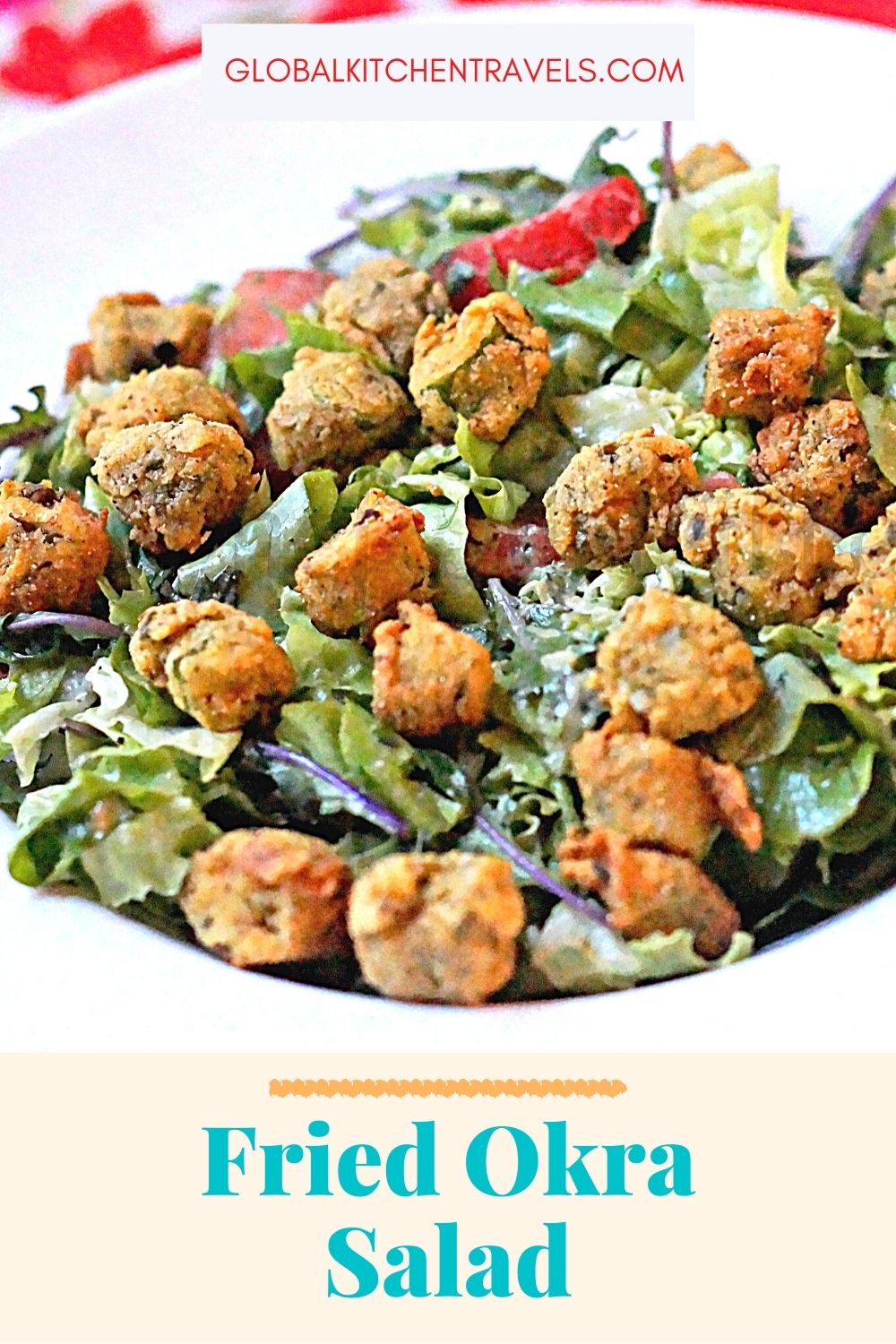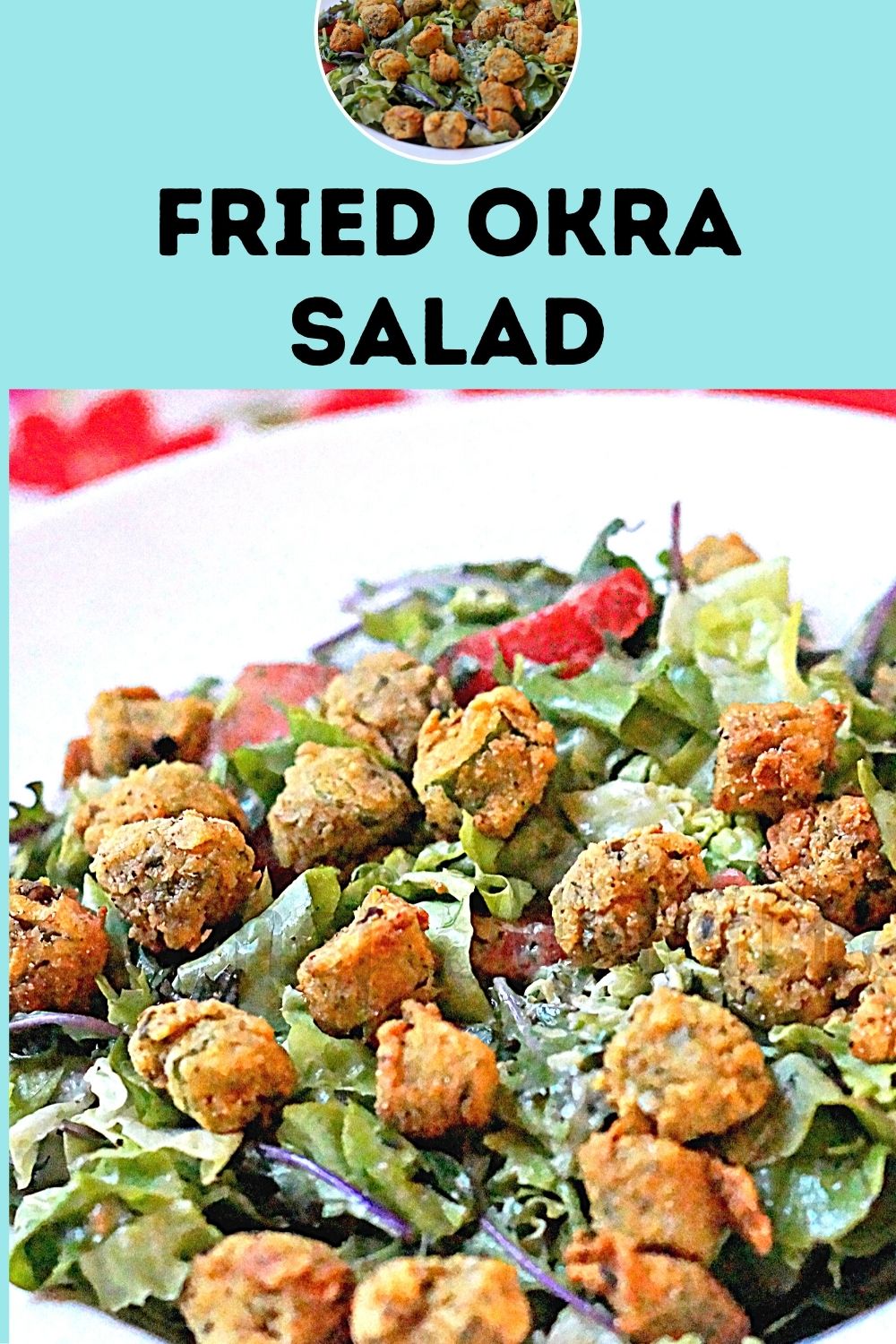 DO YOU YUM? SAVE IT BELOW!
Yum
Don't forget to visit the RECIPE INDEX with over 1000 recipes from around the world including lots of Vegetarian Recipes and Gluten Free Recipes!