Last Updated on June 3, 2015 by Chef Mireille
After the last few months of celebrating Madhur Jaffrey with the I Heart Cooking Club, we have now moved on to Yotam Ottolenghi. I have to admit I had never heard of this celebrity chef before the club announced him as our chef for the next 6 months, however he is quite popular in the UK. This London based Israeli chef's cuisine is right up my alley as he features recipes from global cuisines throughout the world – everywhere from Malaysia to Jamaica.
Since I had never heard of him, it stands to reason I don't own any of his books. However, many of his recipes are posted on his website as well as on The Guardian's website, where he is a regular recipe contributor.
A few months ago, I created a recipe for an Okra Pakoda. Pakodas are Indian fritters made from vegetables that are dipped in a usually chickpea flour based batter and then deep fried. Common varieties include onion, cauliflower and potato. With my okra pakoda recipe, I thought I had created something totally unique not done before. I was wrong as this recipe from Ottolenghi batters and deep fries okra here, although with different flavors than my Indian spiced one.
While his recipe uses basil oil, I substituted pesto as I didn't have any fresh basil on hand and wanted to try one of his recipes with stuff that was already in the refrigerator screaming to be utilized.
Serves 4
Ingredients:
1/3 cup all purpose flour
2 tablespoons instant polenta
1/4 teaspoon sugar
1/4 teaspoon salt
3/4 cup + 1 tablespoon buttermilk
3 tablespoons sparkling water
1 1/3 cups sunflower oil
9 oz. okra, heads trimmed
Sauce Ingredients:
2 tablespoons olive oil
1 clove garlic, finely chopped
1 cup tomatoes, chopped
3/4 cup canned tomatoes
1 1/4 cup water
2 teaspoons dried basil (or 12 fresh basil leaves)
2 tablespoons fresh parsley, finely chopped
1 slice of good quality white bread (baguette or sourdough)
salt and pepper, to taste
To serve:
4 tablespoons Greek Yogurt
2 tablespoons Basil Pesto mixed with 1 teaspoon of olive oil (the pesto needs to be thinned out if it has been in the refrigerator)
To make the sauce, heat the olive oil. Add the garlic and saute for 1/2 a minute until it softens. Add the tomatoes and water. Bring to a boil. Reduce to a low simmer and cook for 30 minutes.
Add the basil, parsley and bread, stirring until the bread breaks up and disintegrates into the sauce.
Add salt and pepper, to taste.
In a bowl, combine the flour, polenta, salt and sugar. Add the buttermilk and water to make a thick batter.
Heat the oil to 350 F. Dip the okra pieces in the flour batter and then drop in the hot oil. Cook for 3-4 minutes, until golden brown.
Drain on paper towels.
To serve, spoon a little of the tomato sauce into a bowl. Add the fried okra and then top with a dollop of yogurt and pesto.
…sending to Sumee's Bon Vivant & Favorite Recipes hosted by Pallavi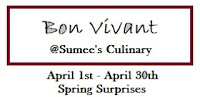 LIKE THIS RECIPE? LEAVE A COMMENT..I LIVE FOR THEM!
Chef Mireille