Last Updated on March 30, 2023 by Chef Mireille
This post may include affiliate links.
This Moroccan Couscous Salad recipe is a colorful and vibrant dish that's perfect for entertaining. With plenty of fresh vegetables and a zesty dressing with Moroccan flavors, it's sure to impress.
If you're looking for a tasty way to get more vegetables into your diet, try this Moroccan couscous salad recipe. With a mix of seasonal veggies, fresh herbs and fluffy couscous, it's a winning combination. The mix of plain couscous, sweet raisins, roasted vegetables, smoky spices and fresh herbs is an explosion of flavors!
If you are looking for even more salad recipes and other healthy recipes, check out the Healthy Side Dishes here.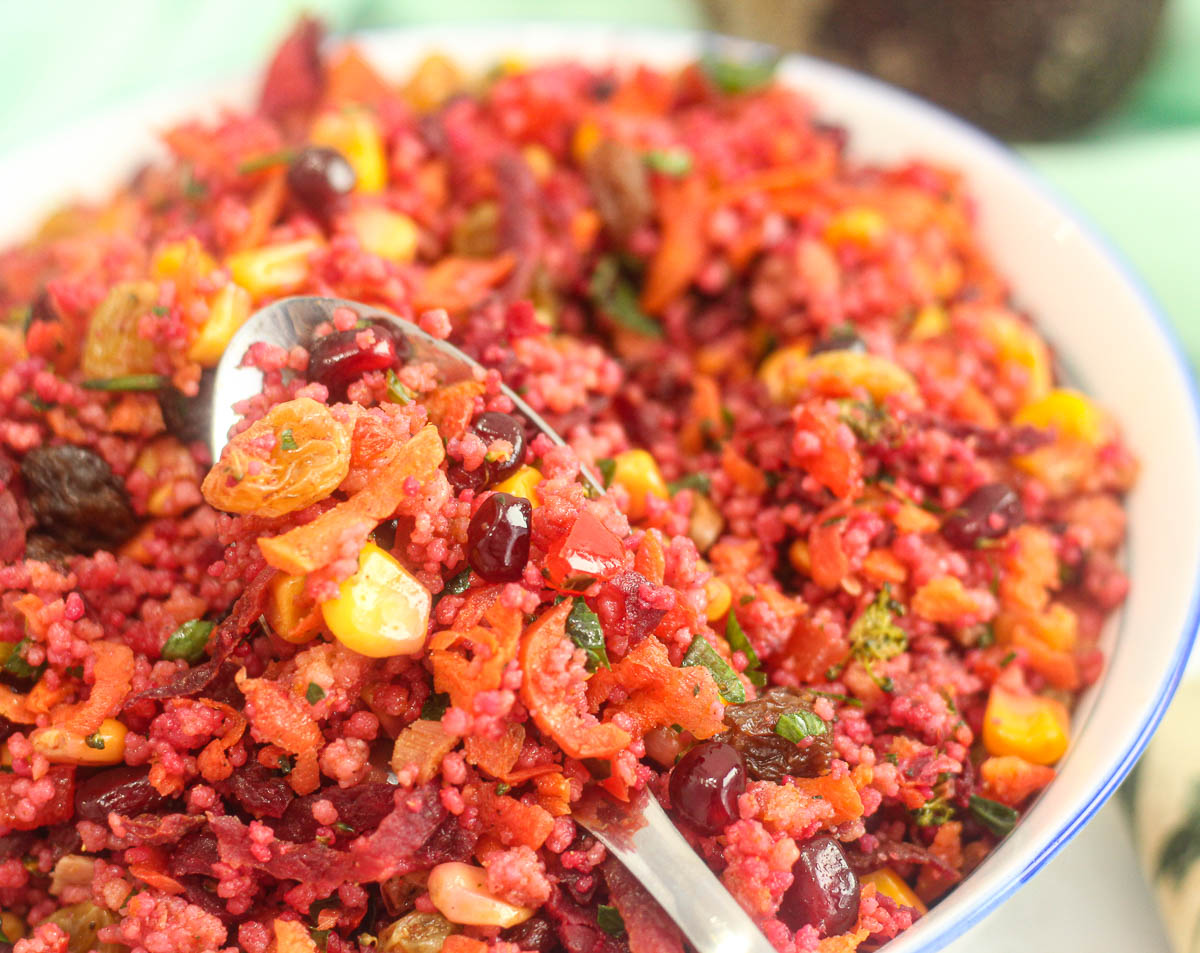 Table of Contents
What is couscous?
Many people mistakenly think couscous is a grain, because it cooks up soft and fluffy, almost like a tiny grain of rice. However, it is not. It is a durum wheat pasta cut into a very small size.
Types of Couscous
Regular Couscous – This is usually just labeled as couscous. It is the smallest of all types of couscous. It is very important not to overcook this type of couscous. It can easily become sticky and gummy if overcooked. Because the grains are so small, it is cooked by steaming, instead of boiling like when you cook other pasta's and larger formed couscous.
Cooking it in excess water will make the couscous stick together. Follow instructions carefully on How to Make Couscous. You can also see it on video here on Instagram or here on Tik Tok.
Pearl Couscous (aka Israeli Couscous) – This couscous is much larger than traditional couscous eaten in Morocco and other countries of the Maghreb.
Why is it called Israeli Couscous?
Israeli couscous was developed by prime minister David Ben-Gurion immediately after the War of Independence. Israel was receiving a large number of immigrants and facing food shortages. Ben-Gurion asked one of Israel's largest food producers to come up with an alternative starch that would be cheaper to produce than rice. Ptitim was created, as it is known in Israel.
Lebanese Couscous – This couscous is even larger than Pearl Couscous, making it the largest of all varieties of couscous.
Couscous is Morocco's national dish and it is traditional for all Moroccans to eat couscous on Fridays.
Why do Moroccans Eat Couscous on Fridays?
Couscous is the most popular dish in Morocco, most often had with dishes like Moroccan Chicken Tagine and other stews. It is served with just about everything in Morocco. The use of couscous started with the Amazigh, the indigenous people of Morocco.
When Islam reached the Maghreb in the 7th century, it became popular for Moroccans to enjoy couscous with their meal after Friday midday prayers. It slowly became the tradition for all Moroccans and the foundation of Moroccan cuisine.
Couscous can be served a variety of ways so why not start with this delicious Moroccan Couscous recipe!
But before we get to the recipe, here are some more additions you can make to this already healthy Moroccan salad, if desired. You can mix and match ingredients as desired.
Variations
red onion
harissa paste for those who like extra spice
feta cheese
toasted pine nuts
chick peas
kalamata olives
substitute ras el hanout for all of the spices
pumpkin seeds
Moroccan Couscous Salad Ingredients
broccoli
olive oil
garlic
regular couscous
carrots
beets
red pepper (or green bell peppers)
canned corn (or frozen corn)
frozen green peas
pomegranate arils (pomegranate seeds
raisins
allspice
black pepper
cilantro (fresh coriander)
mint
parsley
fresh lemon juice
Have you tried instacart yet? It's how I get all of my fresh grocery items delivered within 2 hours!
How to Make Moroccan Couscous Salad
Roast the broccoli in the oven.
Make the couscous, using the instructions below in the recipe card.
Make a simple dressing with olive oil and lemon juice.
In a large bowl, combine the cooked broccoli with the fresh vegetables and herbs, spices, couscous and lemon dressing. Stir to combine.
Leave the salad to rest for at least 15 minutes for the flavors to develop.
The longer you leave the salad to rest, the more flavorful the salad will be.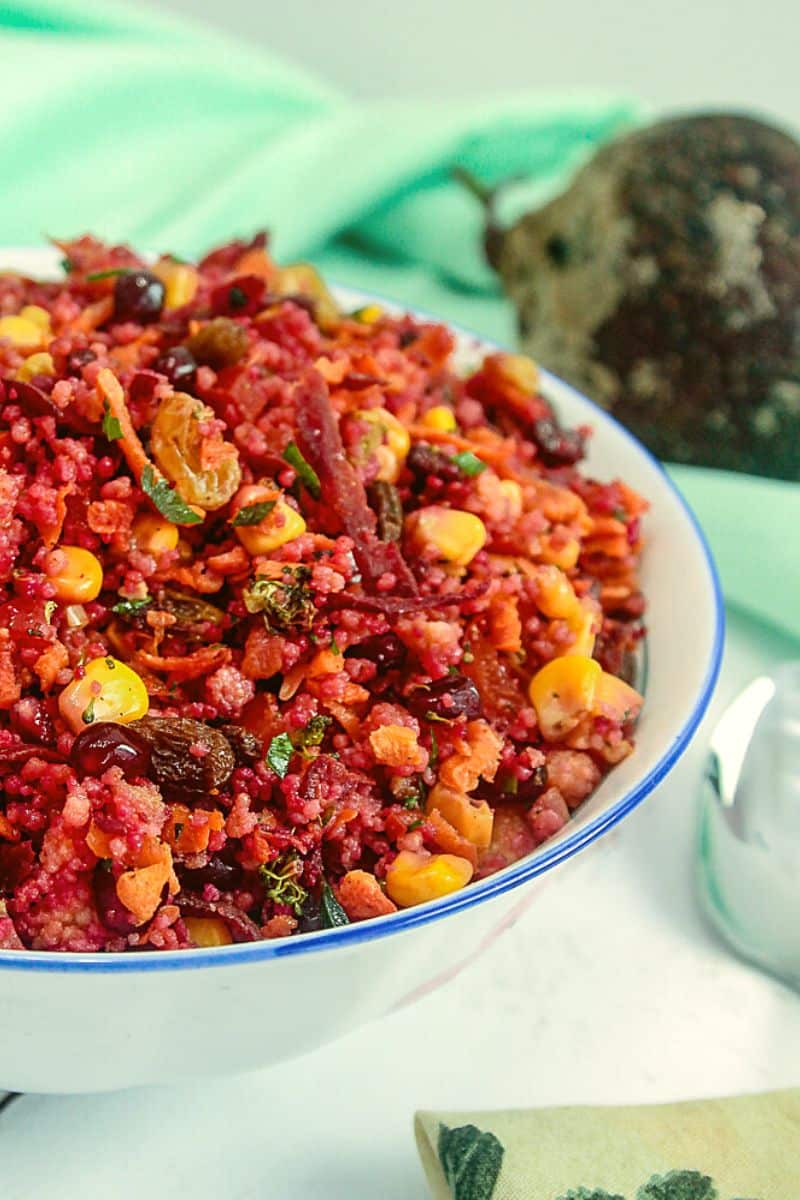 This salad can be served chilled or at room temperature.
This easy dish is a great way to add health benefits to your meal with all the veggies included. It makes a great side salad. You can also add your favorite protein like grilled chicken or shrimp to easily transform this Moroccan Couscous Salad into a complete meal.
Make it a Meal
Moroccan Couscous Salad
Moroccan Couscous Salad is a healthy salad full of veggies and Moroccan flavors.
Ingredients
Roasted Broccoli Ingredients:
1

stalk broccoli

2

tablespoons

olive oil

2

smashed cloves garlic
Ingredients:
1

cup

couscous

1

cup

peeled & grated carrots

1/3

cup

peeled & grated beets

1

diced red bell pepper

1

cup

canned corn

1/2

cup

frozen green peas defrosted

1/2

cup

pomegranate seeds

1/2

cup

raisins

1/2

cup

golden raisins

1/4

teaspoon

ground cumin

1

teaspoon

ground coriander

1/2

teaspoon

paprika

1/4

teaspoon

ground cinnamon

1/4

teaspoon

ground allspice

1

teaspoon

salt

1/2

teaspoon

black pepper

2

tablespoons

freshly chopped cilantro

2

tablespoons

freshly chopped mint

2

tablespoons

freshly chopped parsley

3

tablespoons

olive oil

3

tablespoons

lemon juice
Instructions
Preheat oven to 375 F.

Separate the florets from the broccoli stems. Using a vegetable peeler, peel the broccoli stem. Cut in half vertically and then slice into half moons.

Combine broccoli florets and stems with the olive oil and garlic. Place in a baking dish and roast for 30 minutes.

Meanwhile, make the couscous.

Bring 1 1/4 cups water to a boil in a medium saucepan. Add couscous to the boiling water and stir to combine.

Turn off heat. Cover with a tight fitting lid. Leave for 15 minutes. Fluff with a fork.

Finely chop the cooked broccoli florets and stems, as well as the garlic.

Combine the broccoli with all of the other fresh ingredients in a large bowl and stir to combine.

Add black pepper, cumin, coriander, paprika, cinnamon, allspice and salt.

In a small bowl, whisk together the olive oil and the lemon juice.

Add prepared couscous and the lemon dressing.

Stir to combine.

Let rest for at least 15 minutes for flavors to develop.
Notes
You can use Israel couscous if you prefer and make a Pearl Couscous Salad instead.
You can also cook the couscous in chicken stock instead of water for more flavor.
Nutrition
Calories:
264.51
kcal
|
Carbohydrates:
42.54
g
|
Protein:
5.54
g
|
Fat:
9.36
g
|
Saturated Fat:
1.29
g
|
Sodium:
346.77
mg
|
Fiber:
4.75
g
|
Sugar:
15.37
g
Did you try this recipe? Leave a comment below.
Please follow me on Instagram @chefmireille or tag me #chefmireille with your pics! I'd love to share them!
Don't forget to visit the RECIPE INDEX with over 1000 recipes from around the world including lots of Vegetarian Recipes and Gluten Free Recipes!