Last Updated on January 12, 2020 by
This Moroccan Couscous Salad is a healthy salad full of so many veggies. Delicious and colorful, it's a kid-friendly vegan couscous salad that invites everyone of every age!
Once again, it's the holiday season. With Thanksgiving in addition to the Roast Turkey and Baked Ham, there are lots of fattening side dishes waiting for you at the dinner table.
Depending on your culture, they may vary, but some of them include Baked Mac & Cheese, Green Bean Casserole & Candied Yams. So why not try to include some healthier side dishes?
After all, we want to save room for the Pumpkin Pie, Sweet Potato Pie, Apple Pie…oh and there's Cherry, Rhubarb & Blueberry Pie too!
Eating healthy is about balance and moderation (something I should practice as much as I preach). So if you're going to indulge in the pies, include some healthy side dishes with your turkey to create a balanced meal.
Among the many side dishes you could think of, I would highly recommend this vegan-friendly Moroccan couscous salad recipe.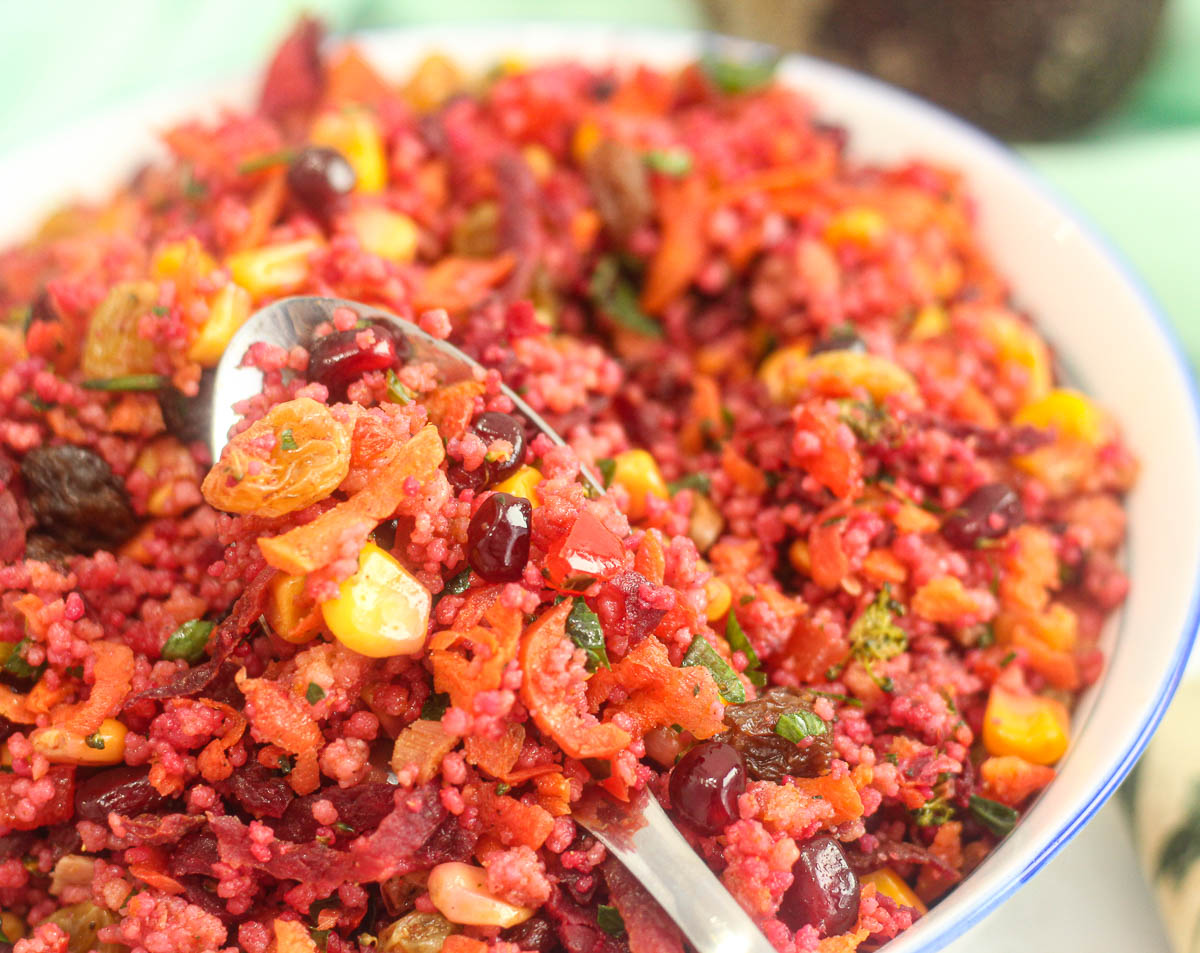 This post may include affiliate links.
Why Couscous for a Side Dish?
Couscous is the most popular grain in Morocco. Smoky spices, vegetables, and dried fruit make this almost like a tagine in salad form.
The only thing that's missing is olives, but I don't like olives. Feel free to add them to the recipe below, if you like.
You can make this grain salad even more healthy by using Whole Wheat Couscous, if available. If you live in the NY area, you can get whole wheat couscous at Sahadi's.
What's Couscous Made Out Of?
Couscous is made of semolina—which is simply coarsely ground durum wheat. Some couscous variations, however, use barley or millet.
The millet variants are generally good for celiacs, as millet is naturally gluten-free.
What Are the Best Recipes Using Couscous?
Some of the best couscous recipes that I recommend are as follows:
Sausage, Cauliflower, and Red Bean Couscous Pilaf — This recipe is for one of those lazy days when you just want to throw everything into one whole pot. Well, this pot turned out to be a flavorful complete meal! Try it sometime when you're just too tired to think of what you're going to have for dinner.
Moroccan Couscous Salad Ingredients
You'll prep your roasted broccoli and main salad ingredients separately.
Roasted Broccoli Ingredients:
Vegan Couscous Salad Ingredients:
couscous
carrots
beets
red bell pepper
canned corn
green peas
pomegranate seeds
raisins
ground allspice
cilantro
olive oil
lemon juice
How to Make Moroccan Couscous Salad
Prepare the broccoli florets and stems.
Roast the broccoli pieces with olive oil and garlic.
Chop the pieces finely.
Cook the couscous.
Combine all the ingredients.
Let rest before serving.
This salad can be served warm or chilled, or even at room temperature.
Full of fruits and veggies, this is such a super healthy couscous salad. You can get some disposable spoons at places like Party City and serve this salad as an appetizer for kids and adults alike!
How Do You Prepare Couscous?
Typically, you would only need to do the following:
Boil water: for 1 cup of dry couscous, use 1 ½ cup of water
Add half a teaspoon of salt and a little olive oil into the water. (You may skip the oil if you want.)
Add the couscous into the boiling water. Stir with a spoon then cover with a lid.
Remove from heat and let it steam for around 5 minutes.
Fluff the grains using a fork.
How Do I Make Couscous Tasty?
Instead of using plain water, you can use some veggie stock. Or, you can use plain water still, but turn your couscous into a flavorful Moroccan couscous salad—the one we're having today.
How to Store Couscous Salad
You can make a big batch of couscous salad, divide them into smaller portions, and then store each portion in airtight containers.
Some people may opt to cover their vegan couscous salad with a plastic wrap before placing it in the fridge. But, this may not be the best way for storage if you want to keep the salad for longer.
Tight-fitting containers are the way to go, whether you're storing the salad in the fridge or in the freezer.
How Long Can You Keep Couscous Salad in the Fridge?
Moroccan couscous salad, or generally all kinds of couscous salad, can stay good for up to 4 days in the fridge.
When frozen, cooked couscous dishes can stay okay in the freezer for about 3 to 4 months.
More Healthy Salad Recipes
Looking for some more Grain or Pasta Based Salads? Here are my best recommendations:
Sesame Peanut Noodle Salad — Warning: this Asian-style noodle salad is very addictive. Once you start taking a bite, you likely can't stop yourself from making another one and before you know it, you've finished the whole bowl!
Tabbouleh Salad — Here's the salad representing Arab cuisine. I used medium coarse bulgur and a lovely combination of herbs and spices.
Bulgur Chickpea Salad — It's a one-pot meal packed with protein, thanks to the generous amount of chickpeas I've put in here. It's a must-try!
In the meantime, enjoy the following full and printable recipe for your Moroccan couscous salad!
Offering only a fraction of the calories when compared to candied yams, this Moroccan couscous salad is something I truly recommend you add to your holiday table this year.
Moroccan Couscous Salad
Moroccan Couscous Salad is a healthy salad full of veggies and Moroccan flavors.
Ingredients
Roasted Broccoli Ingredients:

1

stalk broccoli

2

tablespoons

olive oil

2

smashed cloves garlic

Ingredients:

1

cup

couscous

1

cup

peeled & grated carrots

1/3

cup

peeled & grated beets

1

diced red bell pepper

1

cup

canned corn

1/2

cup

frozen green peas

defrosted

1/2

cup

pomegranate seeds

1/2

cup

raisins

1/2

cup

golden raisins

1/4

teaspoon

ground cumin

1

teaspoon

ground coriander

1/2

teaspoon

paprika

1/4

teaspoon

ground cinnamon

1/4

teaspoon

ground allspice

1

teaspoon

salt

2

tablespoons

freshly chopped cilantro

3

tablespoons

olive oil

3

tablespoons

lemon juice
Instructions
Preheat oven to 375 F.

Separate the florets from the broccoli stems. Using a vegetable peeler, peel the broccoli stem. Cut in half vertically and then slice into half moons.

Combine broccoli florets and stems with the olive oil and garlic. Place in a baking dish and roast for 30 minutes.

Finely chop the broccoli florets and stems, as well as the garlic.

Bring 1 1/4 cups water to a boil. Add couscous and stir to combine. Turn off heat. Cover with a tight fitting lid. Leave for 15 minutes. Fluff with a fork.

Combine all of the other ingredients in a large bowl and stir to combine.

Add couscous and stir to combine. Let rest for 15 minutes for flavors to develop.
Notes
Although not commonly eaten raw, when grated beets are just as palatable and have the same texture as raw carrots.
I used all cilantro, but any combination of cilantro, parsley and/or mint can be used.
Nutrition
Calories:
264.51
kcal
|
Carbohydrates:
42.54
g
|
Protein:
5.54
g
|
Fat:
9.36
g
|
Saturated Fat:
1.29
g
|
Sodium:
346.77
mg
|
Fiber:
4.75
g
|
Sugar:
15.37
g
Did you try this recipe? Leave a comment below.
Please follow me on Instagram @chefmireille or tag me #chefmireille with your pics! I'd love to share them!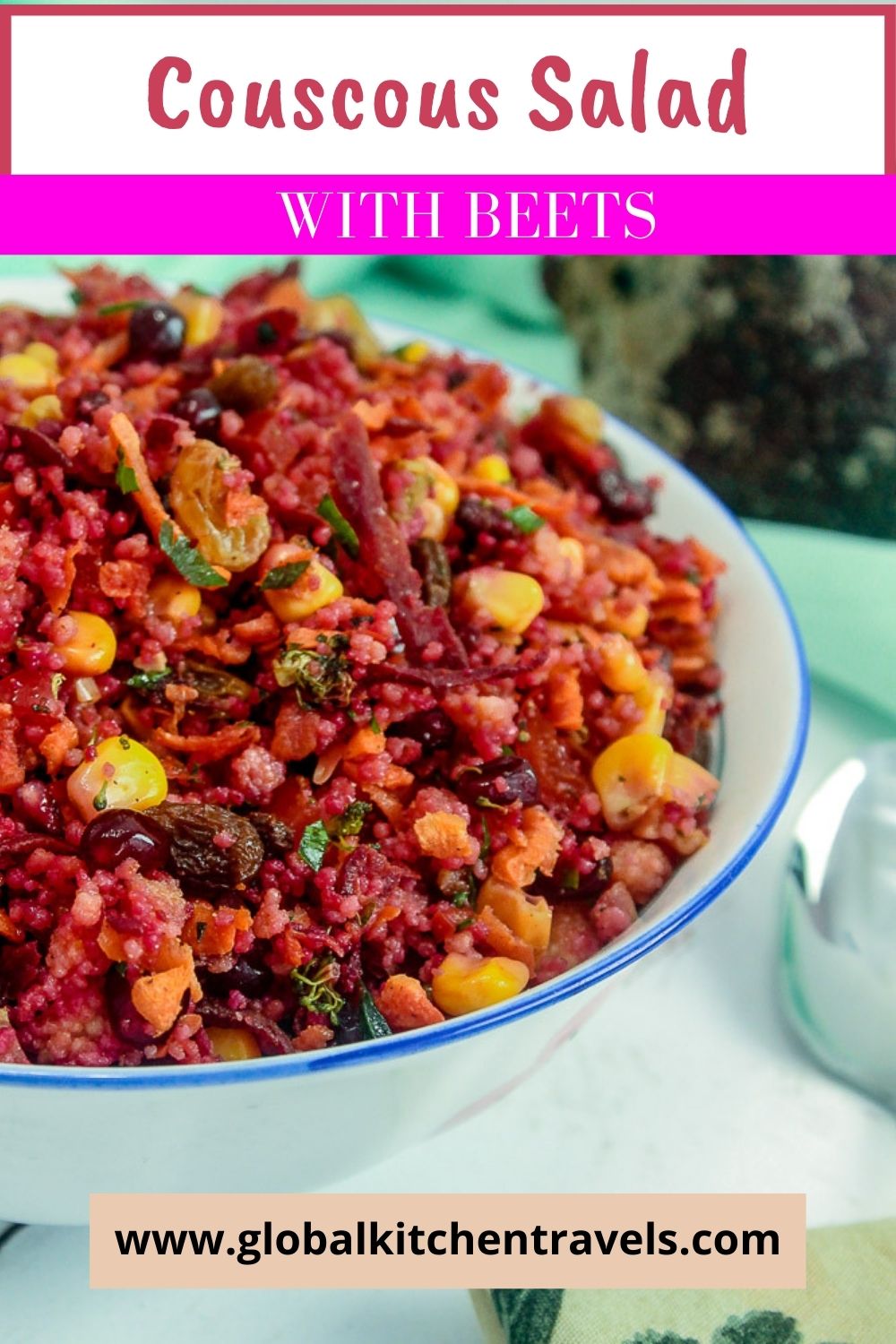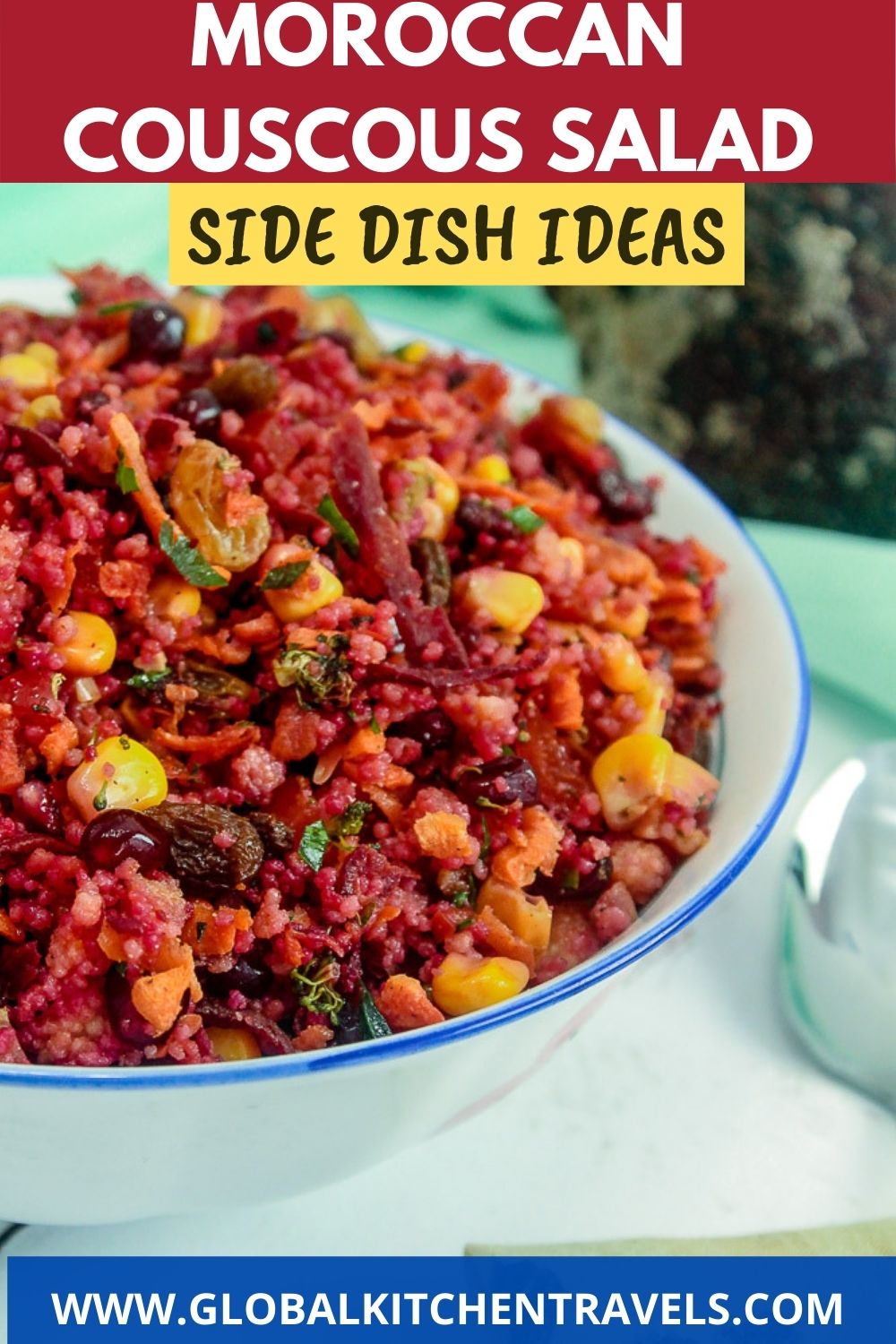 Need more culinary inspiration? Check out the Recipe Index with over 1500 Recipes from Around the World with lots of Vegetarian 🥕🍆🍅and Gluten Free Recipes!