Last Updated on July 9, 2022 by Chef Mireille
Kenyan Potato Bhajia – Gluten Free Potato Fritters make a delicious party appetizer for game day or any celebration of friends and family. More heavily spiced than the Indian version, this is an irresistible snack for any time!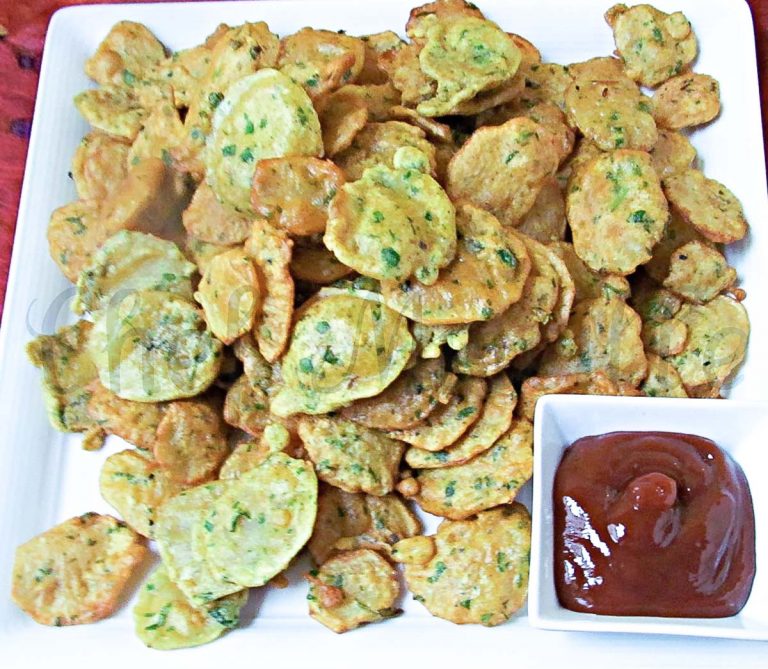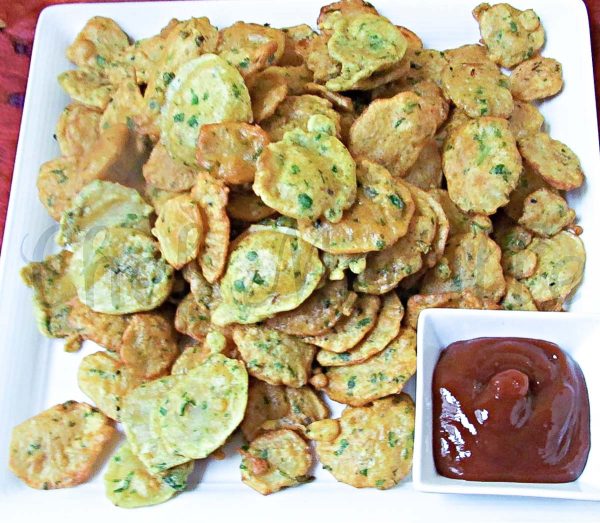 This post may include affiliate links.
Did you know that Kenya has one of the largest Indian populations in East Africa?
My first encounter with a Kenyan here in NY was a friend of mine named Vivek. Although his family is originally from Goa in India, he was born and raised in Kenya and spoke perfect Swahili.
I was very surprised when he told me he was from Kenya. Then I met some of his other friends who were also Kenyan Indians and then I realized he wasn't rare and that Kenya had a very large Indian population.
Although Potato Bhajia has its origins in India where it is known as Aloo Bhajia, this is one of the most popular street foods in Kenya. Kenya has a sizable Indian population and much of Kenyan cuisine is a fusion of both Indian and local East African cuisine. Coconut milk is used a lot in curries and other dishes, as in this Kuku. So this Kenyan Potato Bhajia is a delicious representation of Indo-African cuisine.
Like most Indian fritters, these are gluten free, with the batter made of chickpea flour and rice flour.
So let's go together to the streets of Nairobi with the Kenyan version of Aloo Bhaji.
How to make Kenyan Potato Bhajia – Gluten Free Potato Fritters
Don't get alarmed by the long list of ingredients. Most are just spices and herbs.
This is a super easy recipe!
Potatoes are sliced paper thin, using a mandolin.
A batter is made by combining chickpea flour, rice flour, seasonings and water.
The potato slices are dipped into the batter and then deep fried to golden deliciousness.
So let's make sure our pantry has all the necessary supplies!
The Ingredients
Have you tried Instacart yet? That's how I get my fresh groceries delivered!
Suggested Tools
Recipe FAQ
Can I use any rice flour?
You can use white rice flour or brown rice flour.
DO NOT USE sweet rice flour or glutinous rice flour. This flour has much more starch and won't yield the same results
What if I am missing one or two of the spices?
Africans love using a variety of spices to achieve complex flavors, but missing a few of the spices need not be a deterrent for trying this recipe. Just omit what you don't have!
Can I cut the potatoes by hand if I don't have a mandolin?
Yes, but it will be difficult to get the potatoes as thin by hand. Make sure you are using a very sharp, serrated knife and that will help.
What is the best way to reheat leftover Kenyan Potato Bhajia?
Place in a 400 F oven for 15-20 minutes until hot and crispy!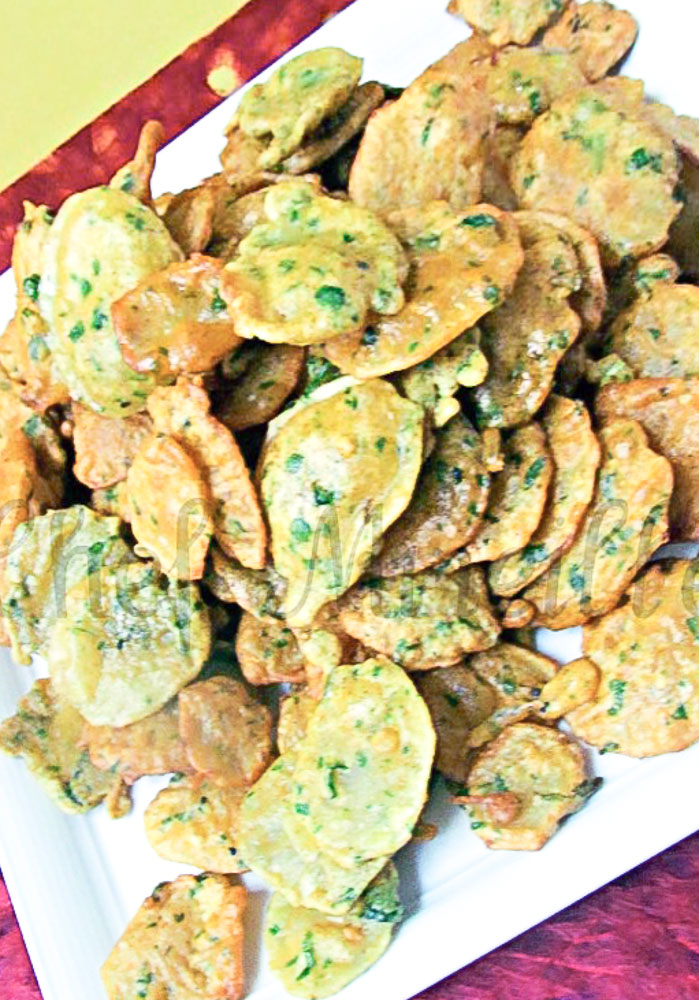 Serve Kenyan style Aloo Bhajia with ketchup or your favorite chutney.
Kenyan Potato Bhajia – Gluten Free Potato Fritters
Indo-African style Potato fritters are coated in a spiced gluten free batter and than fried up for a delicious party snack!
Instructions
In a large bowl, combine chickpea flour, rice flour and all of the spices. Add cilantro and water. Mix until you have a thick batter.

Using a mandolin, thinly slice the potatoes.

Heat enough oil for deep frying to 350 F.

Place the potatoes into the batter and toss well.

By hand, take out the potato slices one at a time, tossing off the excess batter.

Place in the hot oil. When they rise to the top of the oil, flip over.

Cook until golden brown on both sides.

Serve with ketchup or your favorite chutney.
Nutrition
Calories:
124
kcal
|
Carbohydrates:
22
g
|
Protein:
5
g
|
Fat:
1
g
|
Saturated Fat:
1
g
|
Sodium:
307
mg
|
Potassium:
376
mg
|
Fiber:
3
g
|
Sugar:
2
g
|
Vitamin A:
99
IU
|
Vitamin C:
11
mg
|
Calcium:
16
mg
|
Iron:
1
mg
Did you try this recipe? Leave a comment below.
Please follow me on Instagram @chefmireille or tag me #chefmireille with your pics! I'd love to share them!
With Super Bowl Parties coming up, try this recipe instead of boring old French Fries!
Enjoy Gluten Free Potato Fritters with chutney!
DO YOU YUM? SAVE IT BELOW!
Yum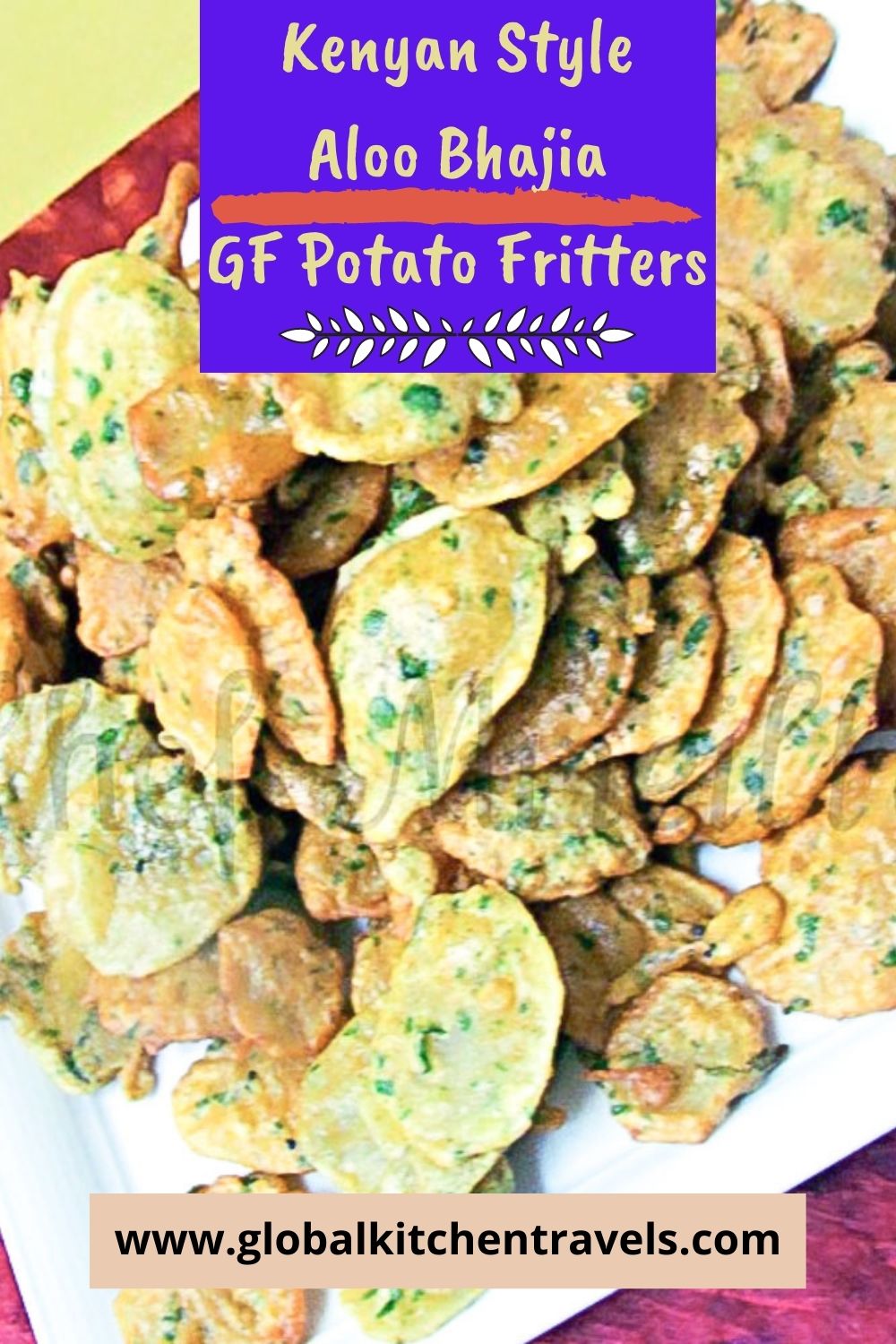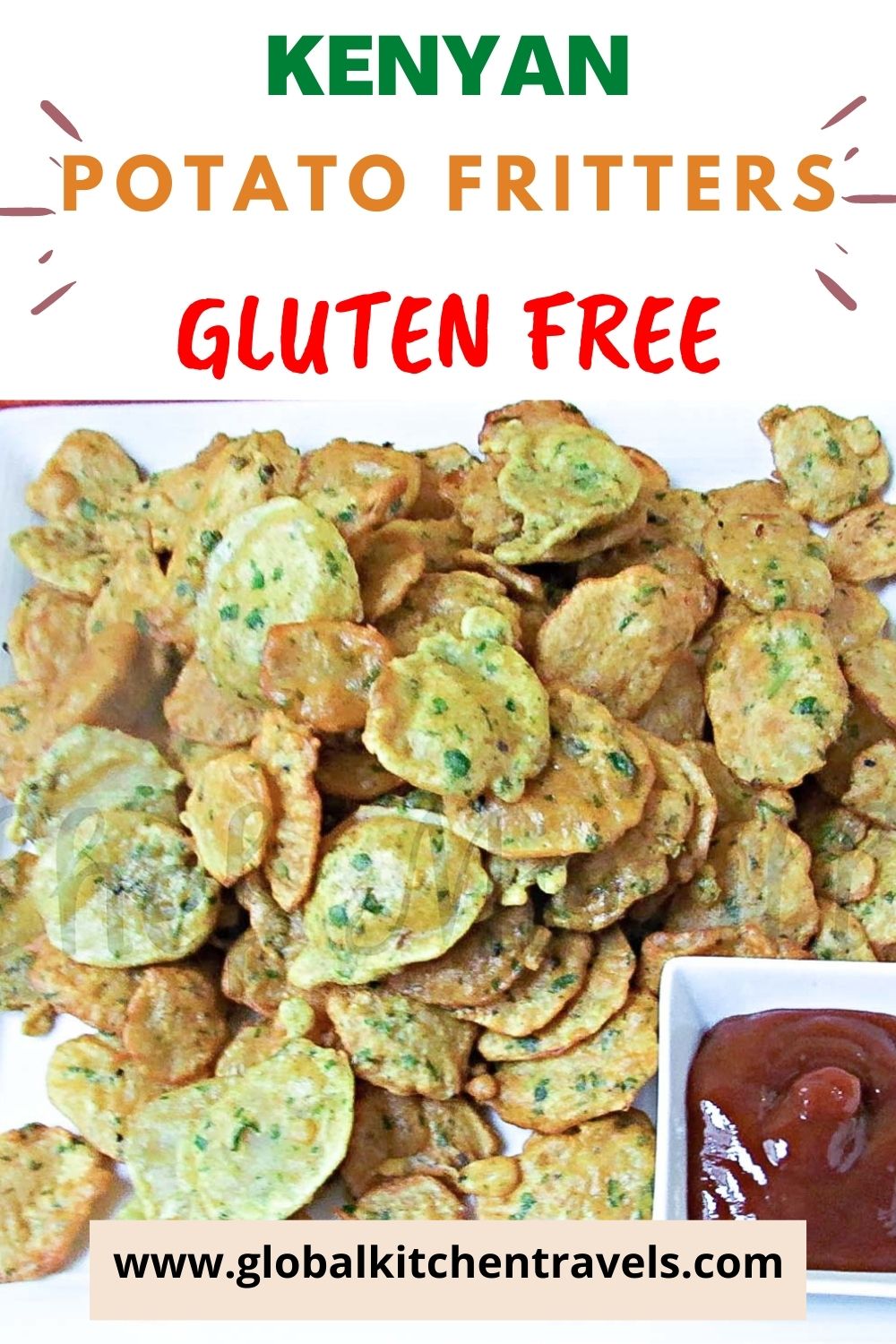 Don't forget to visit the RECIPE INDEX with over 1000 recipes from around the world including lots of Vegetarian Recipes and Gluten Free Recipes!