Last Updated on September 13, 2021 by
This flavorful spicy Vegan Jollof Rice Recipe is one of the most iconic dishes ubiquitous throughout northern Africa from Senegal to Nigeria. I so love this spicy tomato fried rice as it's a great addition to any meal. It can even complement whatever it is paired with.
It's a Happy St. Patrick's Day as I'm writing this! So, okay, most of you are probably thinking of Colcannon, Shephard's Pie & Soda Bread….but Irish cuisine has evolved over the last few decades, and even pub food in Dublin will include global influences.
So how about trying this African tomato rice to celebrate St. Patrick's today?
This post has been in my drafts folder for over a year. I have made this dish many times but never took photos, etc.
And then I was all ready to FINALLY do it, however—with all the musical chairs my recipes played as I juggled with themes—this recipe got eliminated again.
Again, with the African theme I wished to do a few months ago, it got shortlisted.
My theme for this week would be presenting the same food in different countries. For example, just about every country in the world has a version of rice pudding. However, I've already done so much rice pudding on this blog. I wanted to do something else.
Tomato Rice was my decision.
Joloff Rice is a very common food to the cuisines of Northwestern Africa – countries like Ghana, Senegal, Cameroon, Nigeria, and the Gambia. They all lay claim to the origin of this dish. Some people would prefer that I present a recipe for Nigerian jollof rice.
The truth is many countries have a form of this dish – rice cooked with some type of tomato product, sometimes with meat, making it a one-pot meal:
Now here is Northwest Africa's version of Tomato Rice.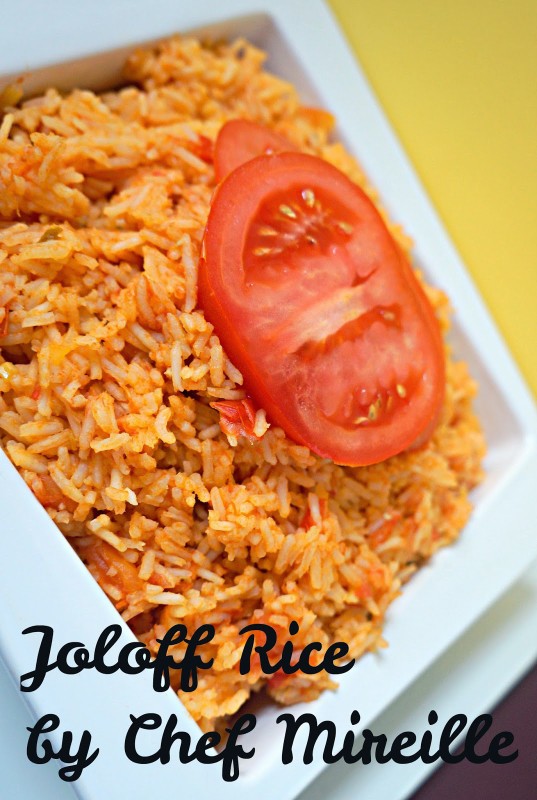 This post may include affiliate links.
Where Does Jollof Rice Originally Come From?
Jollof rice has a fascinating history. It's been told that you can trace it back to the 1300s, in the Wolof Empire—which was also called the Jolof Empire.
Today, that ancient area spans modern-day Senegal, Mauritania, and The Gambia.
Also, people sometimes spell jollof as jellof, jolof, or joloff, depending on the version of the dish they're talking about.
Is Jollof Rice Nigerian, Ghanaian, or Indian?
Jolof rice is quite popular in Africa, most especially in Nigeria. That's why it's commonly called Nigerian rice.
But just as I said, various regions all over the world have their versions of this tomato fried rice.
Ghanaian joloff uses aromatic Basmati rice. Meanwhile, Nigerians use long grain rice, which people believe is best for absorbing flavors.
How Does Jollof Rice Taste?
Variations of jollof rice dishes taste slightly different, depending on where they're coming from. In general, jollof rice can have a smoky, tomato-ish flavor and aroma.
It can also have a mix of sweet, salty, and spicy flavors.
Is Jollof Rice Vegan?
Typically, this one-pot rice meal includes veggies, meat, and chicken stock. But, we've left out the meat products for this version, so it's suitable for vegans and vegetarians.
Is Jollof Rice Healthy?
For our vegan jollof rice recipe, we'll be using long grain rice. This type of rice is believed to be slightly better for weight loss, as it's less starchy and not too sweet.
You can make your jollof recipe as healthy as you can. My preferred recipe below is rich in cooked tomatoes, making it also super-rich in phytochemicals.
Plus, the onion, garlic, and chilis give a boost of vitamins and minerals. They don't just flavor up the rice dish—these ingredients also make your vegetarian joloff rice super healthy!
Jollof Recipe Ingredients
palm oil
onion
garlic
long grain rice
water (or vegan chicken broth)
tomato paste
tomatoes
chiles
tomato slices (for garnish)
How Do I Make Jollof Rice?
The steps are pretty straightforward.
Prepare the tomato sauce.
Add the rice.
Simmer and allow to cook.
Stir in tomato paste.
This is how to make joloff rice: in photos.

This spicy tomato rice is perfect for those who like a little spice and kick in their rice.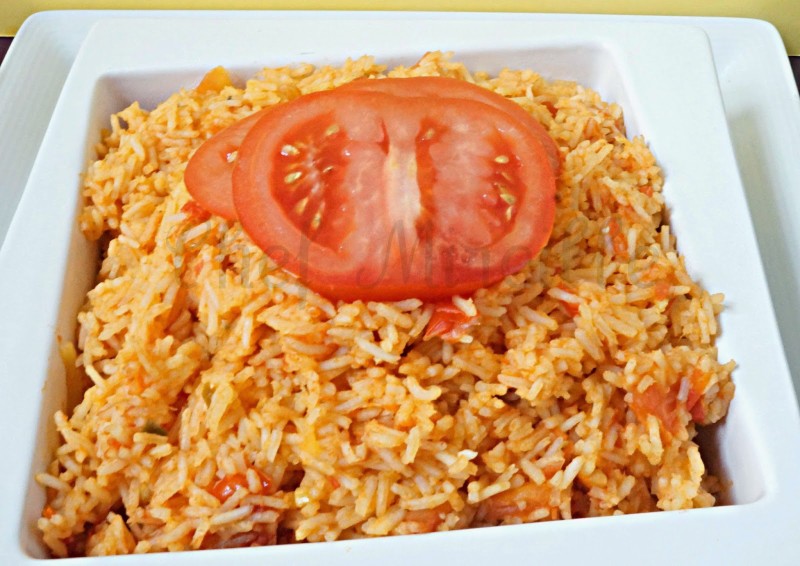 Enjoy this flavorful rice with any accompanying meat/veggie meat and/or vegetable dish.
Should Jollof Rice Be Wet or Dry?
People may have different opinions and preferences, but mine would be to enjoy a jolloff rice dish with just the right amount of moisture.
I love it when my joloff rice isn't too soggy and isn't too dry either. If it's too dry, it will have the texture of plain fried rice.
What to Do When Jollof Rice Is Soggy
Quick answer: try to stop the cooking process. Here are a few things you can do:
Cool it down ASAP.
Spread the rice out immediately on a big tray.
If it's really too soggy, you can place the tray on an open fridge.
Note: it has to be an open fridge; else, you'll have a problem with condensation too.
What Is Jollof Rice Served With?
You can serve your spicy tomato rice with side dishes of your choice. These could be mixed veggies, coleslaw, or vegan mock meat recipes.
How to Store Jollof Rice
Got some leftover joloff rice? You can store it in your fridge.
Cool it first, completely.
Keep the jollof rice in an airtight container.
Label the container with dates.
How Long Can You Keep Jollof Rice in the Fridge?
Your joloff rice can last for up to 3 days in the fridge.
If you want to keep it for longer, even for as long as 3 months, you can store it in the freezer.
Just make sure to use airtight, freezer-safe bags or containers.
When ready to eat your jollof rice, you can reheat it directly in the microwave.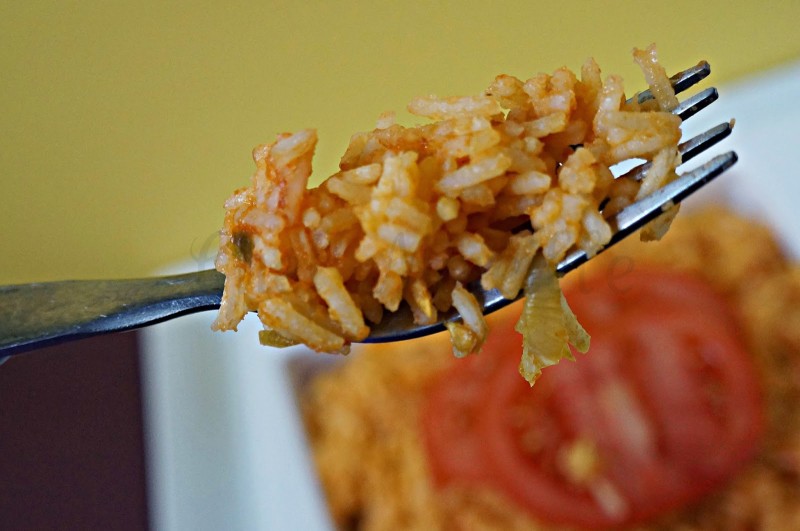 Joloff Rice – Spicy Tomato Rice
This vegan jollof rice recipe is both flavorful and healthy. Enjoy this spicy tomato rice dish with mixed veggies on the side!
Ingredients
Instructions
In a large pot, heat oil.

Add chopped tomato and chiles. Stir fry for 2-3 minutes, until tomatoes start to soften.

Add water, tomato paste, salt and sugar. Bring to a boil.

Add rice. Bring to a boil again. Cover and reduce to a simmer.

Cook for 25 minutes.

Add the remaining tomato paste and stir to combine.
Nutrition
Calories:
305
kcal
|
Carbohydrates:
64
g
|
Protein:
7
g
|
Fat:
2
g
|
Saturated Fat:
1
g
|
Polyunsaturated Fat:
1
g
|
Monounsaturated Fat:
1
g
|
Sodium:
95
mg
|
Potassium:
404
mg
|
Fiber:
3
g
|
Sugar:
5
g
|
Vitamin A:
805
IU
|
Vitamin C:
50
mg
|
Calcium:
40
mg
|
Iron:
1
mg
Did you try this recipe? Leave a comment below.
Please follow me on Instagram @chefmireille or tag me #chefmireille with your pics! I'd love to share them!
Don't forget to visit the RECIPE INDEX with over 1000 recipes from around the world including lots of Vegetarian Recipes and Gluten Free Recipes!