Last Updated on February 16, 2022 by Chef Mireille
This post may include affiliate links.
Haitian Beignet is basically a variation of French Style donuts popular in all areas of the world the French colonized or had a cultural influence. The difference is that these are made with ripe sweet bananas and infused with Caribbean spices, elevating the simple donut to Haitian Benyen.
In America, you have Mardi Gras and in the Caribbean, we have Carnival. In Haiti, you will find Haitian Beignet de Carnaval being sold all over Port au Prince during Carnival celebrations. It is one of the most popular Carnival foods.
In Haiti, they would most often be made with fig banana, but you can also make them with regular bananas.
These are light and airy and infused with flavor enhancers like rum and vanilla. One thing to note – you will not taste the rum so these are totally kid friendly. Are you ready to add some Haitian spice to your Mardi Gras celebrations this year?
But before we get to this delicious Haitian Street Food recipe, don't forget to check out all of my Haitian Recipes here.
So then why include the rum? After all, it's not Rum Cake right!
Purpose of the Rum
Pretty much all Caribbean sweet recipes like cookies, cakes, candy and donuts will include a bit of rum. Distilled from sugar cane, rum is a natural flavor enhancer that will, with subtlety, elevate the flavor of the food. However, it is not just for flavor.
Many people might say they don't see the purpose of the rum, but it also adds moisture and the alcohol makes it more tender and have a better texture.
Beignet is basically the French word for donut and there are different variations of beignet everywhere the French went from New Orleans to African countries like Cameroon to the French Caribbean. I have already showed you this French Caribbean Beignet version made with blood orange juice, but today I am going to show you Haitian Benye, which are made with banana.
So are these the same as a French Beignet recipe? No, because French Beignet are most often made with yeast similar to the New Orleans Style. This is an instant version made with baking powder as leavening.
Are Beignets Donuts or Doughnuts?
So why are these called donuts and not doughnuts? Have you ever wondered about the two different spellings?
Basically, it comes down to how they are made. Doughnuts are made from a yeast raised dough like these Picarones (Peruvian Doughnuts), however when a leavening agent like baking powder or baking soda is utilized, they then automatically become instant donuts.
What's the difference?
Using yeast based doughnuts will result in a more bread like consistency and even a slight sour tang – similar to sourdough.
Instant Donuts, however, result in a more cake like result. You can also make them on the fly, as there is no rising time so far easier and faster than making traditional yeast doughnuts. I also won't fault you for calling these instant donuts a banana fritter either.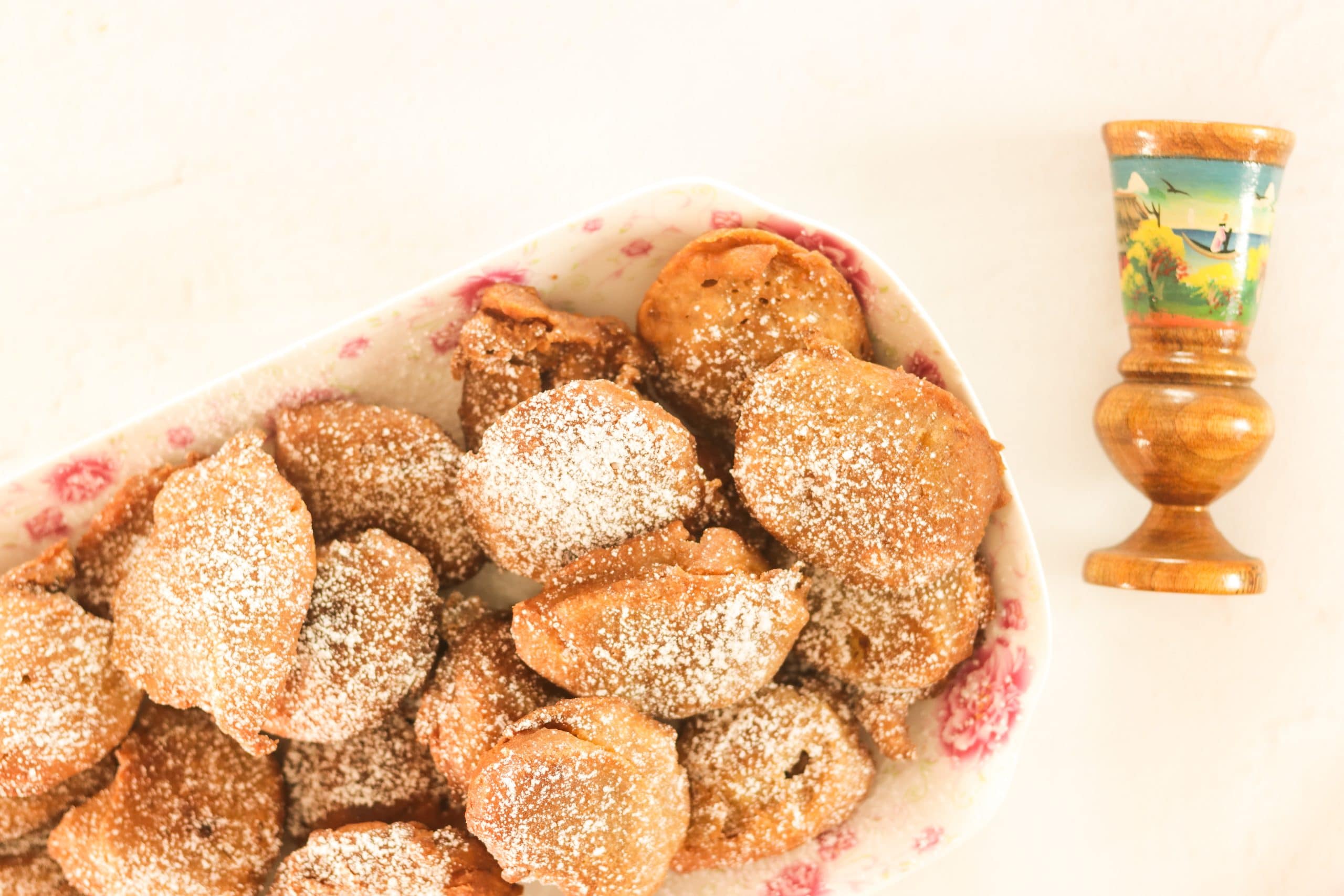 Frequently Asked Questions
Are bananas the same as fig?
Many Caribbean people refer to bananas as fig. When the fig are green, they are cooked and eaten as a savory side dish, usually prepared simply by boiling.
Haitian people let these fig banana ripen to make benyen. They are a little smaller in size than most of the bananas in America, however, you can substitute regular bananas, as that is what I usually make these with.
Are New Orleans beignet the same as Haitian beignet?
Traditional New Orleans Beignet are yeast raised, while the Haitian beignets uses baking powder for leavening. Other than the addition of banana, this is the major difference between these two types of beignet.
Can I omit the rum?
The rum is simply a flavor enhancer, however, if you prefer not to use it, it can be omitted.
So now let's check the ingredients we need to make these delicious Banana Beignets.
Ingredients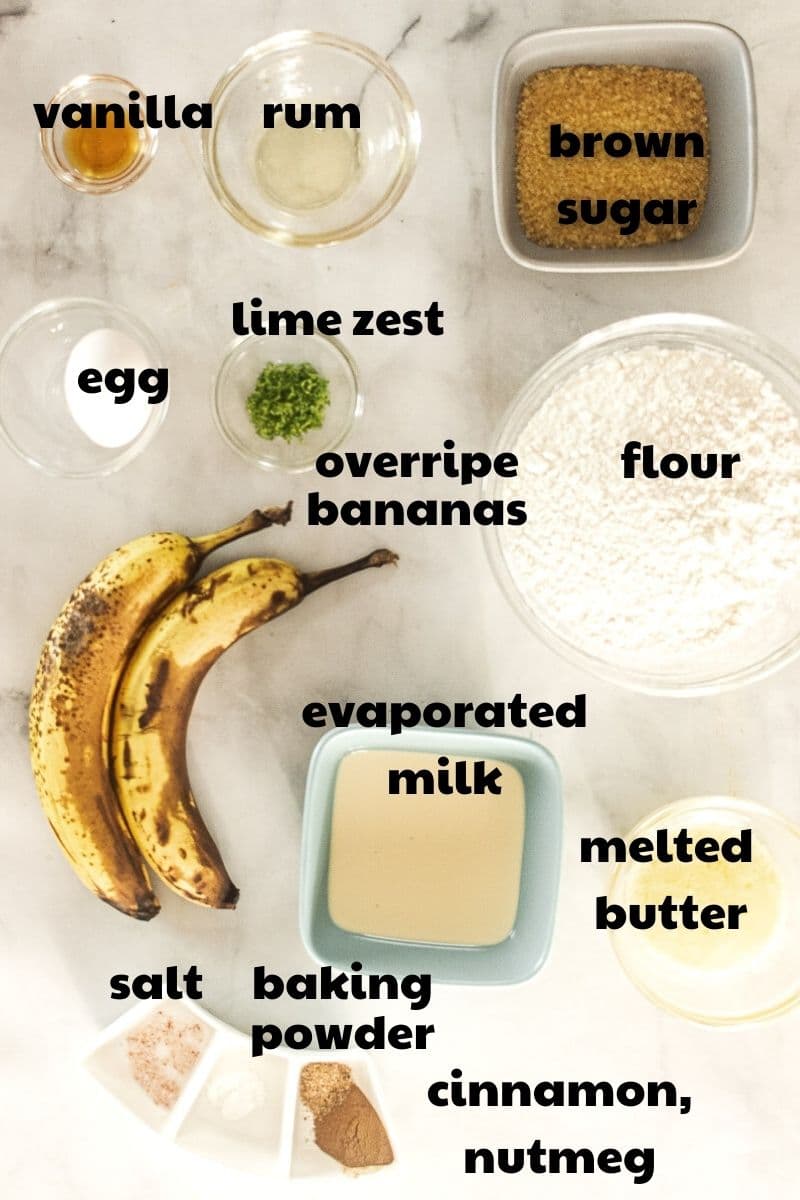 all purpose flour
baking powder
salt
ground cinnamon
nutmeg
bananas
lime zest
rum
vanilla extract
butter
raw brown sugar (demarrara)
evaporated milk 
egg
vegetable oil (or other neutral flavored oil) – for frying
Powdered sugar – for garnish
Have you tried instacart yet? It's how I get all of my fresh grocery items delivered within 2 hours!
How to Make Beignet Banane
Sift the flour and add the leavening, salt and spices.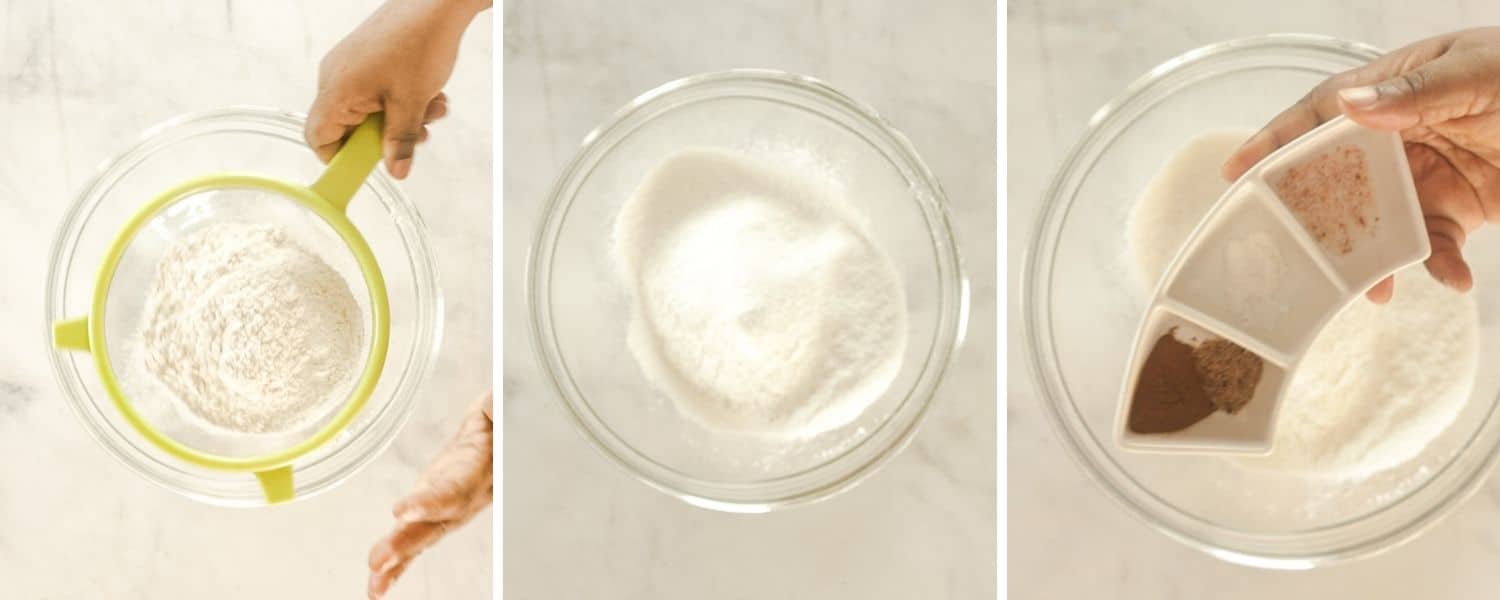 .In a medium bowl, mash the bananas.
Add lime zest, rum, vanilla. Mix.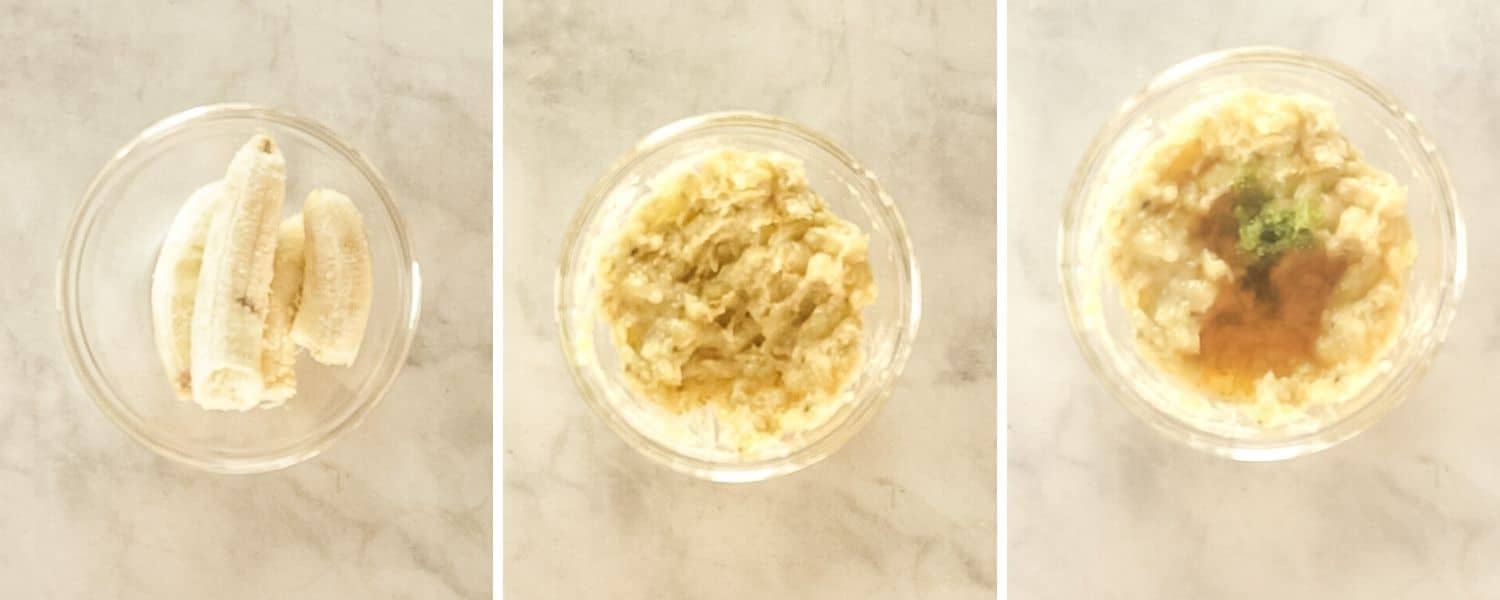 Add melted butter, sugar, warmed evaporated milk and egg. Mix well.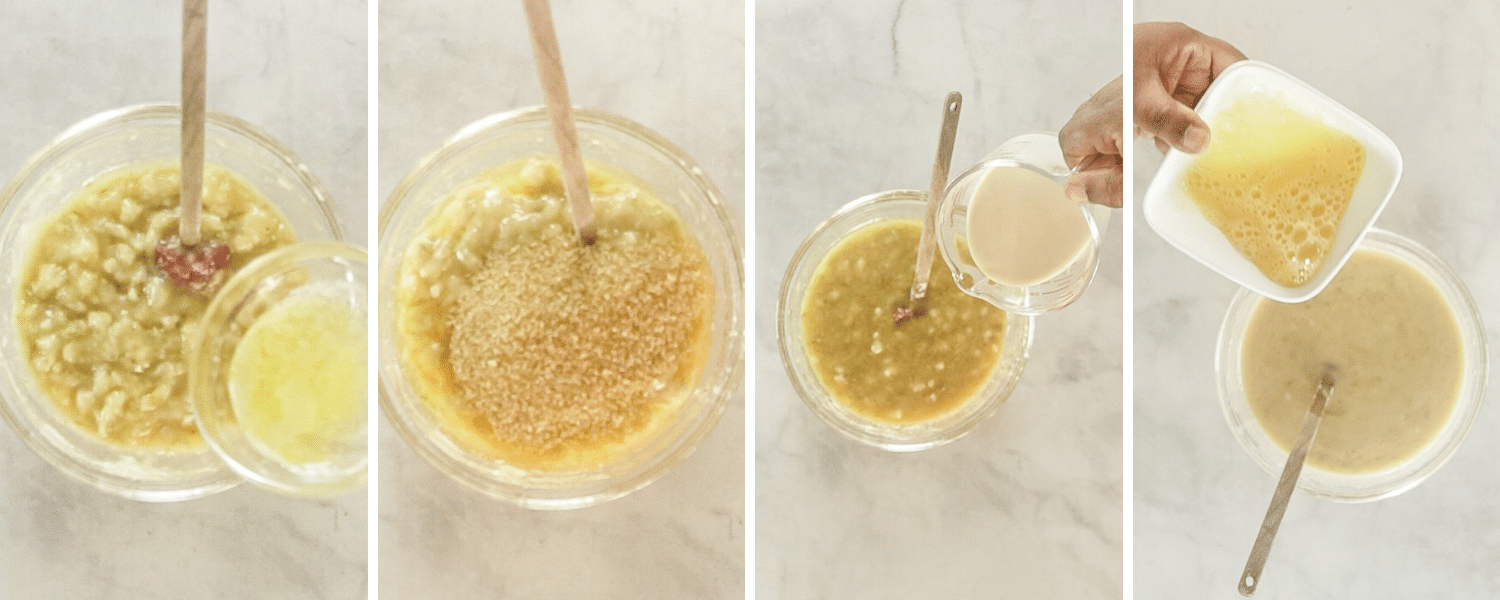 Add flour to banana mixture and mix well.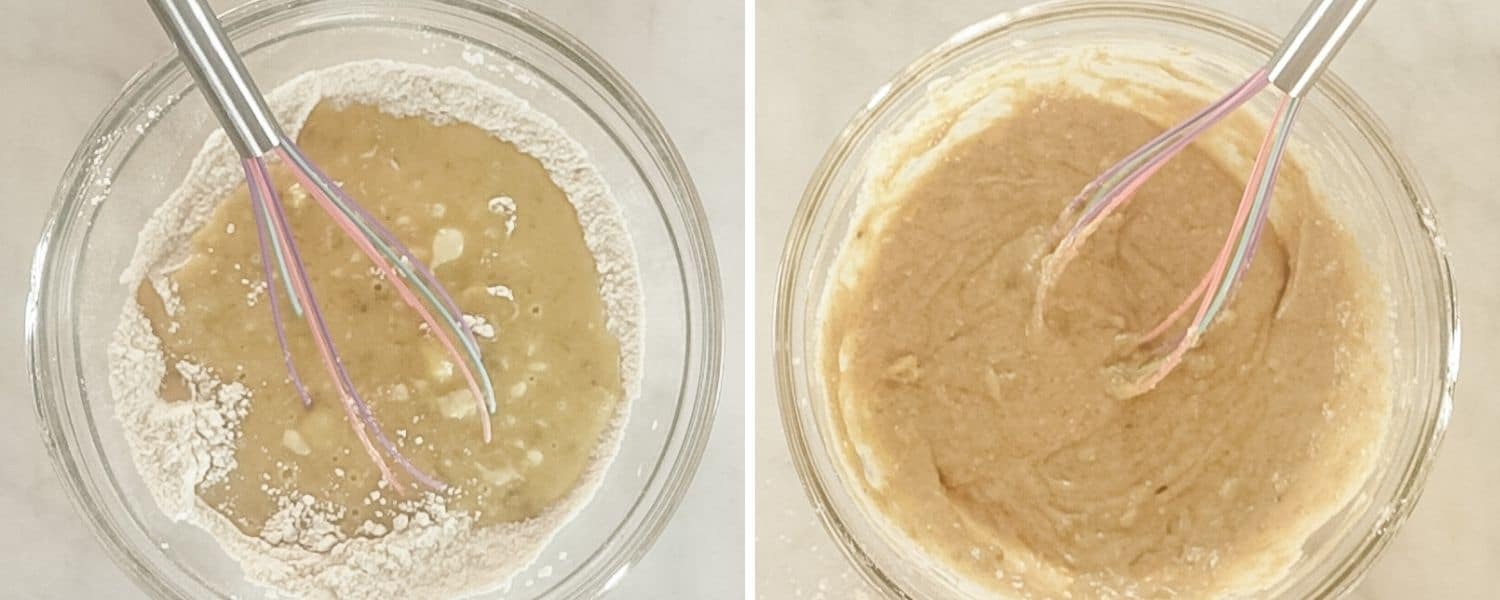 In a deep skillet, drop 1 tablespoon at a time into hot oil and fry until golden brown on both sides.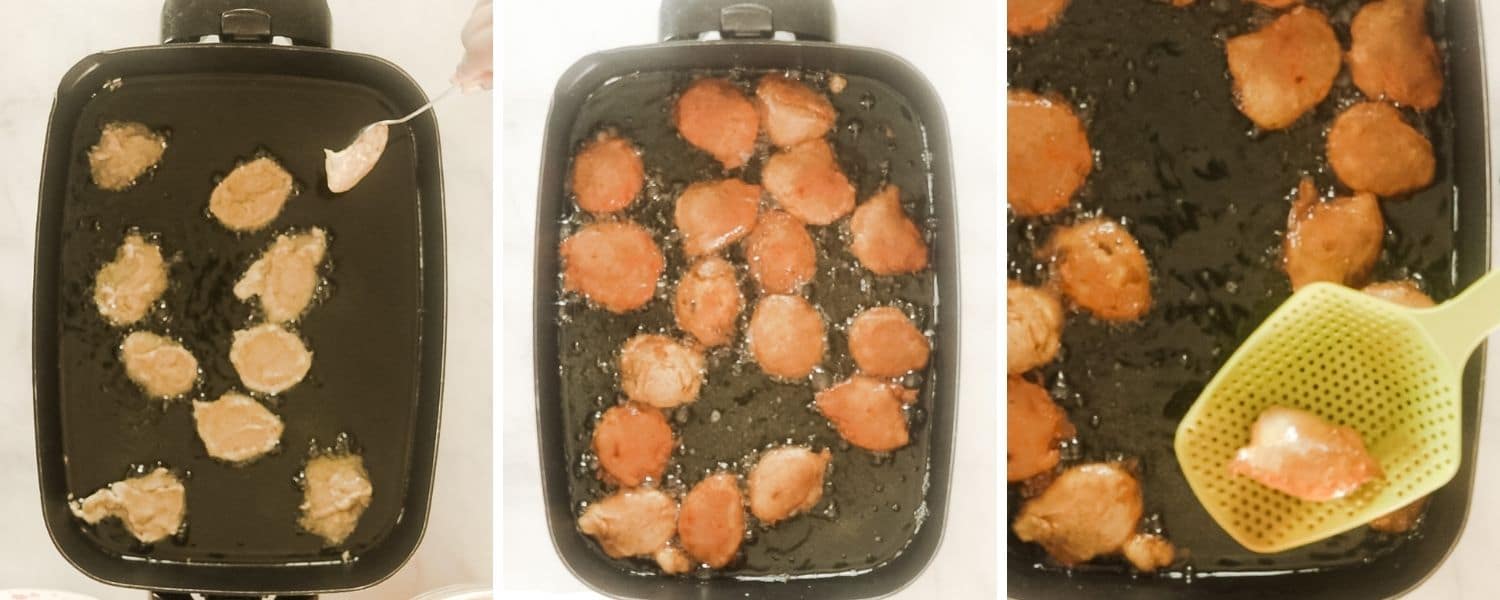 Drain on paper towels.
Sprinkle powdered sugar and serve.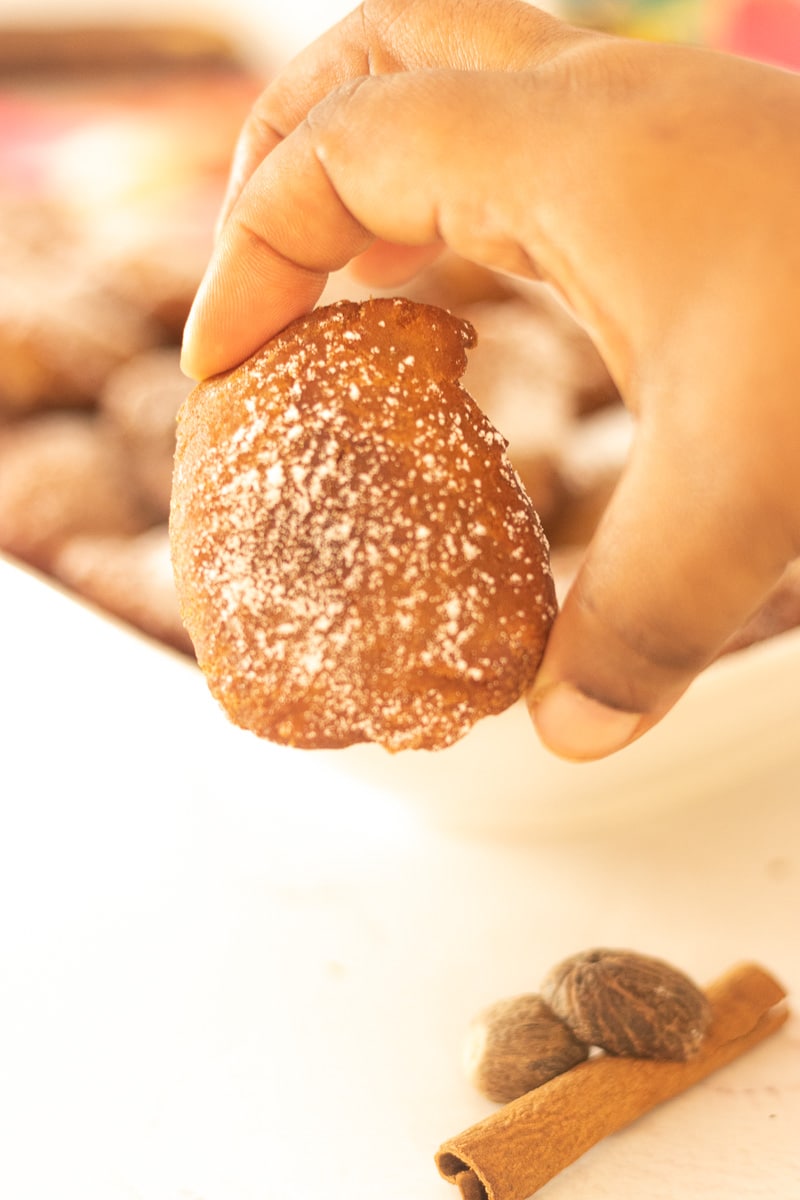 These delicious Haitian Beignet Recipe is so delicious -kids and adults alike will love them. Enjoy one of Haiti's most popular Beignet de Carnaval.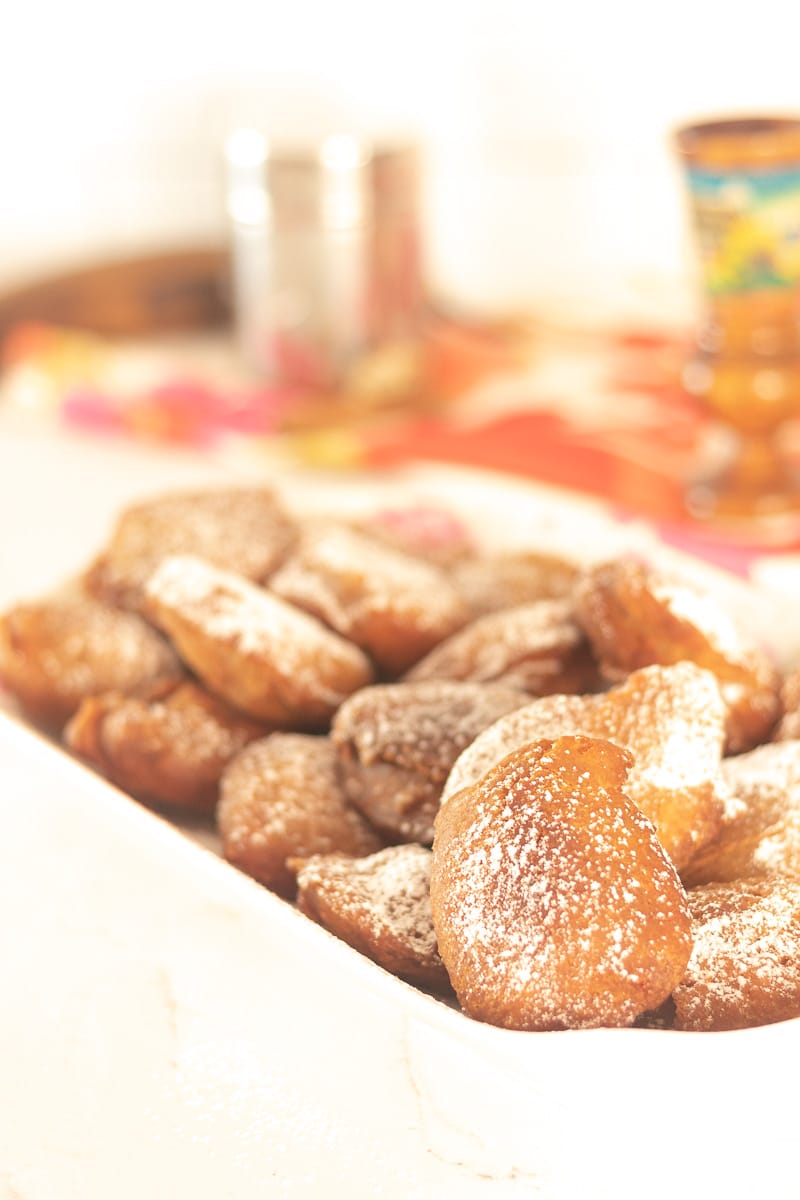 Haitian Beignet
Haitian style Beignet Banane is an instant banana fritter recipe that is quick and easy. One of the most popular Haitian foods to celebrate Carnaval (Mardi Gras).
Ingredients
2

cups

all purpose flour

½

teaspoon

baking powder

½

teaspoon

salt

1

teaspoon

ground cinnamon

½

teaspoon

nutmeg

2

mashed bananas

Zest of 1 lime

2

tablespoons

rum

1

tablespoon

vanilla extract

2

tablespoons

melted butter

½

cup

raw brown sugar

demarrara

1/3

cup

evaporated milk

1

egg

Oil for frying

Powdered sugar

garnish
Instructions
Sift the flour into a large bowl.

Add the baking powder, salt, cinnamon and nutmeg. Stir to mix.

In a medium bowl, mash the bananas until well mashed.

Add lime zest, rum and vanilla and mix.

Add butter and sugar.

Warm the evaporated milk for 30 seconds in the microwave.

Add milk and mix well for 2 minutes.

Add beaten egg and mix well for 2-3 minutes.

Add the banana mixture to the flour and mix well until thoroughly combined.

In a deep pot, heat enough oil for deep frying.

Drop 1 tablespoon for each beignet into the hot oil and fry until golden brown.

Using a slotted spoon or spider, remove the donuts from the oil.

Drain on paper towels.

To serve, sprinkle with a little powdered sugar.
Notes
If you'd like, you can also add a pinch of ground star anise.
The flavor and taste is best when using overripe bananas.
Nutrition
Calories:
113
kcal
|
Carbohydrates:
20
g
|
Protein:
2
g
|
Fat:
2
g
|
Saturated Fat:
1
g
|
Polyunsaturated Fat:
1
g
|
Monounsaturated Fat:
1
g
|
Trans Fat:
1
g
|
Cholesterol:
14
mg
|
Sodium:
87
mg
|
Potassium:
101
mg
|
Fiber:
1
g
|
Sugar:
8
g
|
Vitamin A:
72
IU
|
Vitamin C:
1
mg
|
Calcium:
28
mg
|
Iron:
1
mg
Did you try this recipe? Leave a comment below.
Please follow me on Instagram @chefmireille or tag me #chefmireille with your pics! I'd love to share them!
Don't forget to visit the RECIPE INDEX with over 1000 recipes from around the world including lots of Vegetarian Recipes and Gluten Free Recipes!