Last Updated on January 17, 2020 by Chef Mireille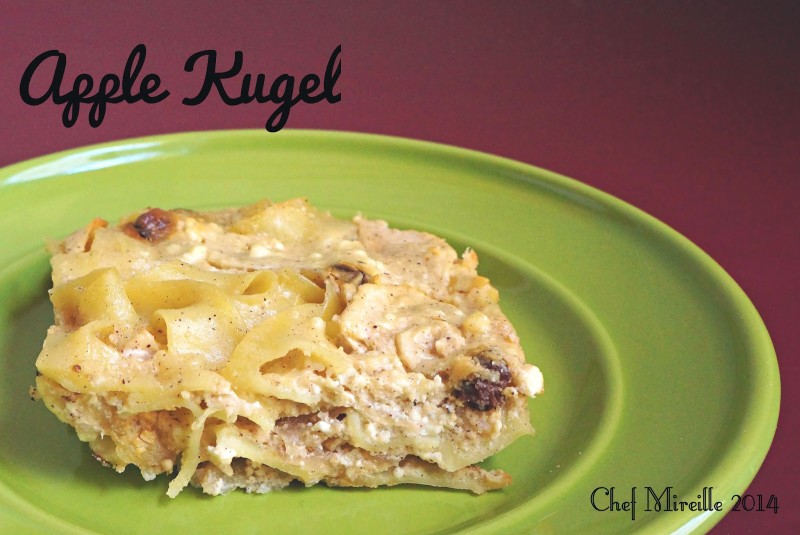 Kugel is a traditional Jewish dish. It's an Ashkenazi Jewish recipe, originating in Eastern Europe. Although the original kugel's were savory, the sweetened fruit kugel is now most popular. It was transported to Israel and the United States, where it is very popular. It is often included in the weekly Shabbat meal, as well as holiday meals for Passover. Rosh Hashanah or Yom Kippur.
Rosh Hashanah is the Jewish New Year and it is very traditional to eat sweet things to symbolize the hopes for a sweet year ahead. Part of the traditional rituals on Rosh Hashanah is to dip apples in honey and honey will usually be on the table for all the Jewish holy days from September to April. This sweet noodle preparation is another way of wishing for a sweet year.
Today, the variations to kugel are endless. Savory versions are made with a variety of vegetables. There is also a very popular version known as Jerusalem Kugel, flavored with caramel and black pepper. Fruit kugel's are traditionally made with apple, but it is often adapted to locally available fruit. In Israel, it is sometimes made with dates and apricots and in other countries, pineapple, banana or mango are more popular.
Cholent is a popular accompaniment to kugel, however since kugel includes dairy and dairy and meat cannot be eaten together in observance of Kosher dietary laws, a vegetarian cholent will accompany the kugel. Cholent is a stew of beans, vegetables and sometimes meat. For strict observers of Kosher laws, meat and dairy cannot be eaten within 4 hours of each other.
Apple Kugel
Serves 4
Ingredients:
2 cups egg noodles
1 egg
1/2 cup marscapone cheese (or cream cheese)
1 cup farmer's cheese
2 tablespoons firmly packed brown sugar
1/8 teaspoon salt
1/4 teaspoon ground cinnamon
1/8 teaspoon freshly grated nutmeg
1 peeled, cored and thinly sliced apple
1/4 cup raisins
Preheat oven to 350 F.
Cook noodles in a large pot of lightly salted boiling water until al dente.
In a large bowl, beat the eggs with the marscapone and farmer's cheese. Add salt, brown sugar, cinnamon and nutmeg. Stir to combine.
Add cooked noodles, raisins and apples. Mix well.
Transfer to square baking dish and bake for 50-55 minutes, until custard is set.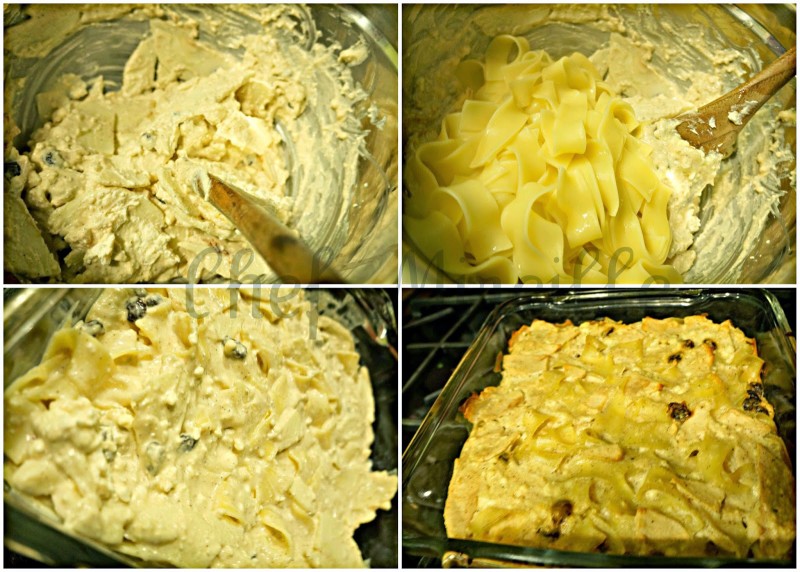 Notes:
Although I used farmer's cheese and marscapone, many variations exist with cottage cheese, cream cheese, creme fraiche or sour cream instead.
Cottage cheese is very commonly utilized in kugel.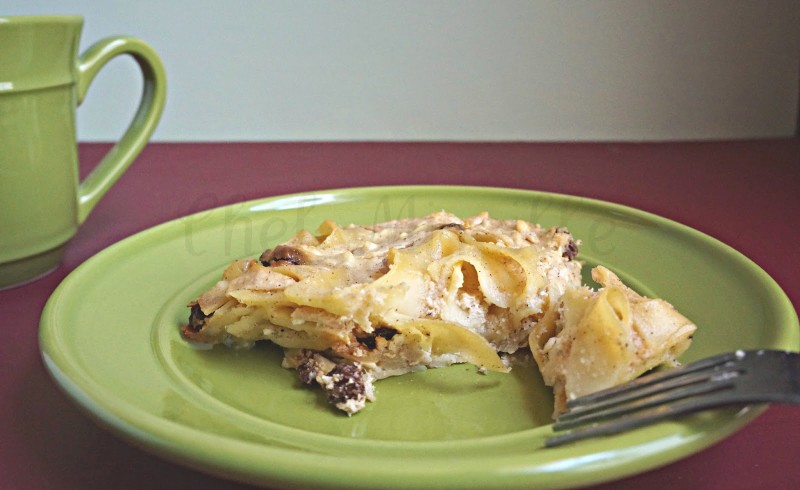 This also makes a nice treat for tea time.
Check out the Blogging Marathon page for the other Blogging Marathoners doing BM#46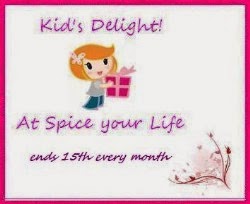 …linking to Kid's Delight hosted by me
Do you know anyone else who likes learning about international food, culture, history and travel? Bring them over here to join the party! Don't forget to use those share buttons!
Start Here to find out how the Schizo Chef can help you with your cooking, travel and other needs!
If you like this recipe, PLEASE LEAVE A COMMENT & SUBSCRIBE!