Last Updated on May 30, 2015 by Chef Mireille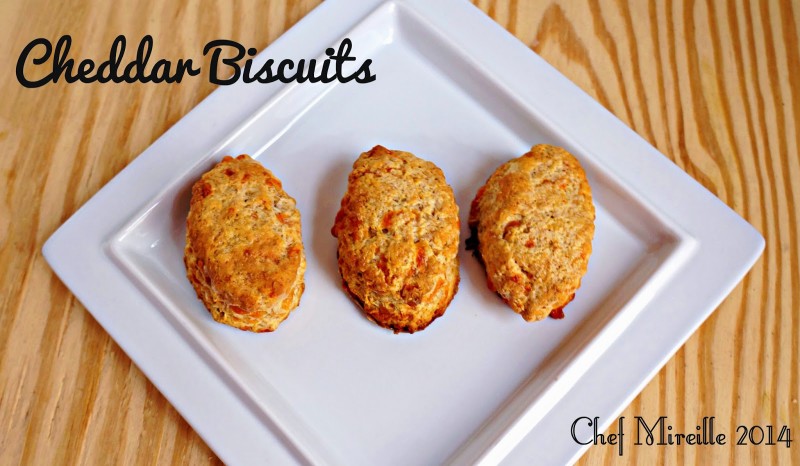 Penzey's is a high end brand of spices. They have an exhaustive list of spices that includes basics like parsley and oregano. However, they also carry a long list of International spices like Za'atar, Kala Jeera and Berbere. You can have your choice of cinnamon from different countries and their own line of spice blends.
Penzey's is sold at high end supermarkets. I don't usually buy their spices because I have access to all these spices at the little cultural enclaves here in NYC at a fraction of the cost. However, when I was in Long Island a few weeks ago and came across a Penzey's store location, I couldn't help but go inside to browse their complete inventory. As you can guess, I didn't purchase anything as I just can't justify their prices even if the quality of the spices are better. One thing they did have is little recipe cards displayed for the taking throughout the store and also a magazine that had several recipes. I went through the store and took each one.

This recipe was from the Penzey's magazine. I only made a few slight changes. I changed half of the flour to whole wheat to add some fiber, reduced the salt quantity and exchanged Spanish paprika for Hungarian paprika..
Cheddar Biscuits
Yield: 22 biscuits
Ingredients:
1 cup all purpose flour
1 cup whole wheat flour
3/4 teaspoon salt
4 teaspoons baking powder
1/2 teaspoon Hungarian hot paprika
5 tablespoons cold butter
1/2 – 3/4 cup milk
1 egg
1 cup grated cheddar cheese
2 tablespoons heavy cream
Preheat oven to 475 F. Place parchment paper on cookie sheet and spray with non stick spray.
In a small bowl, beat the egg with 1/2 cup of the milk.
In a large bowl, combine flours, salt, baking powder and paprika.
Cut the butter into small pieces and using a pastry blender, cut the butter into the flour until it is the size of small peas.
Add the milk-egg combination and stir just to combine. Add additional milk as needed for the dough to come together. (I added extra 2 tablespoons)
On a floured board, pat dough down to about 3/4″ high.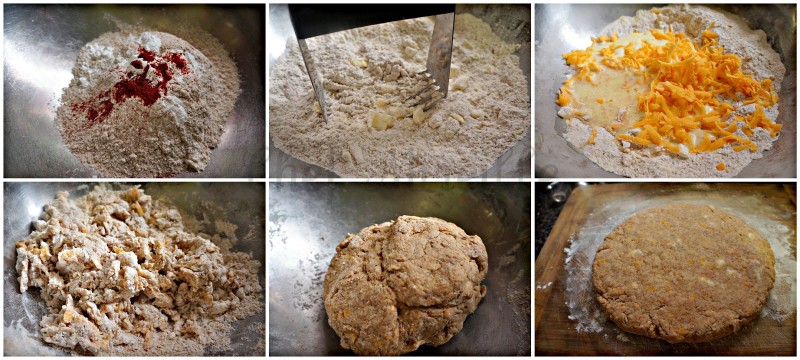 Using a biscuit cutter dipped in flour, cut out biscuits. Place on prepared sheet.
Brush the tops with the cream.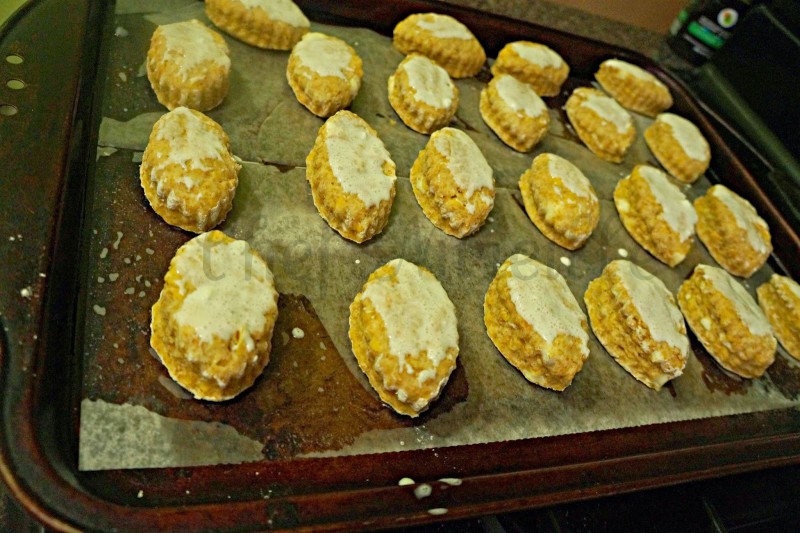 Bake for 12-15 minutes, rotating pan half way through.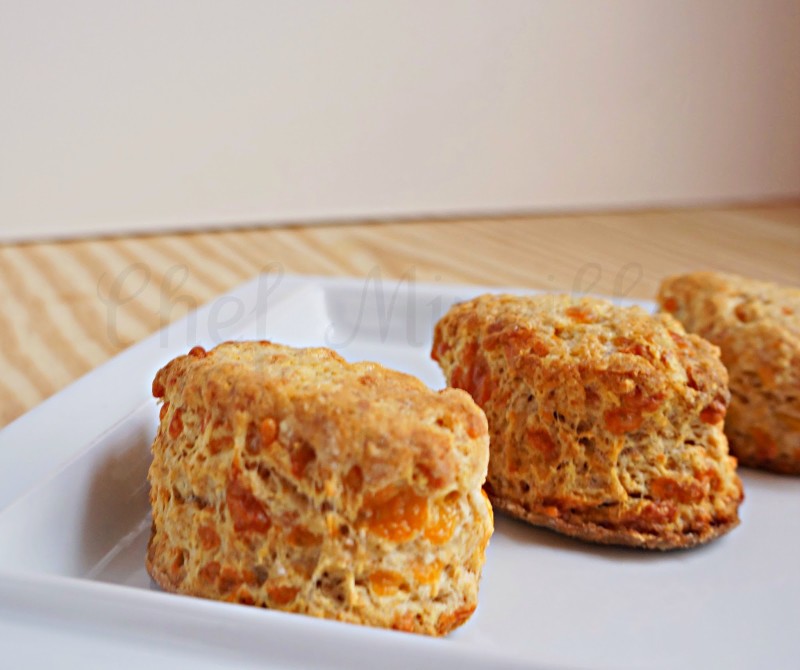 Serve warm.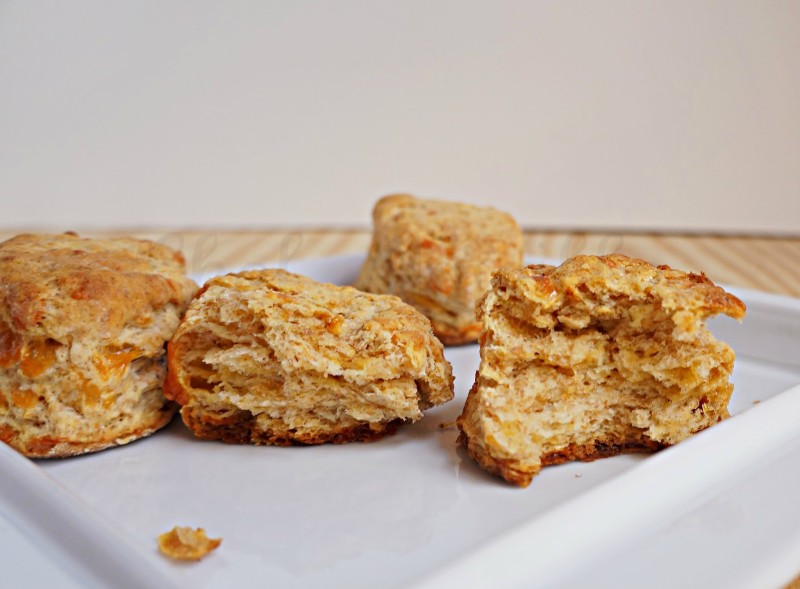 These were moist, buttery and delicious. While biscuits are a staple of an American southern breakfast that would also include bacon, eggs and gravy, I incorporated these biscuits into a healthy breakfast. I don't believe in giving up little indulgences like these buttery beauties, but it's about having a balanced diet.
I instead enjoyed this breakfast of cheddar biscuits with a lightly dressed salad and sliced fruit.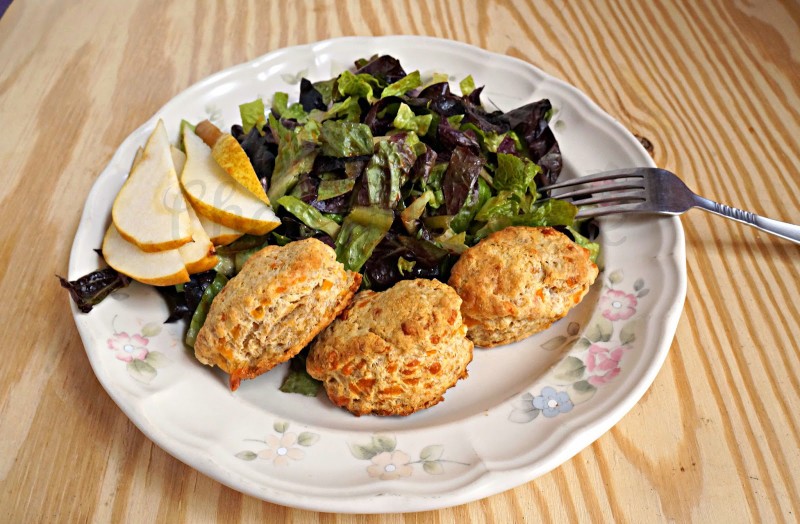 This post is for the CC Challenge of the month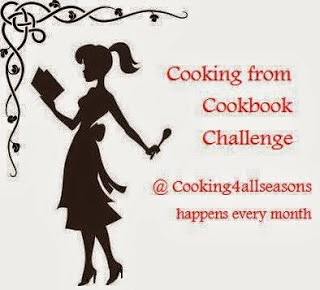 LIKE THIS RECIPE? LEAVE A COMMENT..I LIVE FOR THEM!
Chef Mireille