Last Updated on December 14, 2020 by Chef Mireille
Alu Chorchori is a quick and easy potato side dish that is ready in just 20 minutes, utilizing the Bengali 5 spice mix – panch phoran!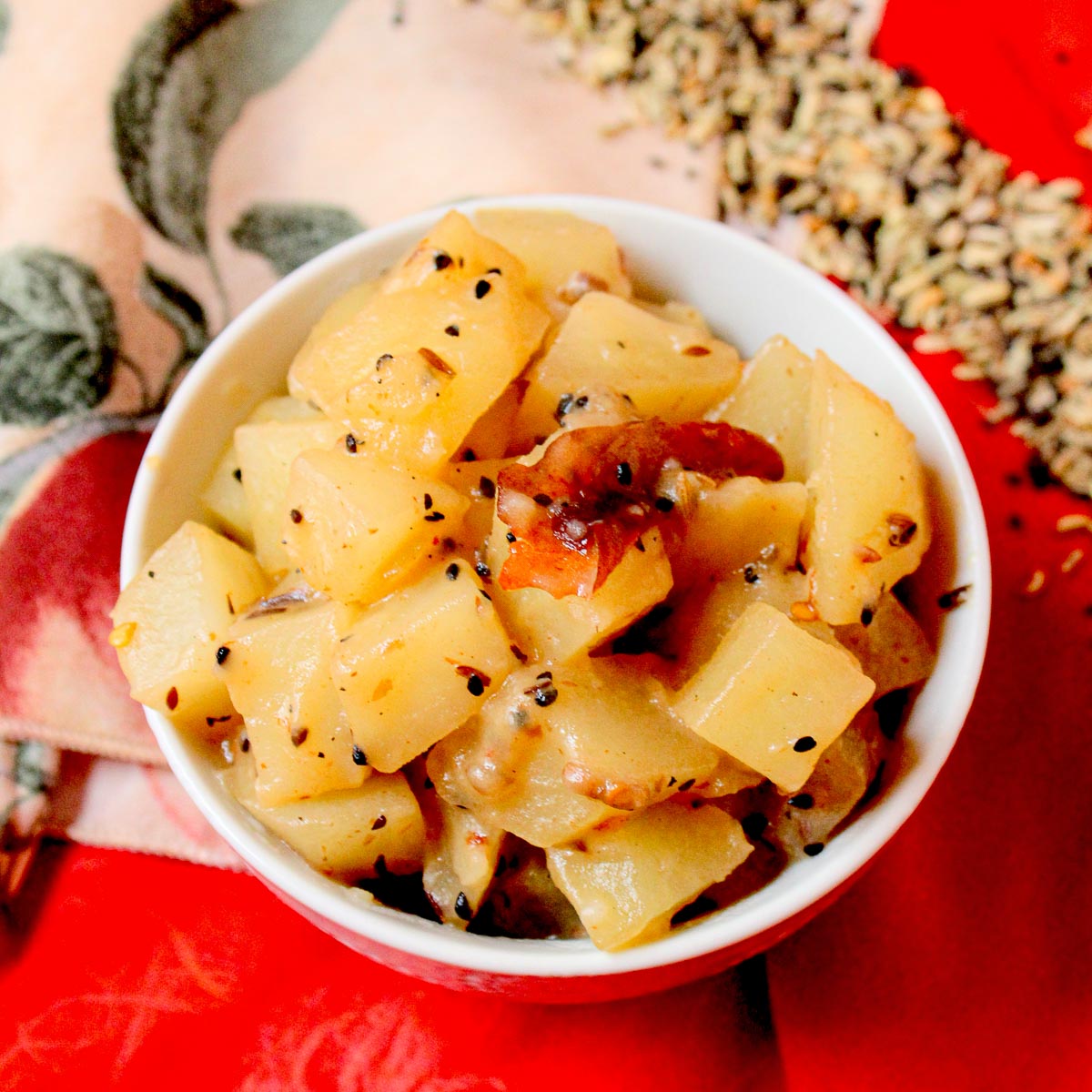 This post may include affiliate links.
Just like any nation, Indian food is regional. Here in the West, we have a bad habit of dumping all Indian cuisine into one bucket or at best two buckets – North Indian & South Indian.
However, there is great variety in the style of cooking and spices used from region to region.
Today we are heading down to the coastal South Indian state of West Bengal. I have quite a number of Bengali dishes already posted, in addition to the full Bengali thali I did here.
f you are a seafood lover, you will love Bengali cuisine. There is a famous Bengali saying – Maache Bhate Bangali – Rice and Fish make a Bengali. Despite this abundance of seafood dishes in their cuisine, they still have some great Vegetarian dishes as well, represented in this simple and quick Alu Chorchori.
Bengali Cuisine
Bengali cuisine is characterized by its use of mustard oil and whole spices. The ubiquitous panch phoran is synonymous with Bengali cuisine. It is a 5 spice blend of cumin, mustard, fenugreek, nigella (black onion seed) and fennel. You can purchase the spice blend at any Indian supermarket or gourmet International market, as well as online sources
This dry potato curry is done in just 20 minutes but still packed with flavor thanks to this flavorful spice blend. Before we get to today's recipe, let's take a look at the mini Bengali Thali.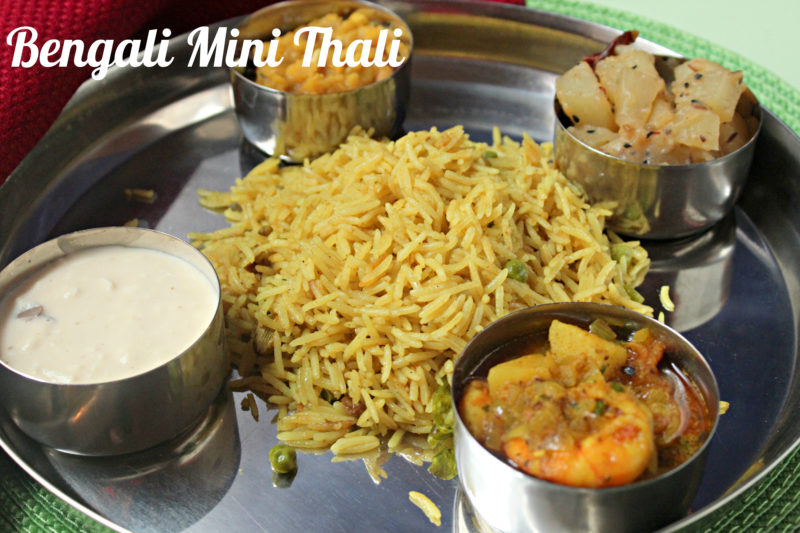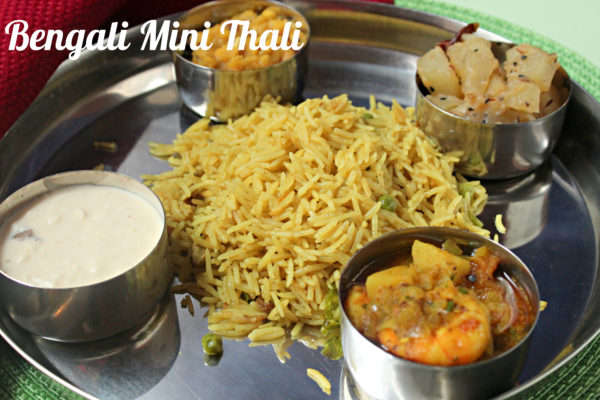 Mini Bengali Thali
Although not included in the thali photo above, you can complete this Bengali meal with this Grean Pea Paratha…after all no Indian meal is complete without a flatbread right!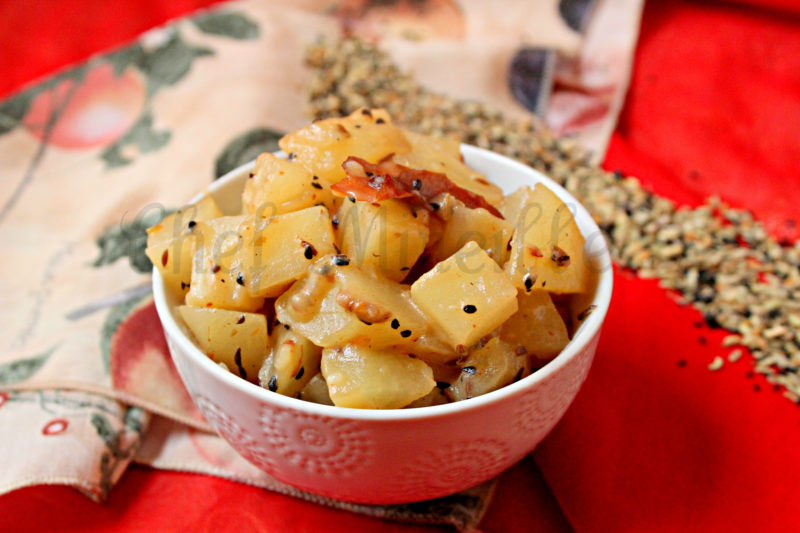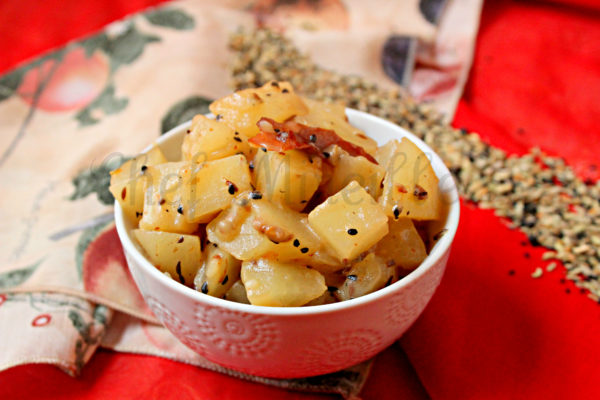 Now let's see how to make Alu Chorchori – Bengali Potato Fry…
It requires just a few ingredients! Not only is this a quick and easy recipe, but cost efficient also!
The Ingredients
Alu Chorchori
A quick and easy Indian Bengali dry potato curry, ready in just 20 minutes
Instructions
Heat ghee. Add aseofetida. After it stops sizzling, add chiles and panch phoran. Fry for 1 minute, until it starts emiting an aroma.

Add potatoes and stir fry for 1 minute so they get coated with all of the spices.

Add 2 cups water and cook until potatoes are tender and all of the water has evaporated.

Add salt. Stir to combine.
Nutrition
Calories:
196
kcal
|
Carbohydrates:
37
g
|
Protein:
4
g
|
Fat:
4
g
|
Saturated Fat:
1
g
|
Sodium:
13
mg
|
Potassium:
897
mg
|
Fiber:
5
g
|
Sugar:
2
g
|
Vitamin A:
66
IU
|
Vitamin C:
42
mg
|
Calcium:
26
mg
|
Iron:
2
mg
Did you try this recipe? Leave a comment below.
Please follow me on Instagram @chefmireille or tag me #chefmireille with your pics! I'd love to share them!
You might also like…
DO YOU YUM? SAVE IT BELOW!
Yum