Last Updated on November 20, 2020 by Chef Mireille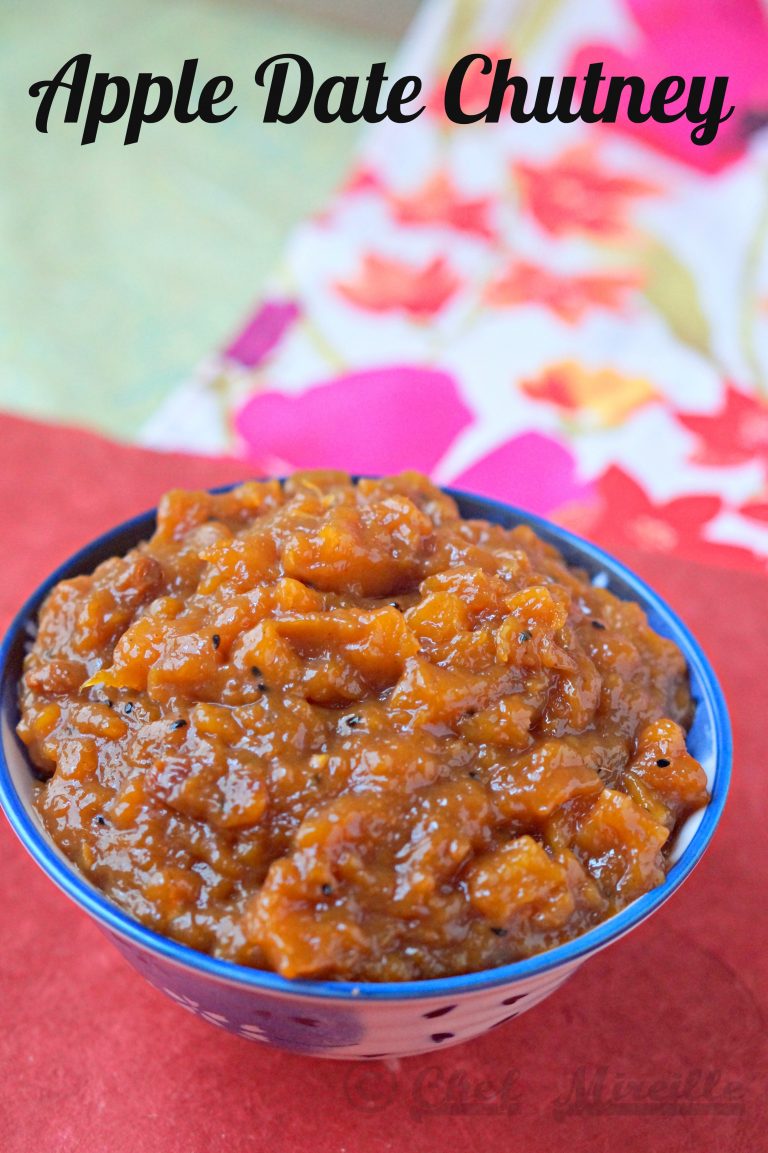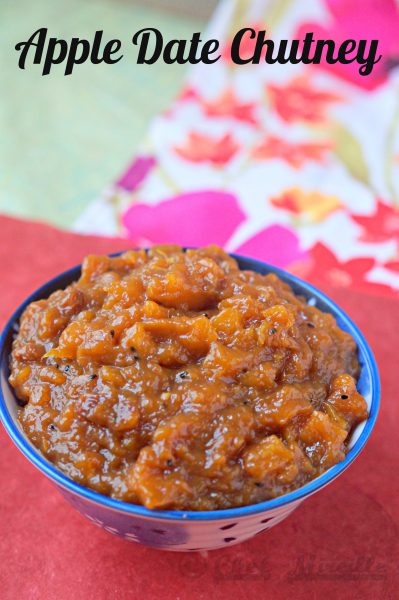 This kind of sweet and sour chutney is the most popularized type in the west. Mango chutney, which is usually everybody's favorite is made in the same way – the fruit cooked with vinegar, sugar, spices and a little water. Kashmir, a state in northern India,  has a winter season and therefore an abundance of winter fruits like peaches, apricots and apples. In this region, apricot or apple chutney is easier to come by than the more popularized mango variety. I combined them with some dates from India I had to make this Apple Date Chutney.
I have a bucket load of dates in my house. Several months ago, I had returned from Costco with a huge bag of dates. Shortly thereafter I went on vacation with India being one of my stops. Visiting my blogger friend Pradnya, my first breakfast at her place was Breakfast Poha with fresh dates. The dates there were sweet and juicy, not the dried ones we get here. When I remarked how delicious they were, she took an unopened bag and presented it to me. When I returned home, I put them in the refrigerator to keep them fresh until I got to them. Even stored in the refrigerator, they were softer than the ones we get here. I mean seriously, I usually have to get out my cleaver to chop the dried out ones we have here. I used these dates from India to make this Kashmiri style chutney.
This sweet and tart chutney is perfect to accompany Kashmiri Naan
Apple Date Chutney
Apple Date Chutney
a sweet and tart chutney
Ingredients
1

tablespoon

mustard oil

1

chopped onion

1

tablespoon

grated ginger

4

cups

peeled and chopped apples

3/4

cup

chopped dates

3/4

cup

golden raisins

2

teaspoons

salt

1/4

cup

sugar

1 1/2

cups

vinegar

1

teaspoon

red chile powder.

1

teaspoon

mustard powder

1

pinch

largesaffron

1/2

teaspoon

ground cardamom
Instructions
In a large heavy bottomed pot, heat oil. Add onion and ginger. Saute until onions become translucent.

Add all of the other ingredients with 3/4 cup of water. Bring to a boil. Reduce to a simmer and cook, stirring frequently, until jam like consistency - about 30 minutes.

Chill completely before serving.
Did you try this recipe? Leave a comment below.
Please follow me on Instagram @chefmireille or tag me #chefmireille with your pics! I'd love to share them!