Last Updated on December 14, 2020 by Chef Mireille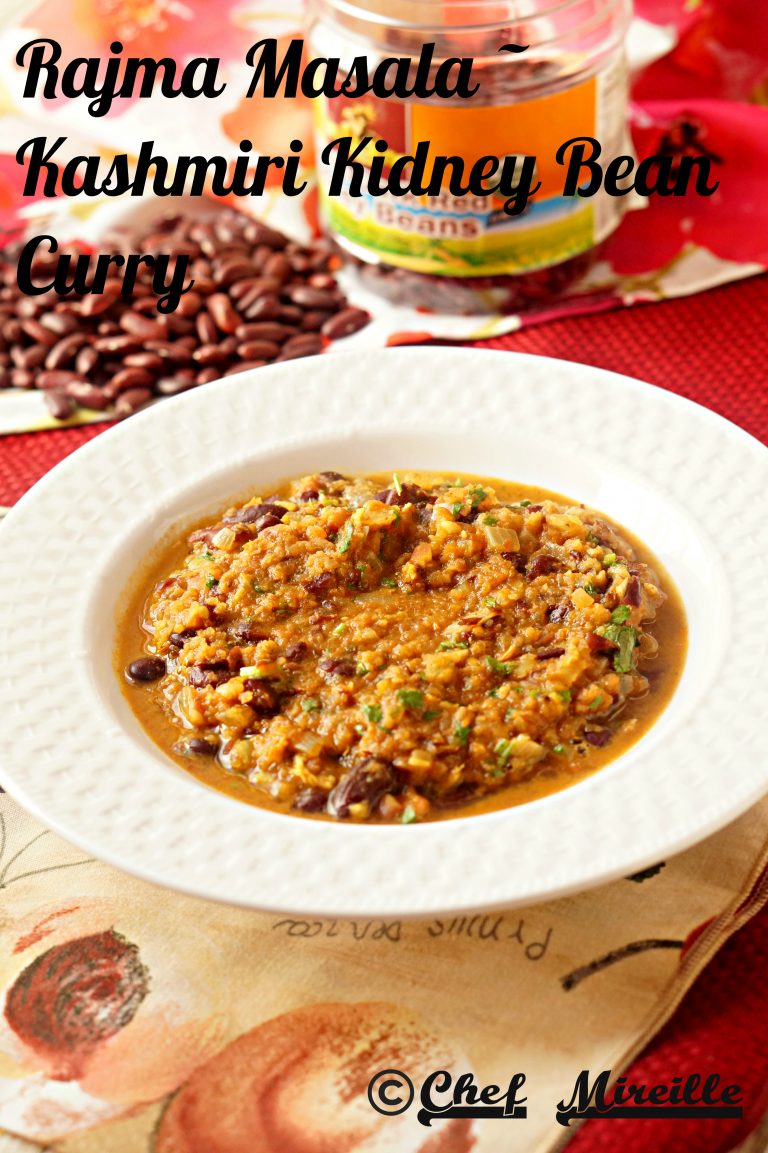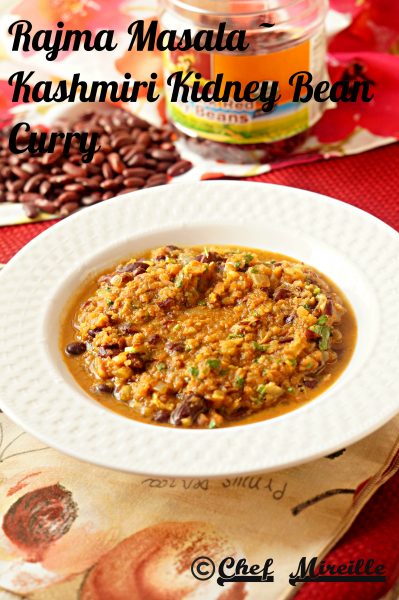 Rajma Masala or Kidney Bean Curry is popular in the northern Indian states of Punjab and Kashmir. There are slight differences in spices used, but both equally delicious. This Kashmiri Rajma Masala can be your main course in a hearty vegetarian meal.
I am presenting this dish as part of my mixed Kashmiri thali. This thali includes dishes from both the Hindu and the Islamic communities. This is a traditional dish of the Kashmiri pandits. Traditionally, it would not include onion as it was a satvic dish, meaning no onion or garlic would be used. Most traditional Kashmiri pandit foods are usually flavored with asoefetida and yogurt, instead of onion and garlic which is used in the dishes of the Muslim community. However, modern versions usually include onions.
I have seen many different versions of this, with much variation regarding color and consistency. Some use tomatoes and some don't…some use yogurt and some don't. At the end of the day, I always say there can be many versions of an "authentic" recipe because recipes will vary from home to home. Maybe the person cooking it in that home wasn't partial to tomatoes or was allergic to dairy so didn't use yogurt…who knows. I think as long as the essence of the recipe is still there it will still be a Kashmiri Style Rajma Masala. Anyway, here's my version and I hope you enjoy it!
Don't miss the other dishes of the thali:
Rishta Palak – Lamb Meatballs in Spinach Curry
Rajma Masala – Kidney Bean Curry
Saffron Rice
Haak Ki Sarson (unfortunately with all these dishes, I forgot to get pics of this dish on its own, so the recipe will come later after I re make it) – a simple mustard green preparation in chile infused broth
Dogri Chicken Masala – a smoky chicken curry
Shufta – rose scented fruit and cheese dessert (recipe coming soon)
Kashmiri Naan – scented with fenugreek and cumin and stuffed with dried fruit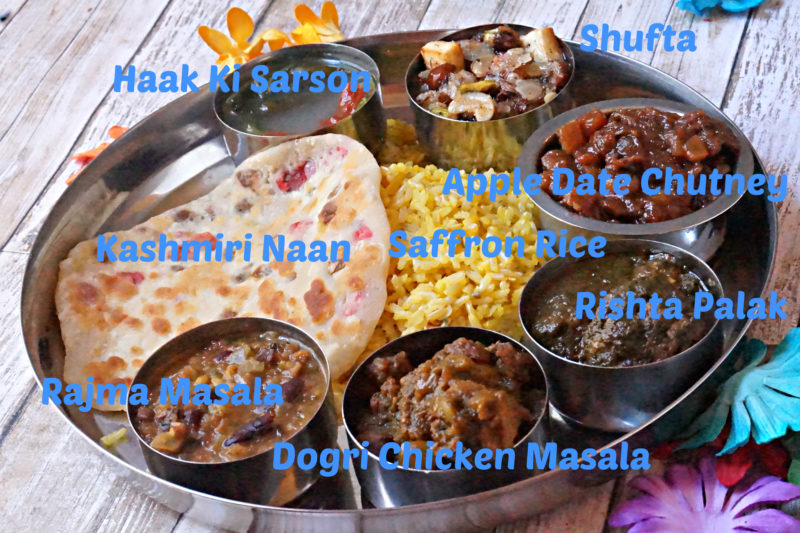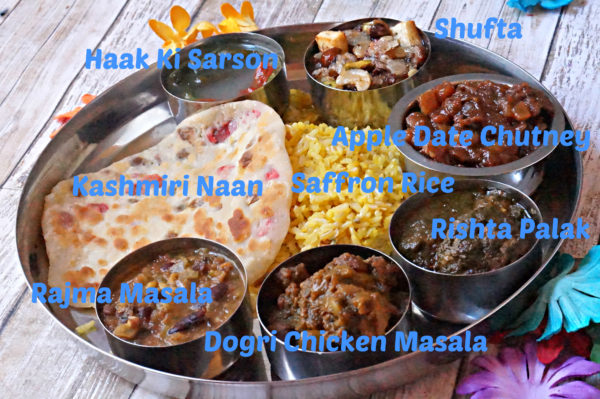 Kashmiri Rajma Masala
Kashmiri Rajma Masala
Kidney Bean Curry
Ingredients
1

cup

kidney beans

soaked overnight

1

bay leaf

2

tablespoons

mustard oil

pinch

aof asoefetida

1

teaspoon

cumin seeds

1

chopped onion

3

tomatoes

pureed

1

tablespoon

grated ginger

1

teaspoon

ground coriander

1/2

teaspoon

red chile powder.

3/4

teaspoon

garam masala
salt

to taste

2

tablespoons

finely chopped cilantro
Instructions
Combine beans, bay leaf and 6 cups water. Bring to a boil. Simmer for at least an hour until beans are tender, adding more water as necessary until beans are cooked.

In a deep skillet, heat oil. Add asoefetida. As soon as it stops sizzling, add cumin seeds and onion. Saute until golden brown.

Add tomatoes, ginger, coriander and chile. Stir to combine. Add half of the beans and mash the beans with the tomatoes, using the back of a spoon or a masher. Simmer for 10 minutes.

Whisk yogurt into 2/3 cup of the bean cooking liquid. Add this and the rest of the beans. Simmer another 5 minutes.

Add garam masala, salt and cilantro. Stir to combine.
Notes
You can skip the soaking and cooking of the beans and use canned beans instead.
Did you try this recipe? Leave a comment below.
Please follow me on Instagram @chefmireille or tag me #chefmireille with your pics! I'd love to share them!