Last Updated on May 20, 2020 by Chef Mireille
Xin Xin de Galinha – Brazilian Chicken in Peanut Shrimp Sauce – From the Bahia region of Brazil, this African influenced chicken stew makes a delicious meal.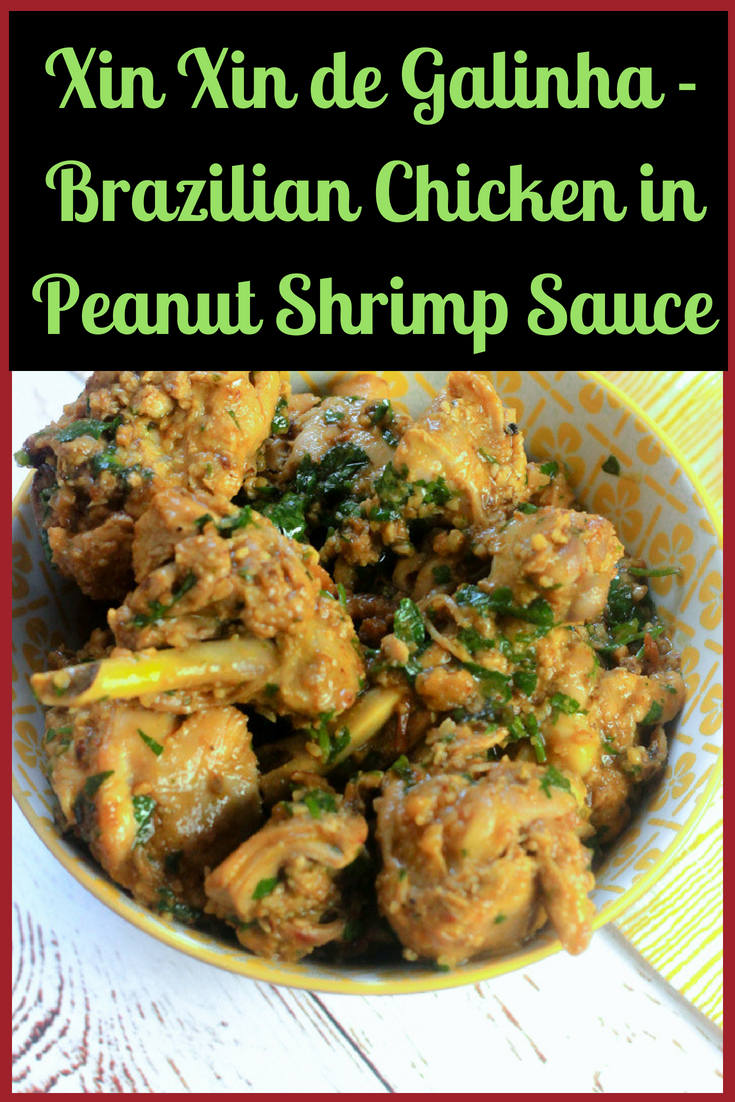 While half of the world wants to be in Brazil right now to see the World Cup matches, I want to be there to try some of the delicious food.
I have been infatuated with Brazil for many years. I have always been a reader since I was a very young child. I know I sound like a nerd, but the library was one of my favorite places to browse and one of my favorite genres of books has always been historical fiction. Love stories, intrigue and deception nestled in the context of the past teaches you about real historical events that occurred while simultaneously inviting you in to the fantasy world of romantic and intrigue filled plots.
I love serial novels. Where you follow the same characters over generations through several novels and I read a series that took place in Brazil, although I can't recall the titles or the author 15 years later. Even though it took place over 200 years ago, it was interspersed with Portuguese words and foods I had never heard of and the fantastical experience of Carnival in Rio. I was just so intrigued – even though I still haven't made it to Brazil 🙁
Back then another habit I had was xeroxing cookbooks. This was before the time of every home having a printer and every printer having a scan option. I was a salaried employee so it did not matter how late I stayed at the office I got paid the same salary. If I stayed late, people just assumed I was doing office work. Once the clock hit 5:30, I would actually switch to my personal work. What I was actually doing was photocopying recipes from cookbooks I had borrowed from the library. Because of that, today I have 3 5″ binders full of recipes and one of these binders has a HUGE section of Brazilian recipes – because of my piqued interest after reading the novels.
At the bottom of this xeroxed page it says South American Cooking – whether that was the title of the book or the title of the chapter, who knows – but this recipe comes from my Brazilian section of the binder.
Brazil is a diverse country with diverse cuisines. In Rio and Sau Paolo, you have the Portuguese descended cuisine of the colonizers. In the south in places like Santa Catarina, you have German and Italian descended cuisine which the original immigrants to that region came from. Then on the Atlantic Coast, you have Salvador – Salvador was the colonial capital of Brazil. Today it is the largest city in the state of Bahia.
The state of Bahia is mostly populated by descendant's of the more than 5000 slaves that were brought from Africa to Brazil. It is reputed to be one of most happiest places in Brazil, with non stop street parties happening at any time. It is also the cultural center of Brazil – where many artists, writers, musicians and dancers call their home. Maybe I am biased being of African decent somewhere down the line but many of the contributions Brazil has made to the world comes from the African descended population. Samba music and capoeira was born in Bahia. It is also known for having the most flavorful food of Brazil – with the spices and flavors brought from Africa. This is a Bahia recipe.
IN THE MAKING – HOW TO MAKE XIN XIN DE GALINHA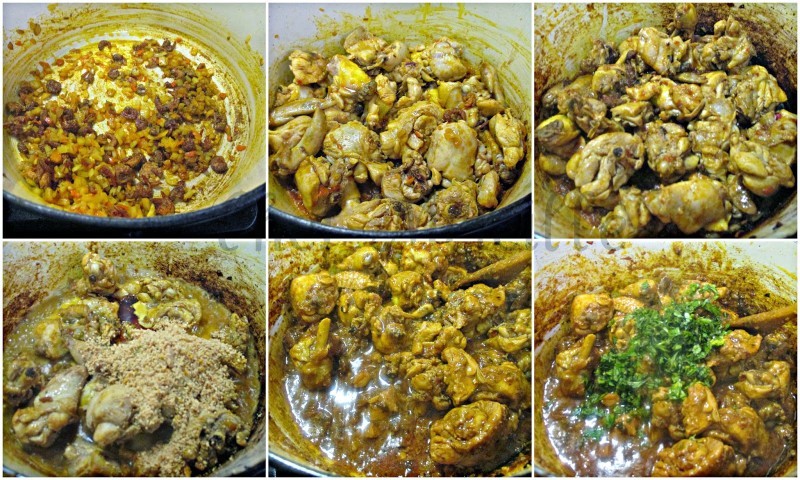 What a delicious chicken dish for any night of the week!
This chicken was phenomenal and definitely one to be repeated.
This post is for the CC Challenge of the month