Last Updated on December 14, 2020 by Chef Mireille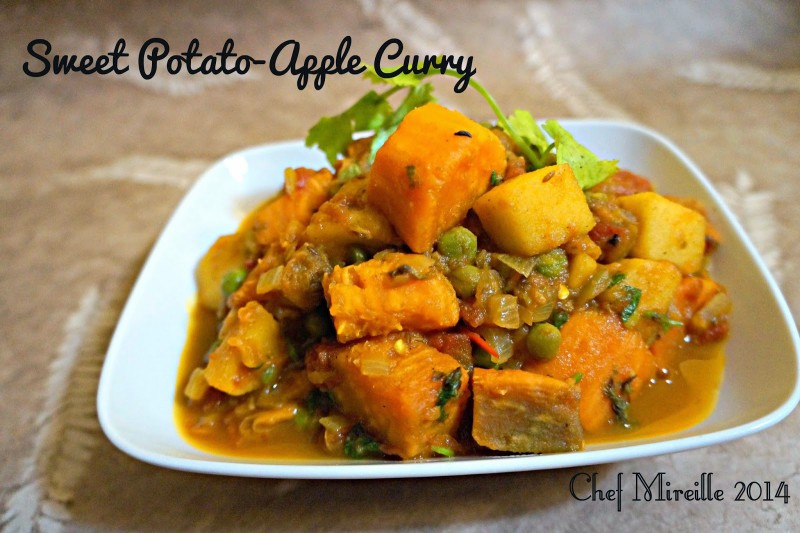 This week I have been paired with another fellow BM blogger and will be doing a few recipes from her site. Sandhya has a large variety of recipes that includes a lot of Indian recipes as well as a lot of baking. She is also a warm and sweet person, as I have also had the pleasure of meeting her personally. She does not live too far from me in upstate NY and one activity that we both like to do is go to one of the local farms that allow you to pick your own produce. She goes apple picking and has many recipes using the apples she picks on her blog. She created this unique curry using some of the glorious apples available in NY state.
I love combination curries like this, where adding more vegetables to it won't really do it any harm and usually will create a more complex flavored dish. I had a little bit of red mustard leaves that were starting to go bad. After I sorted out the salvageable leaves, I had about 1/2 cup of leaves. With the sweet, peppery flavor of red mustard, I was sure that this would be a nice addition to this curry. I thoroughly enjoyed the complex flavors by mixing such an unusual combination of sweet potato, apple and red mustard yielded.
Although I am making it in summer, this is a great autumn curry using ingredients that are available for fresh picking in autumn.
Sweet Potato-Apple Curry
Serves 6
Ingredients:
2 sweet potatoes, peeled and chopped into large dice
2 apples, peeled, cored and chopped into large dice
2 onions, chopped
14.5 oz. can diced tomatoes
3/4 cup frozen green peas, defrosted
2 bird's eye chiles (or green chiles), thinly sliced
1 teaspoon ginger paste
1/2 teaspoon ground turmeric
1/2 teaspoon red chile pepper (cayenne pepper)
1 teaspoon dhana-jeera powder (coriander-cumin)
1/2 teaspoon garam masala
1 teaspoon cumin seed
1 tablespoon oil
salt, to taste
1/2 cup red mustard leaves (optional)
2 tablespoons cilantro, finely chopped
Cook the sweet potatoes in boiling water until they are halfway cooked, about 10 minutes. Drain them and run cold water to immediately stop cooking process.
Heat oil in a large skillet or wok. Add cumin and cook until they start to change color. Add chiles and onions. Saute for a few minutes until onions are translucent.
Add tomatoes, ginger, turmeric, cayenne, dhana-jeera, garam masala and salt. Simmer for 5 minutes.
Add apples and green peas. Stir to combine and cook for about 5 minutes, until the apples start to soften.
Add sweet potatoes and 1 cup of water. Simmer for another 5-10 minutes until potatoes are thoroughly cooked. Be careful not to overcook the sweet potatoes as they will turn mushy.
Add cilantro and mustard leaves. Stir to combine and cook another 2 minutes.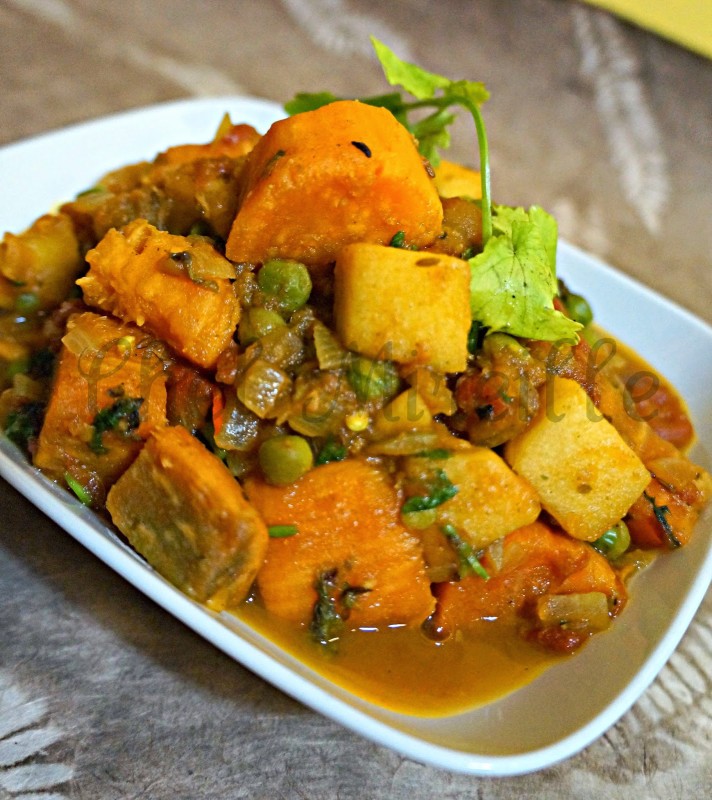 This made a delicious lunch with some brown Basmati rice.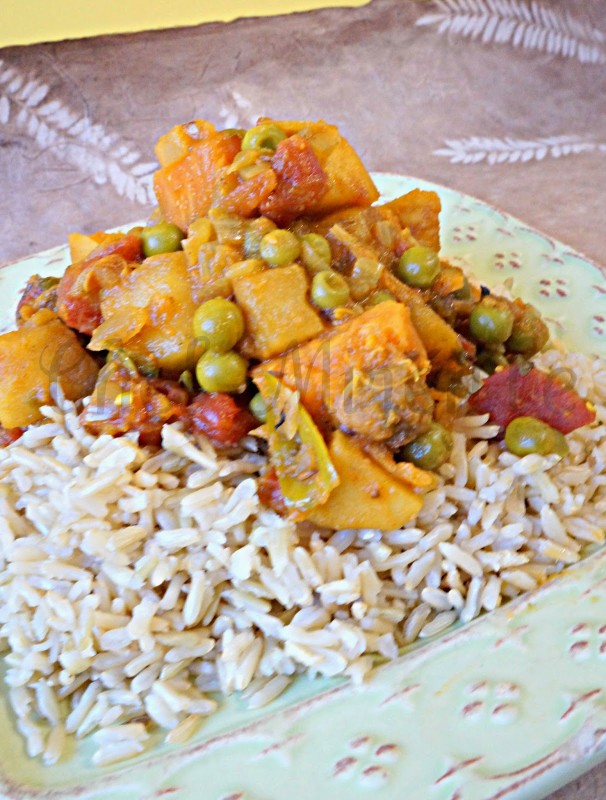 Sandhya cut her vegetables smaller, so they melted more into the gravy creating a creamy texture, however I preferred this rustic method with larger vegetables.
Check out the Blogging Marathon page for the other Blogging Marathoners doing BM#41
LIKE THIS RECIPE? LEAVE A COMMENT..I LIVE FOR THEM!
Chef Mireille