Last Updated on December 14, 2020 by Chef Mireille
15 World Cuisine Recipes – International Recipes with selections from Africa, the Middle East, South Asia, Europe, the Philippines & Mexico.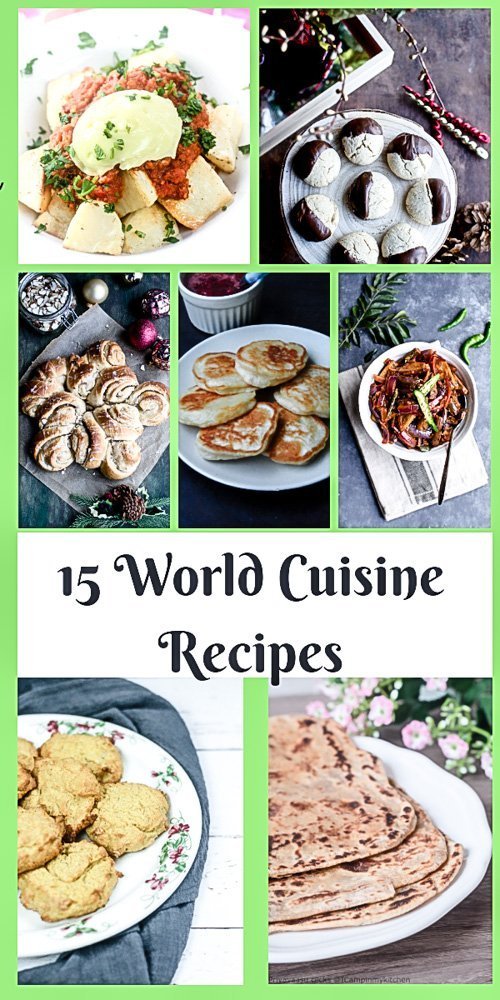 Most month's I participate in the Blogging Marathon, an event where a group of bloggers post on a particular subject. This event has been going on for almost 10 years. In order to keep it going, the organizer, Srivalli of Spice Your Life, has to go into brain gymnastics to come up with new and interesting themes.
One of the theme's last month was Capital City by Letter. Huh? What do I mean by that? Well, we had to pick a letter of the alphabet, find 3 countries whose capital cities start with that letter and cook a recipe from each country – Now you know what I mean when I say brain gymnastics!
Now you know this theme is right up my alley with my international food focus on this site!
So what did me and my blogger friends come up with – Read on for the virtual tour of recipes around the world.
With the letters of M, P, R, S, we are giving you a tour around the world from Paris to Prague, from Rome to Rabat, Stockholm to Sofia and Manilla to Maseru – just about every continent was explored!
Let's get started with some global inspiration for you to add to your menu this week!
Flatbread & Pancake Recipes

Maldouf – Omani Date Flatbread
Meloui – Moroccan Flaky Flatbread
Livance – Czech Yeasted Pancakes
Bun & Biscuit Recipes

Pan de Coco – Filipino Coconut Buns
Mealie Cakes – Lesotho Corn Biscuits
Pasta Recipes
Side Dishes & Condiments
Janu Siers – Latvian Cheese
Patatas Bravas – Spanish Tapas
Dessert Recipes

Medenki – Bulgarian Cookies
Alouda Cold – Mauritius Basil Seed Dessert Drink
Maja Blanca – Filipino Gluten Free Coconut Pudding
Do you know anyone else who likes learning about international food, culture, history and travel? Bring them over here to join the party! Don't forget to use those share buttons!
Start Here to find out how the Schizo Chef can help you with your cooking, travel and other needs!
If you like this recipe, PLEASE LEAVE A COMMENT & SUBSCRIBE!