Last Updated on May 19, 2020 by Chef Mireille
Waakye – Ghanian Rice & Beans – Guest Post – Wakkye is a popular rice and beans street food from Ghana, often had for breakfast.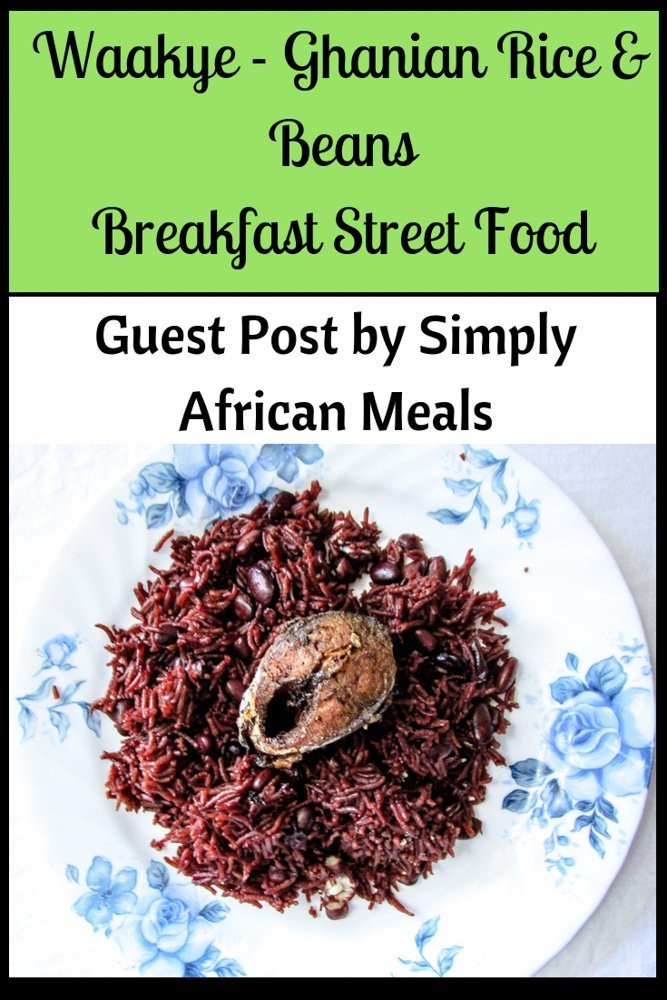 As you know, this blog is all about highlighting the foods of different cultures around the world. To that end, I have invited Fred from Simply African Meals to share a little bit about his culture.
Waakye is a popular street food in Ghana. Let's let him tell you about it!
---
The word alone makes my mouth water , it is a popular street food in Ghana that you'll see on almost any street corner. I remember sometimes how I'll have discussions with my friends about how the Waakye at home tasted so different than what was on the street. I will always wake quite early everyday and call up my friends so we can go to Ms Hawowo for our waakye breakfast. I know what you're thinking, but Fred isn't that kind of heavy for breakfast? Once we have that for breakfast we're not going to eat until dinner time.
Waakye, is a Ghanaian favorite dish made out of beans and rice with some spices. Although sometimes it is cooked using spices such as maggi (bouillon cubes) or local green vegetables, this is a simple preparations though just as delicious. The beans used are normally black-eyed peas, some use red or pinto beans. It is usually served with Shitto (West African hot sauce), Gari (ground cassava), Talia (Spaghetti) 🙂 and your choice of a hardboiled egg, meat or fish; some people eat it with all three.
Now that's a healthy and hearty way to start the day!

Waakye – Ghanian Rice & Beans – Guest Post
Ingredients
1

pound

of black eyed peas

pinto or red kidney beans can also be used

5

cups

of rice

1

tablespoon

of baking Soda

1

teaspoon

of salt
Instructions
Boil your beans in 5 cups of water for 30 minutes on medium high heat.

Add rice and 2 cups of water.

Add baking soda and salt right after your add in the rice and water.

When it's boiling, watch it because it may boil over because of the introduction of the baking soda.

Adjust flame as needed if it boil over.

Cook the waakye at medium heat with constant stirring every 10 minutes for 30-45 minutes, until the rice is tender.
Nutrition
Calories:
653.04
kcal
|
Carbohydrates:
143.16
g
|
Protein:
12.97
g
|
Fat:
1.21
g
|
Saturated Fat:
0.32
g
|
Sodium:
633.93
mg
|
Fiber:
3.78
g
|
Sugar:
2.27
g
Did you try this recipe? Leave a comment below.
Please follow me on Instagram @chefmireille or tag me #chefmireille with your pics! I'd love to share them!
---
Isn't that a fabulous way to celebrate breakfast!!!
Ghana has so much more to offer and let's take a look at the other Ghanian Recipes I've previously presented!
Ghanian Recipes
Kelewele – Ghana Style Fried Plantain
Tatale – Sweet Plantain Fritters
Do you know anyone else who likes learning about international food, culture, history and travel? Bring them over here to join the party! Don't forget to use those share buttons!
Start Here to find out how the Schizo Chef can help you with your cooking, travel and other needs!
If you like this recipe, PLEASE LEAVE A COMMENT & SUBSCRIBE!