Last Updated on January 10, 2020 by Chef Mireille
Poseidon Bakery – Traditional Greek Pastries in NYC – a staple in Hell's Kitchen for almost 100 years.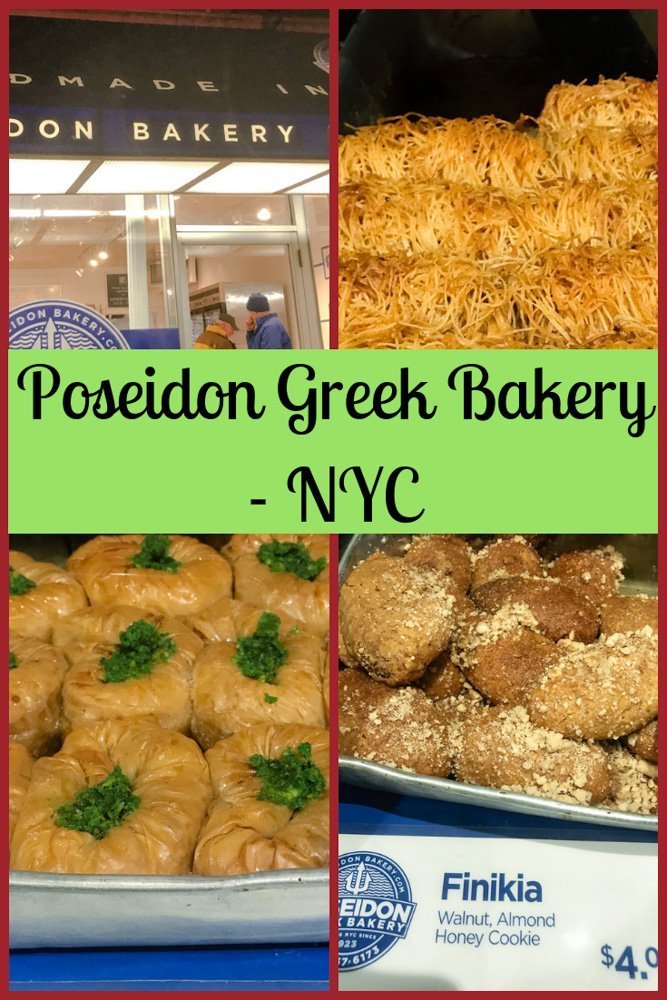 One of the best reasons to travel to NYC is that you can feel as if you've done a world tour with just a visit to NYC. Malaysian food at Nyonya, Tibetan food at Cafe Tibet, Peruvian food at Urubamba, Thai food at Sripaphai, Soup Dumplings at Joe's Shanghai, Yemeni cuisine at Yemen Cafe, South Indian Vegetarian cuisine at Tiffin Wallah, Sri Lankan food at New Asha or Russian food at Brighton Beach and so much more is just a quick subway ride away. It's a lot cheaper using public transportation in NYC than buying a plane ticket to visit all these countries. Until your budget allows you to visit these countries, make the most out of your NYC visit by exploring all the international food we have to offer.

Poseidon Bakery
One place you can't leave without a visit to is Poseidon Bakery.
Poseidon Bakery has been cooking up Greek Pastries in NYC since 1923. Located in the heart of Hell's Kitchen, it is near the Theater District. Pick up some pastries here to take back to your hotel, where you can enjoy them with a cup of tea or coffee after you've taken in a Broadway show!
Although there are a few stools for you to sit down at, it's more of a grab and go kind of place.
Although they have a few of the typical savory treats like Spanikopita, it's their sweets that they are known for. If you've never had Greek desserts before, be prepared for a lot of honey and nuts.
Since Greek desserts are very sweet, you only need a few bites to feel your sweet tooth has been satisfied. It's best to get your Poseidon treats to share as each piece is definitely enough for 2-3 people.
As I've made versions of Koularakia and Kourambiedes before, I was really excited to try some of the other treats that were new to me. However, we still couldn't resist getting a few of these Greek classics.
A friend and mine went and got a bunch of stuff and then came home and sampled everything together. Perfect way to celebrate a weekend brunch!

Greek Pastries
My favorite was the Trigona stuffed with almonds and almond paste.

Finikia I ended up not trying because I just didn't have room for another bite after indulging in the other pastries., but my friend did. She said it was good, but very sweet. However, she just may not be used to the sweet levels of Greek pastries.

Pastelli is the Greek version of brittle, with almonds, sesame seeds, and sunflower seeds. I loved this version of brittle. Not sure if some rose water or orange blossom water was added, but it had a great flavor.

There were a few other options that I did not purchase and will have to try the next time. Of course, they had baklava,,,but so much more…
Saragli, stuffed with walnuts and almonds.

Kataif made with walnuts, cashews and almonds inside shredded phyllo.

Afali with pistacchios.

Location
Poseidon Bakery
629 9th Avenue, NYC
(212) 757–6173
Don't forget to check out some of the other reasons to visit NYC:
Do you know anyone else who likes learning about international food, culture, history and travel? Bring them over here to join the party! Don't forget to use those share buttons!
Start Here to find out how the Schizo Chef can help you with your cooking, travel and other needs!
If you like this recipe, PLEASE LEAVE A COMMENT & SUBSCRIBE!