Last Updated on January 11, 2020 by Chef Mireille
Uzbeki Samsa – Cumin Scented Lamb Pastries – This is the Uzbeki version of a samosa, however, gets puts together easy shmeezy with store bought puff pastry.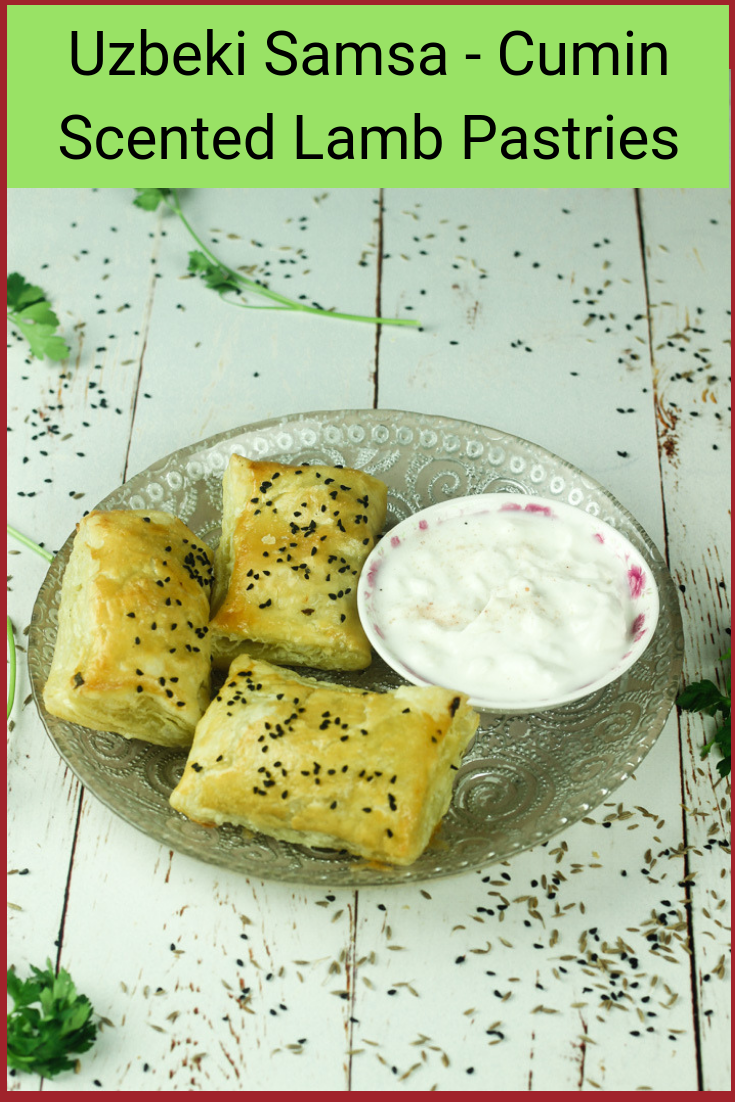 Pretty much every culture in the world has some version of a stuffed pastry that can include both a variety of vegetable or meat stuffings and then its either fried or baked and occasionally steamed. In Latin America, you have empanadas, in the UK you have pasties, Central Asia has dumplings, South Asia has samosa and Near Asia has samsa.
Much of Indian cuisine is derived from Persia as the Mughlai Empire ruled over India and most of that part of the world for a long time. Therefore, it's easy to see the connection between samosa and samsa.
However, samosas usually use a nan dough kind of pastry and Uzbeki samsa uses puff pastry. While they often make a home made puff pastry, since it is such an easy readily available supermarket product here, I embrace convenience.
Do you look for convenient time saving tips in the kitchen also – well, I am going to show you how this became a two for one recipe. One package of 1 lb. ground lamb turned into 2 recipes – and both of these recipes can easily be frozen after they are made and then reheated as needed.
2 for 1 Recipe
Ground lamb is generally sold in 1 lb. packages where I purchase them, however often I don't need an entire pound as in this recipe. I cooked the entire 1 lb. of lamb. I simply then added a few extra spices to make the filling a bit more Indian and used the rest of it to make Keema Naan (lamb stuffed Naan flatbread). What is great is that both the Samsa & Keema Naan are both recipes that don't deteriorate once frozen. Make both and freeze one. Then a few days later or whenever needed, simply defrost and reheat and your meal is ready!
The Uzbeki Samsa can easily be paired with a green salad and with the Keema Naan, all you need is chutney and raita.
I've halved the lamb and written the recipe below only for Uzbeki Samsa but if you are interested to know how I turned a 1 lb. package of ground lamb into Keema Naan also, make sure you subscribe so you don't miss the Keema Naan Recipe. Not to mention, there's a bunch of Freebies you get with your subscription!
KEEMA NAAN
HOW TO MAKE UZBEKI SAMSA
Simply serve with some lightly seasoned yogurt and it's a great party food to serve at your holiday event!
Now isn't this a delicious bite!
Uzbeki Samsa – Cumin Scented Lamb Pastries
Uzbeki Samsa are lamb stuffed pastries that come together easily with puff pastry.
Ingredients
1

tablespoon

oil

3/4

teaspoons

cumin seeds

1/2

finely chopped onion

1

finely chopped garlic cloves

1/2

lb.

ground lamb

2

tablespoons

finely chopped parsley

1

tablespoon

finely chopped mint

salt and pepper

to taste

1

package frozen puff pastry

1

egg

1

teaspoon

black onion seed/nigella

black onion seed
Instructions
Preheat oven to 400 F.

Line a cookie sheet with parchment paper and spray with non stick spray.

Take puff pastry out of the oven to defrost.

In a skillet, heat oil.

Add cumin seed,

Once the cumin seed starts to change color, add onion.

Saute until softened and translucent.

Add ground lamb and cook until browned and thoroughly cooked.

Add parsley, mint, salt and pepper. Stir to combine.

Check and see if the puff pastry is pliable. If not, wait until it is. It should not take more than 30 minutes, maximum - depending on the temperature where you live.

On a lightly floured board, take one sheet of puff pastry and dock it by piercing the dough with the tines of a fork or use a docking tool, if you have one.

Cut each puff pastry sheet once horizontally in half and twice vertically into thirds. You should get 6 pieces from each puff pastry sheet.

Spoon about 1 1/2 tablespoons of filling on each piece of puff pastry. Brush a little water on the perimeter. Fold over, pressing the sides together so they are well sealed.

Repeat until all the dough has been utilized.

In a small bowl beat egg with 1 tablespoon of water to make the egg wash.

Brush the tops of each pastry with egg wash and then sprinkle some nigella seeds on top.

Bake 25-30 minutes, until golden brown.

Serve with yogurt, seasoned lightly with a little salt and lemon juice.
Did you try this recipe? Leave a comment below.
Please follow me on Instagram @chefmireille or tag me #chefmireille with your pics! I'd love to share them!
Do you know anyone else who likes learning about international food, culture, history and travel? Bring them over here to join the party! Don't forget to use those share buttons!
Start Here to find out how the Schizo Chef can help you with your cooking, travel and other needs!
If you like this recipe, PLEASE LEAVE A COMMENT & SUBSCRIBE!
Check out the other bloggers doing this Bake-a-thon
[inlinkz_linkup id=803887 mode=1]