Last Updated on August 29, 2021 by Chef Mireille
Pumpkin Coconut Flour Tea Cake – A more savory than sweet tea cake that is gluten free and low carb!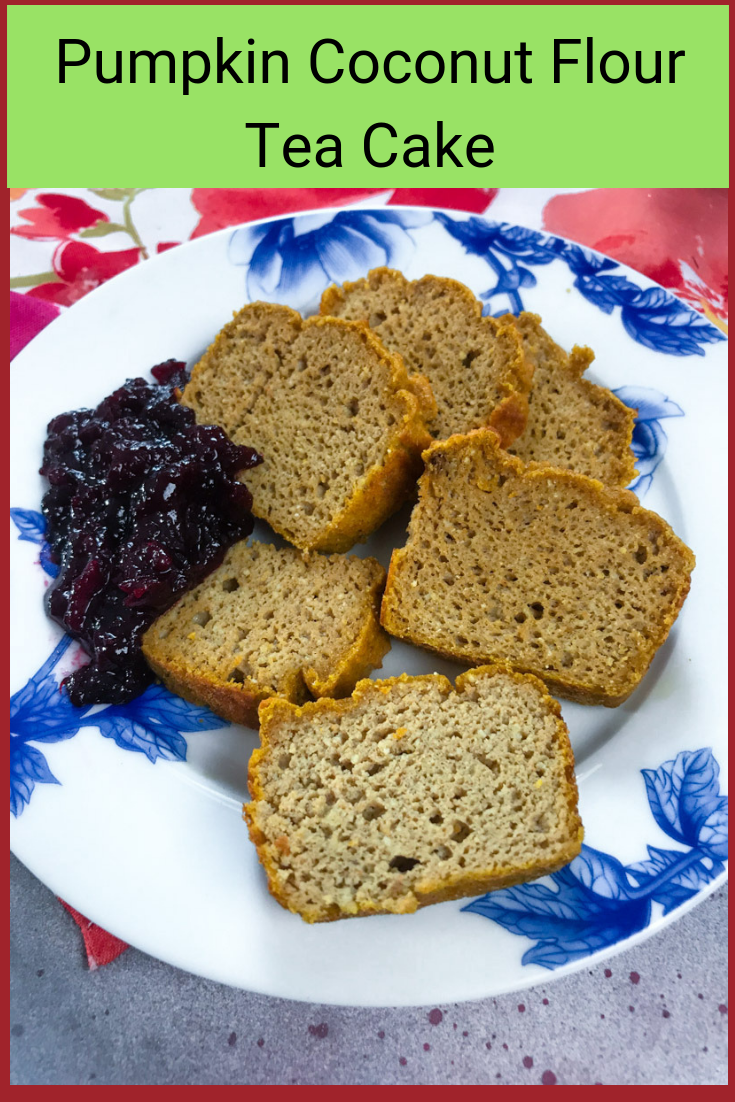 If you are a foodie, whether you choose to practice a modified diet like gluten free or low carb or not, you have to be living under a rock to have not heard of the coconut flour craze. Coconut flour recipes are everywhere, so I have finally come up with a unique delicious coconut flour recipe for you. The uniqueness happened by accident which I will describe – it is one of those occasions when being a little absent minded produced a delicious result I otherwise, would not have even imagined.
..but before we get to my story , a little about Coconut Flour…
Coconut Flour
I first tried to make something with coconut flour several years ago, when I first noticed it in the market. I always like to experiment with new ingredients, so I was game. Back then, it was a very new item so there weren't a bunch of recipes online for me to use as a guide. I pretty much replaced the same quantity of coconut flour as I would use with regular flour and boy, was it a disaster. I gave up and eventually threw out the rest of the bag of coconut flour as I just didn't know how it worked and to tell you the truth, it wasn't exactly a priority for me.
Coconut Flour has a very high absorption rate, which means it absorbs liquid fast and to its fullest potential. You will generally need about 1/4 cup of coconut flour to replace 1 cup of wheat based flour in any recipe. Without the gluten from the flour, you also need to increase the number of eggs in cakes to get the desired rise.
---
OK now let's get back to how I came up with this cake. Recently, I have been seeing so many recipes with coconut flour. It is a great option if you need to maintain a gluten free or low carb diet. Since so many recipes are available online and one of my BM buddies uses it quite a lot, I decided to go to Gayathri for a base recipe and then changed some of the flavorings to make my own Coconut Flour recipe. However, I neglected to read the part where she said she used bananas for sweetness and as I was multi-tasking and cooking other things simultaneously, it did not even occur to me that there is no sugar in this cake.
Boy was I surprised when I took a bite of it after it came out of the oven. I then took a second bite and I was happily but unexpectedly shocked at how much I liked it. It just wasn't the sweet cake I was expecting. It's kind of hard to describe, you taste the salt yet it's not salty like a cracker and it does have a little natural sweetness from the pumpkin. The result is a cake that is neither sweet nor salty, yet tastes more savory than sweet.
It's something you are just going to have to taste yourself to find out what I am talking about. However, it went perfectly with a cup of green tea, which I had infused with some cardamom. Although I don' understand it, there are some people who weren't born with a sweet tooth and don't like sweets. If you are one of those people, this is the tea cake for you!
However, if you still think it needs a little sweetness, pair it with Cranberry Sauce and it makes the perfect holiday treat…or you can do like my Mom did when I gave her some and have it with peanut butter but she puts peanut butter on everything, so that is only if you are a peanut butter lover like her!
I actually loved it paired with the Cranberry Sauce and the perfect seasonal treat for holiday season!
The cake has a really light and porous texture!
Pumpkin Coconut Flour Tea Cake
Pumpkin Coconut Flour
Tea
Cake is a gluten free low carb tea time cake. #glutenfree #lowcarb #teatime
Ingredients
4

tablespoons

melted butter

1/2

cup

canned pumpkin puree

6

eggs

1

teaspoon

vanilla extract

4

tablespoons

coconut flour

1

teaspoon

baking powder

1/2

teaspoon

ground cinnamon

1/4

teaspoon

salt
Instructions
Preheat oven to 350 F.

Spray 4 of the cavities in a 6 cavity mini loaf pan with non stick spray.

in a large bowl, combine butter, pumpkin puree, eggs and vanilla.

Beat well until well combined

In a small bowl, combine coconut flour, baking powder, cinnamon and salt.

Add to wet ingredients and mix until thoroughly combined.

Divide batter into 4 cavities of a mini loaf pan.

Put a little water in the empty cavities to ensure even baking.

Bake for 40 minutes, until a tester inserted comes out clean.

Let cool. Remove from pan and slice, to serve.

Serve on its own with a cup of tea or with cranberry sauce.
Notes
For a sweet version, add 1/2 cup of sugar or 1 mashed banana.
Nutrition
Calories:
120
kcal
|
Carbohydrates:
4
g
|
Protein:
5
g
|
Fat:
9
g
|
Saturated Fat:
5
g
|
Polyunsaturated Fat:
1
g
|
Monounsaturated Fat:
3
g
|
Trans Fat:
1
g
|
Cholesterol:
138
mg
|
Sodium:
178
mg
|
Potassium:
131
mg
|
Fiber:
2
g
|
Sugar:
1
g
|
Vitamin A:
2737
IU
|
Vitamin C:
1
mg
|
Calcium:
47
mg
|
Iron:
1
mg
Did you try this recipe? Leave a comment below.
Please follow me on Instagram @chefmireille or tag me #chefmireille with your pics! I'd love to share them!
Don't forget to visit the RECIPE INDEX with over 1000 recipes from around the world including lots of Vegetarian Recipes and Gluten Free Recipes!