Last Updated on June 3, 2015 by Chef Mireille

These cookies are a traditional northern Italian treat from the Valle d'Aosta region of Italy. Somewhere between a breadstick and a cookie, it makes a wonderful nighttime treat with tea, as it is not too sweet. Although not traditional, I used a little colored sugar just to make them look a little more festive.
I joined We Knead to Bake back in January, but when the April recipe was announced, I had yet to complete any of the previous months so it was time to play catch up. Eventhough I now have posted the Pull Apart Bread and the Milk Bread will be posted later in the week, these were actually the first recipe I tried for the group.
I am not an especially artistic person and I usually tend to avoid recipes that have me shaping dough. I prefer to use muffin tins, loaf pans or cookie cutters to achieve the desired shape. However, I gave it my all in forming these loop shaped cookies.
However, there were other challenges like me forgetting to let it rise a second time before putting it in the oven. So after 5 minutes in the oven, I quickly pulled it out and let it rise for about 10 minutes before sticking it back in the oven for 20 minutes. I could have redone the recipe as it is rather a simple one, but they still came out delicious despite the unorthodox in and out of the oven procedure, so I decided to post it as is. However, the recipe below is the original Nick Malgieri recipe used without my unplanned deviation. This shows what I always believe – recipes should be used as a guide, but they are not the Holy Grail and it's your job as a cook to adapt to circumstances and make it work for you!
Mine are a little less puffy than these cookies usually are, but no one I shared them with minded!
Torcettini di Saint Vincent
Yield: 18-24 cookies
Ingredients:
1 1/2 cups all purpose flour
1/4 teaspoon salt
3 tablespoons butter, softened
1/2 cup warm water (110 F)
1 1/4 teaspoons dry active yeast
zest of 1 lemon, chopped
1/3 cup sugar
2 teaspoons colored sugar (optional)
Sprinkle yeast over warm water and let rest for 5-10 minutes, until foamy.
In a large bowl, combine flour, salt, yeast and butter. Mix until fluffy. Add the yeast mixture and knead for a few minutes until you have a soft and pliable dough.
Place in a greased bowl. Cover with plastic wrap and a kitchen towel. Let rise for 1 hour – 1 1/2 hours until the dough is bubbly, however, it won't be double in size as with most bread doughs.
Wrap in plastic wrap and place in refrigerator 1-24 hours. Mine was in the refrigerator for about 8 hours.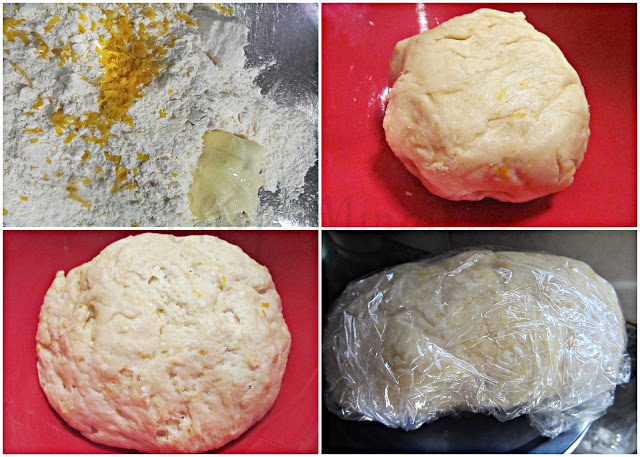 On a cutting board dusted with a little of the sugar, Roll into as close to a 6″square as possible. With a pizza wheel, cut into evenly sized squares. Combine the smaller pieces at the edges to form one cookie.
Place the sugar on a plate.
Take each piece of cut dough and roll into a pencil sized rope, about 5″ long. Roll in the sugar and form a loop. Place on a parchment lined cookie sheet. Let rise for 20 minutes.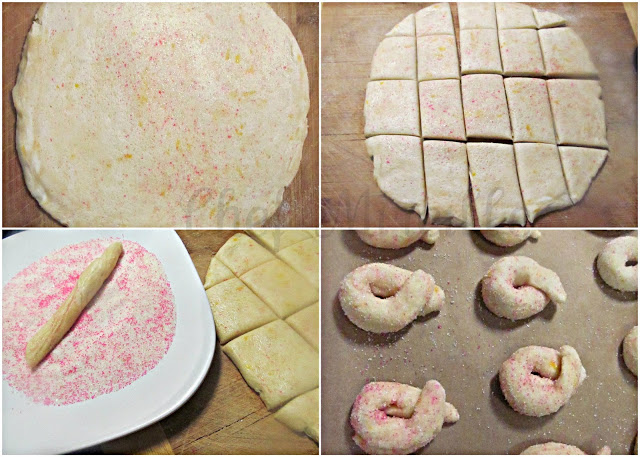 Preheat oven to 325 F. Bake for 25 minutes, until slightly golden and crispy.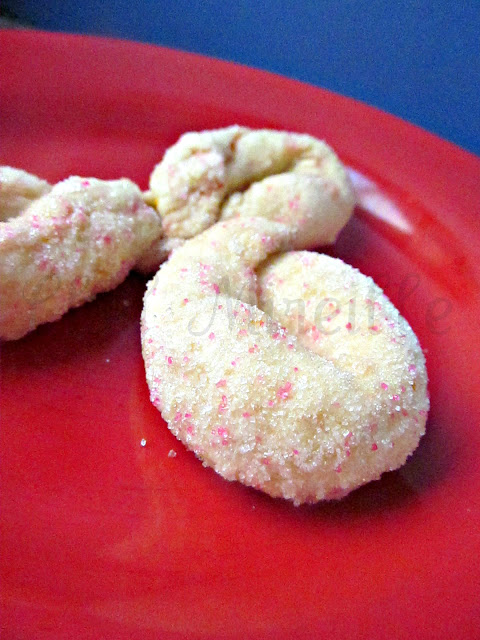 This sweet breadstick is so yummy with coffee or tea. Thank you Aparna for introducing me to this Italian sweet treat!
…linking to Julie's Flavors of Cuisines hosted by Priya
LIKE THIS RECIPE? LEAVE A COMMENT..I LIVE FOR THEM!
Chef Mireille