Last Updated on December 16, 2020 by Chef Mireille
As I've mentioned before, one whole section of my extra large extended family is Indonesian because there is a large Indonesian population in multi-cultural Suriname where my grandfather is from. Although it is one of my favorite cuisines, I only know how to make a few dishes like Bami (Noodles), Nasi Goreng (Indonesian Fried Rice), Satay (Grilled Meat with Peanut Butter-Coconut Milk Sauce) and Bojo (flourless Cassava Coconut Cake) because I only have the opportunity to experience home cooked Indonesian food when I am visiting that section of my family in Holland (where they currently live) or when they visit us here in NY.
When I first started blogging, one of the first blogs I started following was Indonesia Eats. Not only did she present recipes from one of my favorite cuisines, but as a food photographer her site is full of food porn – breathtaking food photos! I was so happy when she honored my request to do a guest post for me of an authentic Indonesian meal. Without further ado, here's the recipe and introduction in her words:
Can you think a dish that includes goat meat, cabbage, coconut, kecap manis and coconut milk? If you have been to Central Java of Indonesia or at least to Java island, you will know tongseng kambing. Tongseng Kambing is a popular dish from Solo (known as Surakarta) but this dish has been spread out all over Java island as a street food.
When Mireille of Chef Mireille's Global Creations offered me to be her guest post, I was so happy. Her blog carries many different ethnic foods. She told me that she needs something unique from Indonesia which is not well known. I'm sure there are tons of blogs out there that have things like Nasi Goreng and Satay. Thanks for the opportunity to introduce the classic Indonesian dish to your readers.
I picked Tongseng Kambing to be presented for this guest post.
Though many Indonesian blogs have a recipe of tongseng kambing but they are mostly written in Indonesian.
How am I describing tongseng kambing or this Solo style goat, cabbage and coconut stew? Just like other Central Javanese foods, sweet is a predominant taste. However, I slightly changed the recipe due to my tastebud can't handle sweetness quite good. Tongseng Kambing has a combination of spices taste, slightly sour from tomato, sweet from kecap manis, hot from ground white pepper and chilies.
Tongseng Kambing Recipe
Solo Style Goat, Cabbage, Coconut Stew
Ingredients:
454 grams (1lb) goat chunks bone-in
750mL (3 cups) water
250mL (1 cup) coconut milk (60% concentrate – 60% coconut 40% water)
200 grams cabbage, roughly sliced
3 pieces cloves
3 roma tomatoes
12 bird eye chilies, halved
1 lemongrass, take the white part and bruised
4 kaffir lime leaves, discard the midrib and torn
2 teaspoons ground white pepper
1 green cardamom
3 tablespoons kecap manis
sea salt as desired
3 tablespoons cooking oil for stir fry
fried shallot for sprinkle
Spices to be ground:
4 shallots (use 8 if you use the smaller size one)
4 cloves garlic
1 cm (0.4 inch) galangal
2cm (0.8 inch) fresh turmeric root, toasted and peeled (can be substituted for 1 teaspoon ground turmeric)
3 candlenuts
1 teaspoon coriander seed, toasted
½ teaspoon toasted cumin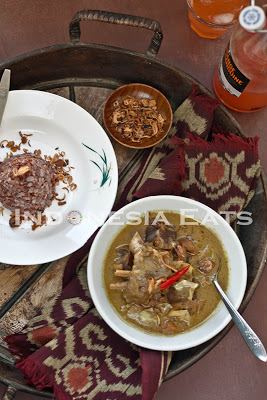 Method:
· Process all spices that to be ground either with food processor or mortar and pestle until smooth.
· Heat up a pot or dutch oven at medium high, add cooking oil and stir fry the spice paste until fragrant.
· Add lemongrass, kaffir lime leaves, green cardamom, and cloves. Continue stirring untill all spices well mix and fragrant.
· Add goat pieces . Stir until goat meat is changing color.
· Add water, ground white pepper and chilies. Bring to a boil.
· Reduce the heat to low. Add coconut milk, cabbage and tomatoes. Continue cooking until the cabbages is soften. Add seasalt and taste.
· Serve in a bowl and sprinkle with fried shallot.
LIKE THIS RECIPE? LEAVE A COMMENT..I LIVE FOR THEM!
Chef Mireille