Last Updated on June 3, 2015 by Chef Mireille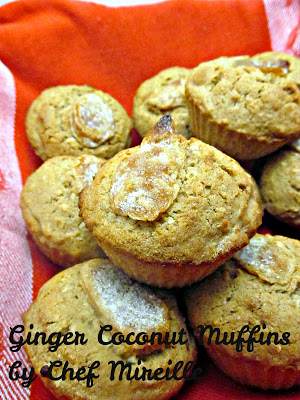 It's time for #MuffinMonday again. Today it's a coconut muffin, but with a gingery lemony twist. Only moderately sweet and with the use of whole wheat flour, these are kind of on the healthy side – for a muffin.
Ginger Coconut Muffins
Serves 11
Ingredients:
1 stick butter, softened
1/2 cup all purpose flour
1 cup whole wheat flour
1/2 cup dessicated coconut
2 teaspoons baking powder
1/2 teaspoon salt
1 teaspoon ground ginger
1/2 teaspoon lemongrass powder
1 lemon, juice and zest
3/4 cup firmly packed brown sugar
2 eggs
2 tablespoons milk
11 slices of dried candied ginger/crystallized ginger
Preheat oven to 375 F. Spray muffin cups with non stick spray.
In a small bowl, combine the flours, coconut, baking powder, salt, ground ginger and lemongrass powder.
Mix butter and sugar until creamy. Add eggs, one at a time, beating well, after each addition. Add lemon juice and lemon zest and mix well.
Add the dry ingredients in two additions, mixing well after each addition.
Add milk and mix.
Divide between 11 muffin cups. ( I used silicone muffin cups, which are a little smaller than a standard muffing tin. If using a standard muffin tin, you can make 9 muffins from the batter.) Place a small slice of candied ginger on top.
Bake for 20 minutes, until a toothpick inserted comes out clean.

The crystallized ginger will soften in the oven.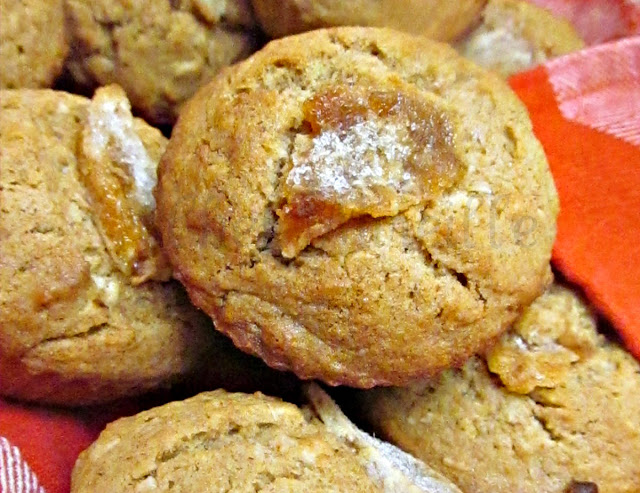 Another delicious muffin!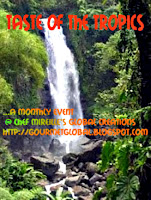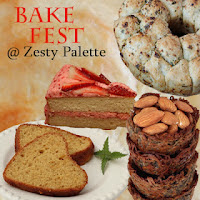 ….linking to my own Taste of the Tropics – Ginger event & Bake Fest hosted by Sayantani
LIKE THIS RECIPE? LEAVE A COMMENT..I LIVE FOR THEM!
Chef Mireille