Last Updated on June 3, 2015 by Chef Mireille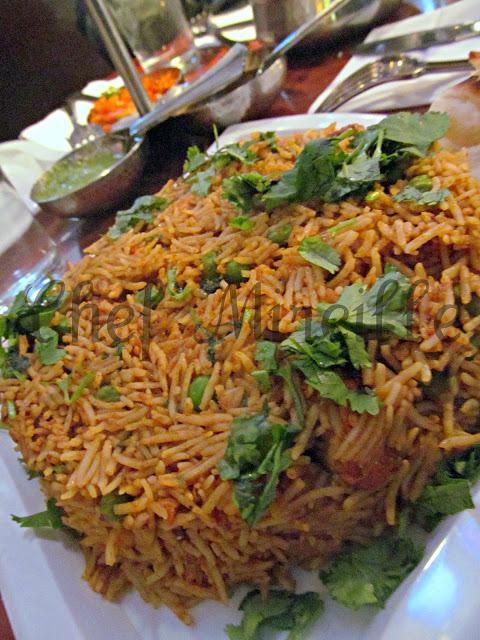 Chicken Tikka Biryani
After spending a fun day at the Kids Food Festival (post about that event coming soon) with my friend and her two kids, we were starving. Since I prepare so much Indian food at home, I was thinking to have something else, but my friend's firm request was Indian food. She is from Dominican Republic and only eats Indian when she is with me because she trusts me to order for her. Otherwise, she says she wouldn't know what to order, so Indian food it was.
In the Grand Central Station neighborhood where we were, most restaurants cater to the M-F working clientele and few are open on the weekends. On the way to Darbar, which is my go to restaurant in this neighborhood, we happened upon Maharaja. Since I had eaten at Darbar recently, I did not want to go there. When I used to work at the Chrysler Building, I used to frequent Maharaja. Not because I thought it was good, but because it was convenient as there were very few Indian restaurants in the neighborhood at that time. However, their food was always greasy. I remember the bag always being completely soaked through by the time the delivery guy walked the 3 blocks over to my office. With all the competition in the neighborhood now, I figured they had to be doing something right to still be open so I was game to give them a try.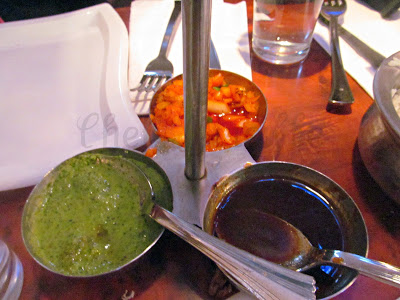 The meal started with the standard papadum served with three chutneys. It was good, but if an Indian restaurant can't do that right, they really shouldn't be open. Next came the dilemma of what to order. My friend's daughter is the pickiest child I have ever met – she eats cheese, but only white cheese – she'll eat rice and chicken, but not with beans. Bribery is resorted to often when we want her to try something new. Finally, we decided on Nan bread which she does like and some simple Chicken Kebab. She was so glued to the Bollywood movie on screen that before she knew it, she had completely finished her plate of Nan and Chicken.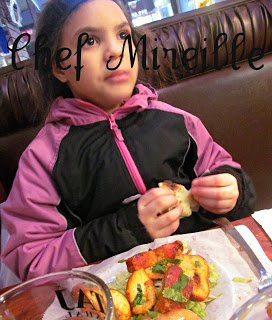 I had the Chicken Tikka Biryani which was seasoned well and not greasy at all. This restaurant has improved by miles in the past several years and their large portions make it well worth the cost. The biryani was not greasy at all My friend shared the Seafood Jalfrezi with her shrimp obsessed son and if you need any indication of whether it was enjoyed or not, here is their plate after it was done.
This place is not appropriate if you are looking for ambiance with their plastic plates and cutlery and dark lighting, but for good flavorful Indian food that has a light hand with ghee and oil, I recommend Maharaja for a casual lunch.
LIKE THIS RECIPE? LEAVE A COMMENT..I LIVE FOR THEM!
Chef Mireille