Last Updated on November 13, 2019 by Chef Mireille
Cheese Stuffed Arepas & Beans – Vegetarian Dinner South American Style – Arepas, Beans and Curtido (pickled cabbage salad) is a complete Vegetarian meal.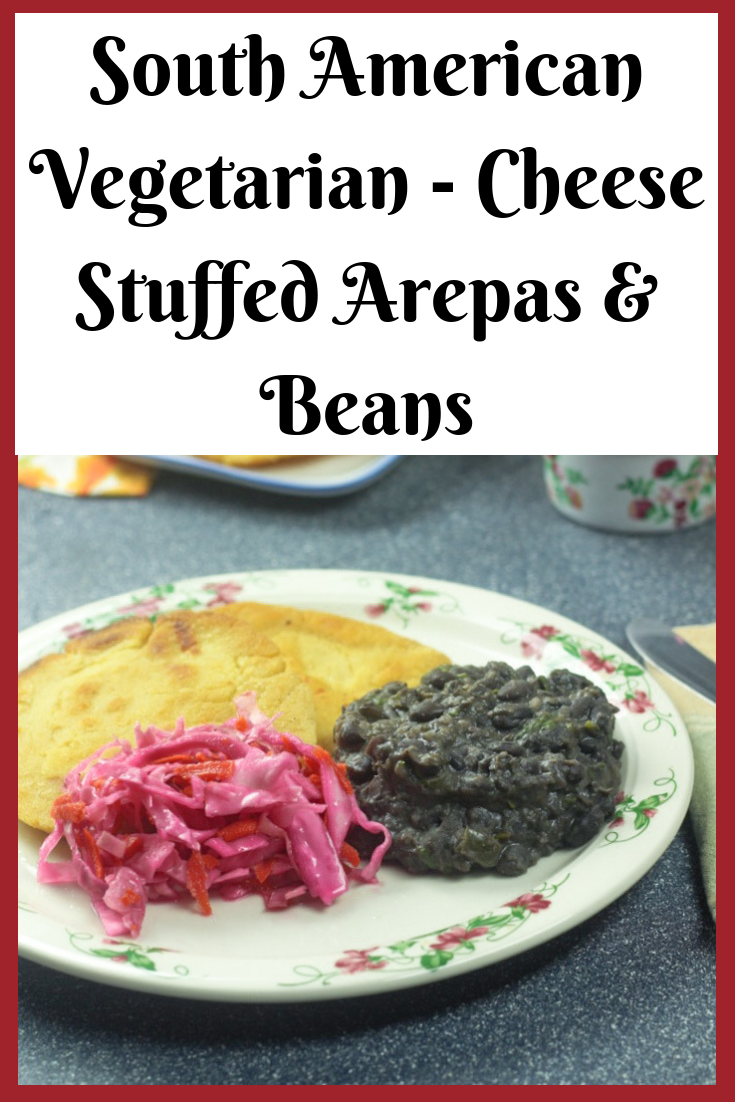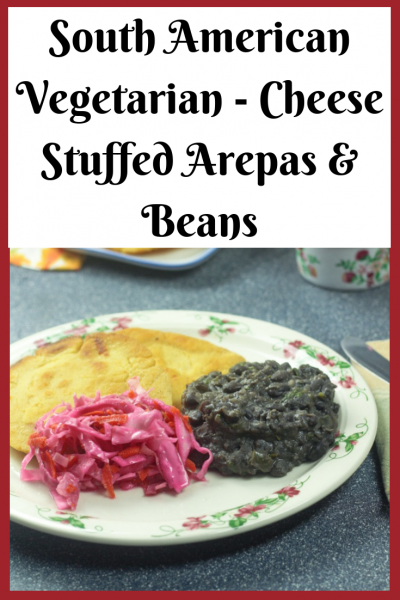 South American Arepas can be eaten with every meal in South American sometimes with rice or sometimes instead of rice. South American arepas, similar to pupusas in  El Savador, Honduras and Nicaragua, are most popular in Columbia, Ecuador and Venezuela.
Ditmas Park, Brooklyn
I live in one of, if not the most diverse communities in the country as detailed in this article here.  Being someone who likes to cook different cuisines from all over the world, I am so lucky to have this diverse selection of foods all available, within walking distance from my apartment.  8 blocks in one direction and I might as well be in Jamaica or Trinidad with Caribbean produce like breadfruit, plantain, avocado & calaloo readily available, while restaurants feature foods like Jerk Chicken, Curry Goat Roti & Cassava Pone.  8 blocks in the other direction and it could be the streets of Lahore with a masjid on every other block and markets featuring every type of dhal (beans, peas) known to man, as well as pickles, chutneys, rotis and other Indian/Pakistani food products.  Restaurants feature curries, kebabs, paratha and in the summertime Rooh-Afza with Basil Seeds (a summertime drink made with concentrated rose syrup and water).  In the middle of all this, are the Latino population coming from Mexico, Dominican Republic & El Salvador just to name a few.  In addition to this, we have a large population of Eastern European and Israeli Jews living in the middle of it.  We are probably the only neighborhood anywhere in the world (except maybe Suriname) where a synagogue & a mosque can be located across the street from each other, without protests or argument.

Although arepas can be served plain, they are very commonly made stuffed with cheese, as I did in this recipe.  Due to the diversity in my neighborhood as detailed above, my local supermarket has a huge selection of Latin American cheeses.  There are even different versions of the same cheese depending where they come from – Mexico, Honduras, Ecuador.  One of the manufacturers who make these Latin American cheeses has a processing factory just a few blocks from the supermarket, so the cheeses we get are very fresh.  You can use any Latin American cheese you prefer –  queso cotija, quese de hojas, queso blanco or queso fresca are all viable options to use in this recipe (although some will melt better than others).  Most decent supermarkets will have at least one of these options available.  If none are available, you can substitute mozzarella or cheddar or even feta (however due to the high salt content of feta, you will have to use a reduced amount).
This time I opted for a Salvadoran mozzarella type of cheese, but every time I make arepas I try a different cheese, It gives me the opportunity to try all the cheeses my supermarket has to offer.

Don't forget to check out my recipes for Annatto Oil and Sofrito – the homemade base ingredients will make this meal even better! The annatto oil is a great pantry item to add color and flavor to even the most simple of foods!
IN THE MAKING – HOW TO MAKE AREPAS
Although the stuffed cheese kind of arepa I made here serve as a great snack or breakfast on their own, in many Latin American countries, the plain ones are served with every meal, with beans and meat.  They can also be split apart and serve as the bread, for sandwiches. They are a popular street food item also throughout both South and Central America.
Serve the arepas with beans and Curtido (pickled cabbage salad) for a complete Vegetarian South American meal!
I like to keep the beans thick so I can layer them and the curtido on top of the arepa – almost like a pizza with the toppings!
Do you know anyone else who likes learning about international food, culture, history and travel? Bring them over here to join the party! Don't forget to use those share buttons! 
Start Here to find out how the Schizo Chef can help you with your cooking, travel and other needs!
If you like this recipe, PLEASE LEAVE A COMMENT & SUBSCRIBE!
Cheese Stuffed Arepas & Beans – Vegetarian Dinner South American Style
This South American style Vegetarian meal can be eaten for dinner, but in South America it is a common meal for any time of the day - even breakfast!
Ingredients
Arepas Ingredients:

2

cups

Arepa flour

see Notes below

2

cups

warm water

1/2

teaspoon

salt

1

cup

grated cheese

whichever Latin American cheese you have access to

Beans Ingredients:

2

tablespoons

annatto oil

see Notes below

2

tablespoons

sofrito

see Notes below

1

cups

black beans

soaked overnight

2

crushed garlic cloves

2

teaspoons

ground cumin

1

bay leaf

3

cups

water

2

tablespoons

cilantro

finely chopped

salt

to taste
Instructions
Heat oil. Add sofrito. Fry for 2 minutes until it becomes fragrant.

Add beans and stir fry so they are well coated with the sofrito.

Add 3 cups water,  cumin and bay leaf.  Bring to a boil.  Reduce to a simmer and cook for 45 minutes, until beans are tender, adding more water if necessary.

Remove the bay leaf.

With am immersion blender, puree half of the beans.

Add cilantro and salt, to taste.  Stir to combine.

While the beans are cooking, make the arepas.

In a large bowl, mix flour and salt.  Add 1 cup of the  warm water and then slowly add the rest as needed until you have a soft dough. Dough comes together very easily and should be soft, but not sticky.  Let rest for 10 minutes covered with a damp cloth.

Divide dough into 6 pieces and form into balls. Take one and flatten in between your hands.   Take about 1 1/2 tablespoons of the cheese and place in the center. Fold the sides over the filling making sure it is well sealed.

On a lightly floured surface, gently roll into a circle about 5" in diameter. The dough will crack on the edges so you need to constantly be shaping the sides of the discs with your hands as you roll the arepas out.  Repeat until all the dough has been used.

As  you are rolling out the dough, start to fry the arepas.

In a skillet, heat enough oil for shallow frying.  Add arepas and fry on medium heat for about 5 minutes on each side until golden brown and crusty on the outside.

Place on a paper towel lined plate to absorb excess oil.
Notes
Arepa flour is sold as harina precocida, instant corn flour or masa, this is a special corn flour that is cooked, prior to being dried and ground into flour. There are several brands that make this - the most popular available in the U.S. are Goya, Maseca & P.A.N.  You can purchase it online at amigofoods or amazon if you cannot locally source it.
Annatto Oil is made be boiling oil and annatto seeds - The recipe can be found here - https://globalkitchentravels.com/2015/09/habichuela-guisado-stewed-beans-with-homemade-sofrito/
You can make your own sofrito or simply saute onions, garlic and bell pepper for a quickie version! Recipe for sofrito can be found here - https://globalkitchentravels.com/2015/08/homemade-sofrito/
If you'd like to make the beans soupier, you can add more water.
Did you try this recipe? Leave a comment below.
Please follow me on Instagram @chefmireille or tag me #chefmireille with your pics! I'd love to share them!
Don't forget to check out the Blogging Marathon page for the other Blogging Marathoners doing BM#17