Last Updated on December 16, 2020 by Chef Mireille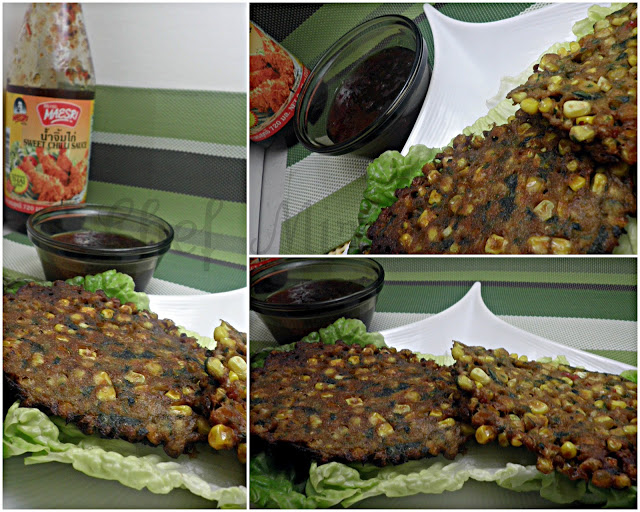 Blogging Marathon #17
Theme: Archived Recipes Revisited & Improved
Hope you are enjoying this month's theme…that's it for this week…don't forget to come back next week on Sunday, where I will be taking you to the Middle East, Peru & Kashmir.
In case you missed some of the recipes so far:
Panch Puran Mashed Potatoes
Creole Chicken
Carrot Coconut Muffins
Stuffed Arepas & Beans
Malaysian Fish Curry
Many Southeast Asian countries have a version of corn fritters. The Indonesian version is made with shrimp and Kecap Manis. Malaysia, Vietnam and the Phillipines also have their own versions. Here's the Thai version, flavored with Red Curry Paste and this time with photos. The archived recipe didn't have any.
One thing to note for strict vegetarians, no matter which Thai curry paste you use – Red, Yellow, Green, Penang or Massaman – they are all made with Shrimp Paste. Here is a curry paste recipe you can make yourself, that includes substitutions for Vegetarians.
Thai Corn Fritters
(click here for printable recipe)
Ingredients:
3 corn cobs
1 garlic clove, finely chopped
1 red chili, finely chopped
1 scallion, finely chopped
1 small bunch cilantro (aka coriander), finely chopped
1 tablespoon soy sauce
2 teaspoons red curry paste
3/4 cup rice flour
2 eggs, beaten
4 tablespoons water
salt, to taste
oil, for frying
Sweet Chili Sauce
Using a sharp knife, slice the kernels from the cob and place in large bowl. Add all the other ingredients, except the oil and Chili Sauce. Stir well to mix thoroughly. The batter will be quite loose.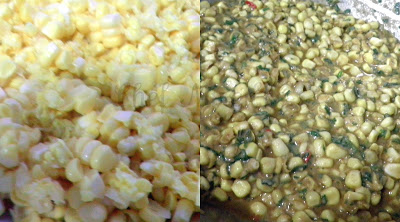 In a large skillet, heat oil for shallow frying, about 1/2″ deep. Add spoonfools of corn batter, depending how large or small you want them. As you place the batter in the oil, flatten the fritters using the back of a spoon. Cook about 3-5 minutes on each side on medium heat until golden brown and slightly crispy. If the fritters begin to brown too much before they are firm enough to be flipped, lower the flame.
Place on paper towels to drain excess oil.

Serve with Sweet Chili Sauce.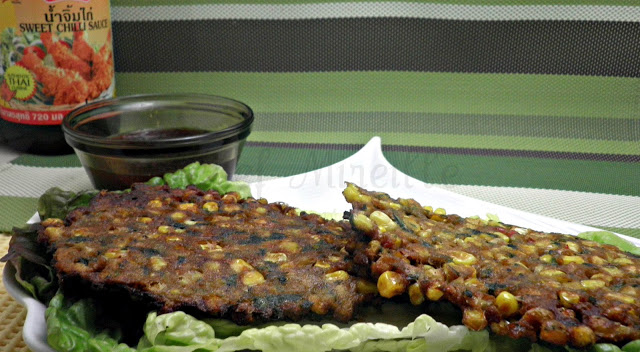 Thai Corn Fritters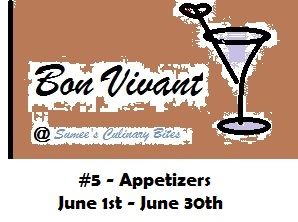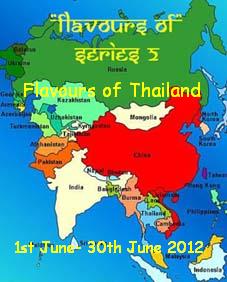 …linking to simply.food's Flavours of Thailand hosted this month by Kaarasaaram and Sumee's Bon Vivant – Appetizers
Don't forget to check out the Blogging Marathon page for the other Blogging Marathoners doing BM#17
LIKE THIS RECIPE? LEAVE A COMMENT..I LIVE FOR THEM!
Chef Mireille
Like me on FACEBOOK!
Follow me on TWITTER!