Last Updated on December 14, 2020 by Chef Mireille

When Radhika released the partners for this month's Blog Hop Wednesday, I was very happy to learn my partner was Divya. I know Divya well, as we both have been participants in Srivalli's Blogging Marathon for the past few months. She is also the one who honored me with my first Versatile Blogger award.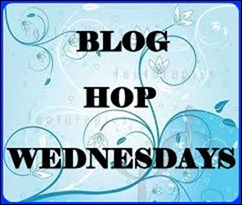 Although I really wanted to make her Blueberry Ice Cream, with it's gorgeous color, I did not have the time or the room in my freezer, since I still had leftover Lucuma Ice Cream. Divya is an accomplished baker, but I decided on this healthy dhal with spinach as I had just done my weekly veggie shopping and wanted to utilize what I had purchased. Although her original recipe uses frozen spinach, I used fresh spinach since I had some on hand. I also used fresh chiles instead of chile powder.
Spinach Moong Dhal
Ingredients:
1/2 cup moong dhal
1 cup firmly packed spinach leaves, chopped
1 tomato, chopped
5 cloves garlic, finely chopped
2 teaspoons oil
1/4 cup onion, chopped
2 chiles, chopped
1/2 teaspoon cumin seeds
1/4 teaspoon mustard seeds
1 pinch asoefetida
1/4 teaspoon ground turmeric
salt, to taste
In a saucepan, combine moong dhal, tomato and garlic. Add 1 1/2 cups water to a cover. Bring to a boil. Reduce to a simmer and cook for 20 minutes.
In a large skillet, add oil. Add cumin seed and mustard seed. Once they start to sputter, add onion and chile. Cook until onions are golden brown.
Add asoefetida and turmeric. Once the raw smell is gone, about 1/2 a minute, add spinach. Cook until spinach wilts, about 1 minute.
Add cooked moong dhal, 1 cup water and salt, to taste. Bring to a boil. Reduce to a simmer and cook for 10 minutes.
Taste and adjust salt, if necessary.

Serve with rice or roti.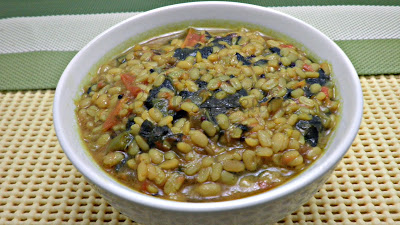 Spinach Moong Dhal
LIKE THIS RECIPE? LEAVE A COMMENT..I LIVE FOR THEM!
Chef Mireille
Like me on FACEBOOK!
Follow me on TWITTER!